I have finished all my Christmas shopping, now for the dreaded part of my holiday fun, the wrapping. The truth is I do not like wrapping presents. There has been times when I seriously considered taking everything to a charity event and having them wrap it for me. If it were not for the fact that I am trying to watching my spending, I may actually do just that. If my kids did not love unwrapping gifts so much I would just go the gift bag route.
Here are a few things I do to make gift wrapping easier and more fun!
1. Save boxes through out the year.
– It is so much easier to wrap a square or rectangle then something oddly shaped. So through out the year I save mailing boxes, shoe boxes and other boxes to reuse for wrapping. This also saves money since I have boxes already saved, I do not have to buy the boxes they sell around Christmas.
2. Don't wrap what does not need wrapped.
– If you are giving a gift basket, skip the wrapping. Instead cover it with a pretty cellophane wrapping and top with a bow. I do gifts in a jar a lot and I do not wrap them either, I just top with a bow and add a gift tag. They are pretty enough that they look really nice without the wrapping.
3. Look for marked wrapping paper.
– I found wrapping paper that has a grid for cutting. Instead of having to use a pencil to mark where I need to cut.
4. For an added sweet touch. Make your own tags.
– One part of wrapping I do like is making my own gift tags. I scrapbook so I like being able to save my tags to add to the book later. For a really easy tag, use last years Christmas cards. You can simply just the front off, punch a whole so you can string it on a ribbon and write the name on the back of the card.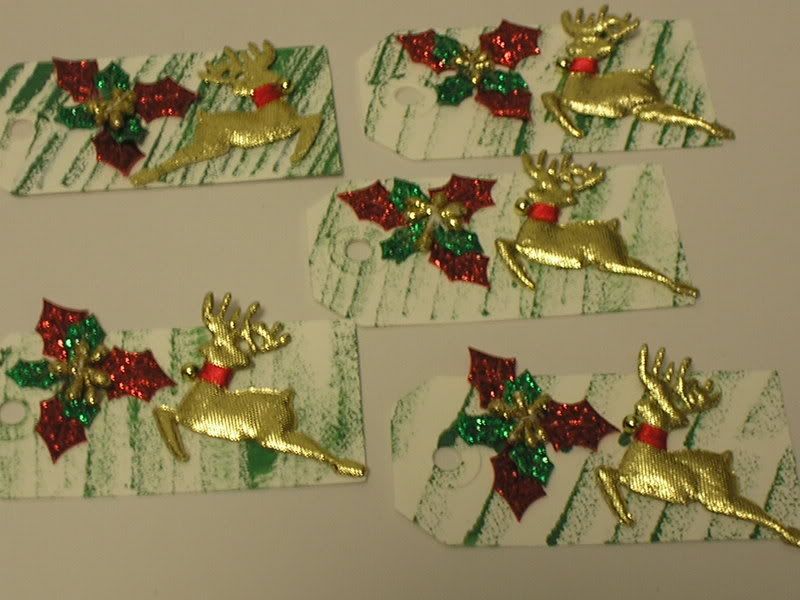 5. Get creative with your wrapping.
– I have seen people use old travel maps, newspapers and even fabric from the sales bin to wrap with.