One of my most favorite past times is photography and while I am not a professional I do have to say I have gotten some pretty beautiful pictures of my kids.  I like having pictures of my kids framed and on display in my house and since we can not afford to get professional ones as often as I like to change out the pictures I had to get inventive and start taking wall worthy pictures myself. In order to do this I started taking my camera with me every where I went since I never knew when we would be somewhere that would present the perfect wall worthy picture.
My son, who is five used to love getting his picture taken and was great about posing for me but here lately is more interested in making silly faces or won't sit still long enough to get a decent picture taken. So I usually try getting quality action shots of him playing at the park or outside. Recently my parents bought a mini four wheeler for the kids to play with at their house, my son was in heaven riding around the yard on it and I just had to wait for him to ride by so I could snap some pictures.
My oldest daughter who is four is a super girly girl. She loves being all dressed up and loves the camera even more. She is more then willing to pose for me. While I love the posed pictures I get from her I also love catching her just playing or exploring. She is fascinated with flowers right now, we were outside playing and she found a patch of dandelions, only a few days prior to this we had been reading a story about a little girl who made wishes on dandelions seeds and her wish came true after she blew the seeds into the wind. I sat and watched her making wishes and blowing the seeds into the wind and luckily I had my camera with me so I was able to capture this moment on film as well.
My second to youngest daughter who is two has no interest in getting her picture taken, she is not girly, does not like to dress up or pose for pictures. Her favorite things include digging in the sand and anything else that she can get dirty doing. Her birthday was not that long ago and I was trying desperately to get her to pose at the park in the dress I bought for her party, she was having none of this. I snapped a bunch of picture hoping I would get at least a couple good ones and the one that ended up being my favorite just captured her personality and thoughts over the whole birthday dress thing perfectly.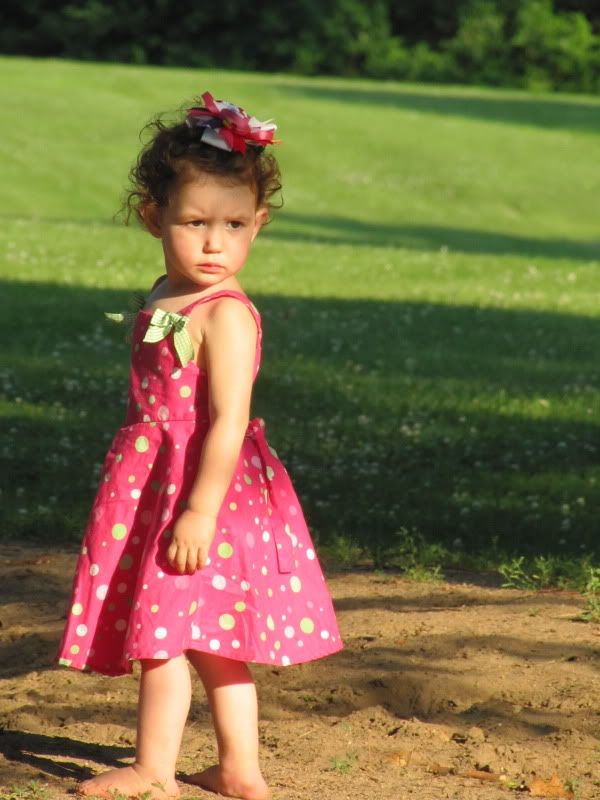 My youngest was just born in June. She is the first baby that I have cloth diapered from birth so I have been going crazy with pictures of all her cute cloth diapers and wool. I love taking pictures of newborns when they are sleeping, they always look so peaceful so I decided to do her newborn pictures outside, in a cloth diaper while she was sleeping. I love the result I got.
As my children grow I plan to continue to take as many pictures as I can. Pictures are the perfect way to capture all those special memories.