A friend of mine sent me a link to an article on designer diapers  being made by Pampers and Huggies. She is a cloth diaper user also and we both thought it was pretty funny that disposable diaper companies are trying to make their diapers cuter to boost sales. The article states they are doing this because parents like cute things for their babies and baby fashion is huge.  These designer diapers not only cost more then regular disposables but you also get less in a package. Even with the prints they are coming up with these do not hold a candle to the cuteness of cloth.
The savings of cloth was one of the things that first attracted me to using it but three and half years later I have become a cloth addict. Even if it would not save me another penny I would keep using cloth for the other benefits. It is better for the baby, better for the environment and best of all it is adorable. One hot summer days I let my babies crawl around outside in just a cute cloth diaper. They stay cool and comfortable and they also look adorable.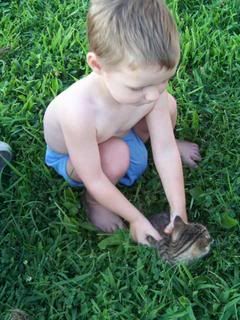 When my youngest was born I knew I wanted to do her newborn pictures in nothing but a cloth diaper. A cloth diapered clad newborn is adorable. I took her outside in a tiny little white diaper and big pink bow, laid her on a blanket my mom knit and we had a little photo session. The pictures turned out adorable, like expected.
Another thing about cloth is it does not get that saggy look when wet like a disposable diaper does. When I was a disposable diaper user I rarely would let me kids outside with their diaper showing, it really grossed me out when they were wet and I did not want anyone to see it. I probably went through double the amount of diapers that most would because I would change them so often to avoid the saggy wet butt look.
Huggies and Pampers can try all they want to make their diapers designer but not matter what they do, cloth is and will always be cuter.