Posted 04-27-2010 at 11:15 AM by
gkatieh
Camping with a 4 month old….
Sound intimidating? I wasn't at all. I felt like I SHOULD have been, but I really wasn't. To prepare we had my mom's camper for AC if it got hot, packed clothes for warm AND cold weather  (thank GOD! Saturday was COLD!), his food comes straight from the tap so no water and formula/bottles needed (I Love breastfeeding!), and I made my Flip diapers purchase months ago with this trip in mind. I was READY!
It was even easier than I thought! The fresh air did Austin some GOOD because he SLEPT like ol' Rip Van Winkle. Most pics I have are of him sleeping!
I have 3 Flip covers and used disposable inserts. Austin still has exclusively breastmilk poos, so if any got on the cover, all I had to do was rinse and hang! The cover would be dry in no time. I used gDiaper sposie inserts as well, since they're actually wider. I am so thrilled to have a cloth option for these trips. I couldn't imagine bringing  my whole stash and keeping up with it all. The Flip sposie inserts are so soft, they feel just as soft, if not softer, than any cloth option. It was a real surprise to me! Plus they don't contain yucky chemicals. My baby's butt is spoiled!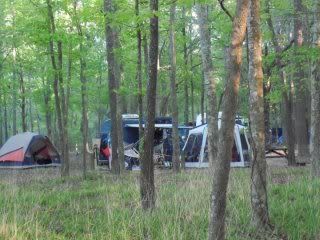 Taking a walk! My dad got this stroller at Once Upon A Child for my parent's house and camping. It was perfect.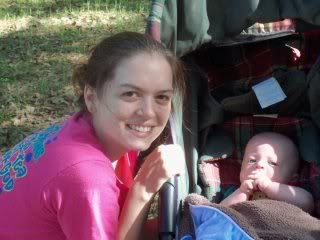 Hanging out with Kea (my mom's chihuahua) before bed. That dog thinks Austin is HER baby. She's very protective and very sweet.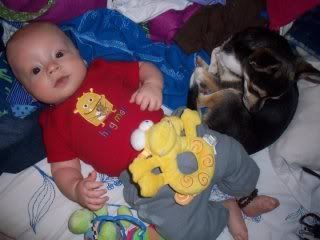 Saturday morning was COLDDDD!
Bedtime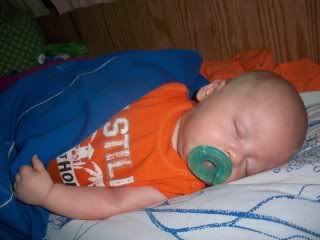 Another nap… (I know he doesn't match…)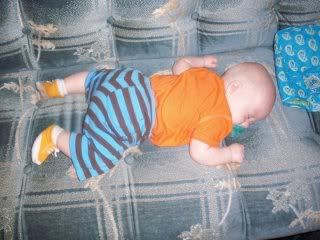 Hanging out in the kayak! He'll be a pro in no time! See Ribbit Flip peaking out?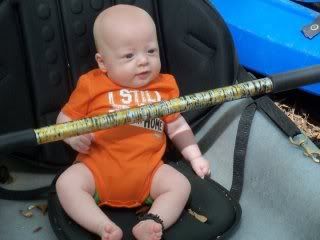 The whole weekend went great! I was so proud of him! We're going again Memorial Day weekend. You're welcome to join us!