When I first started getting active in the DiaperSwappers Community I visited the Extra Fluffy forum a lot. I liked looking at all the pictures of the diapers but did not know what the fuss was all about with woolies. I thought they were adorable but I just did not get why someone would want to spend that much money on baby clothes.
It was not until after the birth of my second daughter that I was introduced the world of hyena cart auctions. One day I decided to browse and see if I could find any woolies on auction, lucky me I found a pair that I just loved and I decided to put in a low bid. Thinking there was no way I would win I was very happy a couple days later when I got an email saying I did. I loved them as soon as they came and I knew why everyone was so crazy over them. Not only were they adorable but it was nice to be able to find something that fit her cloth diapered bottom so well, was made with her measurements and functioned as a diaper cover at the same time. I knew I was going to want more!
It was soon after that when I started looking into recycled wool. It was a lot cheaper then most knit woolies and still just as adorable. Thanks to a couple of really amazing mamas here on DiaperSwappers I was able to get some super adorable recycled wool in a trade and another pair for an amazing price. Since we do not have a ton of money to spend on a wool stash I knew I had to be as thrifty about it as I could so I started collecting wool yarn from swaps here on DiaperSwappers so I could make my own, I also added woolies to my ISO lists. I also kept checking the hyena cart auctions and have been able to snag a couple amazing deals.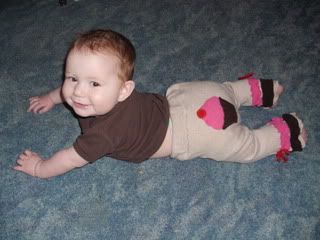 If you are longing to get your hands on wool but think you can not afford it, think again! I currently have 3 pairs of knit longies, 3 pair of recycled longies, 1 pair of shorties, 2 skirties and a large collection of wool yarn to start making my own. By doing trades, watching of auctions and sales I have only spent $68 total.