DH, my brother, and I have been discussing getting tattoos in memory of my mom since she passed away almost a year ago.  Her birthday would've been tomorrow, so we decided it was a good time to do it.
My brother is a researcher so he talked to a lot of people and looked into several places to get them done.  He ended up finding the place we went to through a girl he worked with.  They don't advertise, so it's all by word of mouth.  They even get traveling famous artists in for several weeks out of the year quite often!
Up until last week, I had NO idea what I was going to get done.  DH and my brother wanted a ribbon in a heart design that we'd already had printed on memorial t shirts.  My bff wanted the word "serenity" for personal reasons, and a cancer ribbon on her foot.  I had googled "cancer tattoos" and "cancer ribbon tattoos" and "memorial tattoos" and any other type of tattoo, and just didn't find THE ONE.  I started thinking about what comes to mind when I think of my mom.  Next to the purple ribbon for pancreatic cancer, one of the first things I thought of was an eagle and scissors and comb for being a hairdresser.  I thought it would have been awesome to get an eagle with a purple ribbon in its beak or in its claw.  However, I knew with it being my first tattoo that I wouldn't be able to handle a whole huge eagle, and the part she liked was the glorious wingspan.  Then I started looking at tattoos with scissors and comb crossed over each other.  My mom had a necklace with a pendant like that, that I can remember her wearing my whole life.  That's when I knew what I wanted.
We got to the tattoo shop around noon, and our artist was waiting for us.  He had drawn up our tattoos from emails we'd all sent.  I was so impressed with what he came up with from my "I like this but not that" email!  I had brought a card from my mom, so he was able to tattoo her own writing "mom" with it.
For five of us, we were there for 7 hours.  Dh went first, because he was on call for work…he was afraid if he didn't go first he might get called out and not be able to get it done.  I went next, because I couldn't take the waiting!
When it was finally my turn, I did ok for most of it, but I thought I was going to LOSE it when he got to the very top of my foot near my ankle.  It felt like electric shocks going through my whole foot; it was horrible.  In retrospect, I guess my foot was a bad place for my very first tattoo.  However, I probably never would've wanted a tattoo had my mom not passed away, and that's the only place I wanted it.  Go big or go home I guess.
We were all THRILLED with the results.  Our artist did an awesome job and was so good to us!  I can't say I'll go back again soon, BUT if I ever get another one, I'll definitely go back to him.
Without further adieu…
My foot looks nasty from all the excess ink being wiped, but you get the idea <3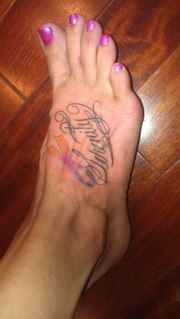 My BFF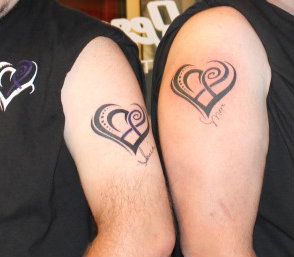 Dh and my brother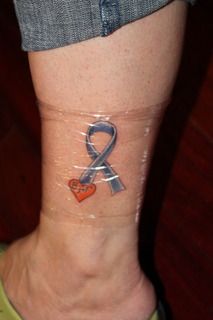 My mom's BBF's tattoo