I have always been a pretty serious person. My parents said even as a child I was the more serious out of my siblings. I liked to play but spent a large portion of my childhood reading. I was a very serious teenager and still am now as an adult. It is something I have had to work on as a mother.
My kids are six, four, two and ten months and love to play. My six year old is my only son, his favorite thing right now is playing with his Star Wars toys, playing video games or playing Go Fish. He usually does not ask me to play Star Wars, that is something he wants his daddy to do. He always says I am not doing it right. My husband is a Star Wars fanatic and can basically recite the movies while playing with Alexzander. My husband is just better at being silly then I am. Alexzander does want me to play other things with him, he loves playing Wii sports with me and we play several rounds of Go Fish a day. We always play a lot outside, I want him to know that I can be just as much fun as his dad.
My four year old daughter is very girly. Destiny loves to play princess dress up, tea party and baby dolls. She does ask me to play with her and I have had to make it more a priority to play with her more. She is just growing up so fast and I want to enjoy her childhood. She loves it when we have a tea party together, I often make real tea and snacks and she has a blast. I just love seeing her smile.
My two year old is enthralled with Dora. She wants to watch Dora, read Dora, play Dora and pretend she is Dora all day long. She loves it when I read her Dora books to her in silly voices, she likes it when we interact with her while she is watching Dora and loves us to sing with her. When we are not doing something involving Dora, she likes to be messy. She loves painting, playing in the sand or anything else she can do that involves making a mess. It is even better when someone is being messy with her.
My youngest is just happy to play anything. Amelia loves peek a boo, reading, playing with toys, swinging and just over all she is a playful child. She laughs and laughs when I make silly faces, she loves silly voices and just enjoys being interacted with.
Having kids really has shown me that it is okay not to be serious all the time and I honestly think I need to be a little more silly with them at times. I just want my kids to see that mama is fun.
Alex with his Star Wars guys.
Destiny's tea party with real tea.

Kairi fell asleep with her Dora book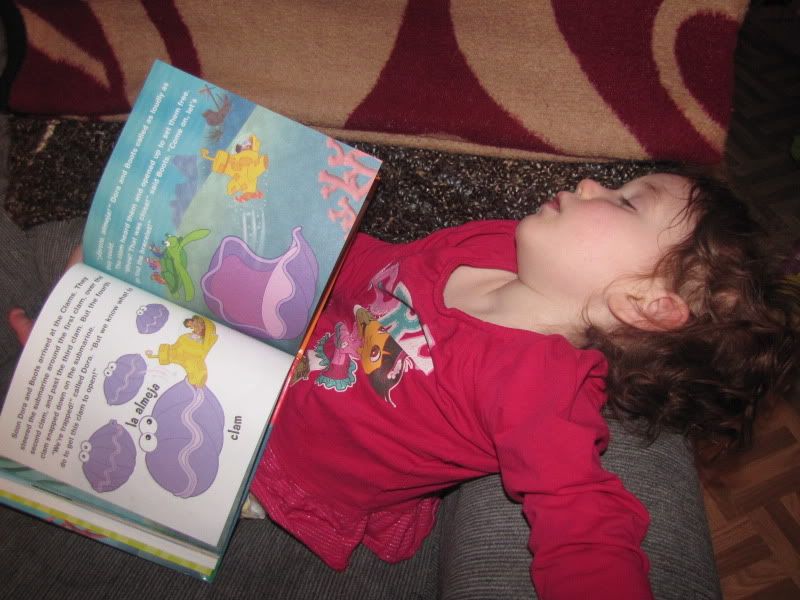 Amelia happy in the sling