I have three daughters and I am sure that everyone knows how fun buying little girls clothes are. I love shopping for my daughters but having a budget can make it not so much fun. Over the years I have found ways that allow me to have fun shopping for all the cute clothes and not spend a fortune doing so.
1. Learn to make stuff yourself.
– One area that I found myself spending a lot of money was on hair bows and headbands. I liked having   a lot so we always had something for every outfit but it started adding up. That is when I decided to learn how to make stuff myself. I liked crafting and making it myself meant I could have a lot more while still staying in my budget. My girls have a lot of hair stuff now, almost all of it made by me, including the bow boards that hold on their stuff.
– I am slowly teaching myself to sew. I love the look of upcyled clothing and that is what I want to learn to make. I started with easy things, like a skirt. My oldest daughter loves the skirts I made her and they were actually pretty easy to put together.
– I also know how to knit.  I love making things for my children. I am slowly learning new things so I can make even more.
Here is Destiny sporting a skirt I made her –
Amelia wearing overalls I knit and a headband I made –
2. Trade
– I have gotten a lot of really nice clothing from trades. I join the everything swap here on ds, have a trade thread active on FSOT and have done trades on facebook as well. It is a good way to get rid of things I no longer need and get new clothes for my girls.
3. Thrift shops
– My husband's aunt owns a resale shop, that is where I send a lot of our outgrown clothes, sometimes we take the cash but usually we just spend the money we make on different clothes. I have gotten some very nice things for the kids from her shop. I got Amelia a boutique winter jacket that looked brand new, only cost be $10 when it would have been $60 new. I have gotten Alex brand new blue jeans from the childrens place for $5, boutique style dresses for my oldest daughter for $3 and so many other really nice things.  I also shop at other resale shops, you never know what you are going to find until you look.
Destiny's outfit for fall pictures was a resale shop find –
4. Sales, coops and wholesale sites
– I love a good sale. I always shop end of the season sales to buy things for next year. That is usually where I get a large portion of the girls clothes for the next size up. There is an outlet mall close to where a couple friends of ours live so we will go shop and then spend the rest of the weekend with them. I like being able to get new pants for $5, shirts for $2 and dresses for $5, makes shopping fun and allows me to get my girls a large amount of clothes.
– I also shop from a lot of coops and off whole sale sites. I recently bought the girls some petti skirts from haloheaven and I buy a lot of stuff from different coops I am in. Both save me a lot of money.
Kairi's second birthday dress bought on sale and stashed away for later –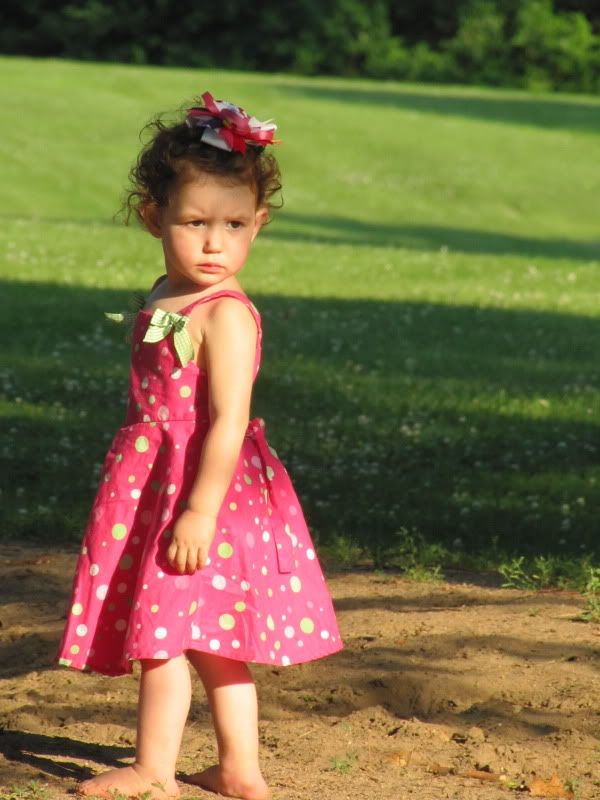 5. Hand me downs are a good thing
– I do my best to keep my oldest daughter's clothes in good shape that way the younger two girls can wear them also. I also love getting clothes from friends with girls older then mine. I return the favor by giving them boys clothe since they have boys younger then my son.