Posted 12-28-2010 at 05:27 PM by
Ellen
This contest is now closed.
Like to or dream of crafting? Love scrapbooking, card making, vinyl wall decorations, or awesome clothing designs? Want to create your own business?
…well, I have the machine that will excite the socks off of you: the Silhouette SD. It's a digital craft cutting machine that allows you to customize and design a variety of different products; be it from home decor, or custom made fabrics and apparel, to paper crafting. Think a Cricut type die-cutter, but on steroids. Like a printer, it hooks up to your computer. You simply open the Silhouette program that comes with the machine, create your image or text, and hit the "cut" button. Whola! It comes out your Silhouette machine and is ready for you to turn into something fantastic!
Some of the machine's features include:
No need for cartridges
Any font found on your computer can be cut (right out of the box)
Ability to create your own shapes either from clipart or with drawing tools
Ability to select shapes/images from an online store (somewhat similar to i-Tunes) and purchase one-by-one for as little as $0.99 per image (or join their subscription program and purchase images for as little as $0.14 per image!)
Will cut as long as you would like at one time
A new rhinestone line for apparel, home décor, paper crafting, and a new heat transfer line for apparel and home fabrics
Print and cut functionality-ability to print whatever you want to a computer and then place the print job in the machine and cut around it
I first saw this machine a few months ago and immediately fell in love. I've longed to own a craft cutting machine since I learned of their existences…but this machine…well, it is beyond my most fabulous dreams. It's easy to use, lightweight, and does everything you can think of. My favorite feature is that I can use my own designs for it to cut out, and I wouldn't ever have to pay for a design I wanted because it will use anything that can be put onto your computer! On top of that, you can visit the Silhouette Online Store to buy clearance images/fonts, download their weekly free images, and view their blog with great crafting ideas.
Here's a glimpse of the things you can create with this one machine:
Cupcake Wrappers
Vinyl Wall Decorations
Scrapbook Pages and Decorations
…and Tons More
I have only had the chance to make one project with this so far, and I can't WAIT until my next day off of work so that I can spend all day cutting things. In fact, the night after making my project, I literally spent all night dreaming about the Silhouette SD and the many things I am going to be making with it. The list is endless! I found that the machine is extremely easy to set up and install, and easy to use as long as you read the few enclosed directions. I had a few questions that the enclosed literature didn't cover, and I was able to quickly find what I needed just by searching online. The only drawback I see is that the machine is kind of noisy, but it's actually a nice musical noise with lots of rhythmic tones created by the blade's vibrations. A small sacrifice for such a wonderful machine! Check out the t-shirt design that I created (yes, all by myself!) and used to iron on to a baby onsie and then the image "leftovers" onto my diaper bag (there's no need for waste from this crafting queen):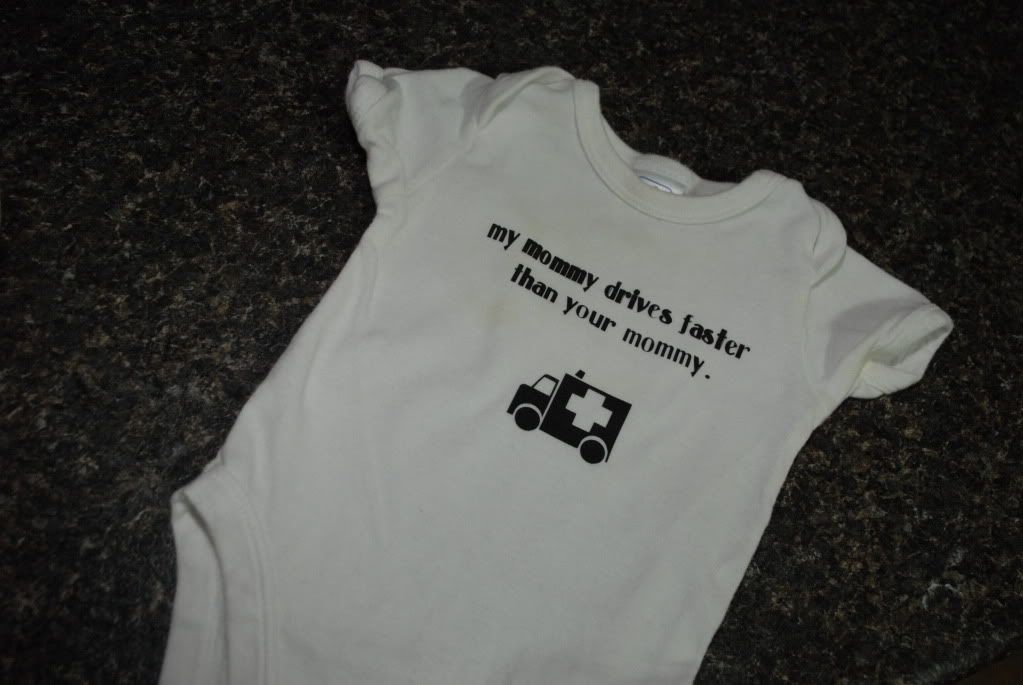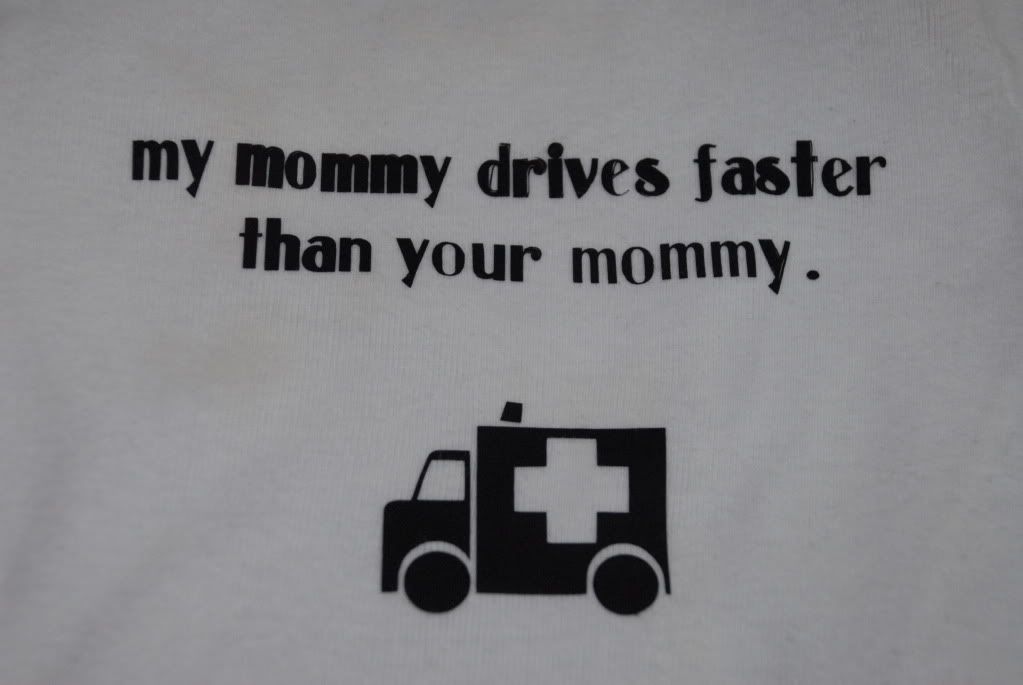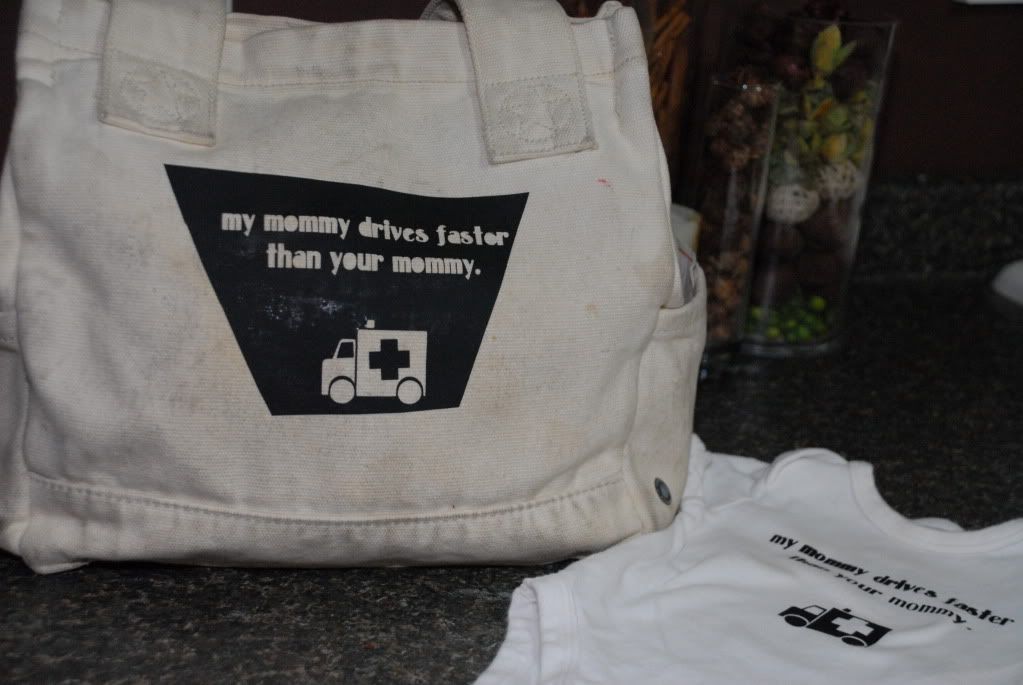 So I know that you, too are dying to get one of these machines now…and guess what? Silhouette America is offering a very special price for Diaper Swapper readers only.
Enter the code "DIAPER" on their website to purchase a Silhouette SD machine for $175 with monthly subscription commitment to the Silhouette Online Store–regular retail price is $300! This special offer expires January 1, 2011.
On top of this unbeatable deal, Silhouette America is giving away one of their machines to a Diaper Swappers Blog reader! You have until 12:00 AM on January 1, 2011 to enter. Winner will be chosen at random from all of the eligible entries received and notified through a private message (clean out your inbox now!). Read below on how to enter, and good luck.
This Giveaway includes…
Silhouette machine
Software for Windows XP/Vista
Power cable, USB cable
2 Cutting mats (one for thick media, one for thin media)
Cutting blades
$10 gift card to the Silhouette Online Store
How to enter…
Just leave a comment below telling us what you would like to make with the Silhouette SD!
Extra entries…
After you have done the initial entry above, you can do these things to gain additional entries. You must leave a separate comment and applicable link for each entry (meaning if you do #1, your comment should say "Extra Entry #1″ and include a link to your Twitter status).
1) Follow DS on Twitter at http://twitter.com/diaperswappers and tweet this message:
"Win a Silhouette SD craft cutting machine from @DiaperSwappers ($300 ARV)! http://tinyurl.com/29qgs7v
2) "Like" DS on Facebook at http://www.facebook.com/diaperswappers and post this message as your status: "I just entered to win a $300 Silhouette SD craft cutting machine from DiaperSwappers.com!
http://tinyurl.com/29qgs7v @DiaperSwappers" (the "@DiaperSwappers" part should show up in blue if you did it right).
3) Subscribe to the Diaper Swappers Blog by visiting here: http://feeds.feedburner.com/DiaperswappersBlog
4) Visit http://www.silhouetteamerica.com/ and tell us something you learned or a product you loved (leave the link)!
5) Follow Silhouette's blog and leave them a message telling them you REALLY want to win this giveaway with a link back to this post. (http://silhouettemachine.blogspot.com/)
6) Spread the word about this contest (with a link) any way you want–just leave the link to where you spread the word!
Disclaimer: Silhouette America provided the review and giveaway products for this post. The opinions expressed are all the author's and she was under no obligation to write a positive review. No other compensation was received.