My kids love doing crafts. In an effort to waste less we have been doing a lot of recycling in our crafts. It has been a lot of fun and is saving us money on craft supplies.
1. Toilet paper roll kaleidoscopes
Empty Toilet Paper Roll
Tape
4,5″ x 4″ Cardboard Piece
6″ x 6″ Shiny Gift wrap or Aluminum Foil
1 Colored Construction Paper
Shiny Sticker Tape
Transparent Beads or Shine Colorful Sequence
4″ x 4″ Clear Plastic Gift wrap
Stickers (lots of stickers)
Wrap the Cardboard piece with shiny gift wrap using tape. Fold it in three pieces making a long triangle. Insert the triangle into the toilet paper roll. Cover one end with clear wrap and attach it to the roll using tape. From the construction paper cut-out 3″ circle. Punch a hole in the middle of it and attach it to the other side of the toilet paper roll. Before you attach it put a spoonful of beads into the shiny triangle inside the roll.Cut out 3,5″ wide strip from the construction paper and cover the roll. Use shiny sticker tape/border to secure both tops/lids onto the roll. Decorate.
2. Toilet paper roll dolls
– These are so easy to do. Last time we made them we made clowns. We got fuzzy balls, markers and jiggly eyes and made our dolls. You can made them into anything you want. I have seen turkeys, cowboys and robots also.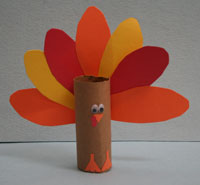 Materials Needed:
Regular or Decorative Edging Scissors
Instructions:
1. Create the Beak: Using scissors and pattern cut top and bottom of beak from yellow or orange paper and cut tongue from red paper.
2. Make the Eyes & Rosy Cheeks:  Cut two 1-1/4" circles from a bright color for circles around eyes. Glue two 15mm Wiggly Eyes to the center of the circles. Cut two 2" circles from a different bright color for cheeks.
3. Accent: Using a black marker, draw nostrils on top of beak and outline beak pieces.
4. Create the Bird: The bottom of the bag is the bird's head. Glue bottom of beak to bag under flap. Glue tongue to bottom beak. Glue cheek circles to sides of head. Glue top of beak to head, placed above lower beak. Glue eyes in place, as shown.
4. Recycled egg carton critters
Supplies
Paper egg carton
Acrylic paint and brushes
glue
Assorted embellishments – googly eyes, beads, buttons, pipe cleaner, glitter glue
Instructions
Check the picture below of the egg carton used for these critters.
It has large "towers" in the center that protect the eggs. This designis found in cartons that sell 18 eggs or more. If you don't have this in your carton you can still make the short alien above and make your own legs from craft sticks.
Note: Adult assistance may be needed to cut the egg carton. This one is pressed and molded paper and very thick.
For the aliens with the legs, you will use the center cups. Cut out the cup including the sides of the towers as the "legs." In the picture below, I colored in the area that you are cutting out.
5. Jean Pocket Magnets
– My daughter loves making these. We cut off the pockets from old blue jeans because I can make all kinds of things with them. One of the things we do are these magnets.
All you need it the jean pocket, a strong magnet and whatever you want to decorate the pocket with. My daughter likes fake flowers, with my help we glued the magnet on the back and the flower on the front. This magnet stays on the fridge and we have used it to hold coupons, pens, change, keys and so much more.