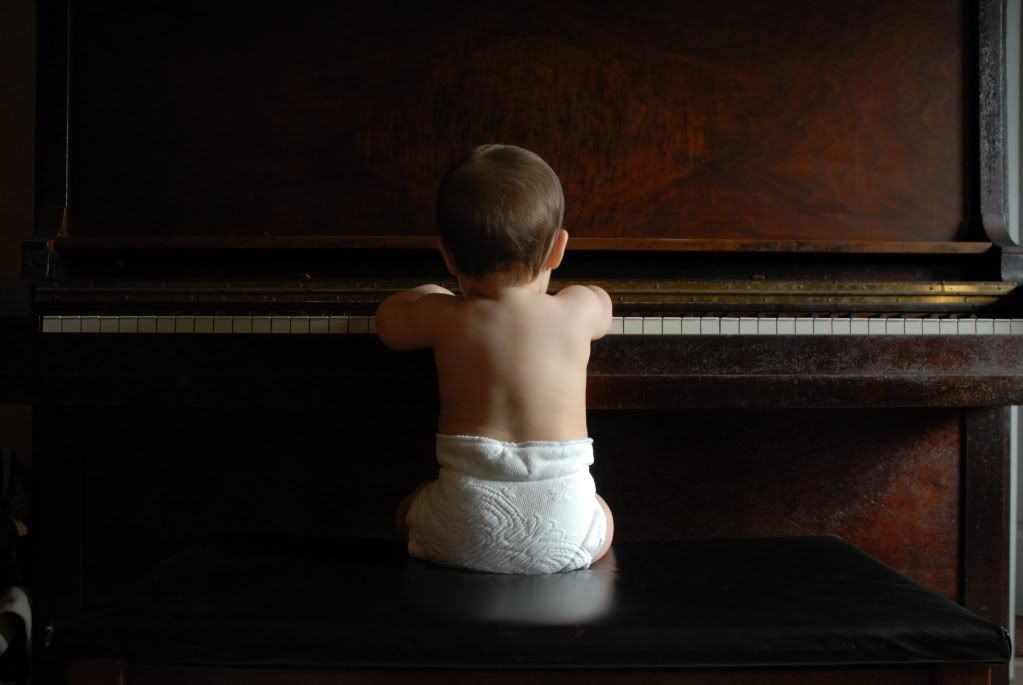 I can still remember my first piano lesson. It was in a little studio at a music store and I learned a song by ear called "Mississippi Hot Dog." I also learned how to sit correctly, and used a tennis ball to practice holding my hand in the nice round shape I was supposed to. Over twenty years later, I am now using these same songs and techniques to teach my youngest students who are eager to begin mastering the art of piano playing.
One of the first questions a parent asks me when considering having their child take music lessons is at what age he or she should begin. Having taught a variety of instruments for just under ten years now, I have seen how the learning and enjoyment curves change over time for a student and are influenced by the age at which one begins to take lessons. From four-year-olds to adults, people with and without disabilities, I have taught people from many different backgrounds, cultures, and family designs over my years as a private teacher.
In short, the best time to start learning piano is right after your child starts to read. The best time to learn another instrument is right after that child is able to play simple piano music. Prior to having the understanding of how reading works (looking at symbols on a paper from left to right and making a corresponding sound for that symbol and then associating a cognitive understanding to what you see and hear), reading music is difficult. You are adding a physical movement now to the stress and skill of reading which for many children breeds a dislike of music lessons.
If you do want to have your child start taking music lessons prior to his or her being able to read simple things, that's fine! It's a great time to have music lessons, but let the focus be on music and not just an instrument. Using this time to familiarize a child with music fundamentals (rhythms, tones, direction (up/down, black/white, high/low), tempos, dynamics), and the mechanics behind an instrument can be invaluable for the future. Building an appreciation and understanding of music during this time can greatly aid in musical expression and enjoyment later on. A good teacher will understand this important developmental time and should incorporate games, listening, and ear training to help build the skills the student will need once he or she has the ability to begin reading music. A good teacher will also strike the balance between these things and the need to learn to read music, though, by gradually working on the music reading skills right from the start and just going at the pace of the child. Children are like sponges and it's important to not place all of the learning on ear training or they will become so competent at that that when they could read music with ease, they will instead rely on the ear!
While it's not imperative that a child learns piano as his or her first instrument, it will greatly help in the  learning of any other instruments. Piano provides the foundations of all instruments in a very visual and tangible way. One can clearly see the notes and the equal spatial distance between them, can visualize how the energy they put forth physically is translated into sound, and can easily understand how tones change from high to low. Learning to read piano music teaches you rhythm, musical terminology, and the ability to read two different clefs and lines of music simultaneously—a skill that many instruments don't offer. I have found that a child who learned piano as their first instrument is able to pick up other instruments in general much faster than a child who has learned an instrument other than piano (except for very similar instruments, like going from violin to viola).
The best thing that you can do for your child is to get him or her involved in music at a young age and pay attention to your window of opportunity for starting music lessons. If your child is very interested before he or she can read, find a teacher who can provide instructions without exacerbating your child! If your child isn't interested until after he or she is able to read, start then. Either way, you will be providing your child with a gift that can provide him and those around him with enjoyment, a way to express himself, an appreciation and understanding for sound, and potentially a way for him to earn money later on by then teaching others what he has learned. Music lessons really is the gift that can keep on giving, so do your homework on teachers and get started.