Registered Users
Join Date: Aug 2007
Location: Adirondack Mountains
Posts: 1,851
My Mood:
TONS of boyish and GN footies, longies, shorties, and soakers!
---
I have been setting aside outgrown woolies for a while and, to my surprise, I have about 17 things to list now! Here is the fine print (bear with me – I had this halfway done once and the whole post went poof
anic: )

All measurements are at rest and in inches.

All items were washed after last use, most with Northern Essence Honey Almond wool wash.

I have done my best to shave and lint roll all items. We do have a dog and I cannot guarantee that a stray hair may not have gotten by me here or there.

I have tried to price fairly but will entertain reasonable offers. I am also happy to make deals on multiple items. I also hope to get some prefolds, doublers, and FCOL shirts listed today or tomorrow and am happy to combine as much as possible ☺

OK, here goes!

1. Blue knit longies – I think in purewool? There is some slight felting in the crotch on these.
Rise 17, Waist 19,Inseam 8
$15PPD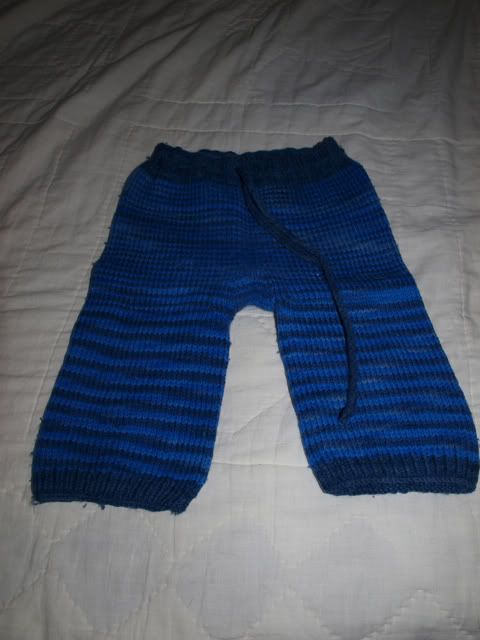 SOLD 2. Wool interlock pants – royal blue with light blue yoga style waist. The darker blue has bled onto the light blue a bit, mostly in the back.
Rise 19, Waist 17, Inseam 7
$12 PPD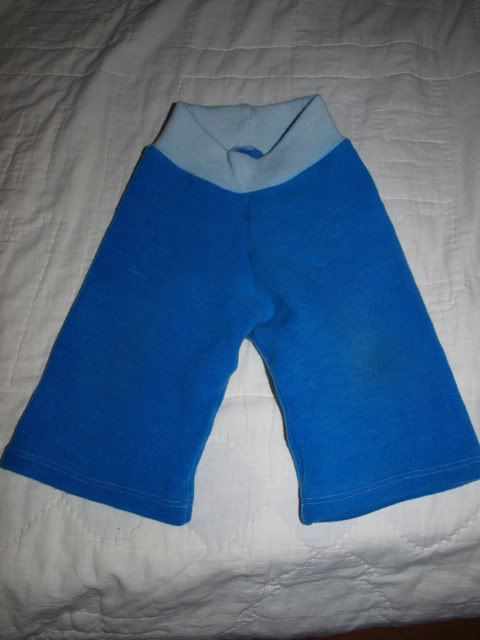 SOLD 3. Light blue interlock longies with wool soaker insert. These have some tan staining at the knees, possibly from sand or dirt. Wool is in otherwise good condition.
Rise 18, waist 20, inseam 8
$8PPD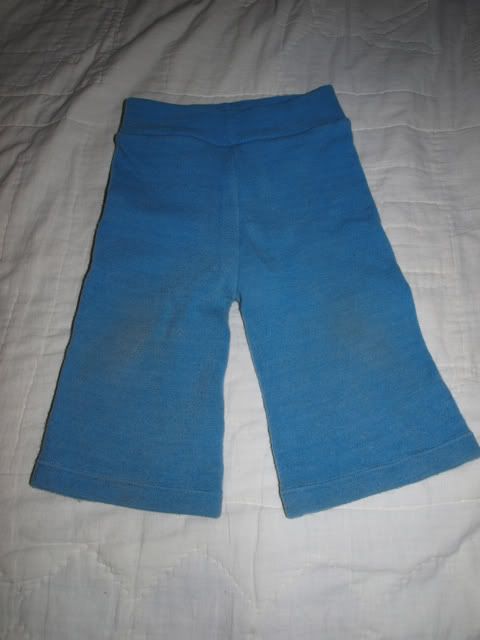 4. Brown/blue crocheted longies. I remember having these made for my son but cannot remember who made them for us. I think they are purewool? We seem to have stretched them into an odd shape – maybe they could be reblocked? Some croctch felting.
Rise 23, Waist 20, inseam 9
$12PPD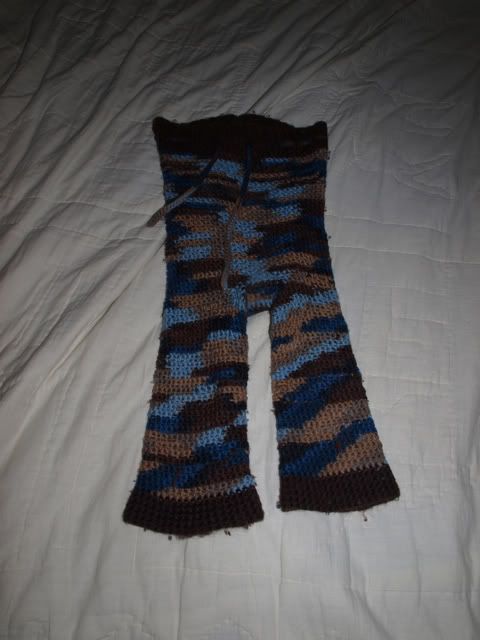 SOLD 5. Grey knit longies. Paton's wool. Lovingly hand knit by a friend, they do have a few wonky spots. The center seam (where the two legs join) is a bit bumpy and the legs are slightly uneven. That said, these are durable and got a ton of use by both of my boys. We loved them!
Rise 19, waist 19, inseam 7.5 and 8
$8 PPD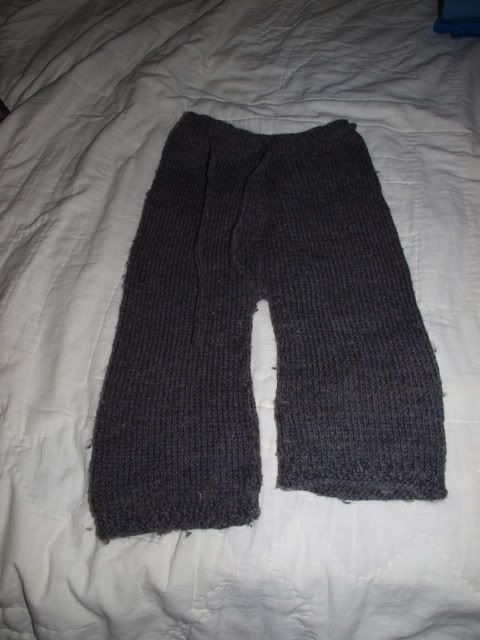 SOLD 6. Red/blue/black felted knit longies. Still have some stretch to them and are very very soft.
Rise 16, waist 16, inseam 12
$6PPD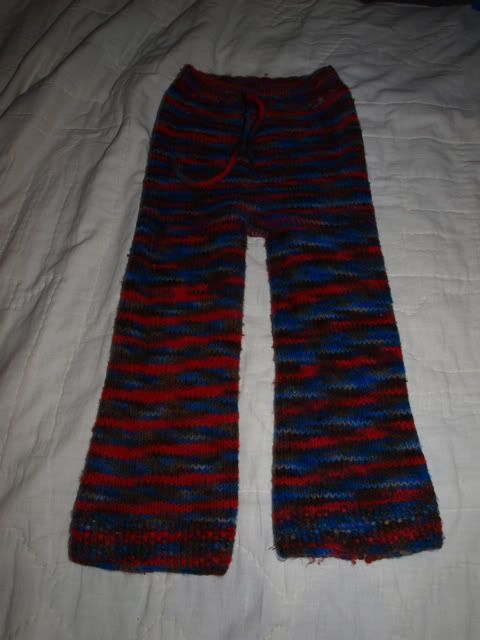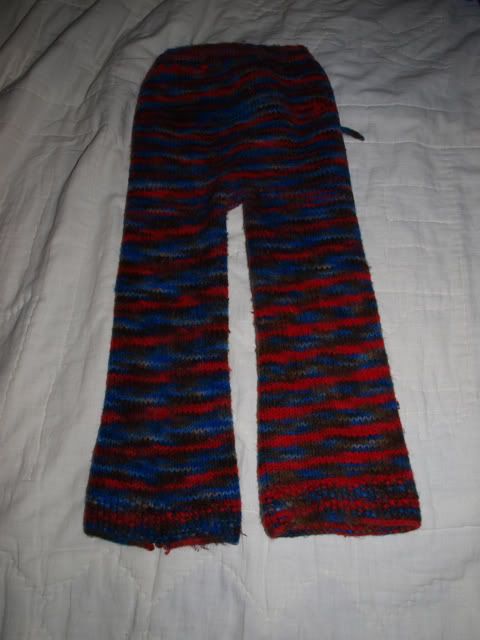 7. Purple/green/brown crocheted longies.
Rise 20, waist 18.5, inseam 12
$10PPD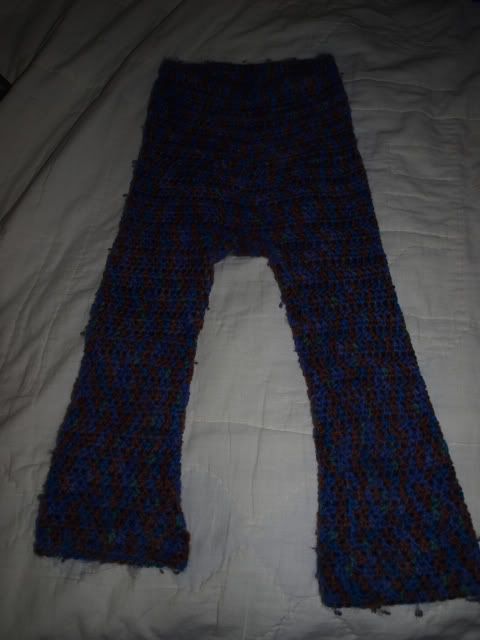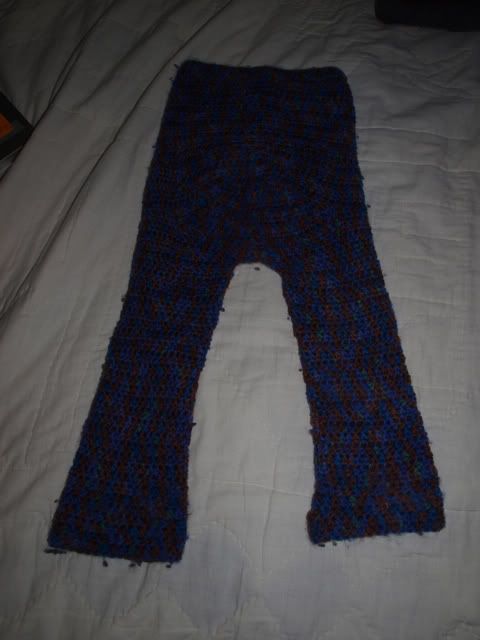 8. Denim knit longies. Paton's wool. Also lovingly handknit by the same friend who made the grey ones, Better join at the seam but legs are still a bit uneven.
Rise 18, Waist 19, Inseam 7 and 7.5
$8PPD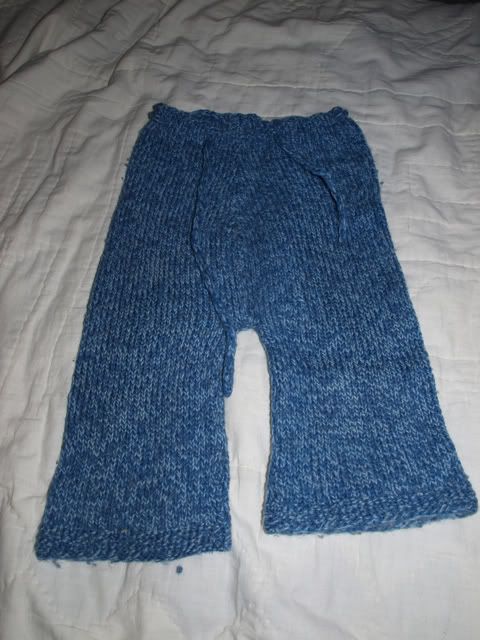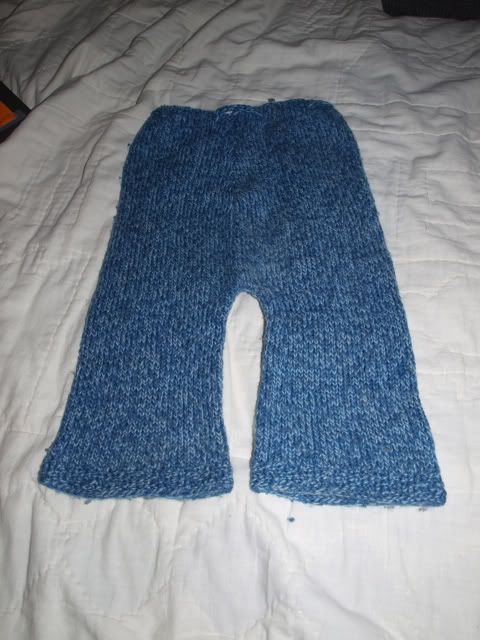 SOLD 9. Blue Woollybottoms footies size medium. Interlock waist.
Rise 19, waist 19, inseam 10
$15PPD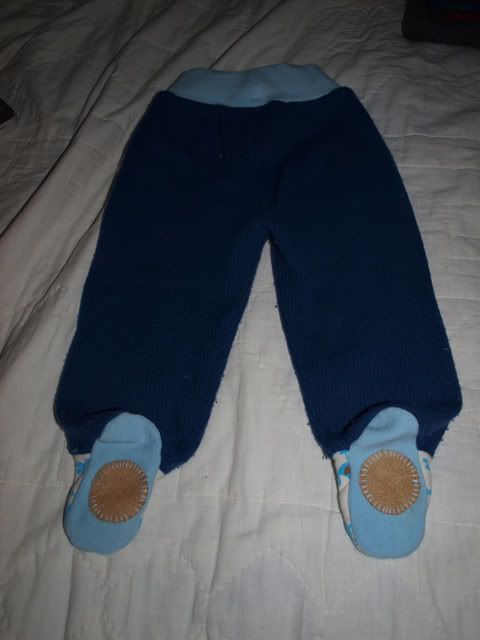 SOLD 10. Grey woollybottomw footies in M/L. Elastic waist. I am sad to let these go as they were our fave jammie pants for a whole winter. Unfortunately, they have a small hole (smaller than a dime) on the bottom front of the right leg. I tried to show it in the last pic.
Rise 21, waist 17, inseam 11
$8PPD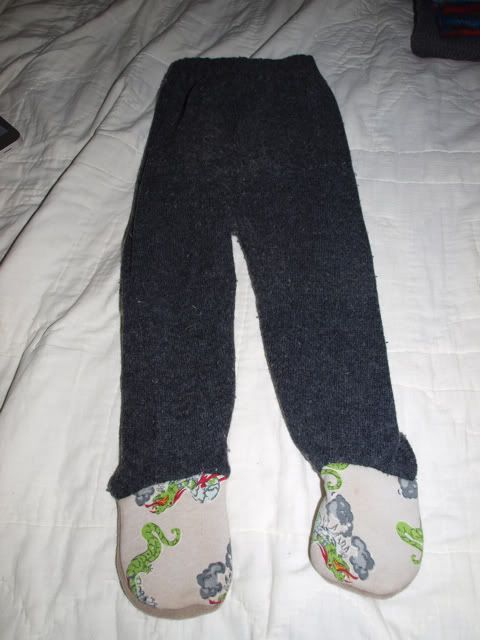 11. Hibiscus Baby interlock pants. Brown with green trim. Interlock waist with drawstring.
Rise 16, Waist 19, Inseam 9.5
$12PPD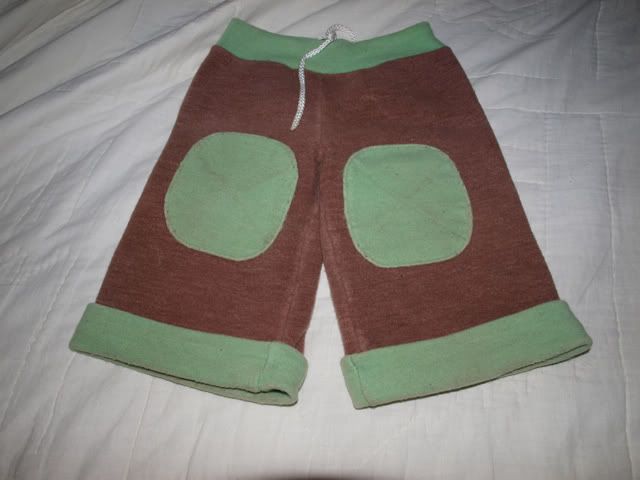 12. Teal/purple/navy shorties. Crocheted, some felting on the tush.
Rise 19, waist 19, inseam 3
$12PPD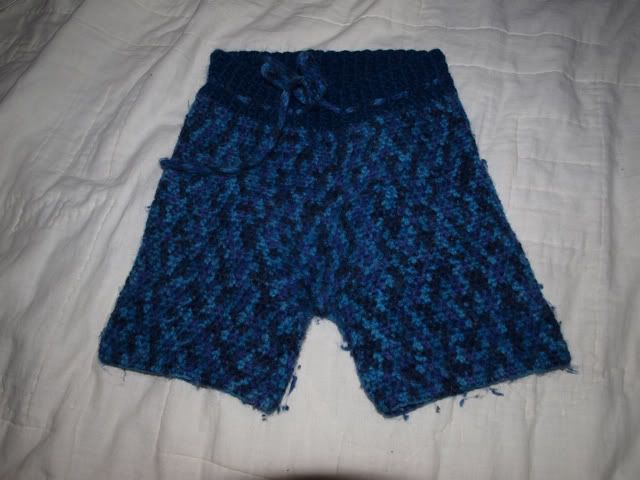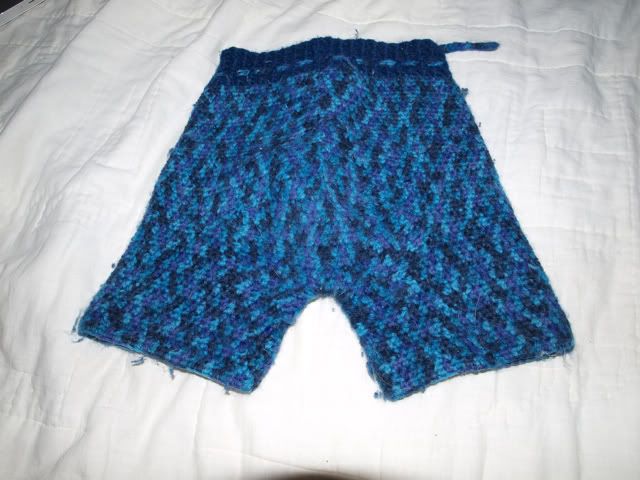 13. Shorties in the Purewool "Ocean" Colorway with khaki trim. Crocheted by Kim's Kreations. Some felting in the tush.
Rise 16, waist 19.5, inseam 4.5
$12PPD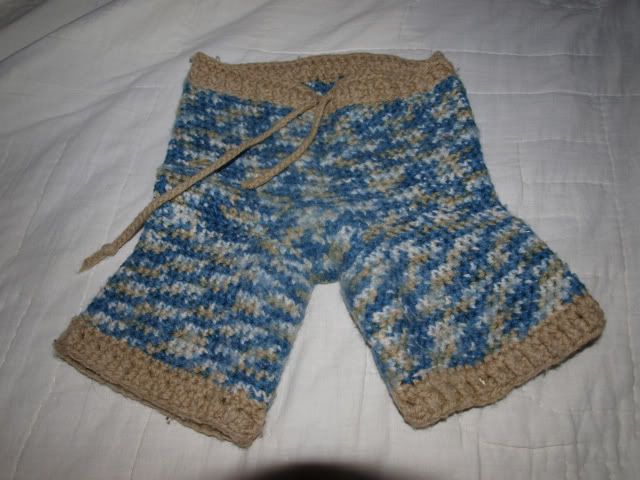 SOLD 14. Ahmay set. Shorties have an inner soaker. Shirt is an Under the Nile 12-18 month size. Both have an embroidered design with clothes on the line and birds sitting on the line. Such a sweet set!
Rise 18.5, Waist 16, Inseam 1.5
$25PPD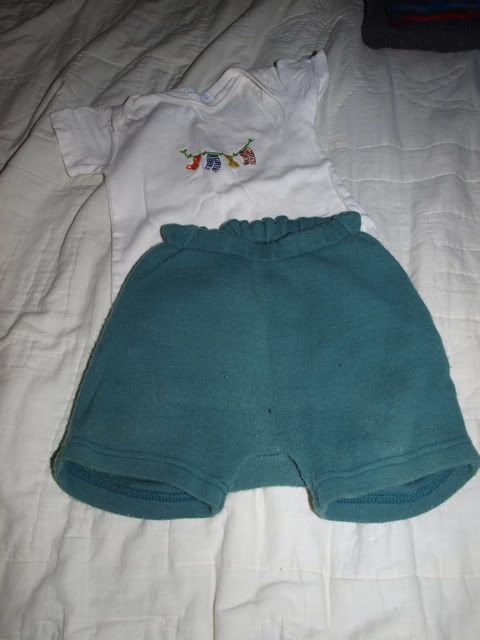 15. Lana soaker.. A few faint lanolin stains but other wise in great shape.
Rise 17, waist 16 (but has adjustable elastic)
$15PPD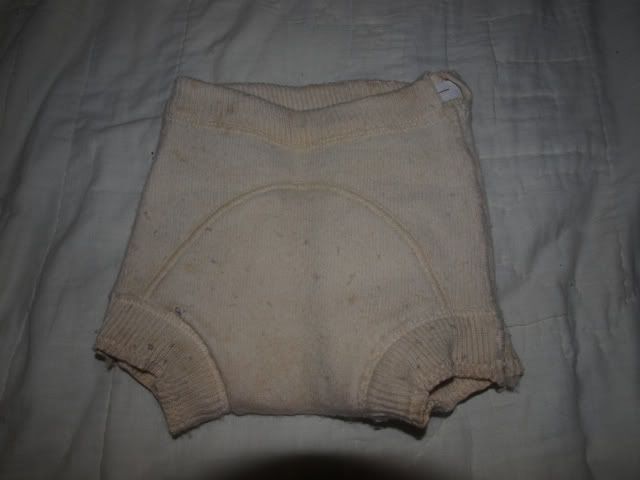 [IMG]http://i220.photobucket.com/albums/dd235/simbaandzoesmom/P7162046
.jpg[/IMG]

16. Aristocrats soaker – XL? In excellent condition, barely used by us.
Rise 29 (unfolded), Waist 18 (where the ribbing meets the regular knit)
$18 PPD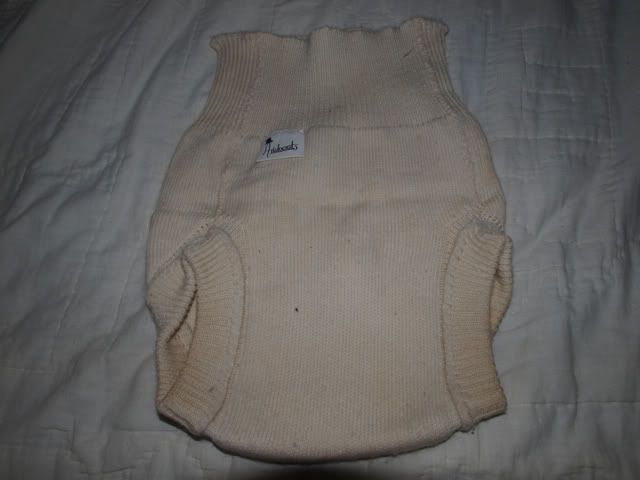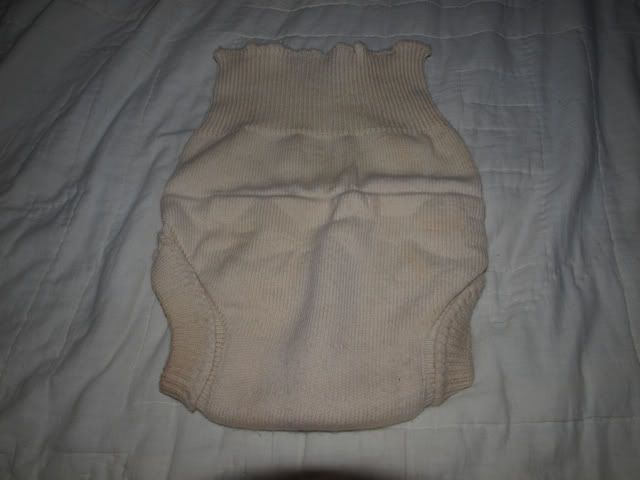 SOLD 17. Aristocrat, maybe a size L. Lots of discoloration and lanolin stains on this one but the wool has no flaws or holes.
Rise 23 unfolded, waist 18 (where ribbing meets the regular knit)
$8 PPD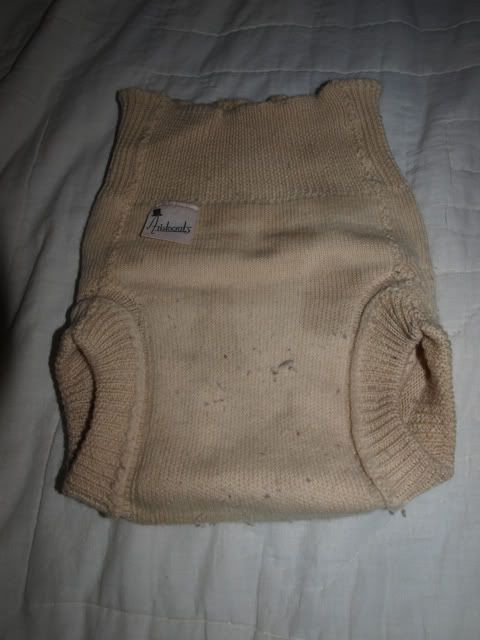 __________________
Wife to David
Mom to Alex (6/07)
and Aidan (10/09)
dogmom to Zoe
Dragonfly Gifts
: Gift baskets, baby blankets, cloth napkins, and more! Use code DSMAMA for 10% off!
---
Last edited by AlexandZoesmom; 08-06-2012 at

02:52 PM

. Reason: some sold