Temptress of Fuzzi Fannies Diapers
Baby Justin David is here! ***ADDED BIRTH STORY AND LOTS OF PICS***
---
Update:ok here is my birthstory, its just the rough nak version so please excuse the typoes and spelling!

After cleaning house on Saturday April 21st, I took the kids and headed to the store, while there I had about 4 contractions and then had three more on th way home. I realized that there was a pattern to them and they felt different than before so I started timing them. The contractions were about 7-10 minutes apart and around 10 pm I decided nothing was going to happen so I went to bed. At 12:30 I woke up to another contraction, went potty and went back to bed, to do the same at 2:30. At 3:30 I woke up to aother contraction that was even more painful, so I got up and went to the bathroom where I found that I had lots of bloody show. I then knew that today was D-day!! I called my mom and told her no rush but get your things and come up ( she was in Tucson and had a 2 hour drive). I got in the shower and decided to go ahead and wash my hair and shave too. When I got out my contractions were still around 7 min apart. I called my doula Leigh at 4 and told her it was time for her to come over. I went downstairs and ate a banana and drank a glass of milk and checked my email and still timed the contractions. I caaled David around 5ish to let him know what was ging on but that he did not bneed to come home yet. We sat aroud and flipped thru tv channels until around 6 when Aubrey got up, I got her some chocolate milk and turned on cartoons. Then my mom showed up and my other doula. At 8 David came home too. My doulas and I took a ride and got some starbucks and rolls for breakfast and when we got back we decided to go ahead and take a walk around the neighborhood to see if we could get my contractions to pick up, so my mom watched the girls and we left. The contractions picked up to around 5 min apart while I was up and moving but were very managable pain wise. When we came home we heated up some soup from the freezer and had a snack! The contractions had slowed down to about 10 min apart while I was sitting so we went for another alk wich sped them up again. When we got back I was getting tired so they decided to give me a back rub and use some aromatherapy to see if it would help. So we went up to my bdroom and I sat on the birthball listening to soft music while my doulas rubbed my neck. I got tired from sitting there and plopped down on my bed, I was just beat and tried to rest a little. Soon after I got a big contraction and decided that laying down was NO good! We decided that I needed to be up walking to keep the contractions around 5 minutes apart becuase every time I sat down the contractions went to about 10 min apart. So, we decided to go ahead and head to Chandler (30 min away, where the hospital is) and go to target to walk around. So, we went to target and while we were there I had some really strong contractions, I decided it was time to head to the hospital. We chekced out ( ok my doula checked me out..lol I was having too many contractions in line to focus much on it) and we got in the car to get to the hospital, I had several contractions just walking ot the car. We got to the hospital and checked in. They put me on the monitor and told me that my birth tub had to be preapproved with maintenance ( noone told me that!!) Soo. Jen ( doula) took my birth tub to my room and met with the maintenance guy there. The nurse came in and checked me said I was 6 cm and 100% so she called my mw and let her know. They moved me to the birth suite and hooked me up to the monitors in there. I wanted to stand so I stood there for a good 30 min while hooked up to the monitors and waited for my mw to show up. When she got there I got in bed and she checked me again, I was 8 cm, but then she said that something was wrong, the babies face was presenting instead of the top of his head, so she called in the OB to double check and brought in an US machine to try and verify it. They soon figured the US machine was no help and the OB showed up to check it out. I was told that I might need a C section and so they started an IV and drew blood and did paperwork just incase. I was having quite painful contractions now and wanted to get in the birth tub soo bad! The OB came in and checked me and verified that yes the babies litle lips and nose were coming first. So, he went ahead and broke my water and my mw sugested I get an epidural but the doctor said it was not a good idea becuase I would not be able to feel to push and that it would be alot harder to push out the baby given his presentation. So, I did not get the epidural and went thru several HELLISH contractions before deciding I had to go to the bathroom, So David and my doulas helped me get out of bed ( really painful) and get to the bathroom. I had one REALLLLLLLLLLY painful contraction sittin on the toilet and begged to get into the birthtub, so my mw ran out to get permission ( they normall wont allow it after your water breaks). So she came back and let me in the tub, it helped some but the contractions were still reallly painful. I was able tho to sit with my knees on the bottom and my rear just kind of floating inbetween contractions. They had me stand up and they broiught the monitor in just to check baby real quick and then let me sit basck down. After several Extreamly painful contractions I was feeling alot of pressure and thought i was going to have to push, so my mw had me get out of the tub after that and back to bed so she could check me, she tried to check me while standing up but that did not work out. So I layed down and she said I was still 9 cm. I had a handful more contractions that felt like someone had cut open my back and was breathing fire in the wound. I begged for an epidural and they finally said ok. I was so afraid it would take a long time for him to decend and every contraction was so absolutly unbearable. 2 contractions later the anast. was there and I sat up to get it. They had my doulas leave the room and dh and my mw stayed to help with the epidural. As he was putting the epi in my body started pushing and I could not hold still, I was yelling that I had to move and had to push NOW! I could feel the babies head touching the bed! So as soon as the epi was in I rolled on my back/side and my body began pushing again. The mw said she ould already see his face and I told her it hurt down tyhere ( burned really), So right away I pushed and his head came right out. I pushed again and his body was out too! He came so fast even the doctor was in shock! My MW sat me up to see the baby ( doc was checkin him or something and then I got to pick him up and put him on my chest! He started to cry a little but was sooo calm! The epidural never had a chance to even kick in! The placenta was delivered and I was Shaking soo hard I was so cold that they piled me up with warm blankets. After a while I was feeling better and they finally got the baby away from me to weigh him, he was 8 lbs 12 oz and 21 inches long! His face was extreamly swollen and bruised but he was perfect!!!! I did not need any stitches so I gave my mw a hug and she left. I started nusring and Justin has been a pro at it from the start! Total I was in labor for 16 hours, only 3.5 of it was at the hospital!!

And more pictures:
at birth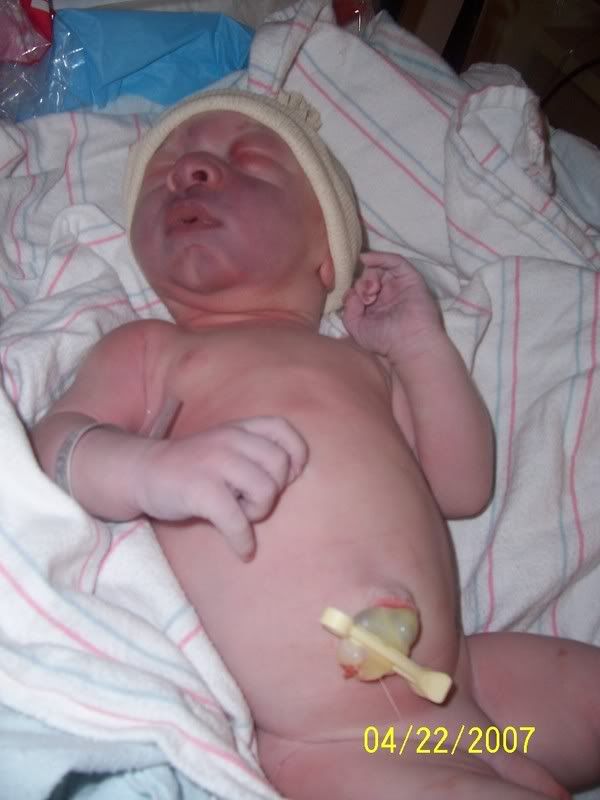 getting his hearing test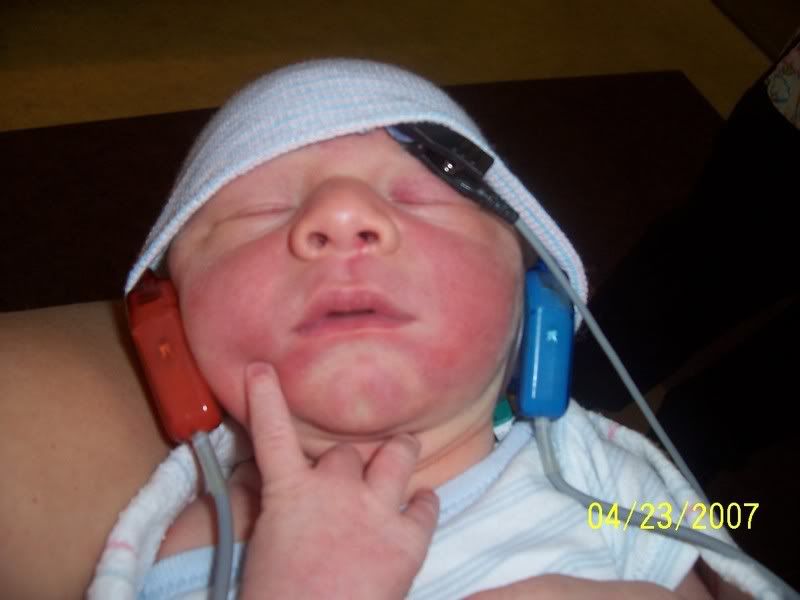 Just got home


misc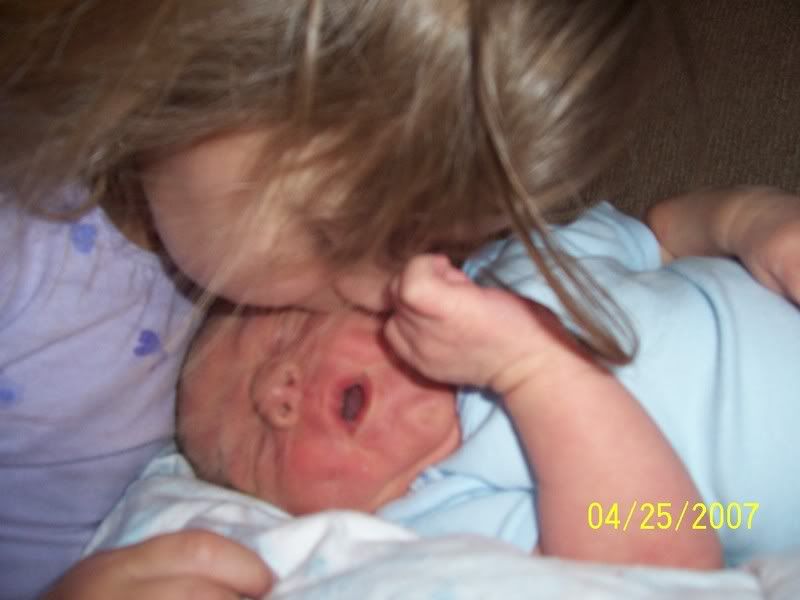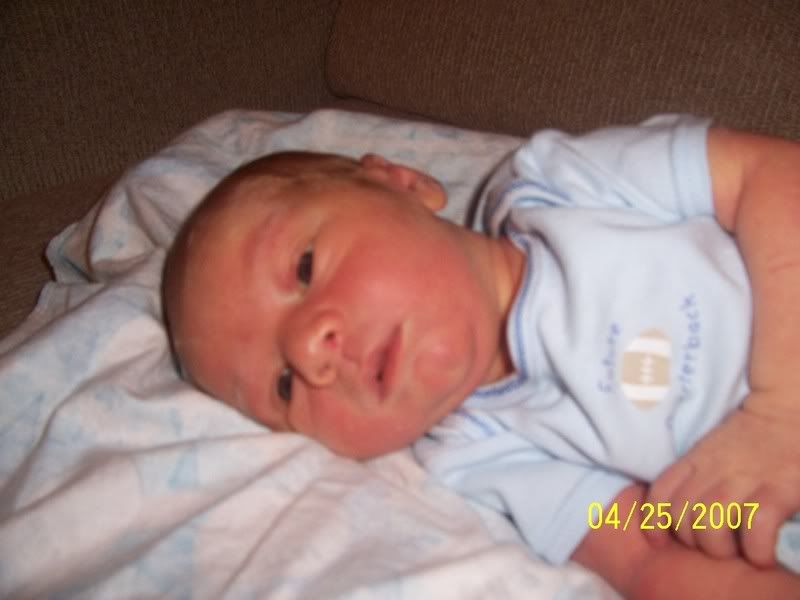 In his Fuzzi Fannies!!!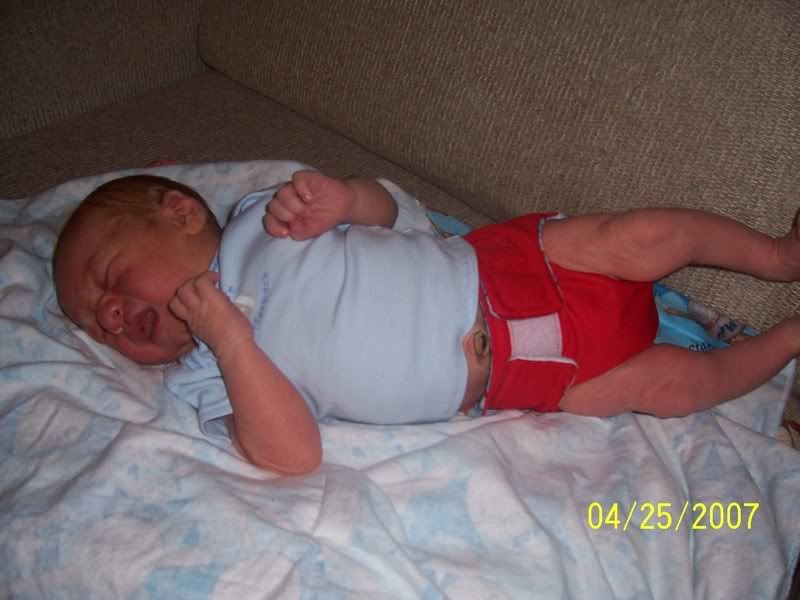 In an NBC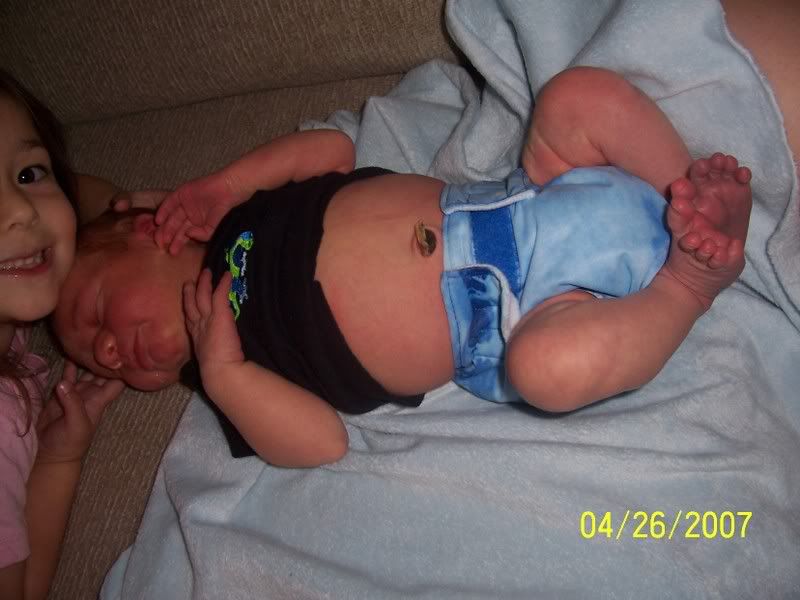 Daisy Doodles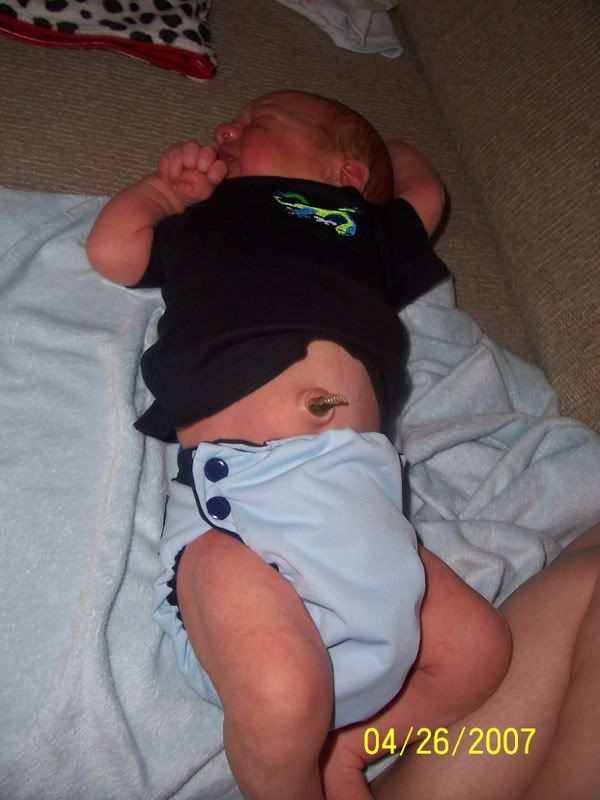 First wool set ( shorties by ontariomom)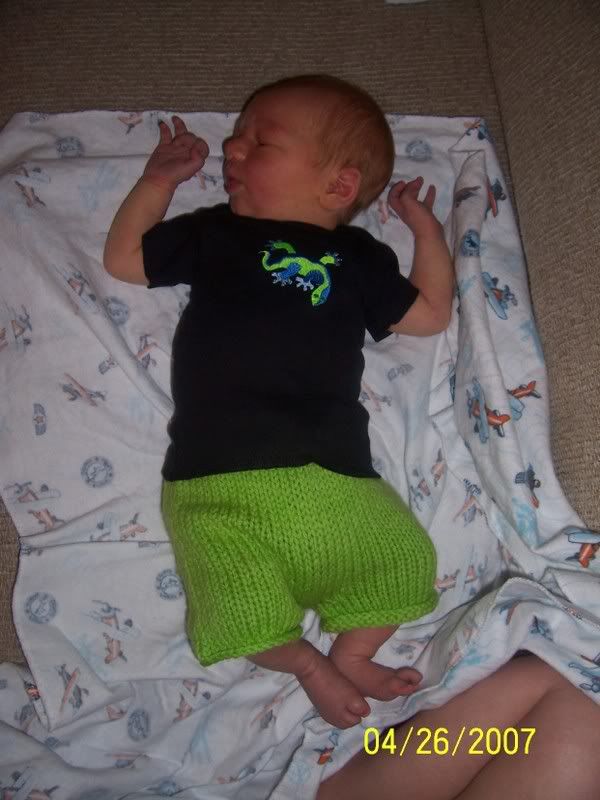 Hi everyone, just a quick post that I am home and doing well, labor was REALLY bad but we got thru it. He ended up being posterior with facial presentation and so that made the pain horrid and gave him ALOT of facial bruising. I will post the whole story later, I am just too tired now.

ETA: He was born on 4-22-07 at 7:33pm weighing 8lbs 12 oz and 21 inches long. He has strawberry blond hair!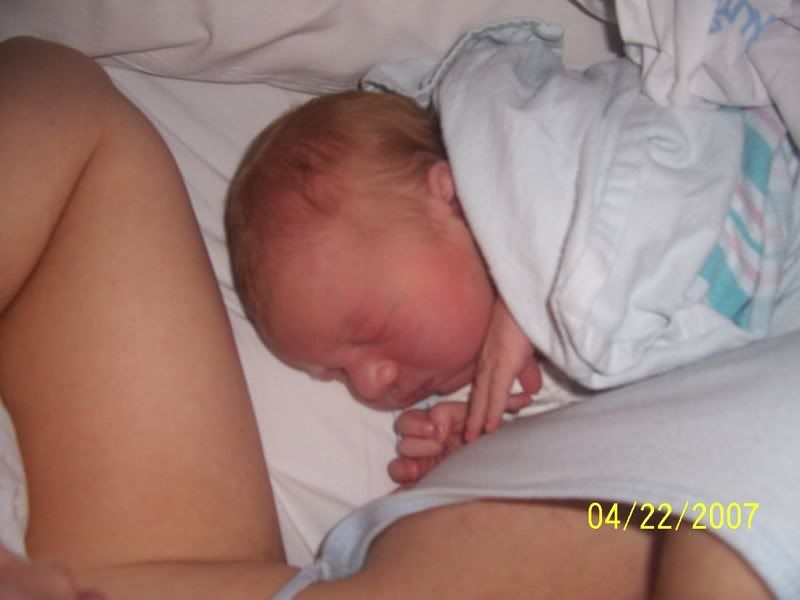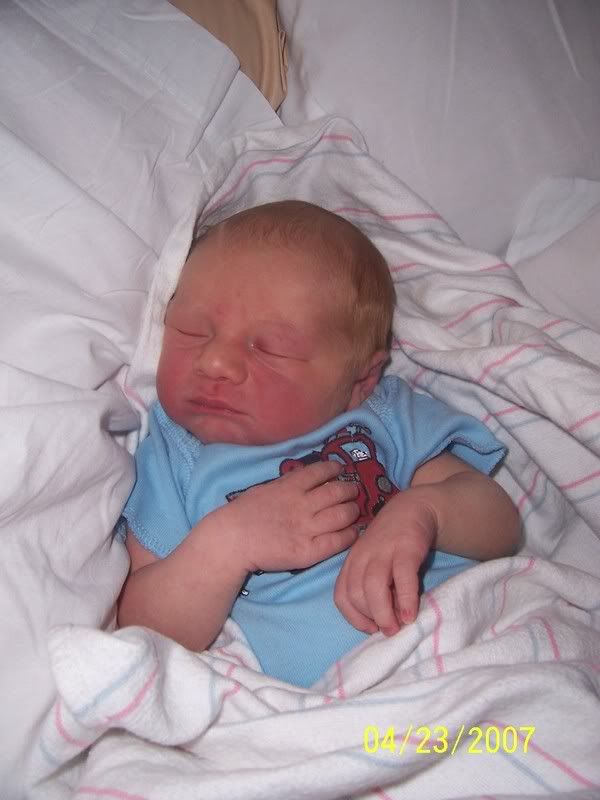 __________________
Rachele~ SAHM to 2 girls and 2 boys
---
Last edited by Fuzzi Fannies Creations; 04-26-2007 at

09:43 PM

.