Registered Users
Medium items, gen neutral, $8 ppd and LESS
---
Adding a few new items and re-posting unsold stuff from a while back. Funded paypal only. Big discount for multiple items.


SIZE MEDIUM

Pampered Cheeks cover, medium, $6 ppd, Saturn blue with brown trim with cute puppy paw prints. Trim is slightly faded, everything else on diaper in very good condition.





Imse Vimse Bumpy Day cover, medium, $5 ppd, jungle animal print. Runs a little small, fits a trifolded orange-edge prefold perfectly, minor staining on the elastic around the legholes.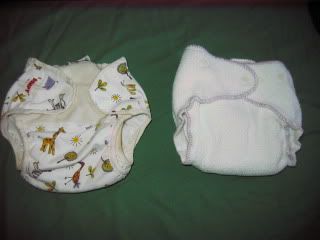 Inners, see stains on leg elastic of the cover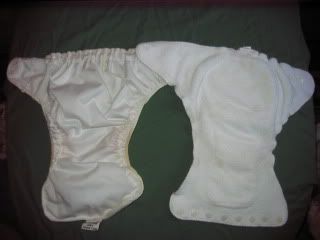 Cuddlebug AI2, $ 7 pdd, Cotton knit outer fabric with light green suedecloth inner, hemp fleece snap=in insert. Super trim with narrow crotch and high cut legs.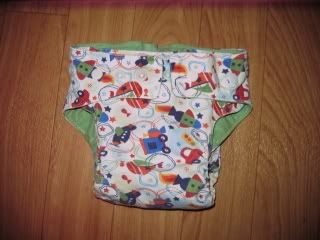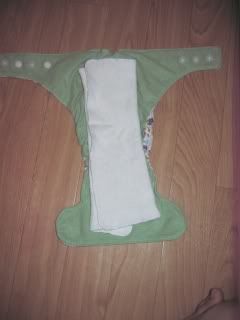 Baby Soft Wraps AI2, medium, $6 ppd, celery green with white fleece inner. Side-snapping. I have a hemp fleece insert from a different AI2 that is a nice fit inside the cover, but must be laid in since the snaps don't line up.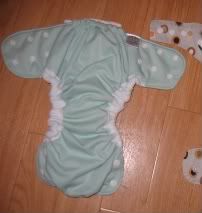 Inside with the trifolded insert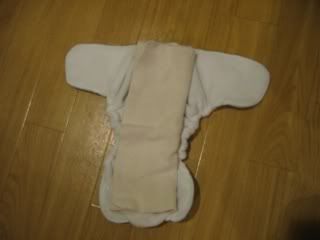 Loveybums fitted, med, sherpa with snap-in soaker, orange, $5 ppd. Runs a little small. Orange color is a little faded and much lighter than in the photo. Sherpa fabric is a little worn, like an old towel.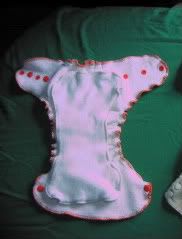 Piggy Prefitted, $5 ppd, orange dye with black serging – great for Halloween! Size small/medium. Great quality! The dye on this has stayed true and the prefold quality is awesome.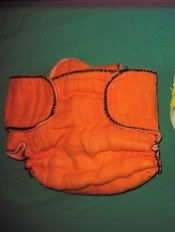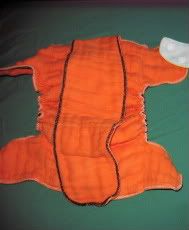 Very Baby Simply Nights fitted by Tallulah Baby, size medium, $8 ppd. Aplix waist. Color is natural hemp outer, white fleece inner. Hemp fabric has lots of small holes around waist tabs and belly aplix, but does not affect function (see photos). Right leg elastic a little stretched out. I owned two VBSNs by two makers and these were notably smaller especially around the waist.

See holes on VBSN around aplix and waist tabs.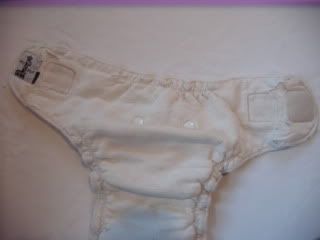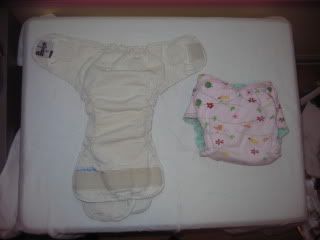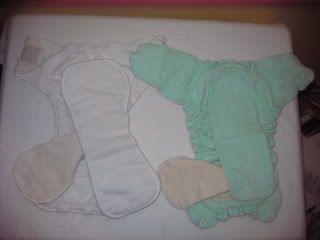 Blue longies, $5 ppd, recycled lambswool by Reuseabums, size small to medium, fits roughly 6-12 months, inseam XXX.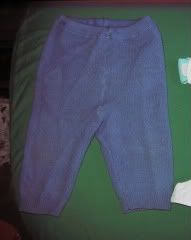 Gerber pull-on cover, medium, green with pastel animals, $2 ppd. Might be good for potty training. I think this cover may be nylon (tag says "!00% polyurethane" if that means anything to anyone.) It feels and looks just like my other nylon covers and NOT like the typical Gerber vinyl cover.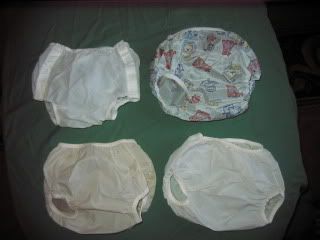 Advertisement
__________________
Enjoying life as a family of five
---
Last edited by aggfan; 03-25-2012 at

02:46 PM

.