Registered Users
50 pounds gone forever! (pics)
---
I've been fat my whole life. Fat was not and adjective for me it was who I was. It didn't help that I added on 30+ pounds after each of my 5 children's births. I felt helpless in it all like there was no way to fight it. Fat was like a cancer and it was eating me alive!

Until......this past March.....I desired to loose weight and started SBD. I dropped 20 pounds in two weeks just because I stopped fast food and didn't eat carbs. Then, ....... I quit.

Somehow, I hadn't got the memo that weightloss was a neverending thing for me. What I'm trying to say is there would be no end and going back. I would always have to watch what I ate and make myself move more. Choosing to sit on the couch and eat fastfood 3x's a day doesn't = 150 lbs.

So, ......I stopped SBD and within another 2 weeks I had gained back 15 of the 20 that I had lost. I felt so humiliated, such a failure....and began to eat. ..Give up ..It is just too hard.

Then, July 7th came and I stepped on the scale and saw 295 lbs. Yep, still fat and still doing nothing about it. We want more children, but I couldn't just keep adding on 30+lbs with each one. I'd be 400lbs before I knew it. Maybe that was why i changed? I don't know why? ...but for whatever reason I just decided I was gonna do it. I hated what I had become. I wasn't sexy. I was gross and I felt gross, angry, sad, ..the list goes on.... I was so unhappy with me.

I realized I am in charge of this. No one is making me be this way. So, I gave it to God and let Him give me control over this evil of mine.

I read and read and read......scripture, about healthy weightloss and how to do it naturally, and other people's success stories.

It all seemed so easy written down. Just eat less and move more. Not ónly consume less food, but consume good for you food.

So, that is where I began. I started counting my calories. I had to learn what 2200 calories looked like. I had been consuming 4000-5000k a day before and had no idea how to cut it down to 2200 without starving..It all was very scary.
Then I got it. Healthy food, good for you food, isn't loaded with calories/fat. It was made for our bodies. So, I changed what I ate and now eat mostly whole foods and very little pre-packaged foods. I eat only lean meats and much smaller portions of them. I use to eat two whole chicken breats. Now, I eat 1/2 of a breast.

After a month of eating the good stuff, my body began to beg, crave, to move more. So, that's what I did. It was a challange to figure out how to workout with homechooling 5 kiddos, but I figured it is just something I have to do. I've used excuses for way too long. This is my life and if it is important, then I will make time to do it.

I've done a little of everything...Shred, BL, P90X, Pilates, Yoga, Running, Walking, skipping, playing with my kiddos, etc....Hec, I even ran a 5k! I get bored easily, so I have to change it up all the time to keep my interest.

These 50 pounds have been so freeing in more than a physical way. I cannot tell you how much loosing weight has changed my life and who I am. I finally am beginning to feel like the woman who I am inside. She is slowly being chisseled out.

I wish you all the same in all your weightloss goals!


Starting weight: 305+pounds
Current weight: 252 pounds


chest: 58.... 47.5 = 9.5" loss
waist: 61.... 48 = 13" loss
hips:66.... 52.5 = 13.5" loss
thigh:29..... 23.2= 5.5" loss
calf:19..... 15 7/8 = 3 1/8" loss
bicep:17..... 13 = 4" loss

BEFORE: Me at my biggest and the most miserable I've ever been in my skin.

March and April 2010 305+ lbs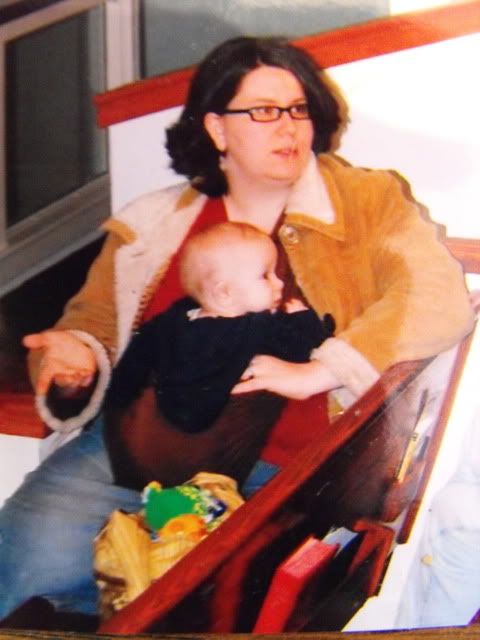 Here is me in my same Before and After clothes. These were taken today (November 2nd). I don't think you can really tell how big these clothes are on me now by these pics. The pants literally fall off me with just a little tiny tug. They are an elastic waist.... I mean when you are 305 lbs what elastic is the only thing that feels good to wear.... However, in my first pic they were pretty much stretched to their limits.

The top is big, but I don't feel like I see a huge difference in the pic even though I've dropped a total of 9.5" in my chest. I feel different and would not wear this top now because it drapes me. It is a size 28 and I am now in a size 22. But looking at this pic I don't feel like it looks like I've dropped 50 lbs.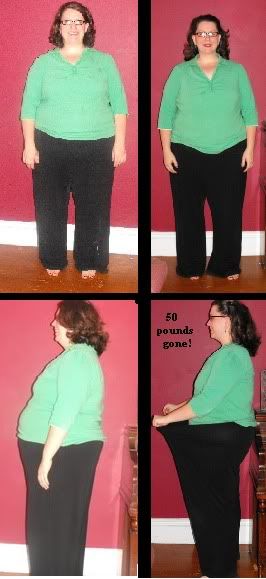 Here's some more of me throughout my weightloss......

Before and After along the way....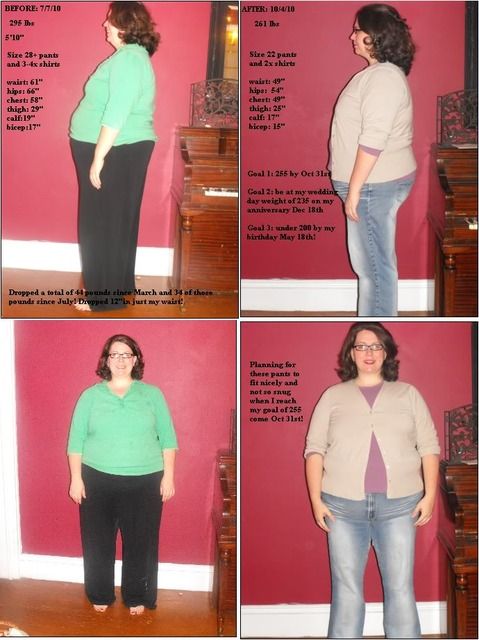 Before Dec. 2009 vs. Nov. 2010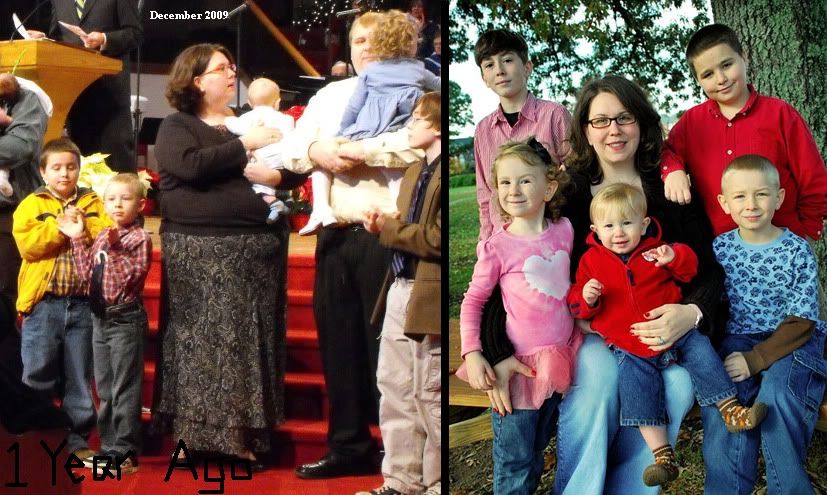 How has my apron changed?......scroll down to see..........(me in my undies= lots of flesh)
.
.
.
..
.
.
.
.
.
..

.
..
.
.
.
.
.
.
.
.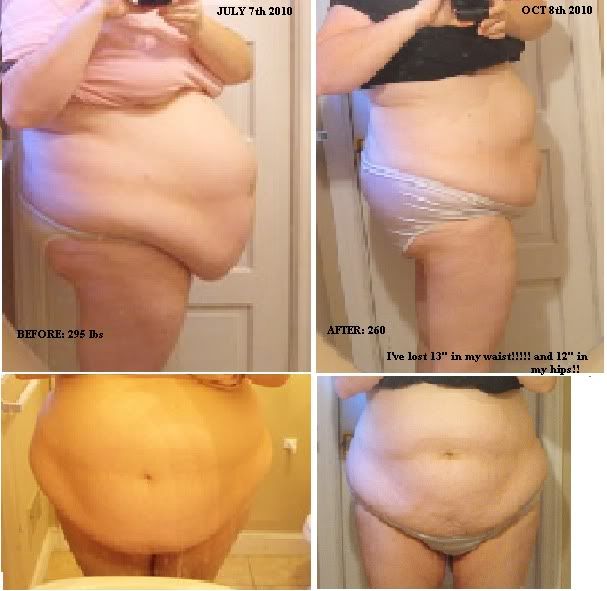 I am 5'10" and my goal weight is 170 pounds, so I still have 80 pounds to loose! I goal is to be 170 around my 31st birthday in May 2011!

I will continue to share pics of my progress along the way. I take pics once a month to compare and am so glad that I do. There are so many days where I am fighting a mental battle of thinking I don't look different, then I make myself look at these before/after pics (especially of my gut) and recognise, "Yes I have changed and YES I will kepp going!" This is the first time in my life where I have been successful with weightloss. I am so proud of myself and all the effort I put into shaping this body into what I want it to be one day! I'm looking forward to seeing all of my body changes come Dec. 1st when I reach my Thanksgiving goal of 245 lbs and if I meet my goal of 245 by Thx-giving, I'm planning on taking/posting a new panty pic! I know you all are excited about that!


Thanks for reading and for all the mamas that have supported me along my journey here on DS!!
__________________
Jesus-loving, Unschooling, FREEBIRTHING Mommy to a bunch!
Rylan,Nolan,Gideon,Layla,Lincoln,Lulah
, Evangeline and a New Baby in my tummy
---
Last edited by slingmama4; 11-17-2010 at

08:05 AM

.