Registered Users
Trumpette, Hanna Andersson, Zutano, Carter's, Ralph Lauren, Gymboree, Gap, Old Navy
---
PM me with interest in anything. Thanks!

UP TO 6 MONTHS:
NIP 6 new Gerber white kimono LS shirts, Newborn NB, $14ppd



EUC (worn twice?) TCP Striped Sweater, 3-6m, $8ppd



EUC Carter's cotton, footed, button closures sleeper, NB, $5.50ppd



LOT of 4 VGUC/EUC Carter's TERRY footed sleepers, NB, $14ppd



EUC Carter's LS Moose Shirt, 3m, $4ppd



NWT Carter's Sweater, 3m, $7ppd



NWT & EUC Carter's Fleece Sleepers, 3m (Top row: zipper, footed; middle row: button closures, footed; bottom row: NWT, button closures, no feet) - all 5 for $26ppd (one is NWT)



EUC (worn twice?) Carter's LS onsie, Santa Footed Pants, 3m, $6ppd



NWT Carter's 2 Kimono T's and T-shirt, 3m, Kimono's washed never worn and striped T worn a few times, $10ppd for all 3



2 EUC LS Paul Frank Onsies, 3-6m, both for $7ppd



EUC (some wash wear, no stains, holes or tears) Gymboree SS Shorts Gymmies, 3-6m, $7ppd



NWT Izod LS Collared Shirt, 3/6m, $6ppd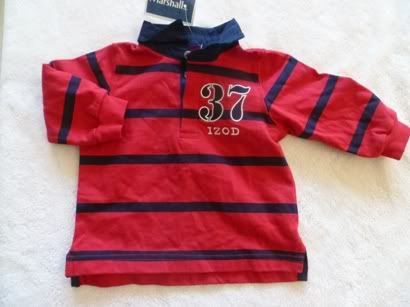 EUC Gymobree Rookie of the Year LS Onsie, Pants, 3-6m



VGUC (some pilling) Old Navy Fleece, Hooded Romper, 3-6m, $7ppd



NWT Just One Year (by Carter's) LOVE LS Onsie, 3-6m, $6ppd



EUC Old Navy Velour LS Santa Shirt, Footed Pants, 3-6m, $6ppd



EUC Pumpkin Patch fleece lined jeans, 3-6m, $9ppd



EUC Baby Gap LS Shirt, Tan Corduroy Pants, 3-6m



EUC Carter's bunting suit, 6m, $9ppd



NWOT Carter's Shorts Overalls, 6m, $5ppd



EUC Carter's Red Dog T-shirt, 6m, $5ppd



NWT Carter's Fleece, Zipper, Footed Holiday Blanket Sleeper, 6m, $7ppd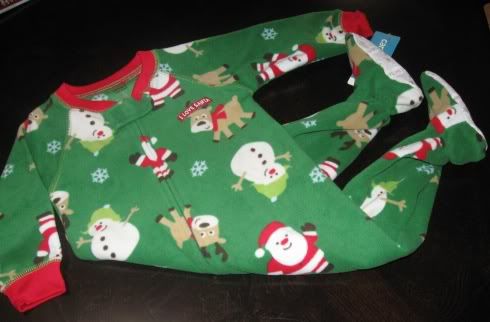 NWT Carter's 3 piece T-shirts, shorts, 6m, $9ppd



6-12 MONTHS:
EUC Ralph Lauren Fleece Pull over, 6-12m, $10ppd



EUC Old Navy Hooded Airplane Jacket, Gray pants, 6-12m, $9ppd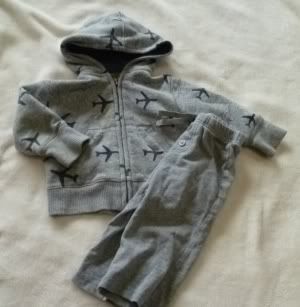 NIP Old Navy SS Shorts PJs, 6-12m, $7ppd



VGUC Rain jacket, 6-12m, $8ppd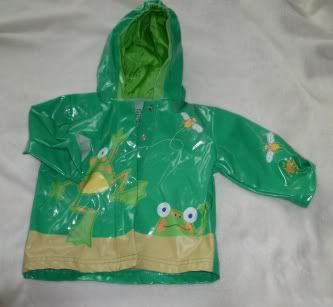 EUC Old Navy Button Down Print Shirt, 6-12m, $5ppd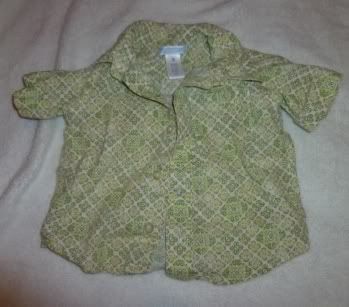 GUC (subtle stain) Gap SS Short PJs, 6-12m, $5.50ppd



EUC (worn twice?) Gap muscle shirt onsie, 6-12m, $6ppd



VGUC Gap navy blue turtleneck onsie, 6-12m, $5ppd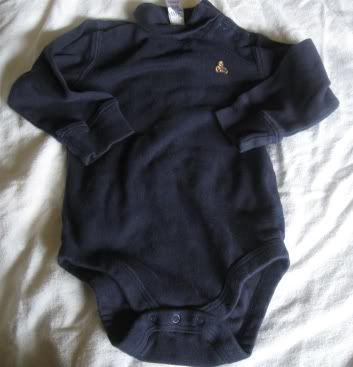 GUC (has a couple of stains) Gymboree Submarine Shirt, 6-12m, $3ppd w/ other purchase (basically FFS)



9 MONTHS:
VGUC (no stains, holes or tears, but some pilling) Carter's Yellow Terry Sleeper, 6-9m, $5.50ppd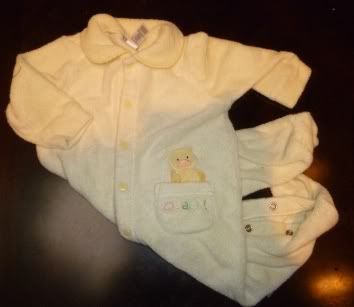 VGUC (no stains, holes or tears, but some pilling) Carter's Fleece Sleeper (no feet), 9m, $5.50ppd SOLD

VGUC (wash wear) Circo Monsters LS Onsie, 9m, $4.50ppd



EUC Ralph Lauren Striped LS Romper, 6-9m, $8ppd TRADED

EUC Future Rocket Scientist onsie, 9m, $5ppd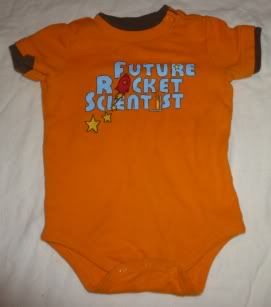 2 EUC Jumping Beans T shirts, 6-9m, $5ppd



EUC Green Dog Shorts, 6/9 months, $5ppd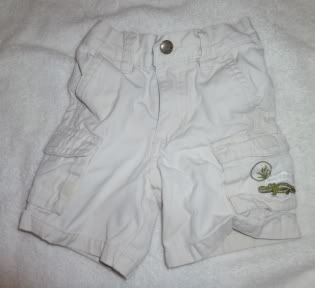 NWT Carter's 4 pack white LS onsies, 9m, $14ppd



EUC Carter's Holiday LS sleepsack, 0-9m, $6ppd



12 MONTHS:
NWT Green Dog LS Cordoroy Cream Button Down Shirt, 12m, $8ppd



NWT Green Dog Lime Green Polo T, 12m, $6ppd



NWT Green Dog Plaid Button Down Shirt, 12m, $8ppd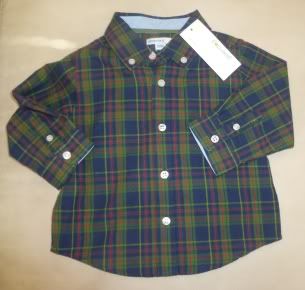 3 NEW Jumping Beans T shirts, 12m, $13ppd for all 3



EEUC Green Dog Pants, 12m (runs big?), $5ppd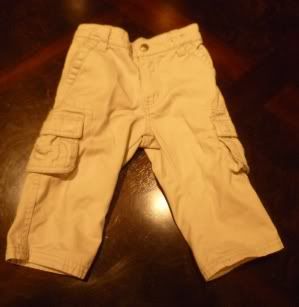 NWT Carter's Elephant SS onsie, 12m, $5.50ppd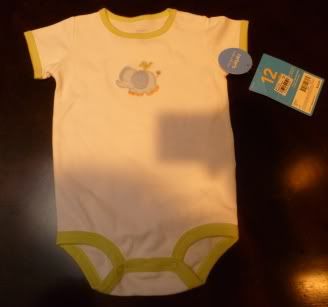 VGUC (stain on onsie) Carter's 3 pc duck set, 12m, $6ppd



EUC Carter's Little Brother LS Onsie, 12m, $6ppd



EUC Carter's onsies, 12m, $7ppd for all 3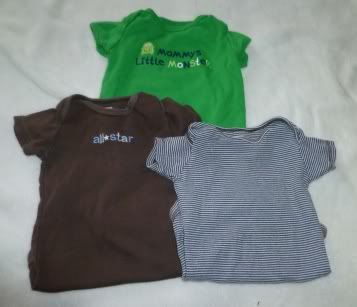 Like New Swim Trunks - I think it's REI brand, 6m (worn once in Hawaii), $8ppd



EUC Carter's Brown, Navy Cotton Pants, 12m, $7ppd for both



EUC Levis collared LS shirt, 12m, $5ppd



NWT Carter's T and shorts, 12m, $8ppd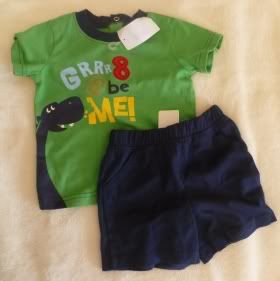 EUC Ralph Lauren Shorts, 12m, $9ppd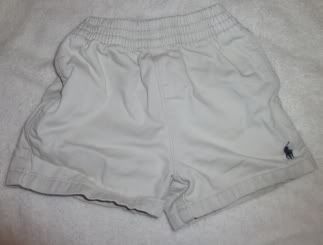 EUC (worn once) 3 Piece Suit (LS Button Down, Vest, Pants), 12m, $15ppd



EEUC (worn 3 times?) Cherokee Jeans, 12m, $6ppd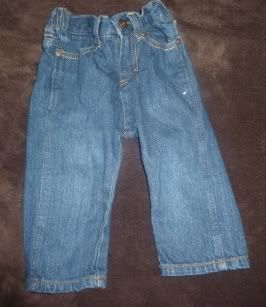 Zutano:
Zutano clothes (all are NWT or EUC and some VGUC (b/c wash wear only, no stains holes or tears)), 0-3m or 0-6m
NWT No Sleeve Zutano Romper, 0-6m, $9ppd



NWT Zutano Dot LS Shirt, EUC Pumpkin Patch Overalls, 0-3m, $9ppd



NWT Zutano LS Palm Island (Green/Yellow print) T, 0-6m, $8ppd



GUC (wash wear) Zutano LS Shirts, 6-12m, $12ppd for both



NWT Zutano Striped SS Shorts Romper, 0-6m, $10ppd



EUC Zutano Shirts, 0-6m - Short sleeve $6ppd; Long sleeve $7ppd; except black is washed, never worn $8ppd



Zutano LS shirt & shorts, 0-6m, $11ppd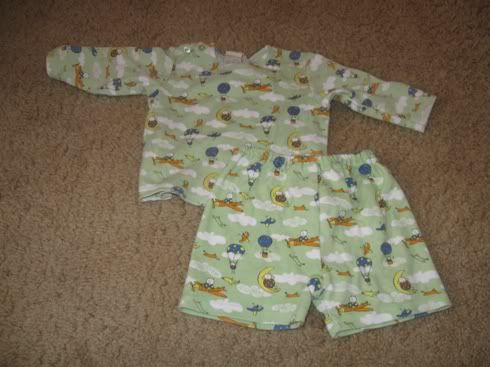 NWT Zutano Cozy Fleece Bunny Sweater, 0-6m, $13ppd SOLD

2 NWT Zutano LS Shirts, 0-6m, $12ppd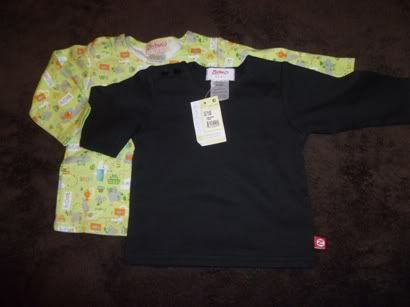 NWT Zutano bold stripes pants and NWT Black LS T-shirt, 0-6m, 15ppd



NWT Zutano red or blue fleece jacket, 6-12m, $15ppd each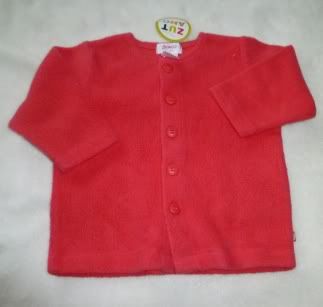 VGUC Zutano Orange Fleece Jacket, 6-12m, $11ppd



EUC Zutano Orange Mouse Fleece Sweater, 6-12m, $13ppd



EUC/NWT Zutano Shirt, Shorts, 6-12m, $11ppd



NWT Zutano Boats LS Jacket, 6-12m, $10ppd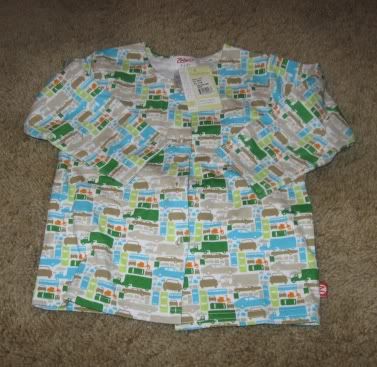 EUC Zutano green, white striped shorts romper, 6-12m, $7ppd TRADED

NWT Zutano Signs Pants, 6-12m, $8ppd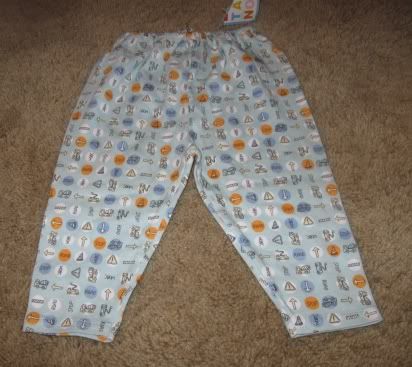 VGUC (some fading, no stains, holes or tears) Zutano stripes pants, 6-12m, $6ppd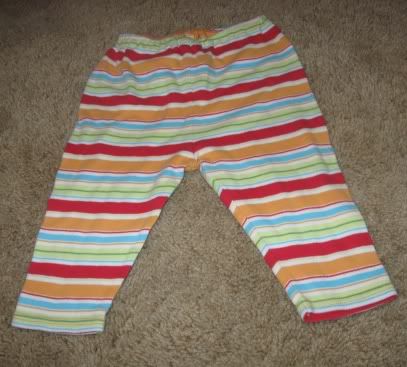 Zutano LS Shirts, Jackets. EUC Light blue/yellow stripes; VGUC (some wash wear) Ocean print; EUC Blue squares. All 6-12m, $7ppd each SOLD

Hanna Andersson 60, 70:
NWT Hanna Anderrson denim shorts, 60, $10ppd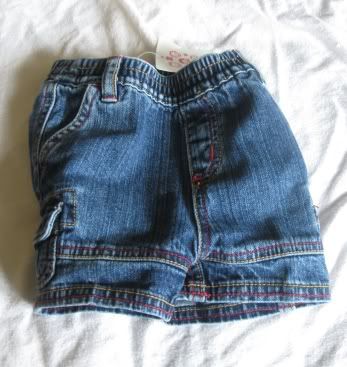 EUC Hanna Andersson 60 LS "Rugby", $8ppd



VGUC (some pilling) Hanna Andersson light blue fleece jumpsuit, 60, $17ppd



NWT Hanna Andersson 60 Fleece Romper/Bunting, $25ppd



EUC Hanna Andersson Blue, Brown Stripe Soft Landing Pants, 70, $11ppd



VGUC (small stain on back) Hanna Andersson light blue wiggles, 70, $10ppd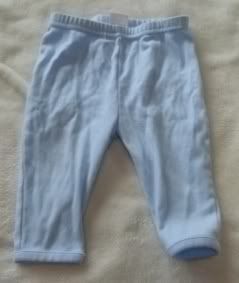 NWT Hanna Andersson Aqua T-Shirt, 70, $10ppd. I also have the power T in red and white, EUC for $7ppd each.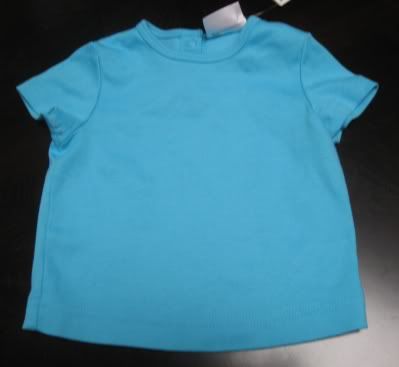 EUC Hanna Andersson No Sleeve Blue Stripe Romper, 70, $9ppd



Set of 3 EUC/VGUC Hanna Andersson ORGANIC cotton Zippers, size 70. The blue stripe and monsters one are in EUC (no stains, holes or tears). The green stripe has a small hole (no stains). $45ppd



EUC (worn twice?) Hanna Andersson Blue Romper, 70, $7ppd TRADED

Brand new, in package, Trumpette XOXO sock package in red and a package in black. Asking $6.50ppd each.



2 Johnny's Trumpette Socks, 0-12m, $5ppd



VGUC Halo sleepsack blue, small, $13ppd
---
Last edited by naomi's mama; 05-10-2011 at

02:18 PM

.