Registered Users
OperaDiva
SKIRTIES & trainers in stock! Fleece Be With You ConverToTrainers!
---
6-14-11 Just stocked my store with Skirties, ConverToTrainers, and a few second-quality ConverToTrainers! Ready to ship tomorrow, check it out!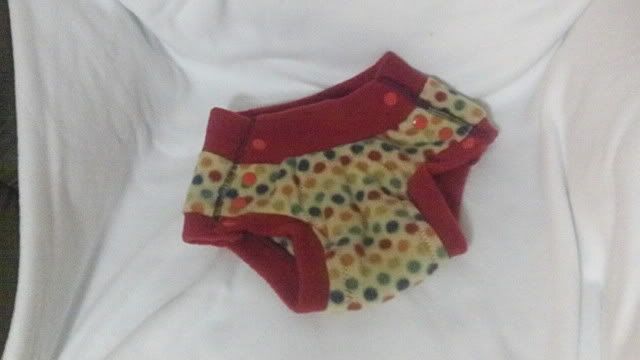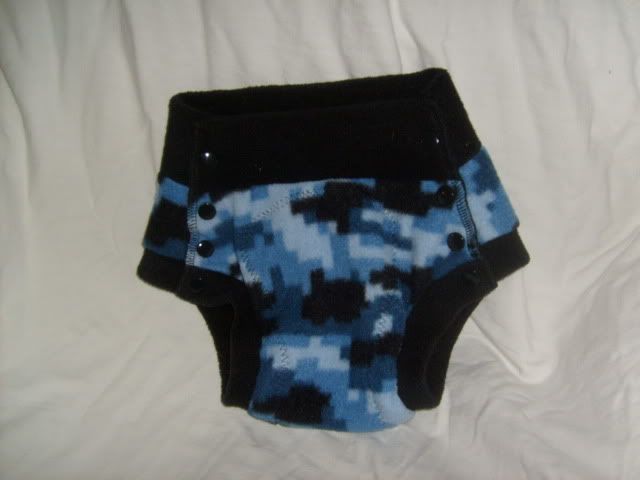 After much planning and preparation, I am finally ready to open up shop! I make Fleece pull-on snap-off trainers that can also be used as covers.

As a mama who does Elimination Communication, I wanted something that could pull up and down, but had snaps for those inevitable misses. I wanted something trim, and absorbent enough for 1 pee, that could still be used under clothes without them getting wet. Most importantly, as a thrifty mama, I wanted something that I could use with all of the random inserts and prefolds I had floating around my house!

So, the ConverToTrainer was born! After much tinkering and messing with the pattern, I am finally ready to share my new favorite trainer diapers with the world!


ConverToTrainer details:

The ConverToTrainer is my own design, very loosely modeled after the Katrina Soaker Pattern. It is made from quality Anti-Pill Polyester Fleece, which naturally repels liquids.

The design is unique among fleece covers, and has many interesting features. It is a pull-up, snap-off design that is perfect for potty learning toddlers, but also works for a younger little one. On the inside are flaps in the front and back to keep your insert or prefold in place. Inside the flaps, there is a socket for an optional snap-in insert. If you use my bamboo fleece snap-in inserts, these are an AWESOME water resistant trainer. The snap-in inserts feature 3-6 layers of Heavy Bamboo Fleece (choose either the 3 layer or 6 layer to fit your child's needs), which is amazingly trim and absorbent. For nighttime use, I have used a ConverToTrainer cover over an absorbent fitted diaper with great success!

Care instructions for the covers are simple, just rinse off any solid waste with cold water, and throw it in the laundry with whatever load you choose, it can be your diapers, your towels, your clothes, whatever. Fabric softener actually HELPS fleece covers, since the point of the cover is to repel liquid and keep it inside the diaper. I prefer to line dry, as it keeps the fleece looking new longer, and fleece dries quickly. If you use the dryer, try to keep it on Medium heat or lower to prevent excess wear. Be a little more gentle with the Bamboo inserts, wash them with your diaper laundry, minimal detergent, cold rinse-hot wash-extra rinse, line dry or dry on medium heat.

Approximate sizing and measurements:
Medium: Waist 13.5"-18"/Thigh 10.5"-14"/Rise 16"/Weight 10 lbs-22 lbs
Large: Waist 16.5"-21"/Thigh 11.5"-15"/Rise 18"/Weight 20 lbs-30 lbs
XL: Waist 19.5"-24"/Thigh 12.5"-17"/Rise 20"/Weight 28 lbs-38 lbs
XXL: Waist 22.5"-27"/Thigh 13.5"-20"/Rise 21.5"/Weight 35 lbs-45 lbs

Sizing is comparable to most cloth diaper brands, if you need a custom size (smaller than medium or larger than XXL, or any size with a longer rise) or help with sizing, send me an e-mail at fleecebewithyou@yahoo.com.



Cost:
Medium/Large Cover: $16
XL Cover: $17
XXL Cover:$18

Add 3-layer insert for $5
Add 6-layer insert for $9

Buy any 5 inserts, get one of equal value FREE.

Use the code grandopening for 10% off your order. My Hyenacart page can be found HERE




These pictures are of an earlier prototype insert, my final inserts have white serging and rounded edges, and snap in from the top rather than the bottom for a cleaner look and fit.



Options for Fleece prints:



Some feedback from my testers and customers:
"I was VERY impressed (and I'm super picky) about the quality. I loved the details, i.e. I *love* how you mades the inserts to tuck in and also snap in. I didn't purchase any inserts from you but kinda wish I would've just to test out your hidden snaps inside. The quality is TOP NOTCH - and again, I really am VERY picky because I usually get things and think I should've just made them myself." - Mom2ls

"We've only used the trainer once but it survived a diarrhea poo with no leaks so that was impressive." - bluecandi

"It really is my fave cover, and I was mad earlier when poop got on it." - Knitgnats by Kara


__________________
Jessica, wife to L (8-5-05) Breastfeeding, co-sleeping, non-vaxing, CDing, ECing, babywearing Mama to H (9-18-09), my miracle baby! TTC #2!
I make and sell Fleece side-snap ConvertoTrainers!
WAHM page
Hyenacart
Facebook Page
My Ovulation Chart
---
Last edited by Fleece Be With You; 06-14-2011 at

03:14 PM

.