Registered Users
Join Date: Apr 2006
Location: Diligently working on getting out of the hellish state of FL
Posts: 4,296
My Mood:
*more added*NB,SM,LG prefolds,sos, mosaic moon,prefolds, fitteds, wool, AIO's, fleece
---
shipping is $2 for first dipe and $1 each additional. Heavier or multiple items may be a bit more

It is official...no more babies so I need to clear out some space
NB and small stash are GONE! They were not used much if at all-- baby was almost 10 lbs. Most in excellent condition. Any questions, please ask. I take discounts on multi purchases and mail cost is not included.

I have the following (and this is just the start)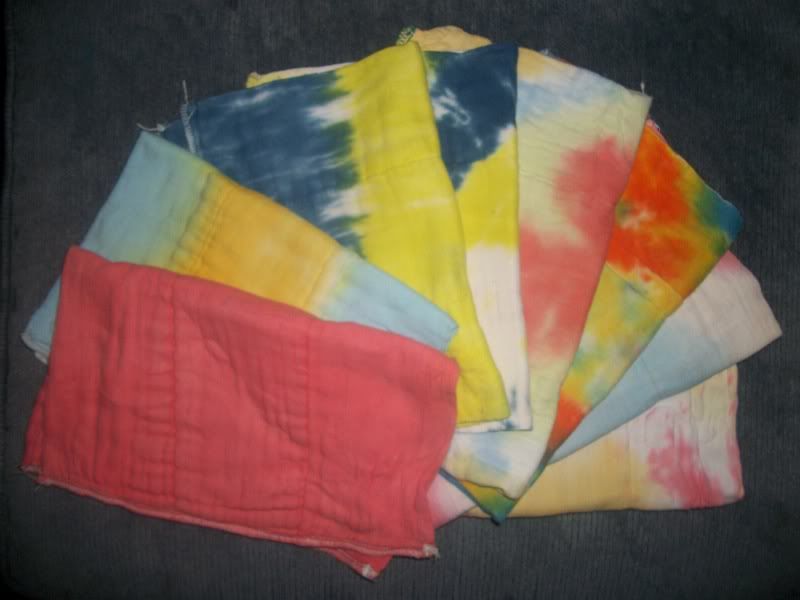 All prefolds pictured are infant. I also have available 6 regular chinese and 6 indian DSQ unbleached as well as some tie dyed prefolds
infant prefolds bought dyed. 1.50 each for regular 2.00 for DSQ



Chinese DSQ unbleached prefolds 7 for $10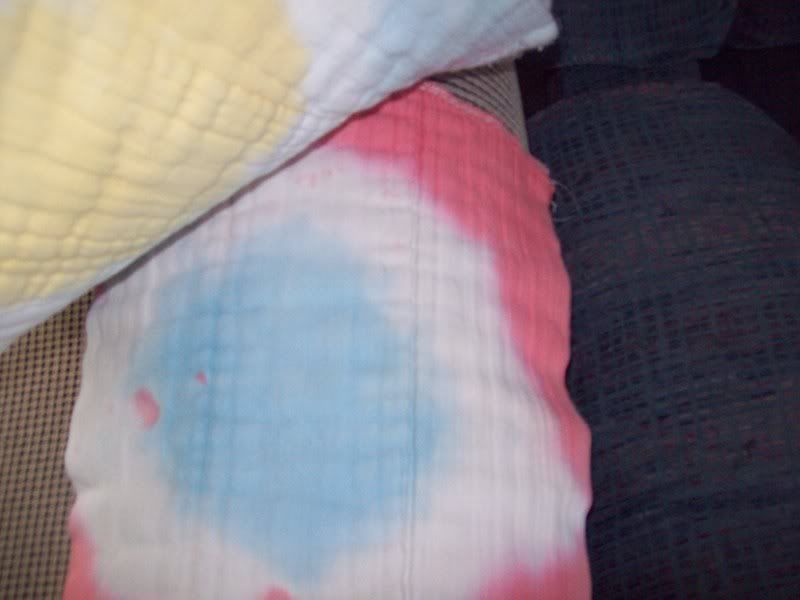 Infant chinese DSQ coral and red ivory and blue $2.00 each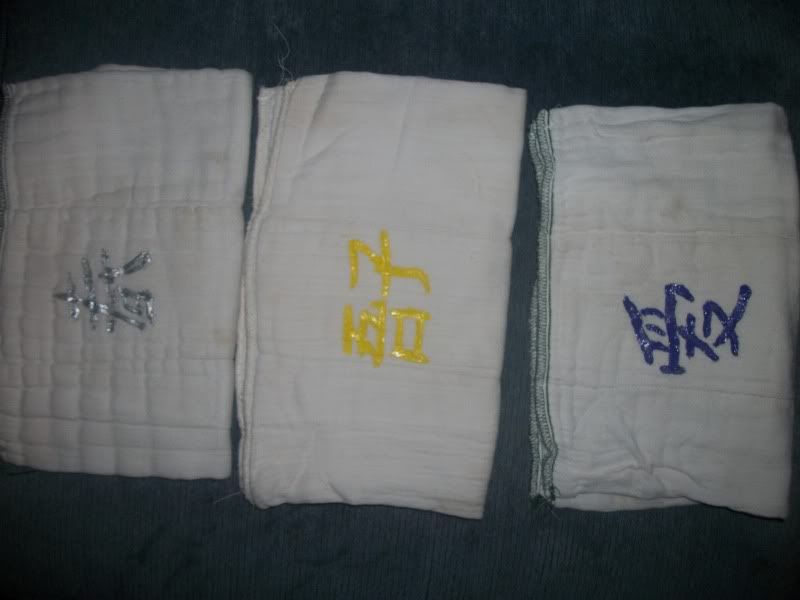 3 DSQ diapes with Japanese kanji, one in purple one is silver and one in yellow(means child) 2.00 each (I will look up the other two. My DD made these for me....



Hemp toddler prefolds. These are super diapers! 4 for $9.00


New Born Dipes. I have an entire stash my 9 lb 14 oz baby didn't get to use much




My very first fitteds purchase from Righteous recyles ! one leg nees the elastic tightened a wee bit but we wore it under shorties so it wasn't an issue



batik bum tie dye cotton New born diapers. One in orange and red, the other in blues and purple. VGUC 8.00 each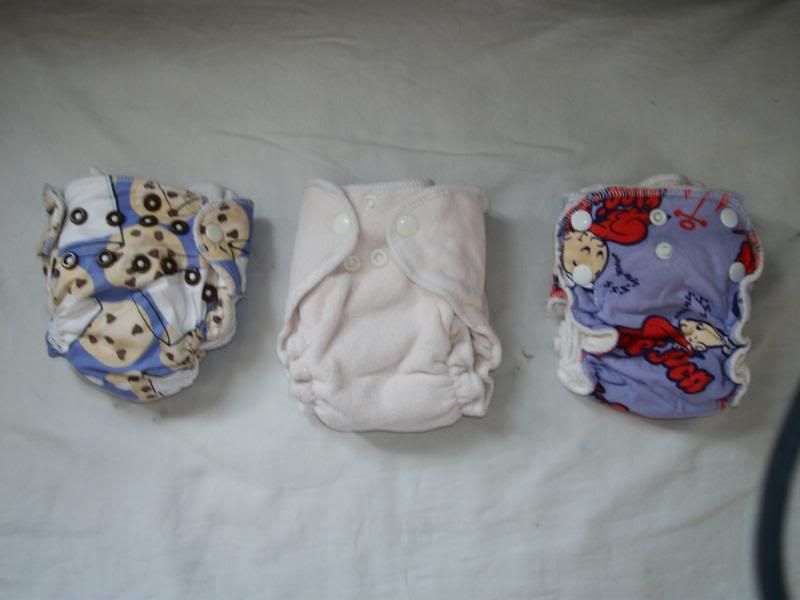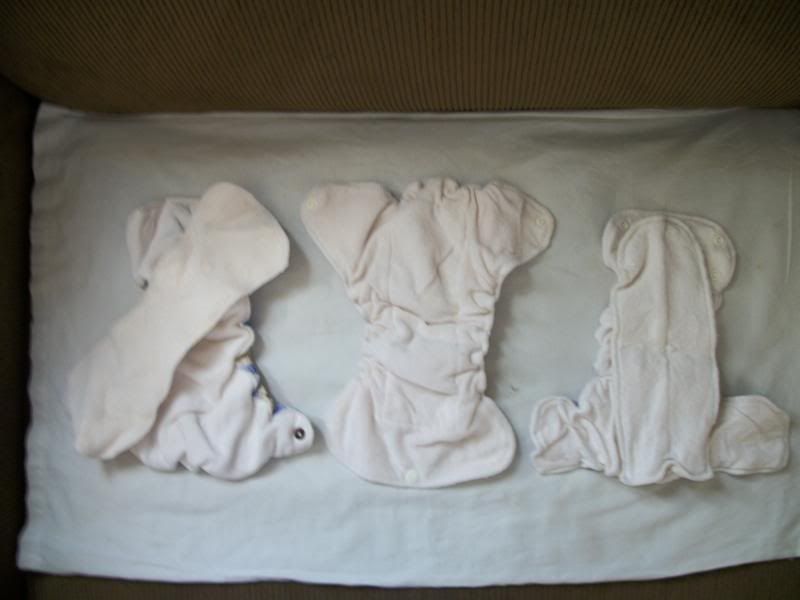 NB unknown fitted with cookie print, inside has extra soaker EUC $7.00
blueberry small velour diaper with embilical cord fold down $10.00
NB unknow with baby and "glee pea" under babe $5 sold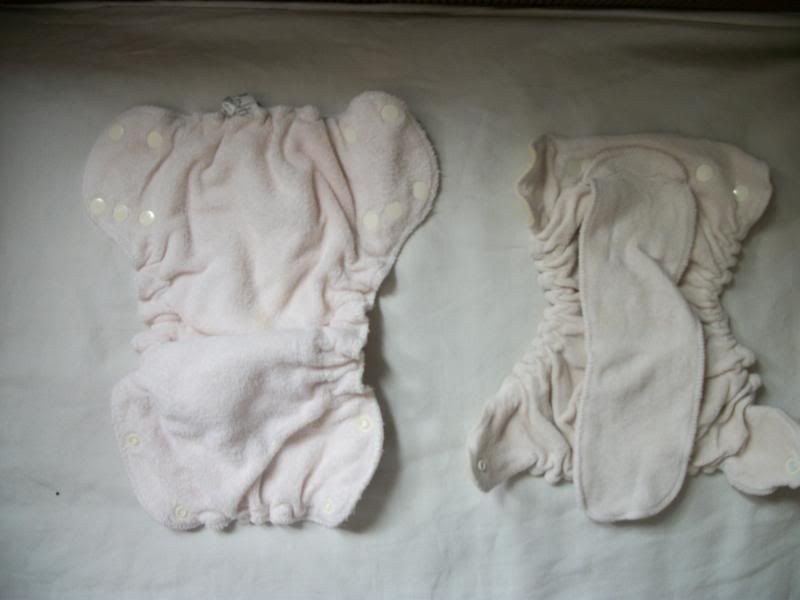 Sandies terry dipe VGUC, $4, Unknown yellow flannel with chicken. Great inner soaker $4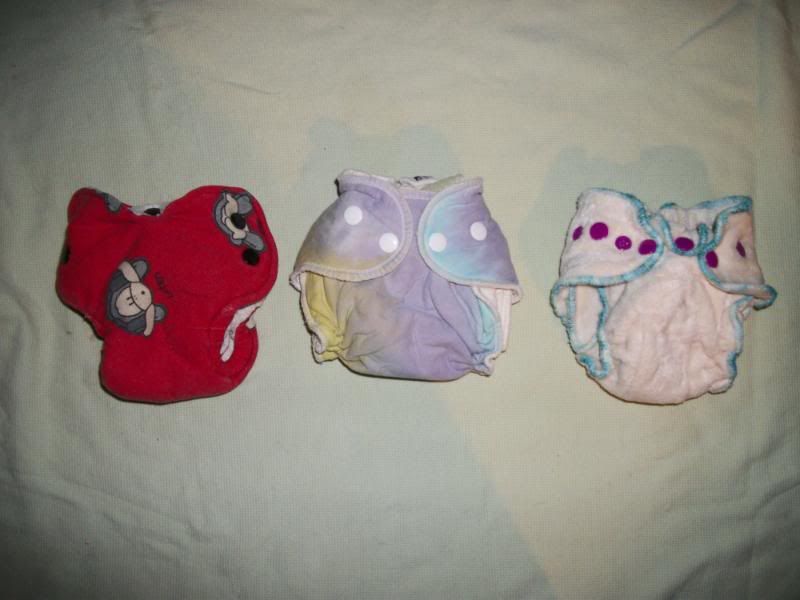 NB "see no evil" MONKEY print. (I got this in a trade
) belly button snap and lay in soaker $4.50, Sugarplum Baby tie dye, VGUC $8, mama velour dipe after Sugarplum baby pattern. EUC $3.00 sold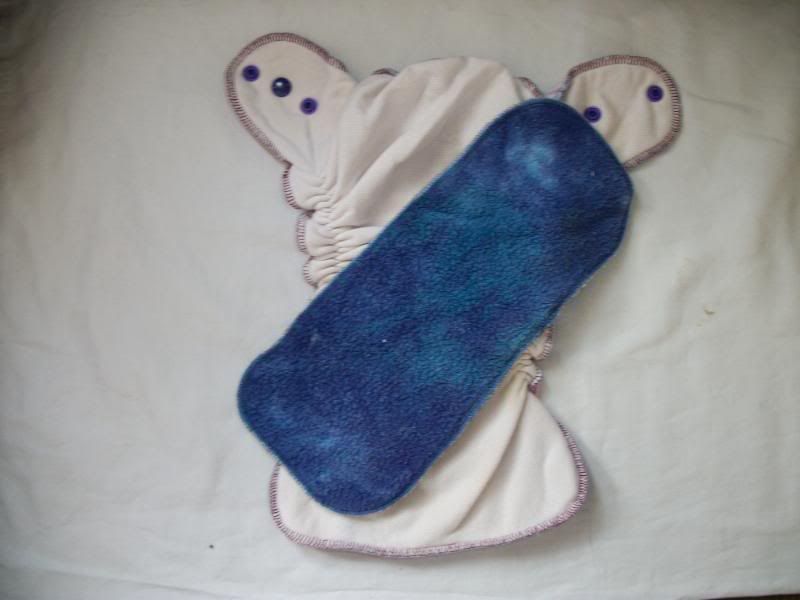 SM Batik bum tie dye. GUC $6.00
[COLOR="Silver"] http://i113.photobucket.com/albums/n237/epiboly/butt%20rags/089.jpg
SOLD
size small Dri-line commercial fitted diapers. These lasted until baby got bigger and I found them to be a great dipe. 5.00 each or all for $15[/COLOR http://i113.photobucket.com/albums/n237/epiboly/butt%20rags/092.jpg
SOLD Small mama made washed and never used, print is a giraffe and palm trees on white flannel. $4.00 each


same sewing pattern as above but with lt cotton outer with circles and flannel inside.

Recycleez bumble bee and kanji print dipes. Bees got more use VGUC $4 for the blue and $5 for the black.....


Cotton and hemp dipe with snap in trifold soaker VGUC. $4 Print is moneys and gone bannanas, Dream-ez EUC 7.00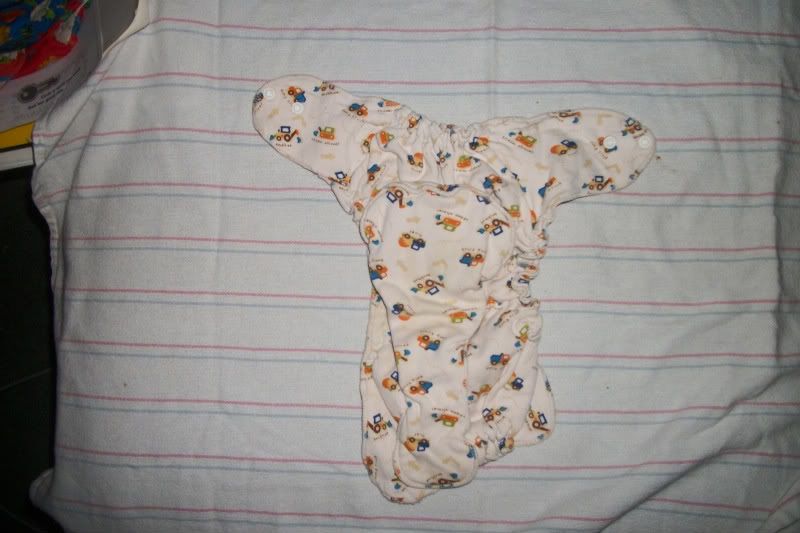 Little comet small-- one side has looser elastic. Inside has snap in soaker Bought off here and was told it was a one size NOPE $4.50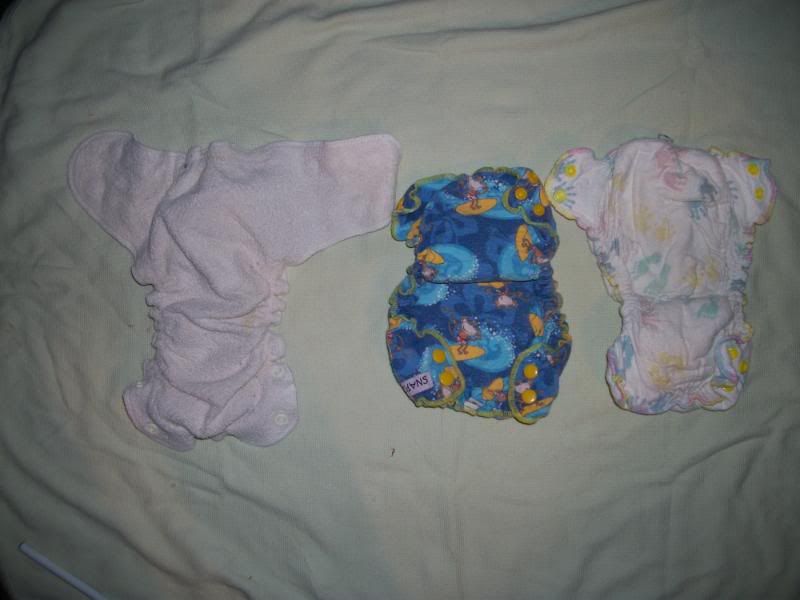 Royal bums monkey print SM (Fit him a bit...) $4.00 guc sold, twp snap-ez flannel diapers in flannel: monkey in space on blue and hand and foot prints on white. 3.50 each


Sm unknown with velour interior, flower print EUC $6, Nothing butt cloth hyena cart dipe with velcro closures. I bought it because I was sure I was having a girl but BEN is most definitely all boy $7 EUC


Better quality pict of the nothing but cloth purple dipe. Celestial slim cut sm $3, sold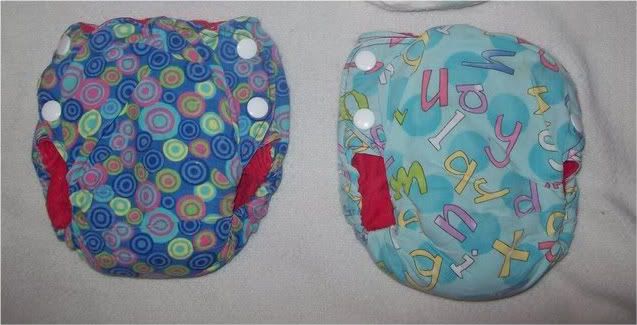 Katti Bubbles fitteds VGUC $4.00 each

[http://i113.photobucket.com/albums/n...diapers004.jpg SOLD
sm workhorse diapers red and green stripes. $4.50 each (these are heavy)
http://i113.photobucket.com/albums/n237/epiboly/butt%20rags/106.jpg
9 fitted prefolds with sewn in soaker. elastic is shot. All for $9 sold

http://i113.photobucket.com/albums/n...boly/303-1.jpg

One size diped: Two top are testers for Little Fancy pants OOGa Booga has lay in liner, ivory with green has snap in and wear on the front. Each $6.50 sold
Bottom row are Bella Bottoms os in shades of blue. These diapers are one of my favorites 5.50 each sold

Wool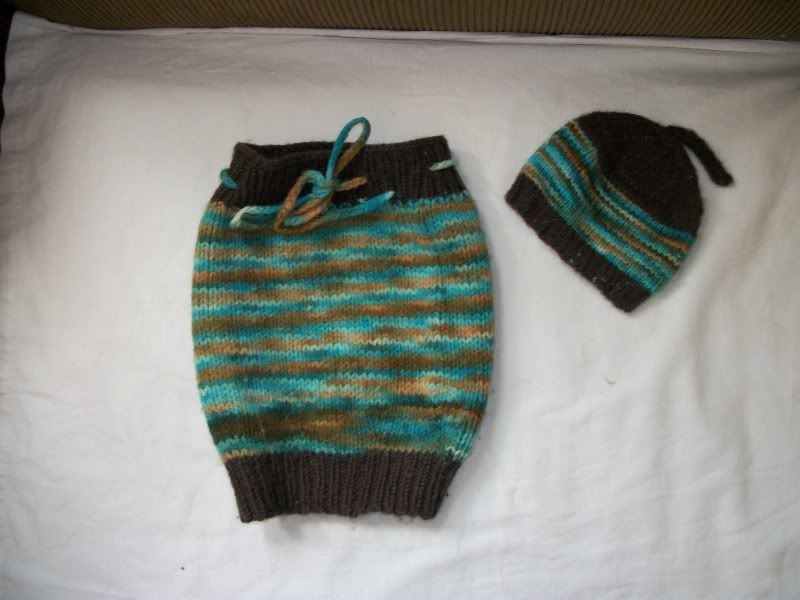 Infant bunting with hat $17.00 ( We LOVED this!)


I cannot remember the name of these wraps but they use a snappi. The yellow one has buttons that I sewed on $3 each


Hyena cart knitted soaker, highly felted and works great $10, sold interlock yellow with blue legs pull on soaker $6


custom made baby bunting(I don't recall the colorway) Made changing my infant a breeze! EUC $25.00




bottom bumpers wool shorts $5.00 (more nb than small)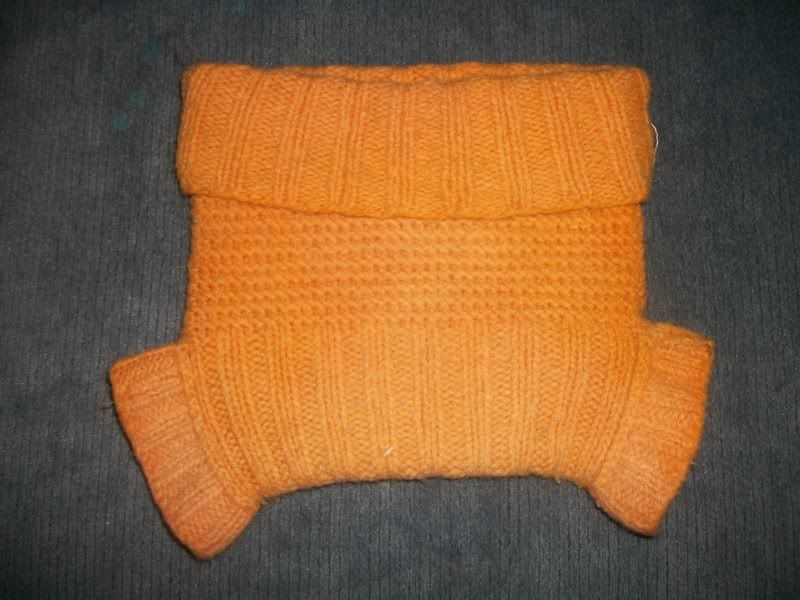 Wooly rabbit md felted $7.00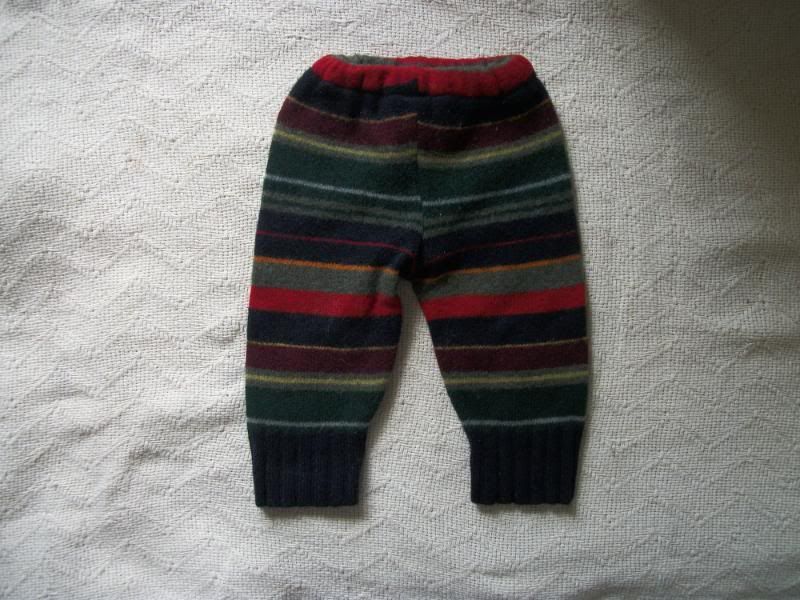 Mama made woolies with star patch. $8




grey mama made longies $8.00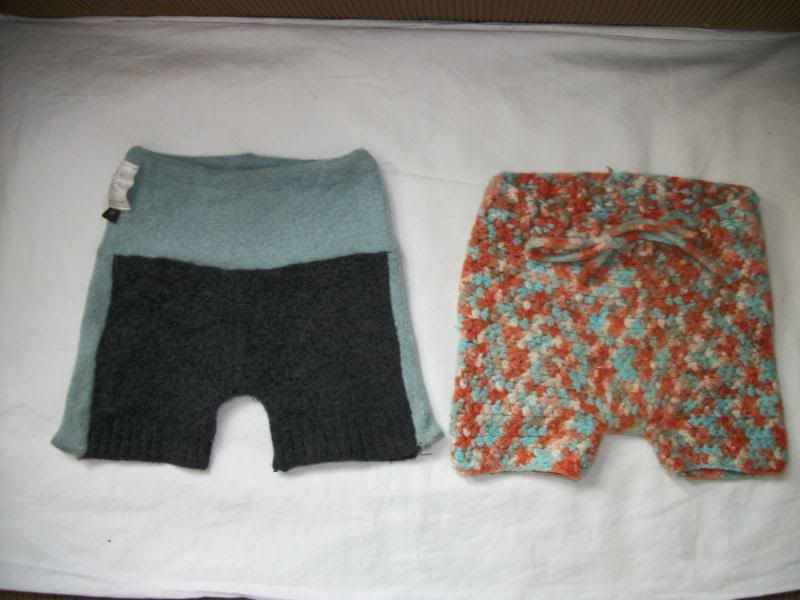 Batik bum recyled woolies. Says md but has been felted to size small. 10.00. Second pair is a custom, felted in the crotch. $20.00




green small staccinator $9.00 Batik bum with bird. (the felt ran but the soaker is cute
) $8.00
http://i113.photobucket.com/albums/n...20rags/292.jpg G-button baby shorties. Green is very felted--both sm/md $7 for the green sold
http://i113.photobucket.com/albums/n237/epiboly/butt%20rags/095.jpg[/url]
http://i113.photobucket.com/albums/n...s/chesh022.jpg
yellow sm/md shorties with kanji. Well loved
$5.50 sold

http://i113.photobucket.com/albums/n...s/chesh024.jpg

Green and brown variegated soaker. Excellent cover. Felted. $7.00 sold




All in ones or pockets....smalls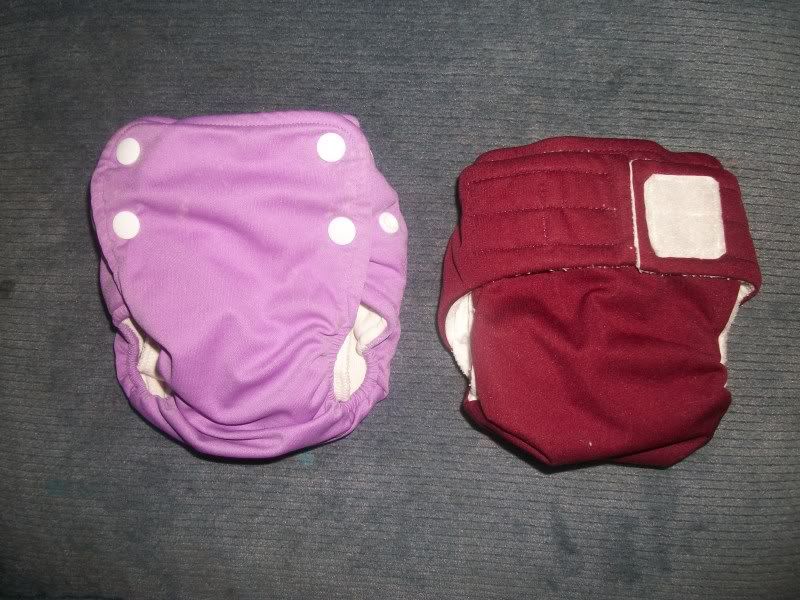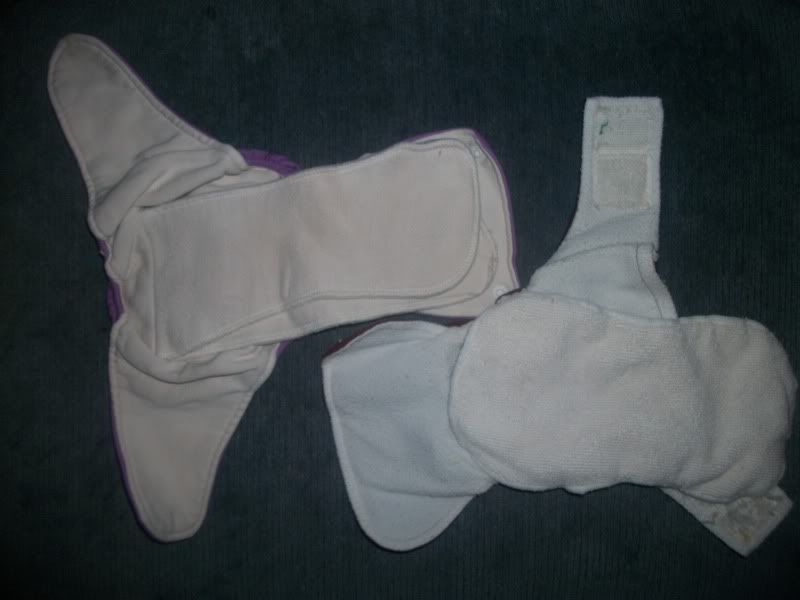 Purple dream-ez size small AIO EUC $8., small pocket diaper with insert in cranberry. Velcro closures and laundry tabs $7.00

http://i113.photobucket.com/albums/n237/epiboly/butt%20rags/099.jpg

Blueberry all in one with pocket for extra padding, velcro closures VGUC $7 each size small SOLD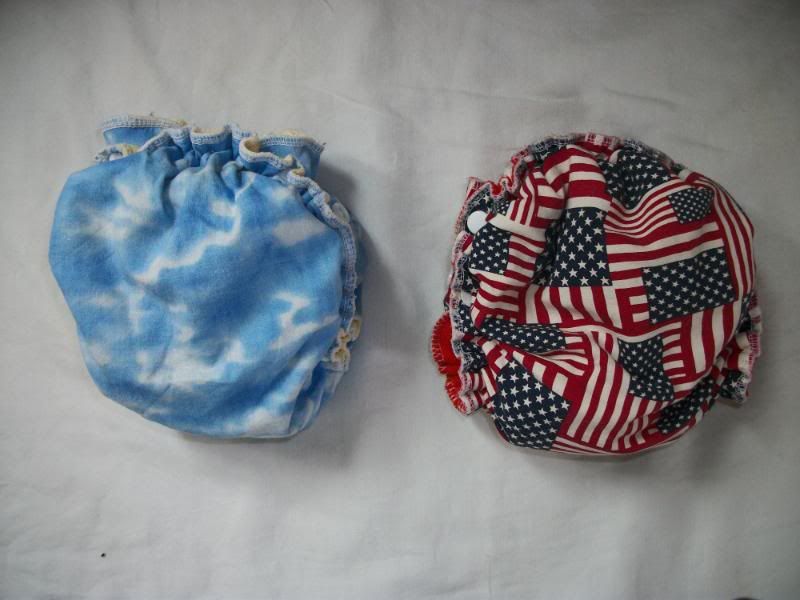 Little lambs small. snap in soaker GUC $4.50 each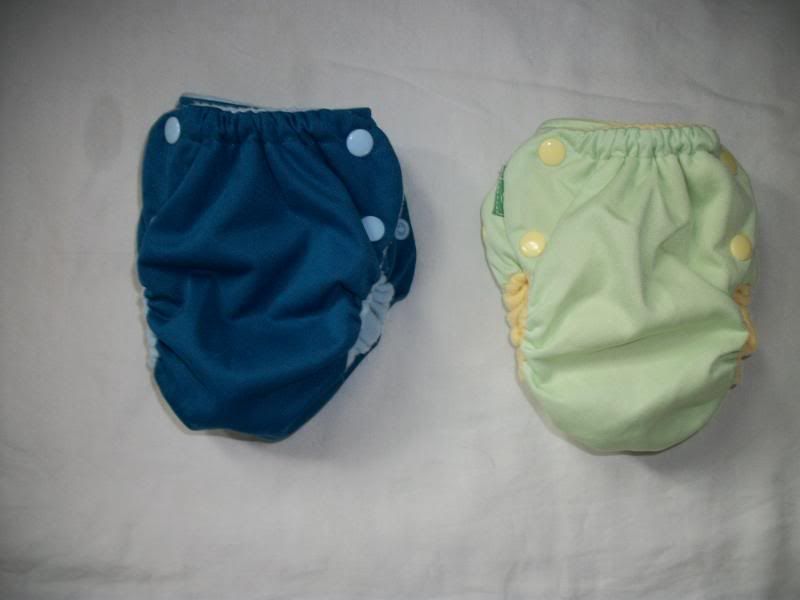 green acre designs pocket diapers with snaps EUC $10 each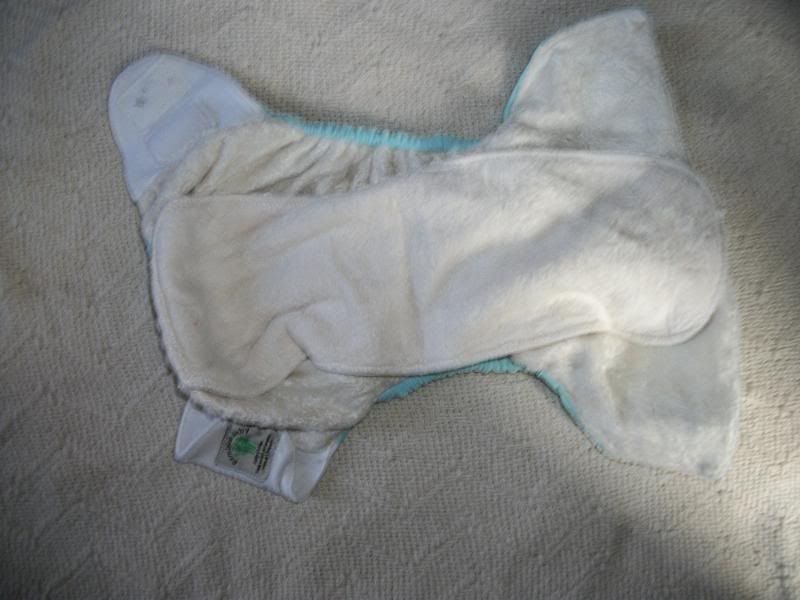 \
\

ALL IN ONE one size organic bamboo EUC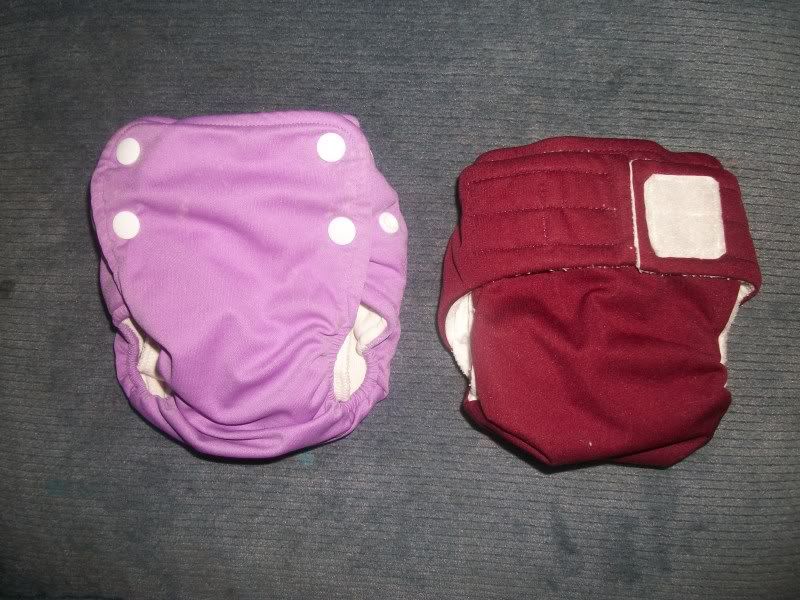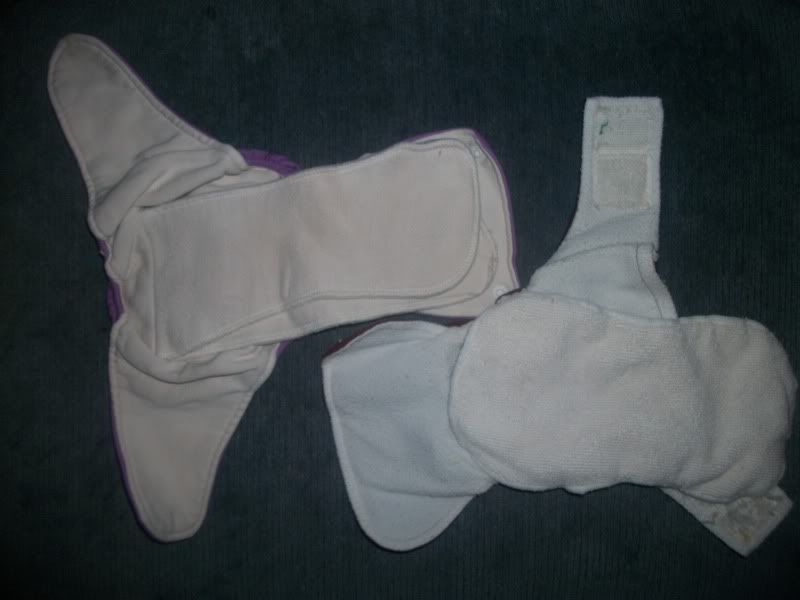 Dreamez sm purple barely used AIO $8.00 Unknown velcro AIO $5.00
http://i113.photobucket.com/albums/n237/epiboly/butt%20rags/062.jpgsold
Thirsties AIO with pocket VGUC $7.00 each

Covers that are not wool: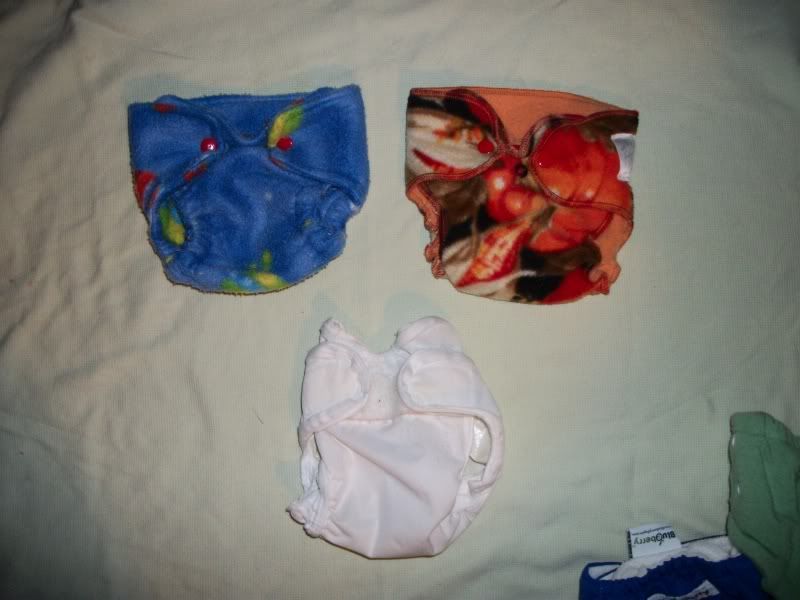 Batik bum blue fleece with belly button snap gifted,$5 Batik bum foliage print fleece $5 and a Prowrap NB $5.00

One sized:



SOS diapers BV with cotton outer. Each has a matching doubler Snowman and dog print (Has three tiny holes pictured)sold $11 each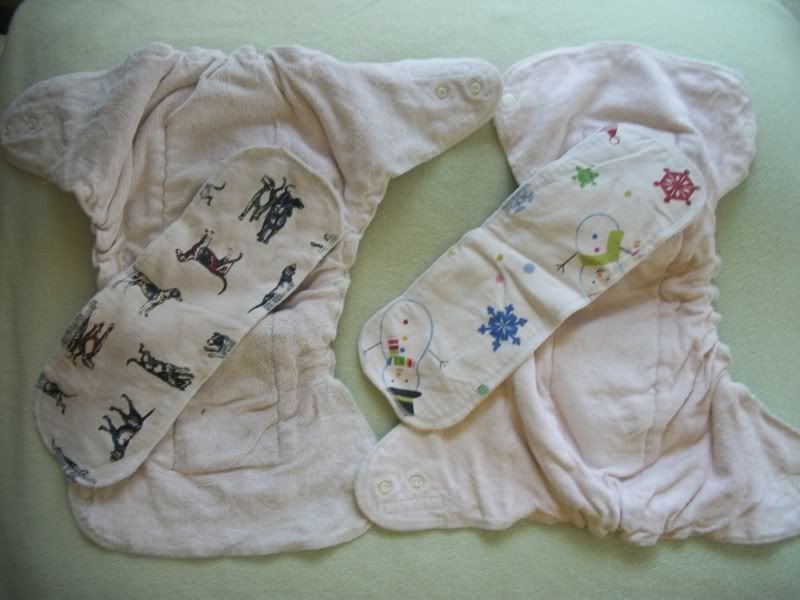 Blue swirl Mosaic Moon OBV with snap in soaker. VGUC $15.00 Great night time dipe.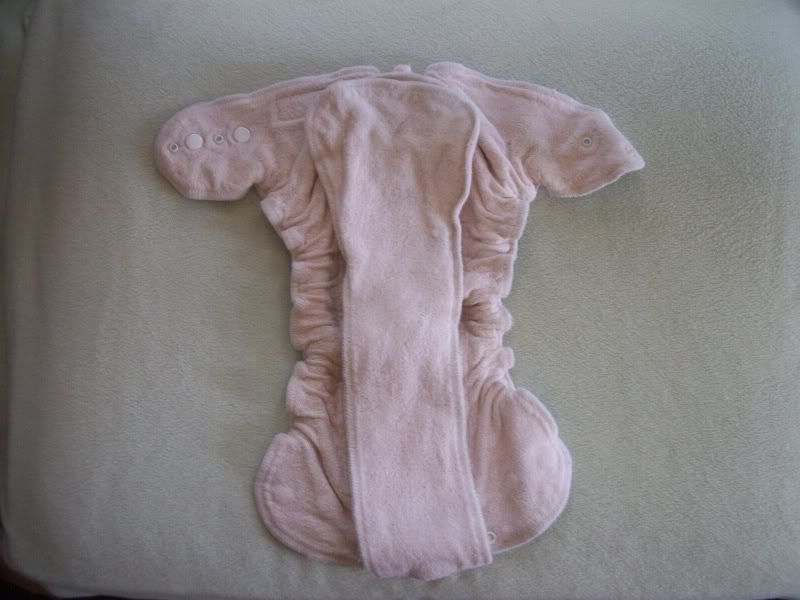 Growing greens os unbleached $8, orange $10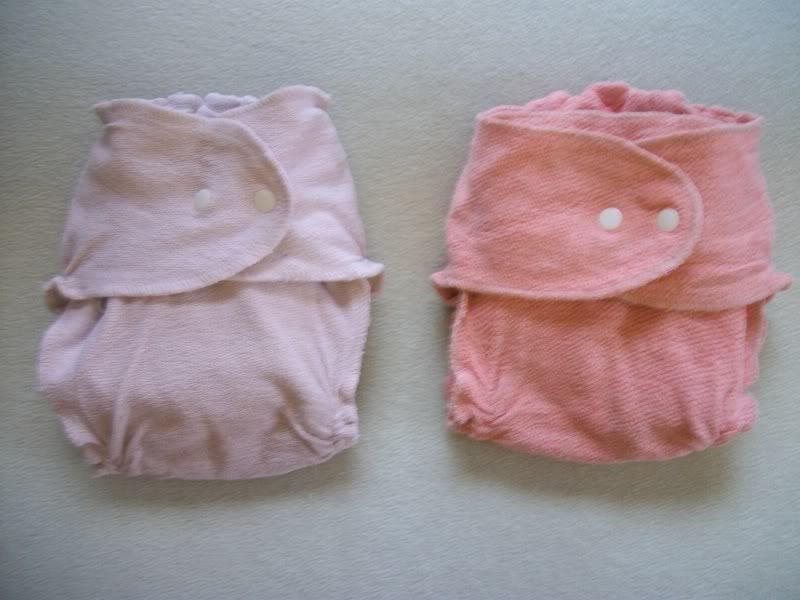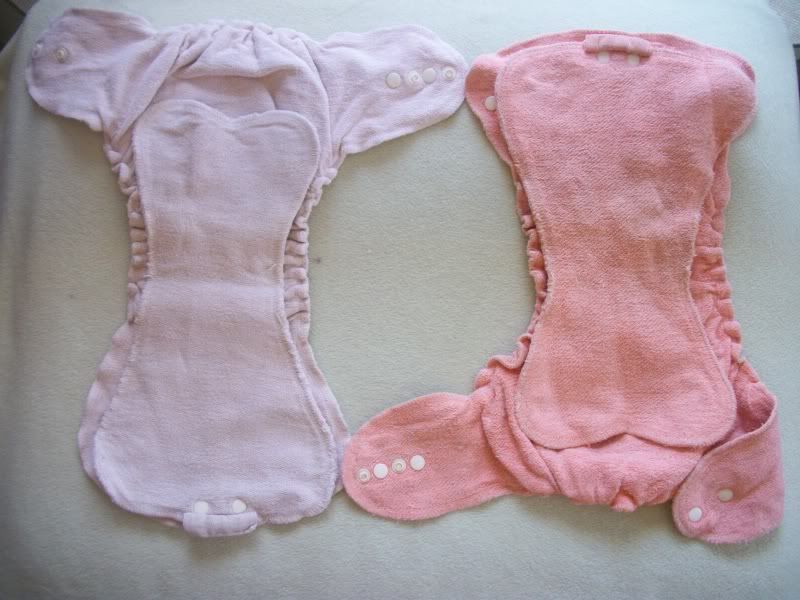 LARGE workhorse dipe in used conditon with plenty of life left.


wear in leg area

__________________
Zona:mom to 10
---
Last edited by zonapellucida; 04-09-2011 at

03:50 PM

. Reason: adding more