Re: *May 2011 Mamas - February Chat Thread*
---
Darling pics! Juliabell that is totally a kiss! Our girls are doing well. They will be a year this month! But remember they were 26 weekers so all expectations have to be drastically adjusted
They are almost sitting up, eating baby veggies, rolling but no crawling yet. They wave and "talk" a lot...A finally said da da da yesterday. They are little miracles with no medications or signs of long term problems.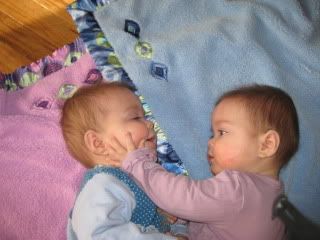 __________________
Mama to DD 10, DD 8, DS 7, DS 5, and identical twin almost 1 year old girls born at 26 1/2 weeks and doing super!
Thanking God every day for our blessings!!!