Registered Users
Formerly: hello2000
ISO **SPACE** and things we can use, IHA- Everything- well maybe not quite but close
---
I would like to trade some of my gift cards with DS members who have been here for a while and have positive feedback. I have several and would love to trade them for ones we would use.

#1 picks- Target, Costco, SuperAmerica, Rainbow, Walmart
#2 picks- Amazon, PF Changs, PapaJohn, Jimmy Johns, Chipotle, Home Depot

I have: Houlihans (50), and Carters $39.20. I also have a ton of free coupons for Mama Mary's Pizza crusts and sauce.

I will most likely only trade Gift cards for gift cards.

I have a ton of stuff listed on Ebay that is also trade worthy. Some of the stuff is huge and I might pass just because of the tremendous shipping cost, but most is ready to go to a new home if you have something we need!

ISO
Livie and Luca mushroom boots
Aden Anais XL sleep sack
Beco carrier- non recalled that works w/ newborn
Plan Toys Dollhouse Garden and cooking accessories
Some boyish knitted wool longies- would prefer something that can go with a lot of different tops, will need a larger size for fall- baby is about 27 lbs now and wearing Imse vimse superlarge covers, legs kinda short, prefer on the cheap side, but not made from sweaters
Hanna 80/90 boy- more 90/100 at this point!
Janie and Jack or Gymbo boys T shirts, prefer pics with no writing, not white, size 3T and up, short and long sleeved
Eleven brand shoes
Size 100 Short johns
Tot Clock- color changing signals of some sort?
WAHM gifts for my sister and mom- maybe some handmade fun totebags... or a fleece backed picnic blanket with carrying handles when it is rolled up?
M Hanna unders boy or girl- shirts or bottoms
Ellison RollModel Machine
Daige Rollataq motorized desktop adhesive system
Accucut GrandeMARK die cutting machine
Glass bottle for water for the fridge, lidded
Pampered Chef bamboo spoons- cooking size
Hanna Long Johns for me, size Women's L
Gail Gibbons books
Shoes size 12 toddler and up girl or 8 and up boy- like European brands, SKR, Melania, Livie and Luca, maybe others too
Willow Tree Promise figurine
Blue Gnon
Crate and Barrel Oven Mitts
Large playsilk canopy
PF Changs Free entree coupon
Mini Boden Applique T shirts
Paypal
Trader Joes Gift Cards
Jimmy Johns gift Cards
Papa Johns Gift Cards
Rainbow Gift Cards
Target gift cards
PF Changs Gift Cards
SuperAmerica Gift Cards
Walmart Gift Cards
Walgreen gift cards
Costco Gift Cards
Other fun (or functional) Gift cards


IHA
** A TON of ebay listings**
Maya Wrap Ring sling- will be fussy on trades for this one
Columbia Winter coat, girls 2T

Some nice scrubs
Small green soft fuzzy (not fleece though) Halo
Adiri Bottles, like new
North Face snow boots
Tea Collection baby boy mix and match lot 18 pieces in sizes XS and bigger, mostly size small
Girly Keens size 11
North face shorts, boys size 14
A TON of clothing not pictured in sizes below Boy 2T and Girl 4T, or Hannas 70 boy and lower and 100 Girl and lower
Lucy brand brown workout/activewear capris, size M I think
Lots of books- see post
Hanna Short Johns size 80
Joes Jeans
Matilda Jane Muds, size 10 but fit more like 6 or 8!
Pediped size 6-12 sandals and shoes, boyish
SKR baby boy shoes, red and brown, cute
, SKR Boden shoes size 4 GUC, Umi Sandals larger baby sized
A really banged up Klean Kanteen
Mama cloth- larger gently used
Dinner Doctor
Size 2 Kissaluvs fitted- good elastic, soft, not sure on absorbency, has stains and wear
Gate Check Air Travel Bag for Strollers NWT, JL Childress
Lots of Girly high end shoes, size 9 and down
Mens Wool coat w/ Tags, Ruffhewn size L
Carters fleece PJ's size 2T- three of these
NIP Teacher stamps- by Rubber Stampede
Very large wetbag, PUL a bit bumpy
Shoes for baby girls and toddlers, high end
WAHM beautiful pot mitts, too small for my hands teal and brown, like new
Wool cover of unknown origin apart from that it came from ebay, bought from CL not used by previous owner, too large for my DD, size L, purple with a little poodle attached.
Tons of Brand new Lands end clothing G/N and girly in size 6 M and 12 m and others: summer things all with tags
Maternity clothes including a beautiful dress and a wool coat
Size M Maternity Blazer, Mimi, professional- black with skirt and striped top- NICE!
Mama clothes
Mens size L wool coat nwt
Brand new Northern Reflections cords size L mama pants
Huge lot of Lands End Cords, mama size 10 I think, but with broken buttons- need to be replaced, otherwise EUC
$50 Babystyle GC- never mind- they filed for bankruptcy
Lots of coupons for free Mama Mary's pizza crusts
Lots of parenting books and other books
Over the shoulder baby holder ring sling, green
Kangaroo Korner fleece pouch
Homemade Mei Tai- got it at a yardsale so don't know maker, nice fabric

A few pics below... much more following links in siggy


11 girly (flowered) Keens- I think they may be "Sunport" style- the laces are getting a little stretched, but we used them like that just fine, and I think you can get replacement ones from the Keen website. $15TV and I can get a pic.

I also have a Hanna 70 boys colorblock half zip sweater also $15 TV if someone wants to see.

Fancy Nancy lot- the original Fancy Nancy and Posh Puppy and Purpleicious, prefer to trade together

This is a 3-6 M dress-has some flaws, but generally pretty fine $10




Circo Snow Bibs, pink, play condition, size 12 M. Totally functional, just dingy/dirty by cuffs around ankles. Zippers and size adjuster slides work fine and no holes or tears. $4

Gap Romper, semi holiday ish, but with floral not Christmas print, some fade, lots of room in middle for diapers, 6-12 M $5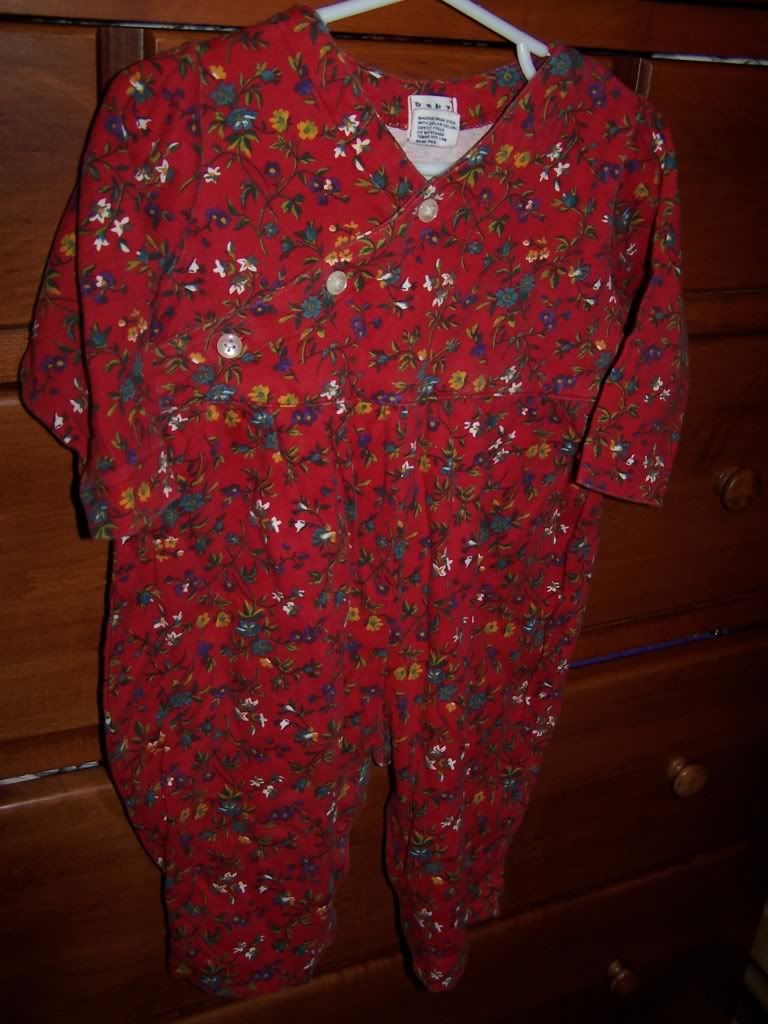 Or a reversible boys dressy vest, probably about size 12 m, maybe 18 m- I was thinking it would fit DS who is in 2T, but it isn't anywhere close. Back is black, front is two green patterns with black- maybe nice for Christmas.

Plastic figures- Zebra is Schleich, large Elephants are Boley, others are off branded, $15 for all (junk mail in the background available, but the asking price will be high
) The elephants look like they have a lot of color contrast in my pic, but in real life not so much, just shades of grey. Also have a lion (Schleich) not pictured that I will include.




$10- vintage sign language game- has all parts to it- box not in perfect shape. Wil ship first class in a padded envie. For work on learning letters-




Tons of Scrub tops

Iris and Ivy, 2T velour and fluffy Chiffon? flower skirt, so cute- $14 Plus shipping



Purple Columbia winter coat 2T $20

WAHM pott mitts, gorgeous, a little snug on my larger hands, brown and teal, $20TV, like new- hung in my kitchen and used a few times, but I just didn't reach for them and gave up, really nicely made

__________________
Kristin, SAHM to 7Y girl, 4Y boy, and 13M boy
Trading!
Check out my Ebay Store- Hannas, Bras, Lululemon, Premium Denim, Maternity incl. premium denim, Boden, Converse, Crocs, Keens
---
Last edited by Hands&Fire Pottery; 01-15-2013 at

04:40 PM

.