Registered Users
Formerly: ri814146
Entire Stash Sale:BG's,Thirsties,Weehuggers and more*Reduced PPD pricing
---
Entire Stash Sale! My child care has been fundraising for a new playground and since I cannot use cloth (Health Department Inspector won't let me wash them at home or store them dirty without bleach) I am finally selling them all off. (except my prefolds). I am also selling a huge lot of yarn in the craft supplies forum.
Business: I am busy with my child care during the day so I may only be able to check in the morning and night for interest so please be patient. Prices do not include shipping. I will ship via USPS and if you PM with your zip code I will get you a quote. I only ship to the USA and only accept paypal. I will be sending out shipments at least twice a week. These are all used diapers and I am going to try and list anything that is wrong. If you are looking for a perfect diaper with no stains etc, please PM me and I will double check your diaper. I tried to post very reasonably as these all need to go to help fund the new playground.

I have reduced prices and bundled what is left into affordable PPD rates!

All solds moved to bottom of post




BSWW These all have wear,light stains, piling on elastic, pulls on covers from laundry tabs, some need minor repairs, all still work fine though.


Back- 2 White Large, 1 White Med (M needs a minor Laundry tab repair) $2.50 each
Front- Panda (L, pul is very bumpy something is going on here)$1, Flowers (L)$3, Doll Print (M needs minor laundry tab repair) $2.50
Far Left- Geny snap Cover in an owl print. Says small, but is a Med IMO $4 Sold
All 7 BSWW for $12ppd, 6 in picture above and pink below


Pink (S) great condition except for staining on the inside gussets. $3.50

Wool: All made by me and used. They were laundered and stored, still feel like lanolin. $3 each for all except $5 for the pants (they are on TIG wool). All are a NB/Small fit. I can take measurements if necessary. Longies,blue sleep sack, orange/blue sleep sack,shorties in the middle on far right Sold 4 Soakers and 1 sleep sack left, all for 12ppd



Wool/Diaper Set: NB PattyNaps $5 for the set $6ppd for the diaper and upcycled wool pants

Others

Left side Snuggle buts Small AIO EUC $6 6 PPD
Right side, Giraffe Small WAHM tester pocket EUC $2 Sold

The next batch are made by me size NB/SM light staining


Back Camo NB Fitted, Yellow Fitted $2 each 4ppd for both
Front Batik NB(missing a snap), Yellow Small, Green NB AIO's $3 each 8PPD for All 3

Made by me AIO's size smalls, these are lined with velour or sherpa, No Staining.


Blue Camo Sold
Pink/Orange
Red Sun
All White Velour Sold
Strawberry Shortcake
$3 each Take the last 3 for $9PPD

If you cannot fix the aplix or replace the missing snap on the above diapers I can do it for you, just let me know when you order. It may delay your shipment by a day or two. Thanks!

Sold
Goodmama Sold
I bought this brand new when they first became popular but it only got used a few times. Its just starting to feel soft and fluffy EEUC $10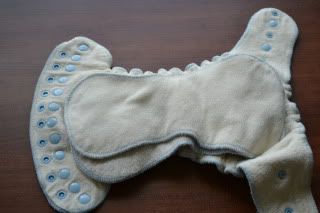 Bumgenious OS Various versions here, some are seconds, all have light staining, piling on aplix and around aplix. All Sold
Each will come with 1 insert.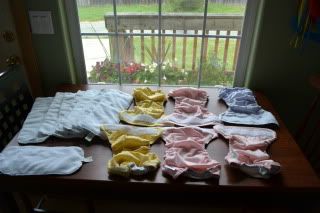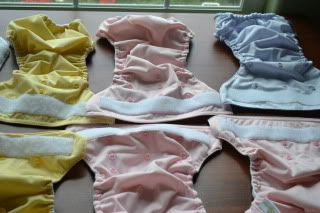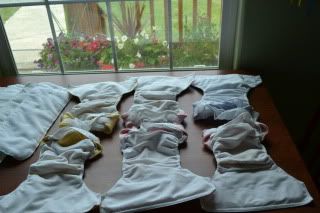 -2 Yellow, I believe these are the original version $5 each
-2 Pink seconds, both need new leg elastic $3
-1 Pink Darker Stains on inside $4
-1 Lavender, this is a 3.0 I think, it also comes with a NB size insert, it is a second and looks almost new EUC $7

G Diapers little g pants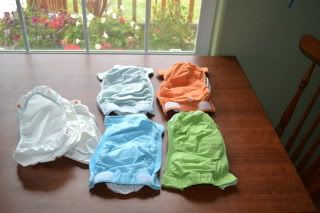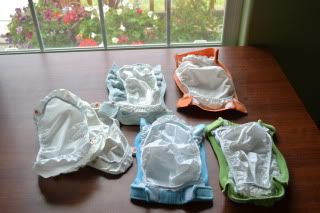 The 2 in the front are older and say they are a M but fit more like a small. Both come with 1 snap in liner. 1 Blue, 1 Green $3.50 each
2 in the back are more recent version both are M Light Blue Sold /Orange both come with 2 snap in inserts. $5 each

Sold
Thirsties/ Weehuggers


In back, Weehuggers Covers Snap VGUC size 1 , Dot Matrix and Blue $6 $5 Each
In Front Thirsties Snap Covers size 1, Stripes and Green $6 $5 Each EUC
__________________
-Rionna-
Mom of Taylor Born 09/07, Makayla Born 10/10 and Liam Born 04/16
---
Last edited by WildflowerCB; 07-30-2012 at

12:16 PM

.