Registered Users
Formerly: jcha***h
Boyish Interlock Kissas, WCW, Rainbow Waters, fire truck
---
Boyish wool destash (medium and large, shorties, longies, soakers, footies). Trades listed at the bottom.
Interlock: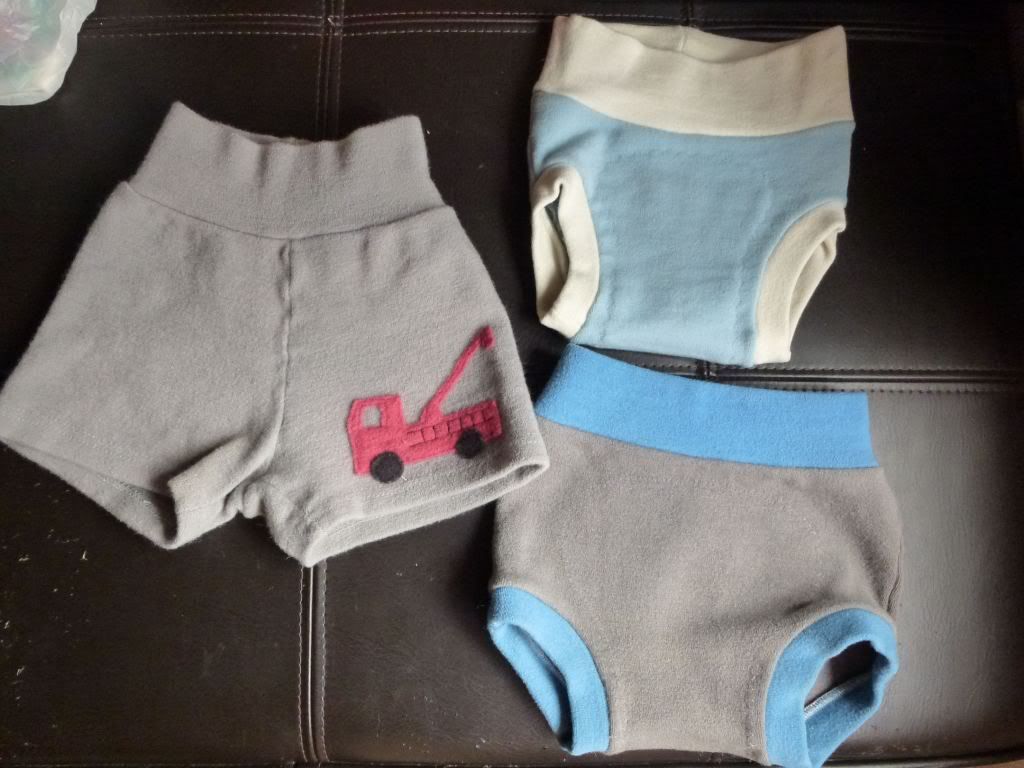 Rainbow Waters shorties with fire truck applique (MEDIUM) - $keeping for now
There's a pink splotch on the back near the crotch, but otherwise EUC
W 15, R 19, I 2.5




Royal Buns soaker, gray and blue (MEDIUM) - $keeping for now
This was a custom for my stocky baby (think short and wide, maybe on the small side of medium). Loved these! EUC. This is a double layer soaker (i.e. extra layer in the wetzone). This is the "old style" soaker which fits like little cuffed shorties.
W 16.5, R 17.5, T 9 or 9.5

WCW soaker, blue with cream trim (MEDIUM) – TRADE only
EUC double layered soaker. Bought new by me and used sparingly. I would like to trade for equivalent condition WCW girly soaker, size small or medium.
W 16, R 18, T 9


TRADES:
Girly interlock (especially WCW soakers or longies, Loveybums pull-on covers)

The fine print:
Prices are listed as ppd to US addresses only (I ship USPS first class, with DC). For Canada (I ship USPS first class, no tracking), please add $3 for first item, and $1 for each additional item. If you want insurance, please let me know and I will add that to the shipping fee. Smoke free, cat friendly household. We do wash items in lightly scented wool wash, but none of them have any strong smells.

----------------------------------------------------------------------------------
ITEMS BELOW THIS LINE ARE SOLD/TRADED


Machine knits:
Kissas Wool Lovers soaker (machine knit, size LARGE) - $24ppd SOLD
Buttery soft, no pilling issues, small (faint) stain on leg cuff.
W 14 (super stretchy), R 22.5, T 10.5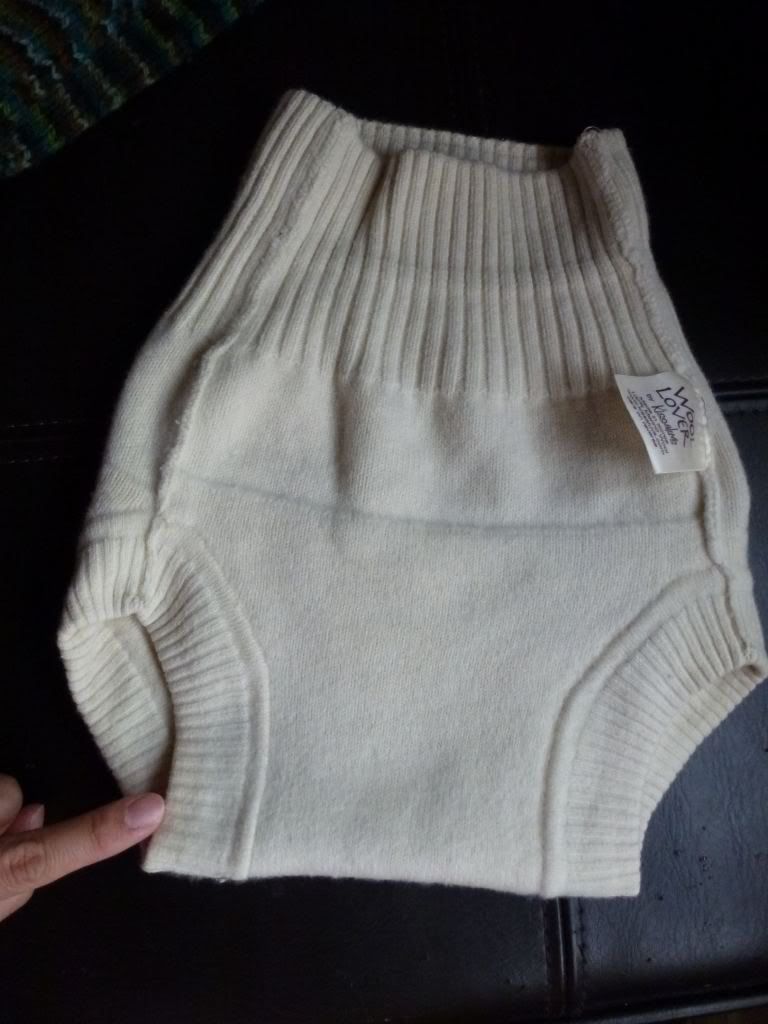 Woolybottoms footies, (size MEDIUM) - $24ppd SOLD
EEEUC, bought new by us and used only a handful of times. Choo choo trains print. These are the machine knit (new material, not recycled) woollybottoms, with the interlock footie bottoms and leather foot pad. Tag indicates 80% wool/10% angora/10% cashmere. I apologize for the bad cell phone pic – there are absolutely no stains or discoloration, and this is the standard light blue color.
W 17.5, R 18, I 10
Stock photo (not mine):



bad cell phone pic: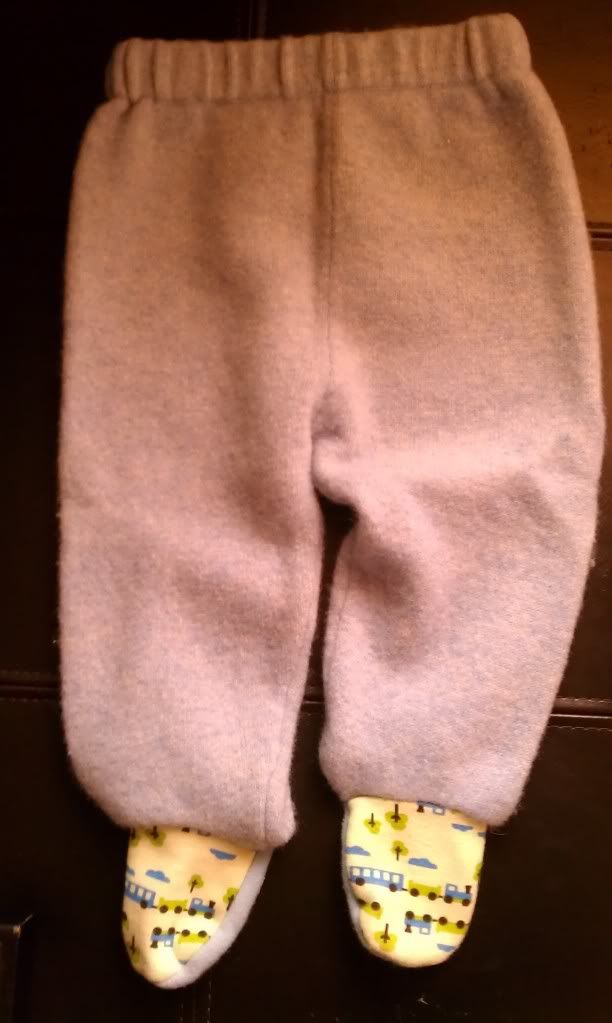 WCW (Wild Child Woolies, now Wild Coconut Wear) blue longies with cuffs (MEDIUM) - $23ppd SOLD
Loved loved loved these and won't be sad if they don't sell. Super soft and thick. Some discoloration on front right leg, and on butt area, plus there is a spot that is thinning in the butt area. No pilling.
W 16, R 18, I 11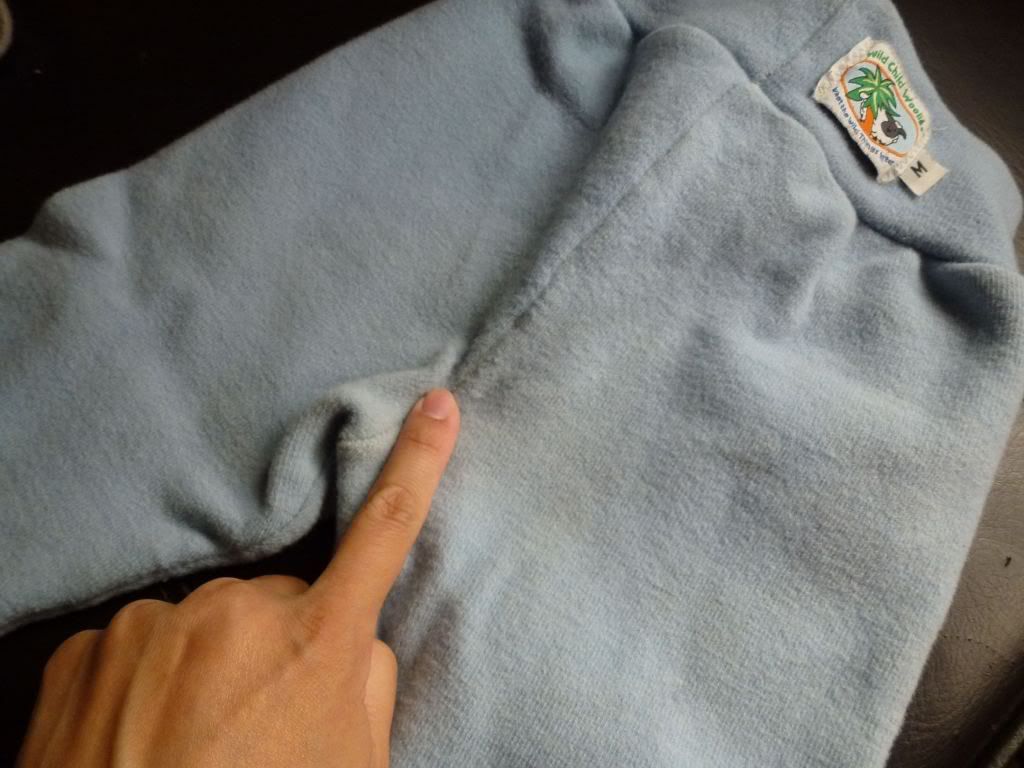 Sugarbubbie (Green Strings) Revolution longies (MEDIUM) - $40ppd TRADED
I think these were knit by Amber of Blueberry Baby Knitwear (I bought them used from the knitter… they were from her personal stash). They are beautiful and have no pooling! Base is MMW. EUC. Note that these longies don't have any white in them (not sure if the black had bled and turned the whites into gray, but this is how they came to me and frankly, I think the colorway looks better this way!)
W 17, H 20, R 16.5, I 10




WWBN (Wooly Wonders By Nada) Rocky Mountain longies (MEDIUM-LONG) - $35ppd TRADED
Knit by me, in excellent condition. Yarn base is 3 ply BBR merino. I think this yarn must have been a second quality (although it was not marked as such) because there are some blue spots on throughout. Either way, they look nice and NO POOLING!
W 18, H 21, R 17.5, I 11

Action shot here: http://www.diaperswappers.com/forum/...1309521&page=9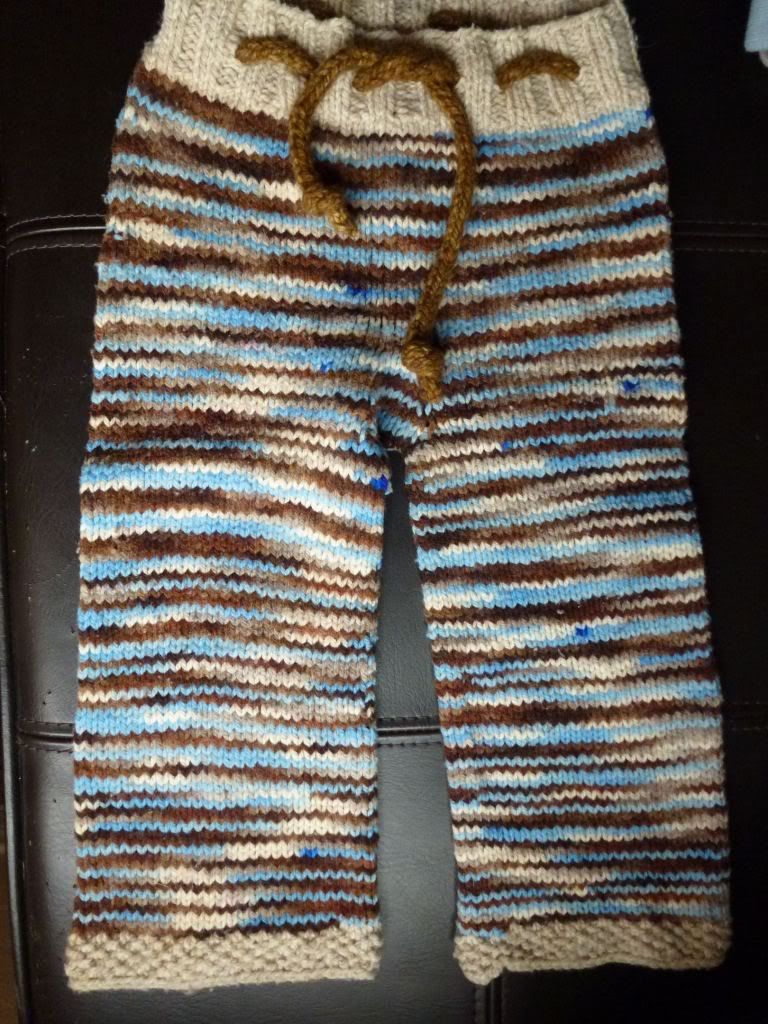 Mosaic Moon boyish scrappy shorties (MEDIUM) - $35ppd SOLD
Knit by me, in perfect condition. MMW, Cestari and Targhee yarn bases. Colorways include: Dragon's Lair, Blue Goblin, Midwinter's Fireside, Noellaig, Optimus Prime. I'll try to dig up an action shot of these - they photograph amazingly well!
W 18, H 22, R 17, I 5 (not including gusset)


__________________
Mama to 2 munchkins, loving wife to P
, who supports me in all I do.
FSOT
Thirsties, Niji cotton, wool wrap, Imse Vimse
SPOTS - new Thirsties and more
ISO Jujube, Carters, Gymboree, Zutano girl clothes 18 months
---
Last edited by littleleaf; 01-25-2013 at

04:28 PM

.