Boys NB small longies outfits & shorties. REDUSED AGIAN
---
I'M SO SAD THESE ARE LEAVING!!
these are all washed, lanolin & ready to go. I'm not a wool expert so please forgive me if I miss something. I have looked over everything really good & dont see any issues with these! I'm to much of a chicken to shave my wool any pills are removed but thy are a tad fuzzier then when you use a shaver.

Shipping is included in the US, I will ship anywhere I just pay the extra shipping. I'm willing to trade but I'm a little picky seeing we dont really need anything.

ISO -all Boys!
Stonze winter boots, cloth/wool/baby wearing/nursing advocacy shirts 18 M or bigger. med longies, small to Med elbees & stinky couture fitteds, pediped originals (prefer the new sole) 12-18 or 18-24 EUC


All MEASUREMENTS are laying flat & at rest. They will stretch a lot or make smaller with the drawstrings. you can even block them to make the a little longer! If you see it in the Pic It comes with the wool.

Blue warrior longies & hat. These are so soft! I think they would be like a NB/small. I love this colorway!! These were a little big at first but we wore then at a few days anyway. DS came home in the hat! this shirt is a 3-6 so we just used a black shirt at first, its also not a BLACK BLACK it almost has a little faded look but it was purchased like that. $ 45. $43$40ppd THIS ALSO COMES WITH A WHITE 0-3 Short sleeve shirt. NO stains!!

W 7"
R 6.5"
I 6.5 not including the Gusset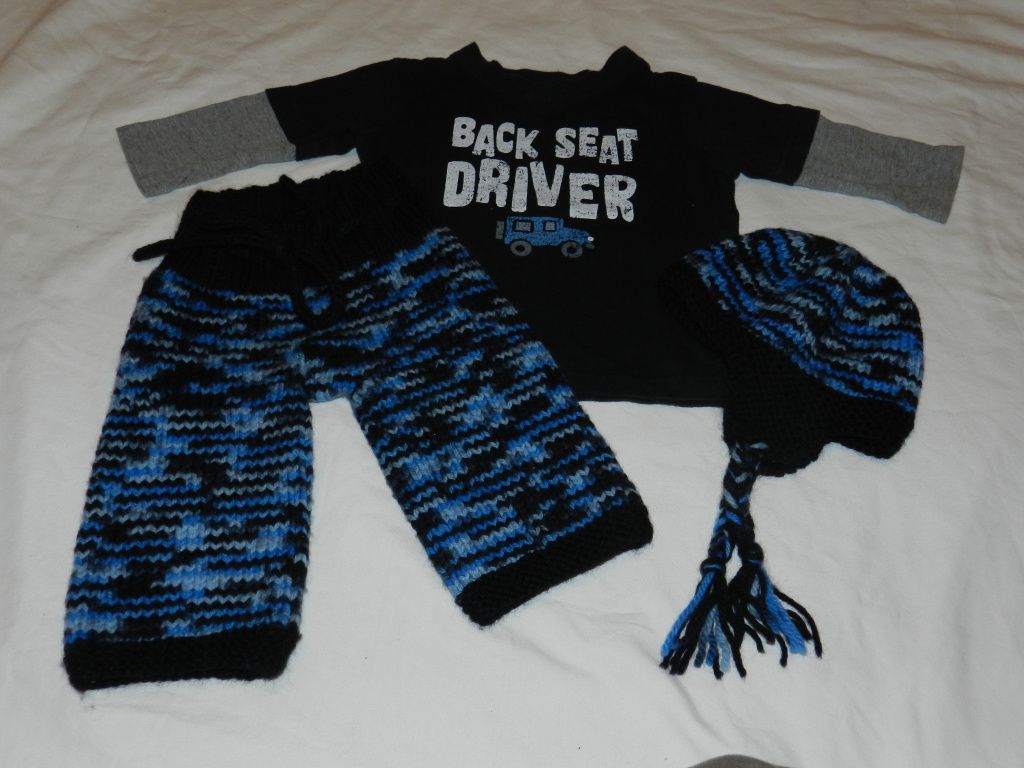 NB shorties they are true newborn & so cute! These & the middle shirt are brand New! The outer 2 shirts are not in the best condition, I'm just adding then in in case you are good with getting a stain out. $ 25 $43 $20ppd

Measurement to come!





SOLD

Rock star, These are made with the jogless strips so you cant see a big jump when the color changes. It looks way better to me then the other kind of stripes. The shirt says 3-6 but it way off its like a NB. my 7 lbs baby started wearing this set at 3 days old. This is made from merino wool. I made a beanie hat to match this set but cant bring myself to sell it. I can make one for for $10 extra PM me for pictures if your interested.

W 6.5"
R 7 1/4" I would fold over the waist band at first on these.
I 6" or from the center of gusset its 7"
__________________
Breastfeeding, Cloth diapering, Baby Wearing, SAHM of 2 girls & 2 boys
woven wrap, Baltic amber & wooden teether
Giveaway
Use
Swagbuck
with me and earn free gift cards [/B]with me!
Free $10 from
wepay
click link & follow the directions
---
Last edited by ajaitz_07; 10-11-2012 at

05:55 PM

.