Registered Users
*REDUCED* FS: COSTUMES! Boy & Girl, many sizes, newborn on up! Great for Dress Up!!
---
I have many costumes for sale, most were only worn one time. Price does not include shipping, PM for shipping cost. Paypal only, please.



I have several costumes from Babystyle. They are very good quality costumes, maybe similar to PBK? Definitely not your usual costume materials.

Babystyle Chili Pepper and PeaPod. Both size 0-6 months, bunting style. Poly velour, cozy for a small baby still in the stroller for trick or treating. Peas on the peapod velcro on after zipping up the bunting. Sooooo adorable!! And not just for Halloween, these were only worn once, when I took pictures of my DD wearing them. The photos are in our kitchen.
EUC, no signs of wear that I can see. $14 each or both for $24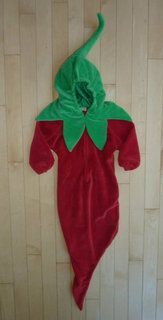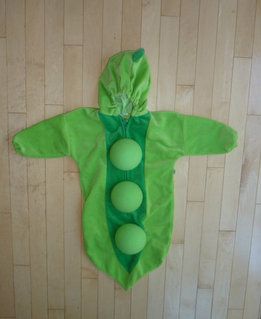 Babystyle Pumpkin size 6-12 months. Adorable "puffy" costume, perfect on a baby that is just sitting up. Cozy poly velour and stuffed so it will be warm on a cool night. Also helps baby sit up if needed.
Looks great over a one piece sleeper, or leggings, tights, turtleneck, etc. EUC, only worn once. $14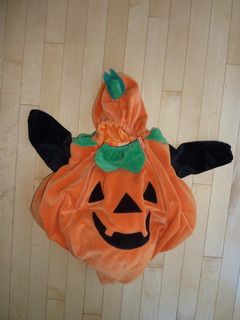 Here's my guy wearing this at 8 months. He's wearing it over a one piece black outfit with skeleton bones.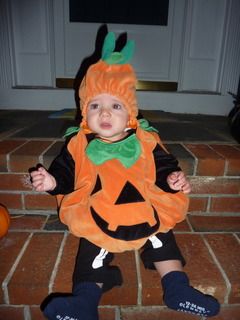 Red Envelope Peanut costume, NEW in Box. Size 0-6 months. Cozy bunting, just perfect for your new baby heading out for trick-or-treating in a stroller or wagon. Very thick so it will be nice and warm. Poly velour like material. This was never worn, I just took it out of the box and the plastic for the photo. Would also be great for a newborn photo or birth announcement. Giftable, if you'd like the box. Extremely well made and adorable costume. Wish I had a lil peanut to wear it. $20 for the costume, if you'd like it in the box, please add $3 (it is a large, sturdy box).






Dorothy dress, size Small (4-6). All one piece gingham dress with attached lace trimmed petticoat. Very cute! We just added some red sparkly shoes from target and a stuffed dog in a basket and my DD was set! VGUC $10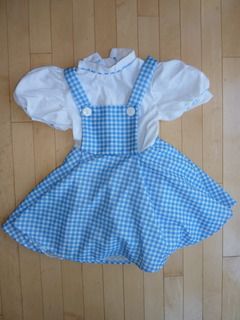 Here's a pic of my DD wearing Dorothy and my son wearing the Astronaut costume sold below.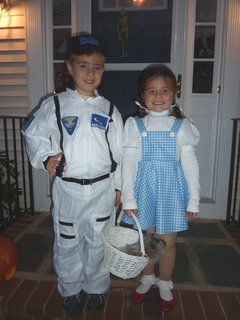 Astronaut costume, size L (10-12). Lightweight poly jumpsuit with buckles at waist, zipper pockets, and several cool patches. Elastic and velcro at ankles help with fit. Roomy enough to wear something under it if you need to keep warm. Included is the adjustable hat with "Flight Commander" patch. VGUC, only worn once. $10 SOLD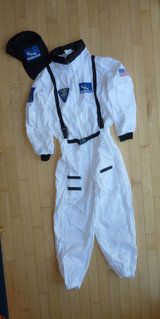 Strawberry Shortcake costume. From Enchanted Costumes by Leg Avenue. Size Large, but fits more like a size Medium (7-10), especially when you need to wear something under it. I'd say it fits like a size 7-8. I also have the green/white stripe tights which were sold separately. We added a petticoat tutu that my DD already had underneath and it was really cute. I sprayed her hair pink, as all the pink wigs did not fit her (she has a ton of hair!). Very cute! VGUC, only worn once. $12 SOLD






Here's a pic of my DD wearing this. Note the petticoat underneath is not included. The skirt stops at the gingham. It has a small attached petticoat, but not enough to really fluff it up.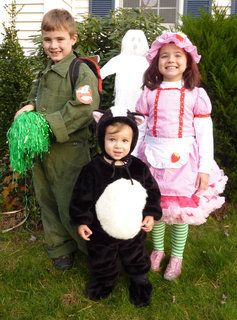 I may be listing the Tom Arma skunk costume in that pic, LMK if interested!




And I have 2 British Soldier costumes. One size Medium (8-10) and one size Large (10-12). Both are new with tag/hanger. Poly white breeches, red coat velcros in the back, and hat included. Fun for dress up and history play. $12 each






Hanna Andersson Pilot cap with ears. Great to make a costume for a little one who doesn't want anything complicated. Also fun for cool weather. Looks great with the leopard zipper for a cat costume, also fun with a black/orange striped sleeper for a tiger, etc. NWT, size small (1-3 years from hanna site, I find these fit most non-newborns up to maybe 2 yo). Fun new baby gift. Organic cotton. $7



__________________
Jen, Mama to Jonah
Ella
and Nate
---
Last edited by KensJen; 04-15-2013 at

07:46 PM

.