Registered Users
**Mr Bubbles is all that's left! $6ppd!**
---
I'm normally a fitteds and wool kind of girl but with triplets in diapers, I'm streamlining to pockets so I'm selling of my fitteds.


If you don't like my prices, MMAO! I'm more likely to take it if you're getting multiple items.
Please check out my other listings, I have a ton of wool posted right now also!

TOP ROW:
Blue/Orange Transportation GM $8ppd SOLD
Still pretty soft and squishy, but not still silky, some stains, print is beginning to show wash wear, dingy on front
Green/Brown Stripe GM $8ppd SOLD
soft and squishy but not silky, some light staining on inner, print beginning to fade around elastic
Jolly Roger GM $8ppd SOLD
bordering on sherpa, light staining on inner, print is holding up great
Mr Bubbles Snuggles and Sunshine Medium $6ppd
LOVED this diaper!! Snap in soaker, soft and silky inner, slightly dingy on front
Prism GM- $8ppd SOLD
Almost sherpa, some shadow stains on the inner, print is perfect
Blue Dogs $5ppd SOLD
Rough approximation of a GM, made by me. ended up being slightly bigger than a GM. Serging is far from perfect. Inner is soft but not silky, dingy on the front. Totally usable right now, but I don't think the elastic will last a ton longer, so I put it in with the repairables.

Jolly Roger Stars $10ppd SOLD
Soft and squishy but not silky, light staining inside and dingy on front. Elastic is okay, but starting to get a little loose so I put it with repairables.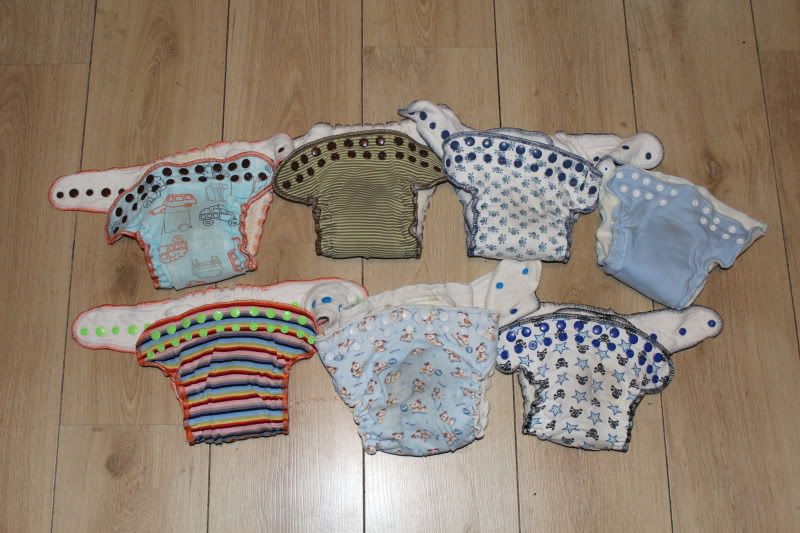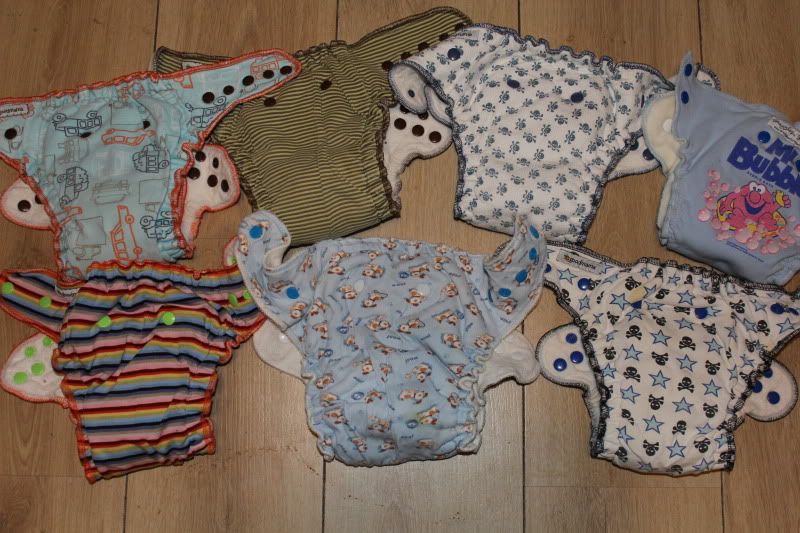 Bacon and Eggs Fatty Cakes ML $12ppd SOLD
EUC, silky, soft, squishy, everything perfect shape
Earth, Mom, and Baby Bumboo size 2 $10ppd SOLD
purchase new by me, only used a couple times, no stains, like new



Top Right:
VW fitted (like a KK or BSRB) EUC $9ppd SOLD
Bottom Left:
Blue Transportation Fitted $6ppd SOLD
Inner is in great shape, but outer has wear holes around elastic
Bottom Right:
Gray Print Fitted EUC $9ppd SOLD



Repairables- These were all purchased new by me except the blue dogs which I made and mr bubbles. All have shot elastic except the last two which are on their way out and could stand to be replaced soon. A couple minutes each and you've got yourself a killer deal!

Snuggles and Sunshine Goldfish in a Bag Med-Long $7ppd SOLD
LOVED this diaper! Side-snapping, no stains, silky squishy inner, only problem is that elastic is shot.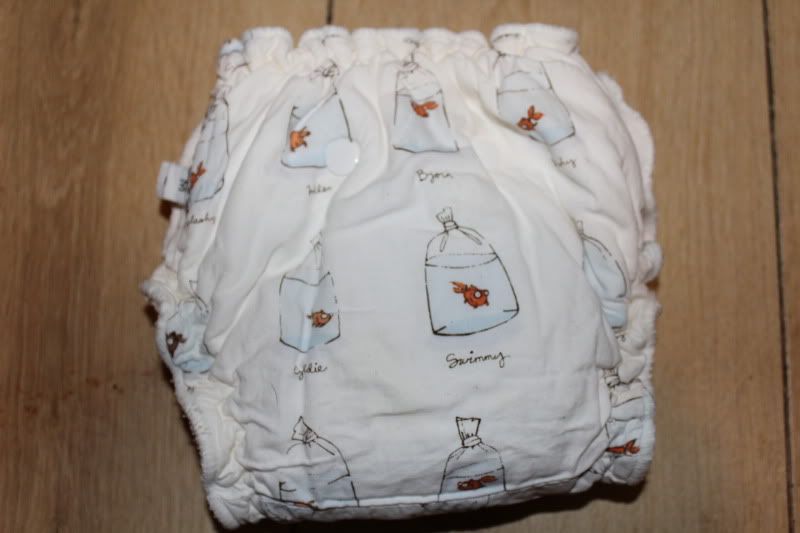 Ooga Fitted EUC $7ppd SOLD(no tags, but like a KK or BSRB) left is only one left from this pic



Ooga Piddle Poddle $19ppd SOLD
Soft inner, no stains, print just starting to show a little wear fading in a couple spots. Photo makes it look dingy on the front but its not.



TOP ROW:
Pink and Yellow Flowers GM-$13ppd SOLD
Getting a little rough on the inside, elastic, snaps, print are perfect
Tangy Tarty GM- $13ppd SOLD
print is pilly, but inside is still soft, non-matching soaker is nice and soft and squishy
Pink Hearts GM- $15ppd SOLD
Velour is soft but not squishy, some staining (haven't tried to sun), starting to show some wear along elastic
Yellow Ruffle GM ONE $29ppd SOLD
My fave diaper ever! I want to keep this just 'cause, but I can't justify it.
EUC, soft and squishy, one dime-sized stain on inner, haven't tried to sun it out.
BOTTOM ROW:
Pink/Green Dots $26ppd SOLD
EUC, still soft and squishy, almost new condition
Violets- $26ppd SOLD
EUC, soft and squishy, but not quite silky still, print is perfect, no stains
Pink Prism? $22ppd SOLD
Inner is starting to show some wear and get a little rough, print, elastic, snaps are perfect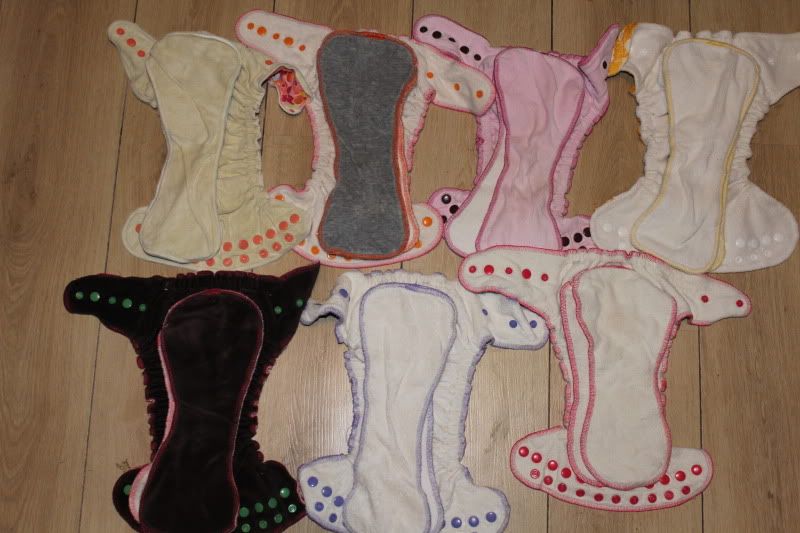 Volcom crossword fitted $6ppd (top right) SOLD
Has a couple of wear holes along elastic, otherwise decent shape
Mint Animals Kooshie Keister $7ppd (bottom right) SOLD
EUC, print is getting ever so slightly faded in a couple spots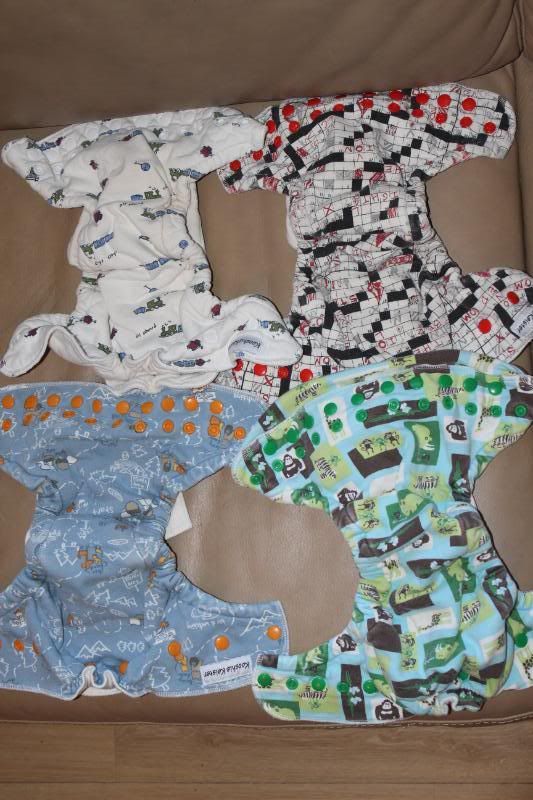 Doggie Fitted bottom right $8ppd SOLD
great shape except faint stain on back top of diaper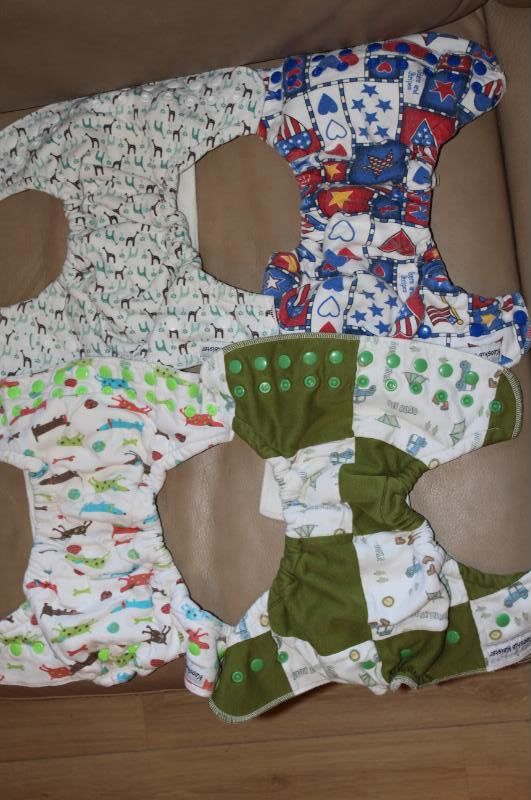 __________________
Mama of 6, including CD'd triplets!
ISO-BG Elementals or Freetimes in bright colors, Goodmama hanging pail
---
Last edited by charis4; 11-08-2012 at

06:30 PM

. Reason: pending/solds