Almost FFS lot of swaddlebees, Econobum, Willow Buns, Clovers!
---
I need to clear out some clutter and these haven't been used in awhile. They were bought used or given to me. I am asking $20 ppd for the lot. This will be sent priority flat rate to the USA.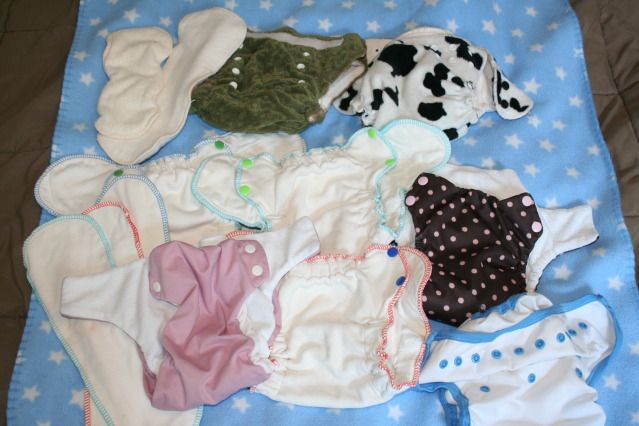 2 Minky Willow Buns diapers. Supposed to be AIO, but they are NOT leakproof. I would use them as fitteds. They are so soft and adorable!

2 Pocket Swaddlebees? (I will have to triple check!). One is more of an AIO with a pocket to add extra inserts, the other just a pocket and the older style?

3 Clovers (medium?) diapers. I love these, but I have too many dipes and my LO is trying to PL. They have 3 inserts. They need sunned. My clothesline fell apart, so I can't right now.

At least 1 Econobum cover. I wish I found these sooner! They are so thin and completely bulletproof. I wish they still fit my LO!

Not pictured are 1-2 other Econobum covers I just know I have somewhere. I will throw them in free if I can find them!

These all have a good amount of wear! Elastic still seems pretty good in most of them (Clovers, IME are never tight with elastic), they have inserts that you see in the picture. There may be stains. Please see the pictures before you take them and remember I am trying to pass these on.
__________________
Mom
to FIVE little monkeys ages 2-12 years.
---
Last edited by nakia; 11-25-2012 at

09:49 AM

.