Registered Users
Noah's Birth Story--pictures added!
---
Noah Edward
January 11, 2013 at 5:13am
7lbs 12oz and 21 inches long

eta: Sean=DH, Wren=DD

I was scheduled to be induced with Noah because we live 2.5+ hours from the hospital he needed to be born at due to his heart defect (Tetralogy of Fallot). Noah's due date was January 14th. Noah's older sister Wren was born at home (her birth story is here)and we had planned for him to be as well before we found out about his heart. Plans change though. This is his birth story!

We set the induction for as soon (and as far out) as we thought safe, scheduling to be checked into the hospital January 10th at 6pm. The doctor wasn't happy with this, he wanted much sooner but I am stubborn and know my body. We had an appointment at 3:00pm at maternal fetal medicine in Portland, they did an ultrasound and confirmed babe was head down and around 8lbs. The nurse listened to the baby (Wren got to help her with the doppler, she was an awesome nurse) and checked me and said I was 2-3cm and 50% effaced. I was kind of hoping to be further since I'd been having contractions on and off on my own for the last couple of days. She answered some questions I had and then got us the paper work for the induction and told us to ho have a nice dinner and then head to the hospital.

We went out to dinner for the last time as a family of three. Sean choose Buffalo Wild Wings because I didn't care where we went. We had a nice time talking about what we thought Noah would like, how Wren was going to do for the first time away from us overnight, and other small talk. It was nice just being together the three of us. After we finished we headed to the hospital.

We got to the hospital and were sent up to labor and delivery, the nurse there (Deb) got us settled in a room. Wren had a blast running all around the room, looking out the windows and rolling the big yoga ball around. The labor and delivery rooms at Maine Medical are HUGE and they all have nice big tubs to labor in. I should have taken a picture, but I was sort of feeling nervous and didn't think to do it, oh well. We talked to Deb about what we were hoping for (I wanted to avoid pitocin if possible, absolutely refused to allow cytotec to be used, and I was hoping to go pain med free again like I did with Wren) and about the different induction methods. She thought that just breaking my water was the best option. 7pm was shift change for the nurses and our next nurse came in. Our nurse was Colette and she was awesome. She took blood for labs and put the saline lock in my hand (she tried putting it in the vein in my fore arm but couldn't get it there). I only had to have the saline lock, no IV fluids thankfully. She asked about what we were hoping for too and she said she though cervadil was the best way to go for the induction. The resident came in sometime after 7pm and talked to us too. She checked me and I was now ~3cm and 75% effaced (I was still having those same sporadic contractions that I'd been having for days) so it was nice to see I was making a bit of progress on my own! The resident thought pitocin was the way to go for being induced, but said she would go talk to the Dr and see what he thought. I told her about wanting pitocin as a last resort and asked about just breaking my water, but she didn't think that was a good way to go for various reasons. At this point I was sort of annoyed that none of them agreed on what the best way was, it's kind of funny now though that none of them agreed. The resident came back and said the Dr thought cervadil would be a good first step and that then they would start pitocin in the morning. I felt okay with this plan and the resident placed the cervadil at 9pm.

Our friends the Martin's came too, sometime after 7pm, and hung out with us for a bit. They were nice enough to take Wren and watch her for us. They left a bit after 8pm with Wren. It was so hard letting Wren go, she had never been away from us overnight, and never away from me for more than 3 hours. Luckily she did wonderful and I think it was probably harder on me than on her!

After the cervail was placed and Colette had hooked me to the monitors (I had to be on the monitors the whole time with the cervadil) Sean and I tried to get a bit of sleep. I got maybe an hour of sleep before contraction woke me up and I couldn't get back to sleep. By 10:30 I was feeling pretty uncomfortable lying in bed and had to focus on relaxing through the contractions. Colette came in a bit after 10:30 and excitedly told me I was having contractions, it was kind of funny because I looked at her and said "yes, I know" and we both laughed at that. She asked if I wanted to move from the bed, but I told her I was okay for now and would try and get some sleep still. That didn't happen and I couldn't lay down anymore by 11pm. Colette came in and put a movie on for me while I moved to the rocking chair to labor a bit. Sean gave up on getting any sleep too at this point. He was quite unhappy with the movie selection. Colette had put on "My Big Fat Greek Wedding" and Sean kept asking me if I wanted to watch something else, that the movie was dumb, and I kept telling him (between contraction) that I didn't care and was sort of distracted. I thought it was pretty funny how unhappy he was with the movie while I was sitting there closing my eyes every few minutes to focus and relax through a contraction, it's probably a good thing for him I have a sense of humor!

Sitting in the rocking chair got uncomfortable after a while, it was too hard to relax through the contractions, so the next time Colette came in I asked if she could put me on the wireless monitor so I could move around. Once I didn't have all the wires I got up and Sean and I swayed through some of the contractions before I moved to the yoga ball. When we were swaying I felt like I might throw up and Colette gave me a container, thankfully I never had to use it. I don't know what time I got on the yoga ball, I think Sean said it was around 1am, the contractions got a lot more intense once I was on the yoga ball and I had to start breathing through them. By 3am I wanted to get in the tub and Sean got Colette for me. She said she that was fine (technically I wasn't supposed to be allowed in the tub with the cervadil since the water could dilute it, but Colette had said earlier she thought it would be okay) and Sean started filling the tub for me.

Just like with Wren once I was in the tub the pain from the contractions was so much less, it was wonderful. The only thing was they had the overflow drain kind of low in the tub so I had to ask Sean periodically to add more water for me, which was kind of annoying. Colette gave me a pillow to lean on in the tub and I labored with my upper body resting on the pillow on the tub edge. The contractions were coming pretty frequently and I would breathe through each one and try to "let go" and then rest until the next one hit. After a bit my knees started to hurt and I switched to sort of reclining in the tub and I asked Sean for a cold wash cloth to put across my face. I kept it over my forehead and eyes pretty much the whole time I was in the tub. The contractions started lasting longer and coming closer together. I started to feel cold and my legs started getting shaky so I asked Sean to add more warm water for me. I tried to move back to leaning over the edge of the tub but was hit with a huge contraction and couldn't so I went back to reclining in the tub. Soon after that, just before 5am, my body pushed with the next contraction (I should have known the shaky legs and feeling cold was transition), I have to say that is still the strangest feeling I have ever had, having my body bear down without any input from me what so ever! I told Sean that I had pushed and he needed to call the nurse now! He called Colette who came in and checked me and took out the cervadil, she said I was only 6cm and that I could not push. She told me to pant through the contractions while she went to talk to the doctor. I tried not to push and tried to pant like she said but it's really hard to stop something that you aren't voluntarily doing. Sean started asking me if I should get out of the tub now but the contractions were coming pretty much back to back and I couldn't get enough of a break to get out. I could feel Noah's head coming down and I felt a big pop as my water broke in the tub and suddenly Noah's head was right there, almost out. I will never forget the look on Sean's face as I looked up and told him he had to help me out of the tub right now, poor guy! He practically pulled me from the tub and I went to my hands and knees on the floor in front of the tub with the next contraction and felt Noah's head come out. Colette came in at this point and asked how we were doing, she said she was going to go try and talk to the Dr again (the Dr and residents were all in the OR getting ready to do a cesarean) and Sean told her she shouldn't leave. She came over and I told her his head was out as I reached down and felt his hair. She didn't even have a chance to put on gloves before Noah's body slid out and she caught him. He had the cord wrapped twice around his neck so she unwound it and put him on my back where they cut his cord and took him to the warming bed. He cried and pinked up quickly thankfully.

Noah Edward was born at 5:13am on Friday January 11, 2013.

It was all kind of funny really. Because of his heart there was supposed to be a NICU team and Drs there when he came out, but from that first push to his birth was less than 15 minutes. No one thought he would come that fast! Thankfully he didn't really need any of the help they worried he would. He did go to the NICU where the cardiologist looked him over and did an echo, but he was discharged from the NICU after 36 hours and we all got to go home that Monday morning since he has done so well keeping his oxygen levels up without help.

I'll add some pictures later when I can get on our desktop!

Pictures!

Holding him for the first time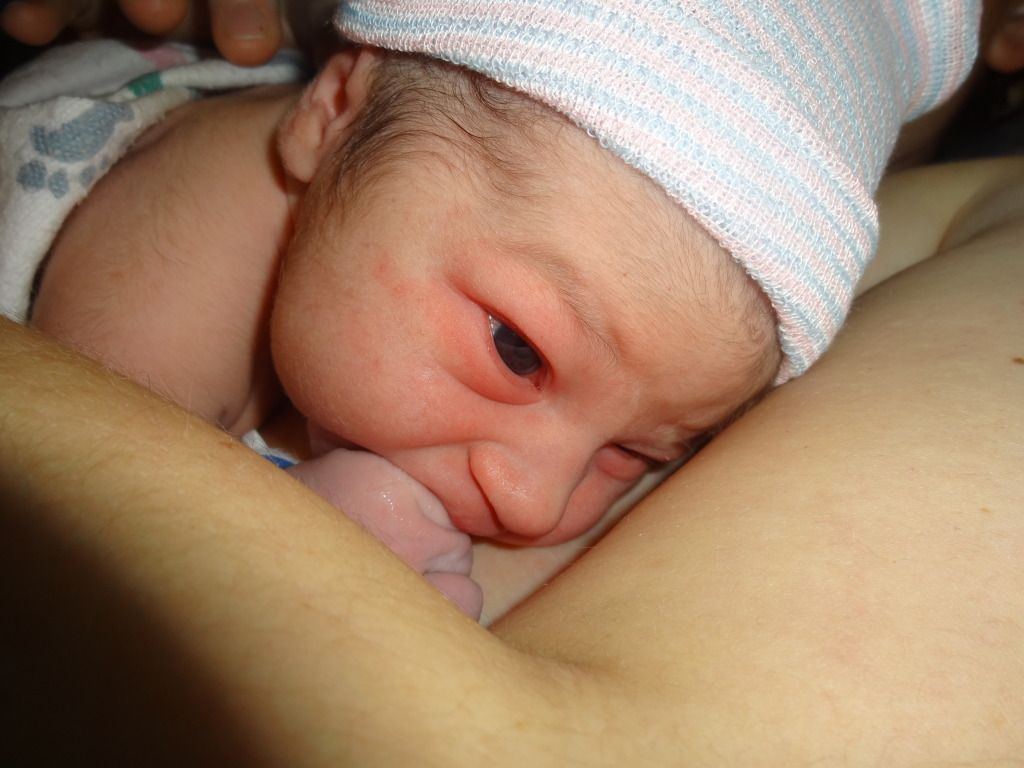 Holding him in the NICU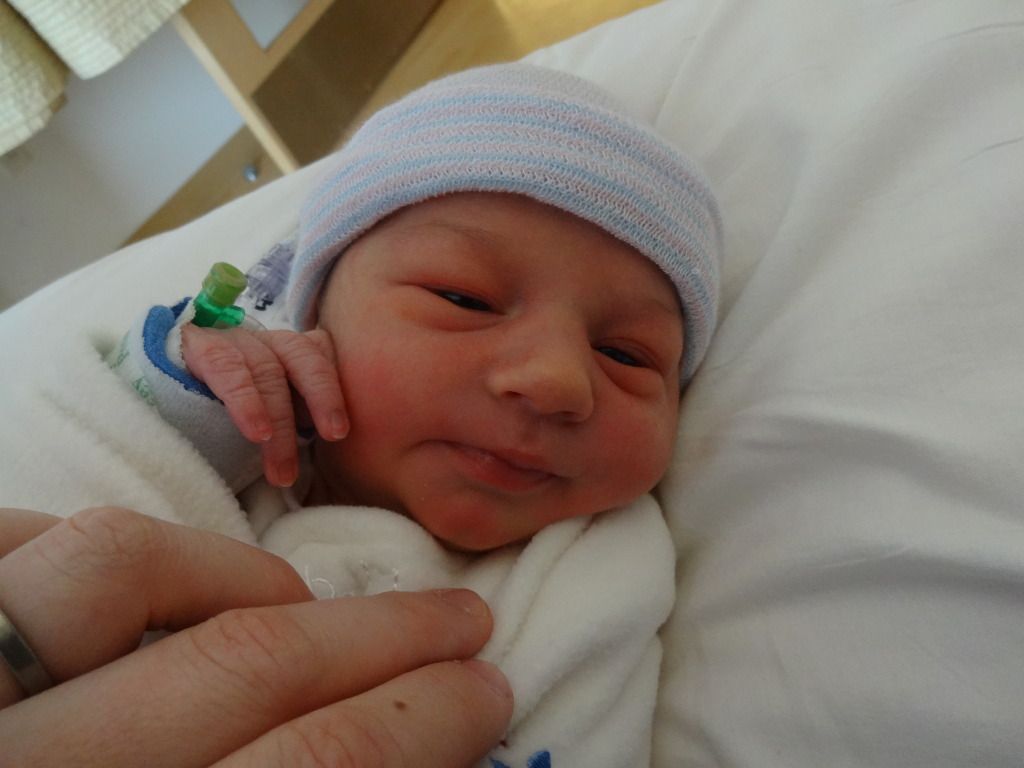 Finally out of the NICU and big sister getting to meet him!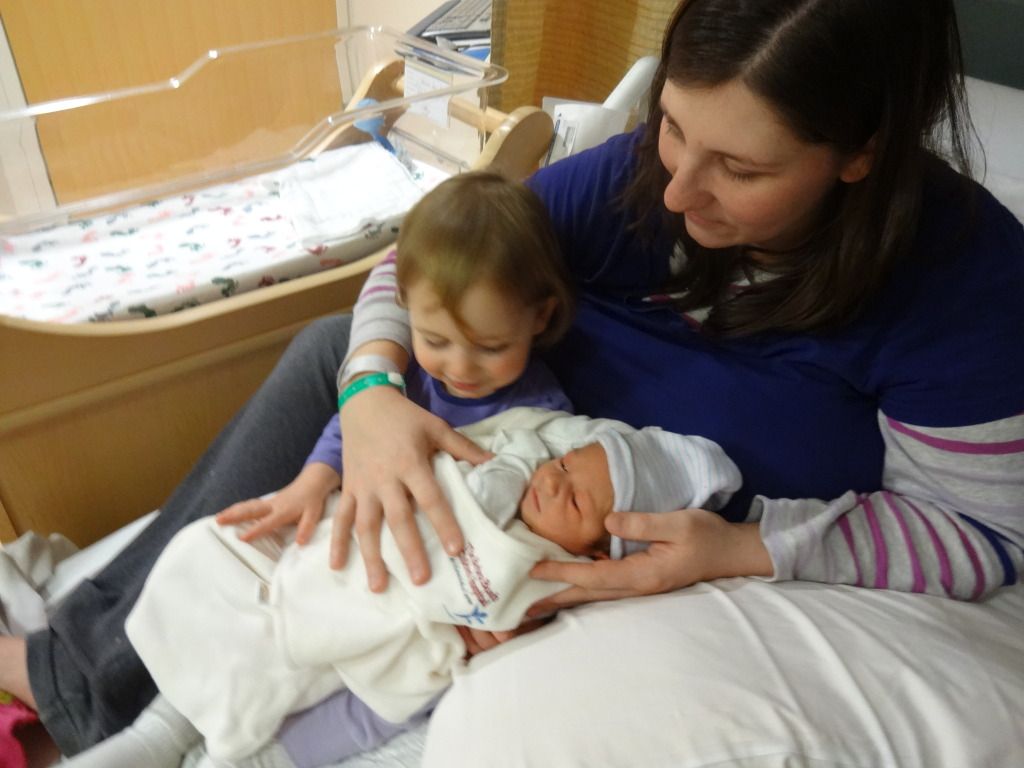 Papa and his babies



Sleepy babe <3



At home finally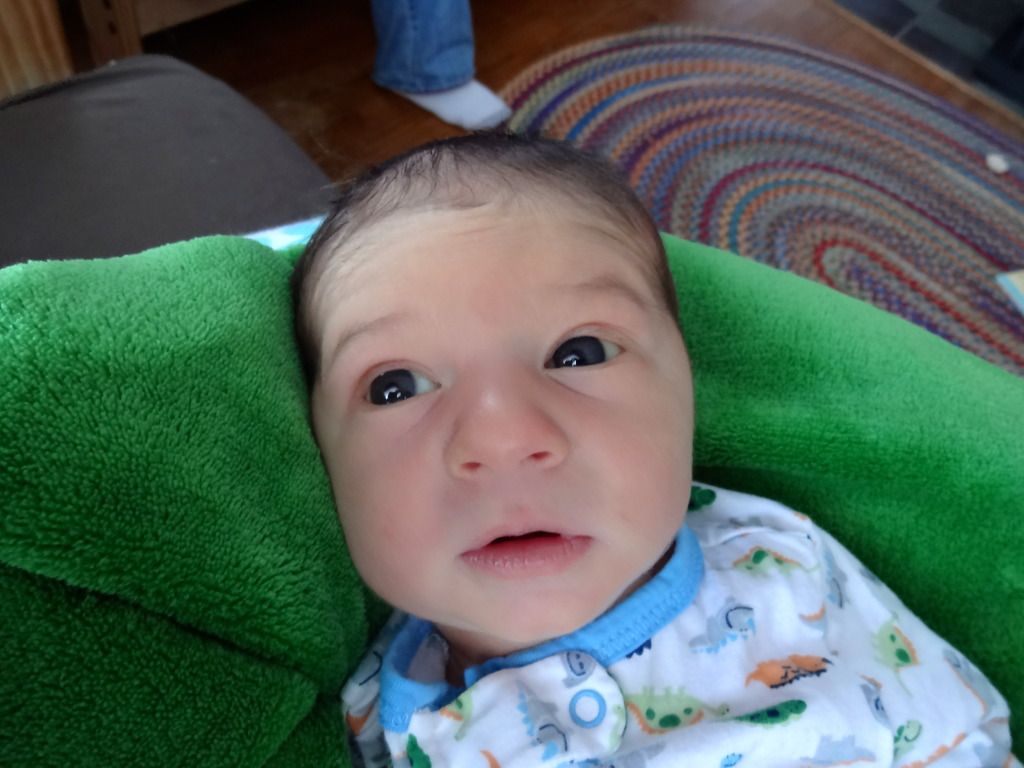 a fluff picture (prefold under a thirsties duo wrap)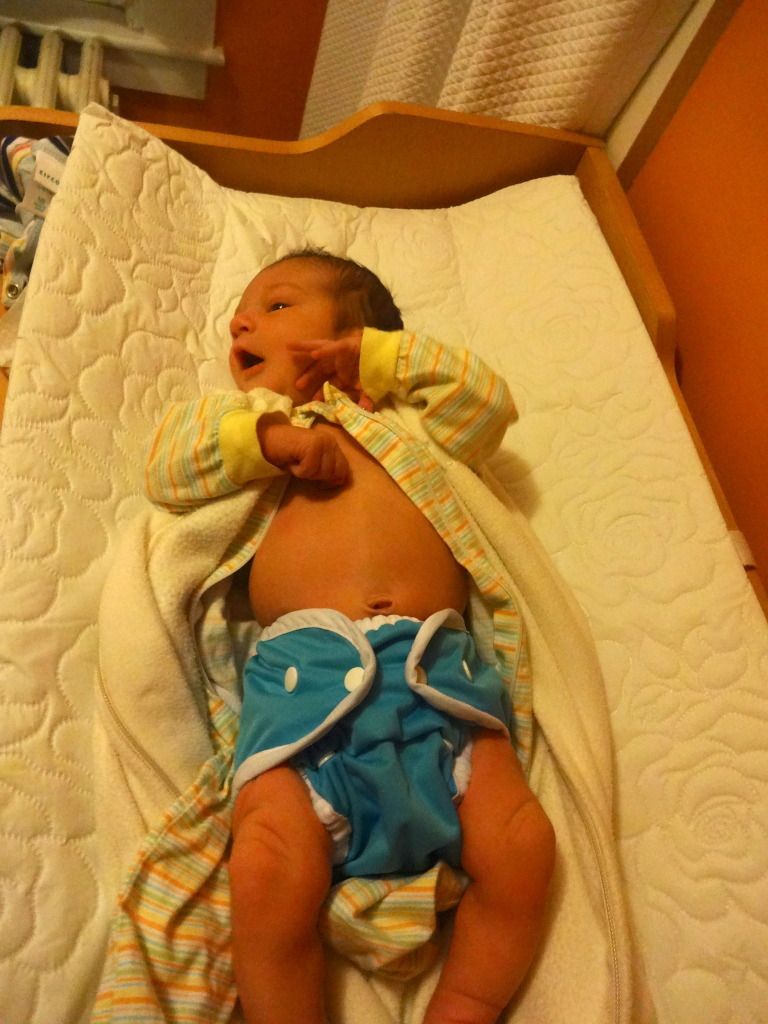 And little feet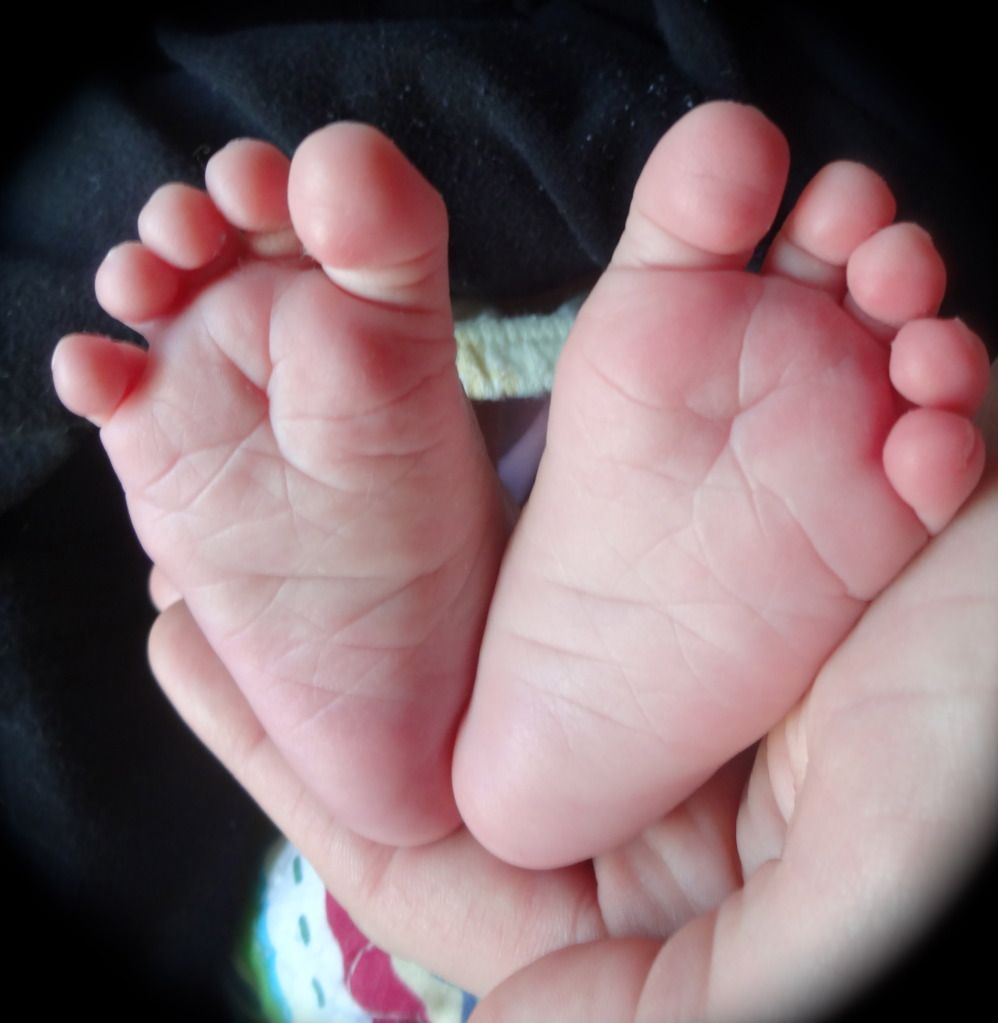 __________________
A, wife to S
Mama to DD W
born
at home in the water on 3/23/11!
my
heart warrior
DS N
born
1/11/13! And sweet DD A
born at home 3/9/15!
<3 Did you know 1 in 100 babies are born with a
heart defect
? 1 of them is mine <3
---
Last edited by EmilyA874; 01-31-2013 at

12:19 PM

.