Small and medium wool destash. I want these gone! Make an offer on them!
---
10/2 Update: Here's the thing. We aren't using wool anymore. I'm more than tired of shuffling these around my craft room. Make me a reasonable offer for things listed. Will start grouping them and discounting soon.

Take all NB/Small woolies for $80 or all of the Medium woolies for $200 (>$100 savings!!)

We are not using fitteds and wool for our second daughter, so I'm listing pretty much everything for sale. Non-smoking home. We have a cat and did have a dog; I've done my best to make sure there isn't fur on the wool, but I'm only human. I will list things in as much detail as I can, but please ask specific questions if you have them. I am always happy to take more pictures. DD 1 is little and was an early walker, so no crawling wear on the woolies! Measurements are waist/rise/inseam. I tried to be as exact as possible on the measurements; the inseam does NOT include the gusset.
[B]

Newborn/small wool:
Take all newborn size woolies for $80ppd!
Red Malabrigo Longies, knit by me. Dyed by Kaysie of Wacky Alpacky. 10/13/4.5 No drawstring.
$15ppd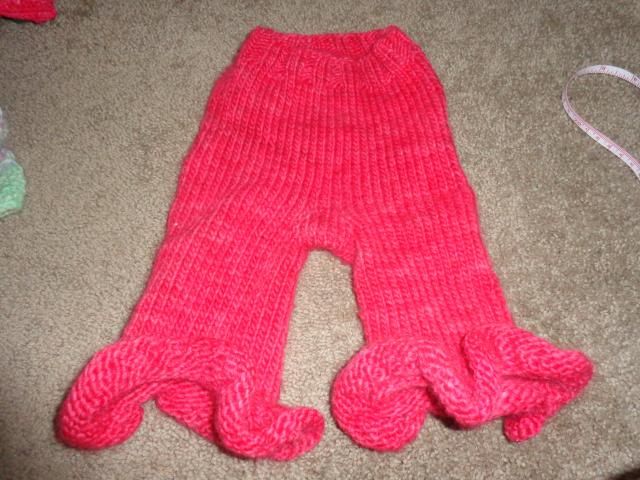 Hippy Pippy Giddyup on Gaia worsted. Knit by me. 10/12/.75
$10ppd I have the rest of the yarn if anyone wants it for $5ppd more with purchase of the soaker.



Mosaic Moon New Grange on Gaia Worsted. Knit by me. 11/15.5/5
$15ppd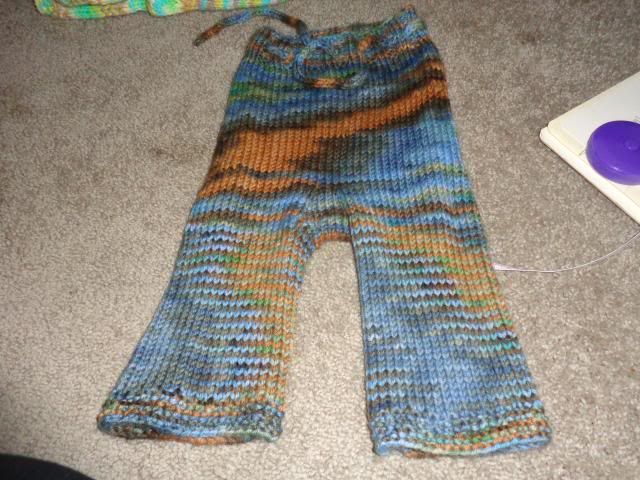 Blue skirted longies. Colorway is Paddington Bear. I forget the HC dyer though. Knit by Jonita (icanonlyimagine). 14/15/5
$25ppd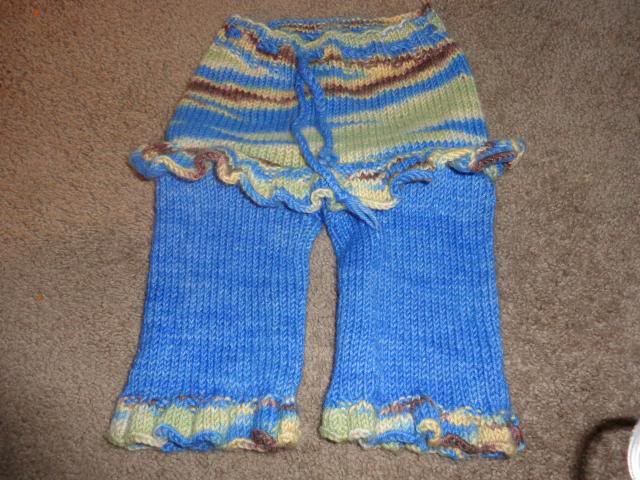 More accurate depiction of color.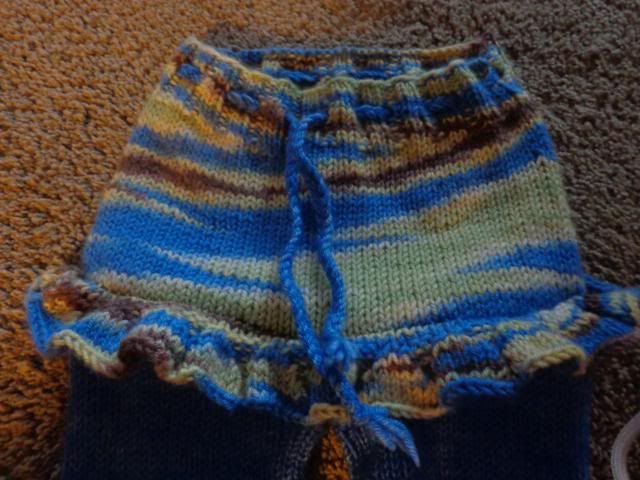 Chocolate Rose Longies. Knit by Jonita. 14/15.5/6
$30ppd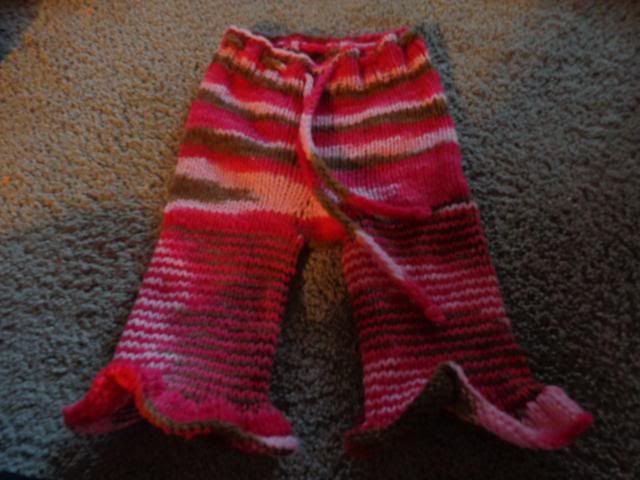 Valentine Longies. Knit by me. Yarn dyed by Kaysie of Wacky Alpacky. 14/16.5/5 I knit a "sling" on the inside to have an extra layer to prevent compression wicking. I can take a pic of it.
$20ppd.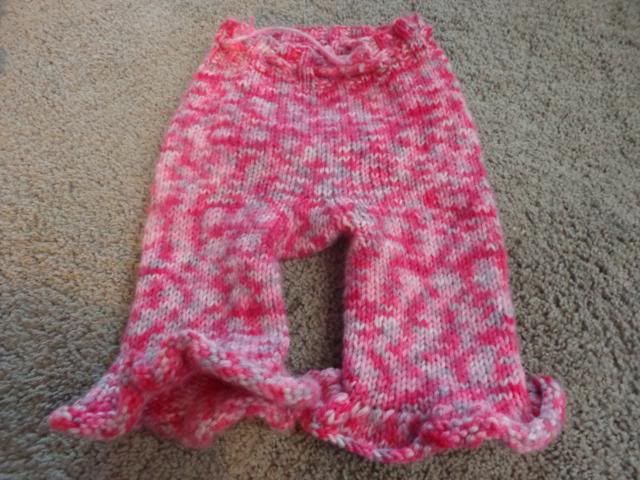 SMSS Convertible Bloomers. Knit by me. Yarn by Prima Knits on HC. 13/13/total inseam 7.5/ without leggings 2" inseam, leggings are 6 inches. I didn't do a great job on these. The gusset is loose on this. I can include some extra yarn for free if desired. Maybe someone can fix it. Priced to reflect the flaws.
$25ppd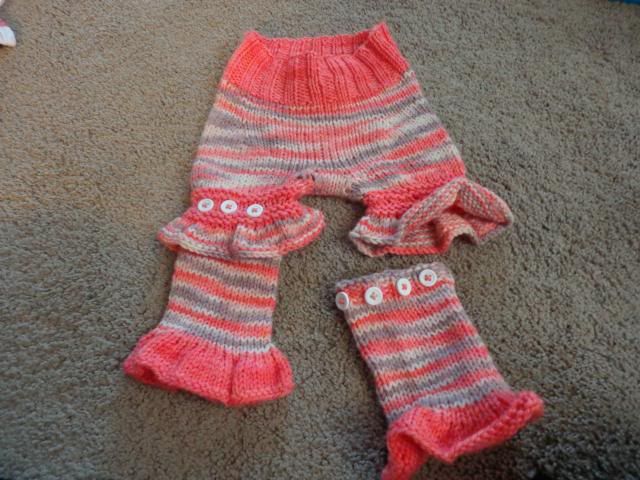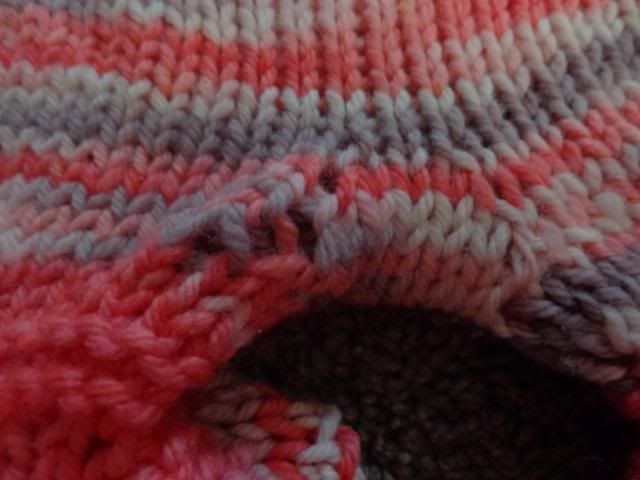 Medium Woolies.

Hippy Pippy Confetti Capris
16.6/15.5/3.5
Some felting in the crotch.
$25ppd



Yarn dyed by Homestead Emporium. I forget the knitter. 19.5/17/9
$20ppd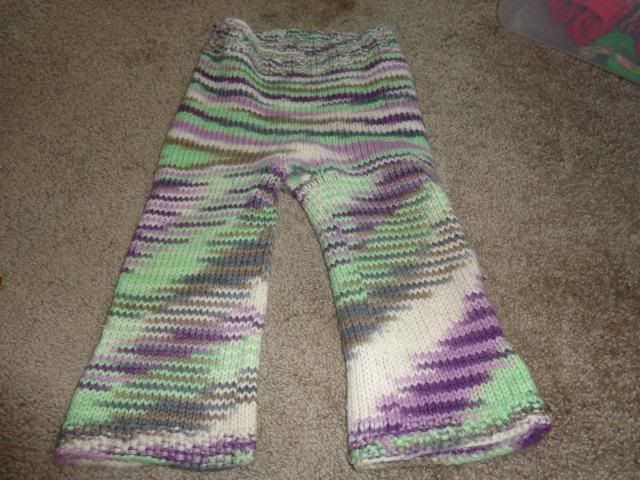 July 4th set. Crocheted by me. One of the first pieces I had ever done. 16/15.5/3. Chest on top is 20"
$15ppd


Lolly Tree Hello Kitty. 16/16
$30ppd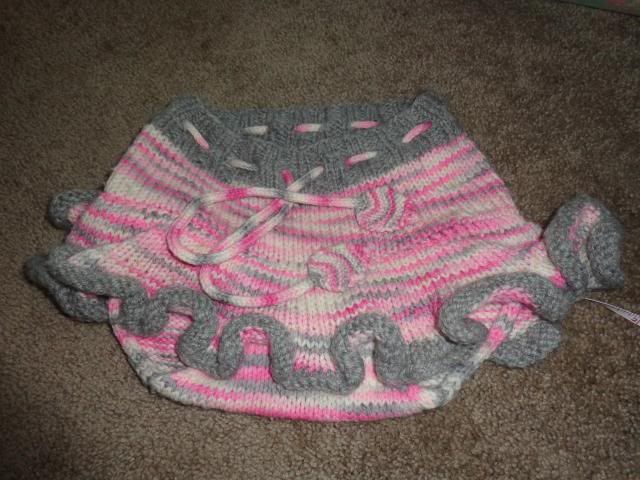 O-Wool striped longies. Eh boy. These are the longies that convinced me to never send DD to daycare in woolies again… Came to pick her up and she was kneeling in the driveway using sidewalk chalk. These are so cute and warm. The white is a little dingy and there are some dirt marks. I was just too timid to really go to town on them with a wool wash bar. 17/17/10.5
$25ppd


Some of the dirt marks. Hard to see, the flash washed it out a bit.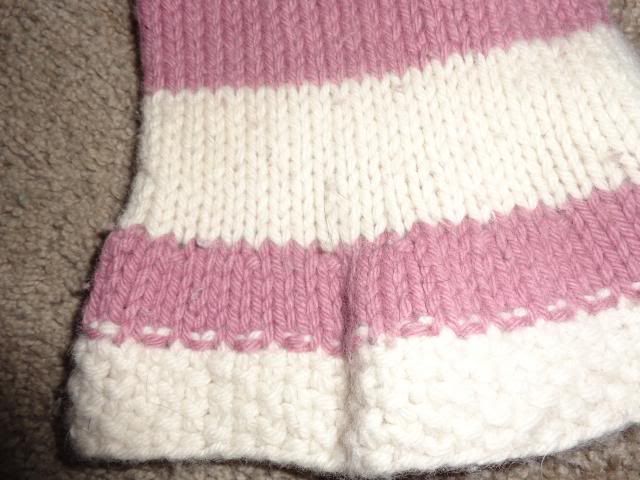 Sitches Under The Sun Campfire in Autumn. These were one of my favorite winter woolies. Super thick and warm! 17/16.5/8
$45ppd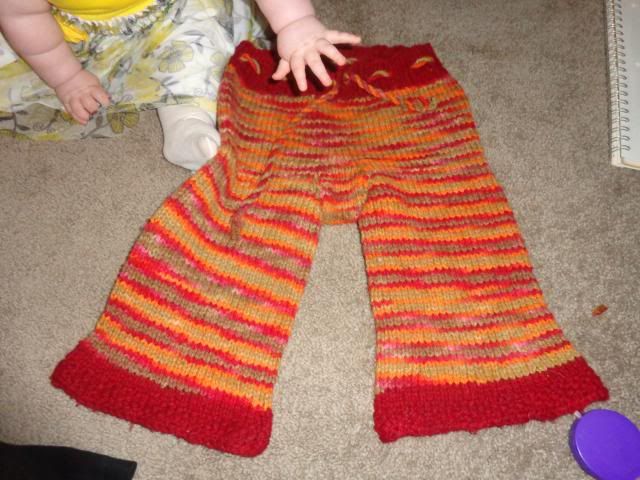 Holiday Longies. Had these knit by a DS mama in a swap and wasn't super impressed with the knit job. Just loose stitches in the gusset… Only worn a few times. 15/17.5/10.5
$18ppd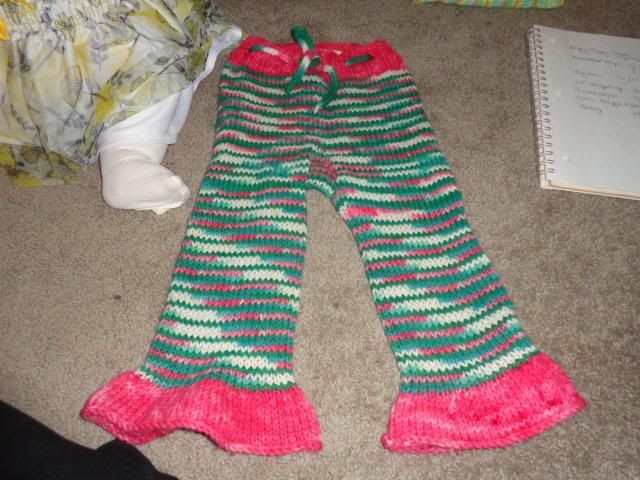 Blue brown heather skirtie. Super cute A line skirtie. 13/17
$18ppd


Dragonfly shorties. I think it was knit my Mizknits or Micsknits… Something like that. Bamboo stitch with dragonfly embroidery. 16/17/4
$45ppd



Purple dragonfly longies. I heart dragonflies and it shows! Not sure of yarn or knitter. 15/16.5/8
(I'll have to check to see if these have sold...)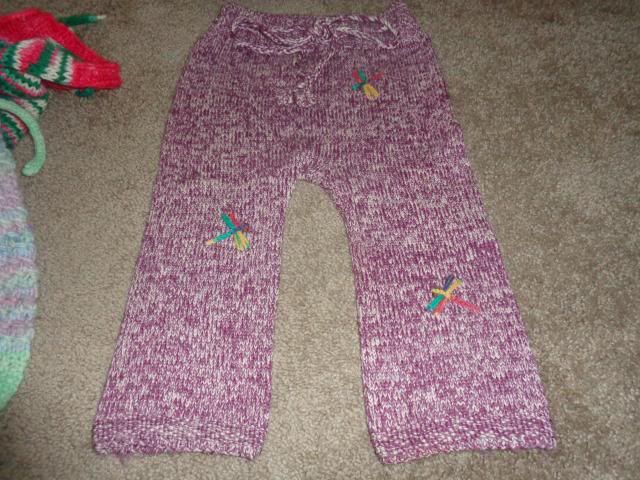 Here's a truer depiction of the color:



Soaker on LTK farm yarn. Knit by me, one of my first, so not super impressive  18/15
$6ppd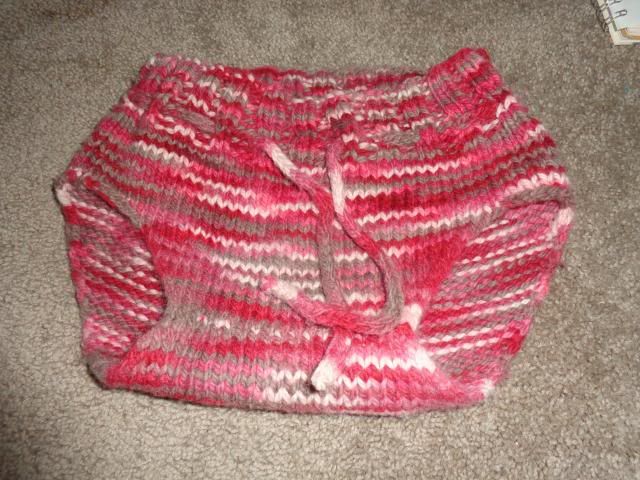 Heart butt cabled longies. Super warm, not sure of yarn. "Hairy" type yarn. Elastic waistband. 15/14/8.5
$12ppd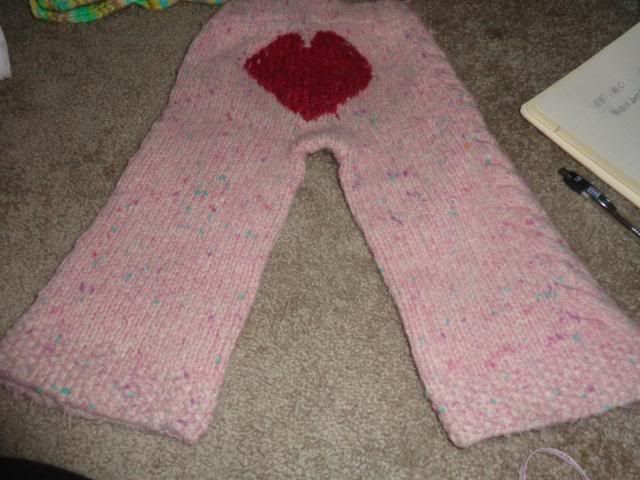 Green skirtie. Yarn dyed by Kaysie of Wacky Alpacky, knit by me. 15/17
$15ppd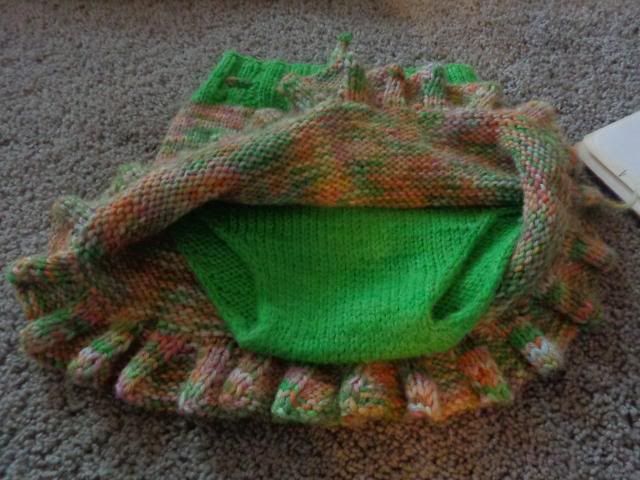 Halloween longies. Got these on DS. Too long for DD and I tried to frog them and recrochet and just never got around to it. 15/19.5/11 I do have the icord for them too.
$8ppd


Black and red capris. Knit with bulkier yarn. Super tough! 15/16/4
$15ppd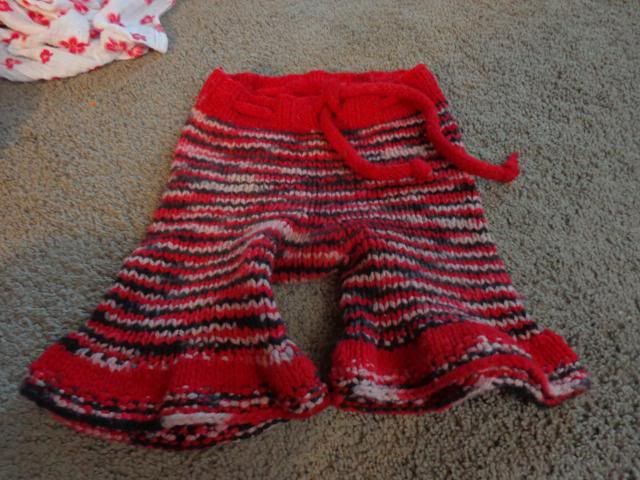 Will be listing more in the coming days. Just getting late!
--------------------------------------------------------------
SOLD:
Laine Mag/ Radiant Yarnworks Little Doggies. Knit by 8 Little Coconuts on HC. 16/16.5/8
$35ppd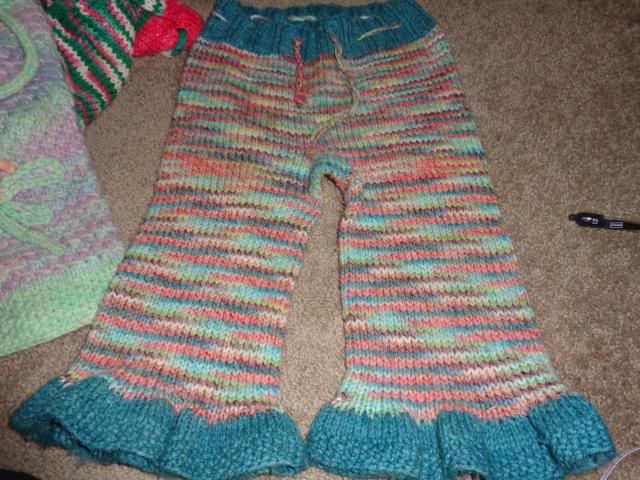 Pink purewool longies. I had these knit by a DS mama; I won a lotto that was yymn. These are what I got back and they never worked for us. Too big for our first DD. These longies are made for a chunkier baby, mine was a beanpole. There is also a weird little flare increase on the legs… We never used them. 17/16/8 and the legs are wide – 6" flat across!
$10ppd

__________________
Misty, NICU nurse, wife to Mr. Fix-it
and mama to two redheaded beauties!
---
Last edited by mistylynn313; 10-04-2013 at

11:53 PM

.