I had my labor day baby! :)
---
Well Joash Mikeal arrived Monday, September 3rd at 4:08 pm weighing in at 7lbs 11oz and is 18 inches long!
He weighed 6lbs 13 oz last night at the hospital! He is so tiny!!! Nothing fits him! I didn't buy any preemie clothes as all of my kids have been big! LOL As a matter of fact we just realized all of Kri's clothes were 0 to 3 months (Kri was 9 even at birth) and we also have no newborn clothes! LOL Good thing we live in Texas!


For the birth story:

I had been contracting as usual Sunday night and was not feeling well. Around midnight my vision was all blurry and I was lightheaded adn dizzy! I called the on call and they said not to worry about it and just get some rest. I got off the phone with her and threw up! I had already called J and told him to come home and I had my parents bringing a vehicle over to me. (We don't have a car.) J didn't realize how impotant it was for him to come home so he stayed at work till 5 am. I tried to sleep and contract and deal with a sick Krioni all night long. J came home I tried to take a bath and could not get comfortable! J went to sleep which I was not happy with him but he still didn't realize that it really was time! LOL I fed the boys breakfast (which at this point my contractions were getting super close) and sat down in frotn of the tv and started timing the contractions. They were about 2 to 3 minutes apart lasting about a minute. I think they were worst too since the boys weren't exactly letting me relax at all! LOL I finally woke up J at 9 and told him look we need to get the boys to your moms house and me to the hospital NOW! He told me do you really think it is time? I told him yes he called his mom and she came and got the boys. We went to the hospital. I got there they hooked me up to the monitors. His heart was accelerated and my blood pressure was high. I was 3 cm dilated and 50% effaced. So they got me set up in a room hooked me up to pitocin as they wanted me to deliver fast. This was at 10 am. The on call ob (which I was so thankful I got the one I wanted (well the one I wanted if my ob wasn't on call) since I knew my ob wouldn't be there!) came in I was 4 cm and 60% when she came in. She went ahead and broke my water (the fluid was clear). By this time his heart rate had started to lower. So there wasn't to much concern except they wanted to know why it had been up to begin with. So they kept raising the pitocin. They finally had it all the way up to 20 and during one of the monster contractions I finally said give me Nubain NOW! J said are you sure? I said yes I have to have it now! So the ob came and checked. I was 5 cm dilated and she didn't like the positioning of his head (this was around 1pm). So she said it was ok to give me the nubain and she had me kept switching positions. I slept though until I had the urge to push! LOL When I got the urge to push I told the nurse I have to push now! She told me there was still a lip and I told her that Dr. Kuhl would let me push! So she went and got the ob and while they were getting dressed I started pushing! LOL They kept telling me to I needed to wait but I wasn't waiting. I found out later though he was trying to come out facing out. His forehead was coming first! LOLThe ob got down there and she gave me a episiotomy so she could manuever his head better. When his head came out they realized the cord was wrapped around his neck and she slipped it from around his head and then his body fastly followed!
He came out screaming and screamed for about a good hour! LOL They had to take him to the nursery after we spent some time with him to do some bloodwork on him. I had a 2nd degree tear. But I feel really well just a little crampy and sore. Breastfeeding is going super well!
He is jaundice as a matter of fact we have to go have blood drawn at 5 am! We could of stayed another night in the hosptial but I wanted to come home plus there was no one to watch Erin tomorrow!
I'm just happy that my little labor day baby is here and happy and healthy!


Here is a few pictures from today (I'm in the process of uploading pictures right now):

Joash and Proud Big Sister Erin: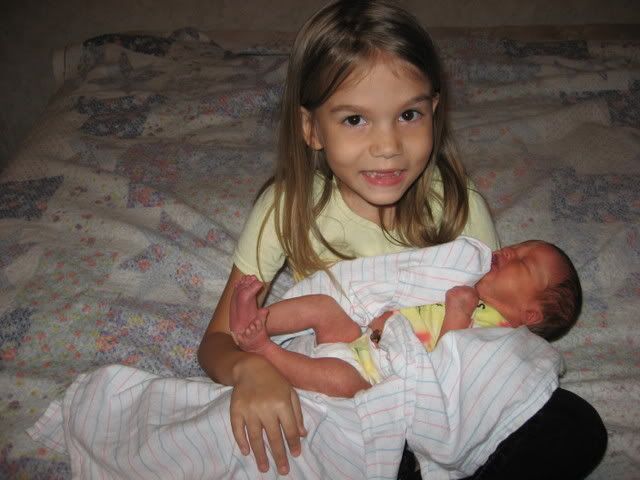 __________________
WAHM to Cory 7; Erin 6; Caden 4; Krioni 2; and Joash my labor day baby
(9-3-07)
Heavenly Huggers
Preparing for Winter 40% Off Sale!