Registered Users
Newborn fluff review (lots of PICS)
---
Finally getting around to doing my newborn/small diaper review! DS was born 12/13/07 and was 7 lbs. 12 oz. and 20.5 inches at birth. I took pictures the first week, but they seem to be missing
so almost all of these were taken later between 5 and 6.5 weeks. For reference, he was 9 lbs. 7 oz and 22 inches long at 5 weeks and 10 lbs. 3 oz. at 6.5 weeks. I will say when the picture was taken.

We did not CD our DD so we were totally new to cloth when DS was born. I was surprised by what we loved and didn't love. Everyone said that KL0s were the way to go with a NB, but we so didn't like them that I don't even have a picture of him in one. DS pooped about 18-24 times per day for the first few weeks (and still poops at least 12 times per day now at 6.5 weeks!) but he doesn't poop a lot at once so we have never had containment issues. The only issue we had was that it was so runny for the first month or so that is would bleed through the prefold so I was too afraid to use interlock unless he was wearing a fitted (but it would bleed through KL0s too so those were no better).

Our absolute favorite thing for the first month was our GMD orange-edged

newborn

prefolds, snappied under a thirsties XS PUL cover. He still fits the thirsties XS covers, but he outgrew the GMD orange this week. We've moved on to mostly wool at this point but the thirsties are still a good option. The GMD yellows worked from birth, but it was really nice to have prefolds that we didn't need to fold down at all. They were so trim under clothes that we had no problems even with

newborn

sized clothing (including onesies). Here is a pic of him in an orange-edged at five weeks. He is about to outgrow them (9 lbs. 7 oz and 22 inches). I took a picture of him in one the first week, but I can't find it. Sorry.




Regualr infant pfs are nice on newborns too. This parvani style embellished IPF fit him pretty well folded down at 6 days old. It was much less bulky than the GMD yellows so if you want to skip to infant, you might want a few standard infants along with GMD infants. I love this prefold.




Here is a medium loveybums organic prefold at 4 weeks old. These are cushy soft. They are a bit awkward to fold down because they are so thick, but we really like them anyway. This one is folded down about an inch in the back.




We loved, loved, loved our BBH

newborn

fitteds. We only had two of these but they were great. If you are reading this Shawnah, I should've bought those other BBHs from you!
They are absorbant, cute, easy to put on, and have a decent umbilical snap down. They still fit him even now. Here is a picture of him in one at five weeks.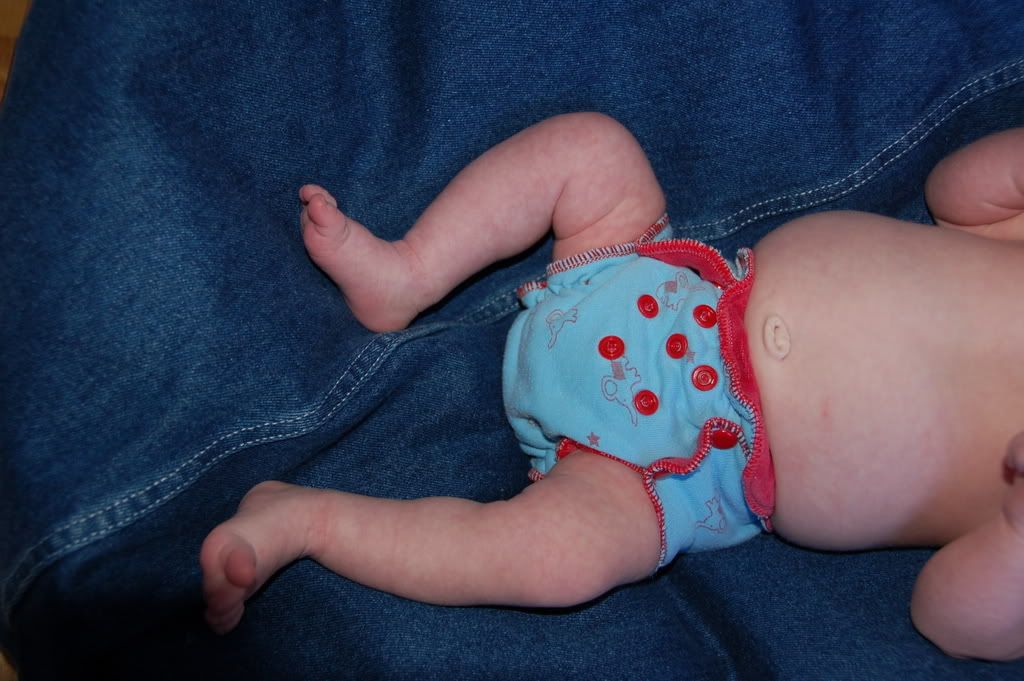 And here he is in a small BBH the same day. It fits him perfectly. If you have big babies, you could skip the

newborn

and go straight to the small as long as you aren't worried about the cord. DS kept his cord forever.


Over these prefolds and fitteds, we have enjoyed these woolybottoms. They are new to us, but not new and a bit thin in the crotch, but have worked really well nonetheless. DH is really into Henry's "stripey pants." We also have a pair of lanacare longies that match the sweater he is wearing in this pic. DS wears those all the time. They are drying from a wash today but I will have to get a pic. They are bulletproof, soft, and I like the plain gray.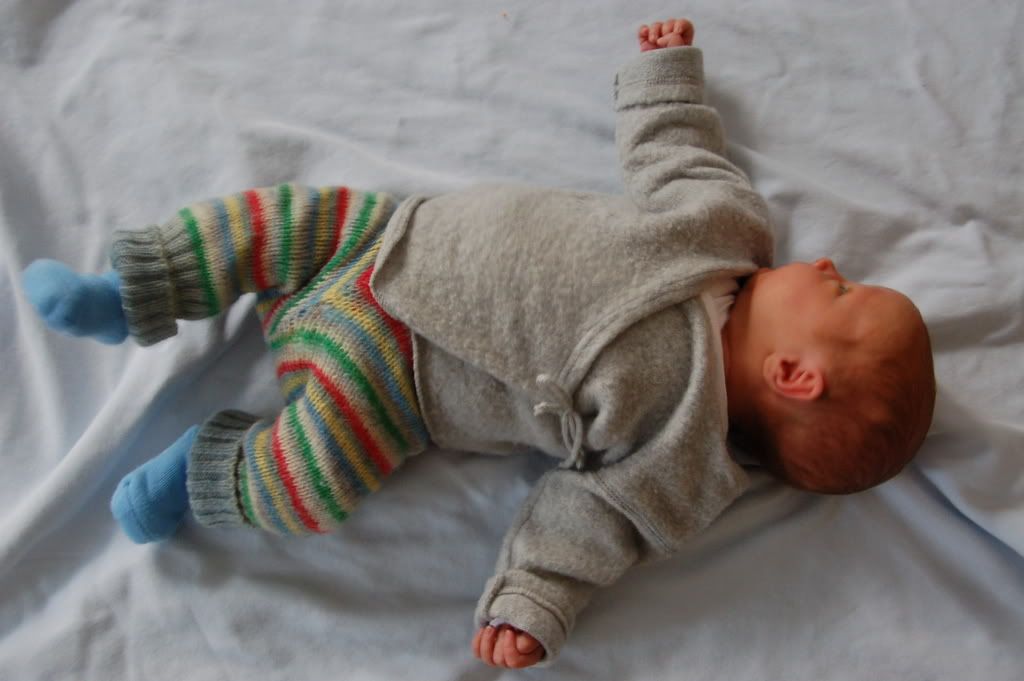 XS FBs would be a must if you are intent on using FBs. I tried a small on him yesterday, and I still have to cross the tabs over. We don't love pockets so we have barely ever used these, but I can't seem to get the fit right. DS has chicken legs but a decent sized belly so it's hard to use these. Here he is at 5 weeks in XS.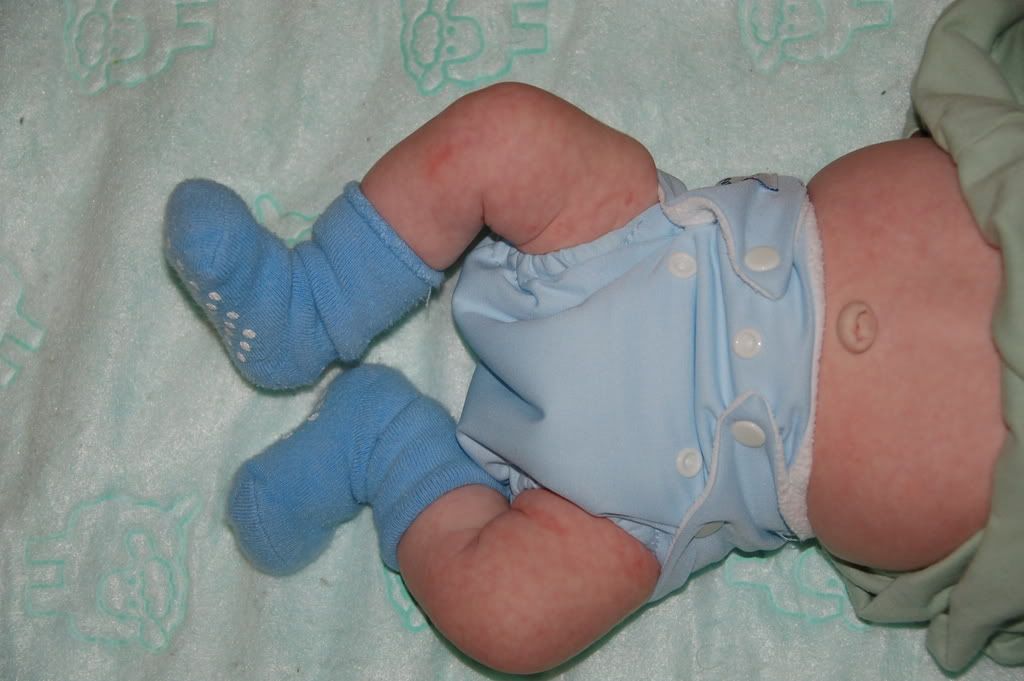 The small GAD is really small. It definitely fit right away. Again, we don't use a lot of pockets, but this fits better than the XS FBs. It is stuffed with a small GAD hemp insert in this pic. Kind of bulky, but it works well. Same day as the XS FB pic.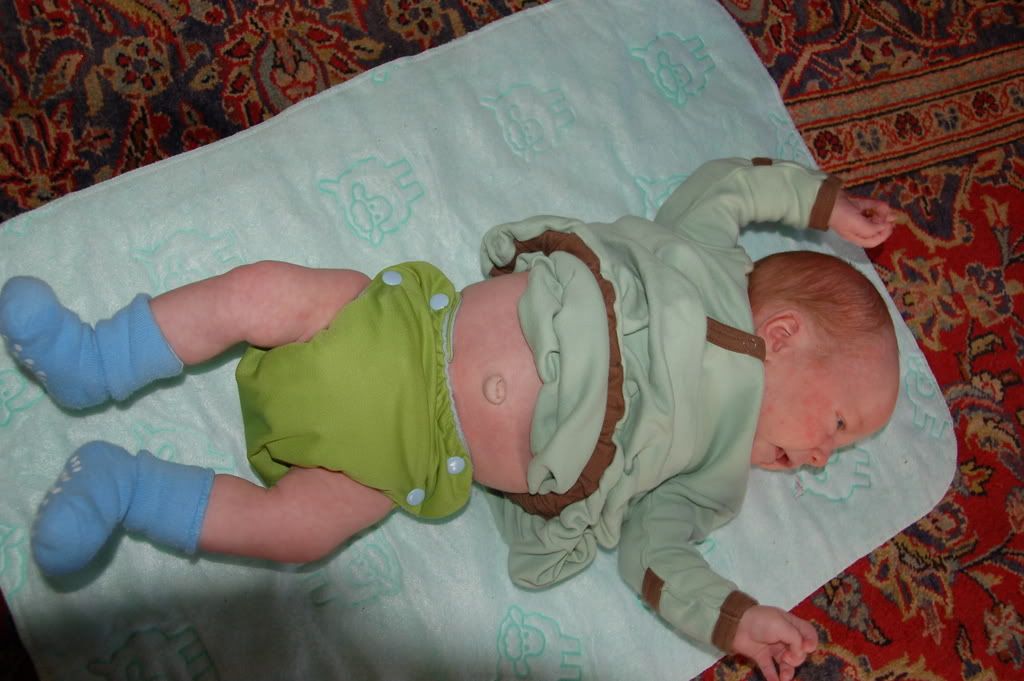 Here is a silly pocket I bought from a WAHM. It was a stocking stuffer/joke gift for DH because he is from Ohio. It's an Ohio State outer with hidden PUL and Michigan fleece inner so DS "poops on Michigan". My in-laws loved it.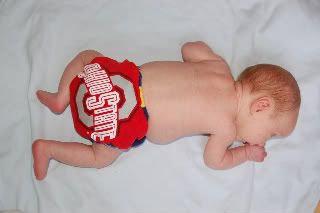 Now onto the one-sized dipes:

BGOS 3.0. These fit really well with the

newborn

insert they came with and are surprisingly absorbant. I think these make a great diaperbag diaper. They are compact, easy to put on, and will always fit even though he is growing so fast these days. I haven't had any of the issues mamas complain about, but they are new and rarely used. He is five weeks old here and I have the

newborn

insert in and the diaper on the smallest snaps. It actually fits better than it looks in this picture—less poofy in the crotch. BTW, I somehow don't have pics, but we have 4 XS VB AIOs from Blue Lake that were great for out and about. They are getting way too small now but were great to have.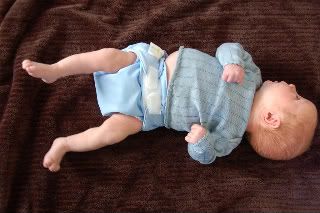 Here is a Mutt 3SR on the smallest setting on 5 week-old DS. I really like this diaper. It is so comfy and stretchy and it fits quite well for a one-size. My one complaint is that it is a bit confusing so DH won't go near it. I'd still like a few more though. I ended up going to the next rise setting this week, but I am not sure whether I should have yet.




Here's an XS luxe over the 3SR. We like this cover over all sorts of dipes. DS has chicken legs and the luxe has big legs so it's not a perfect fit, but we still haven't had any leaks so I don't think it is a major issue. I would love to find something similar but cut slimmer through the legs. I guess kind of like the new luxe!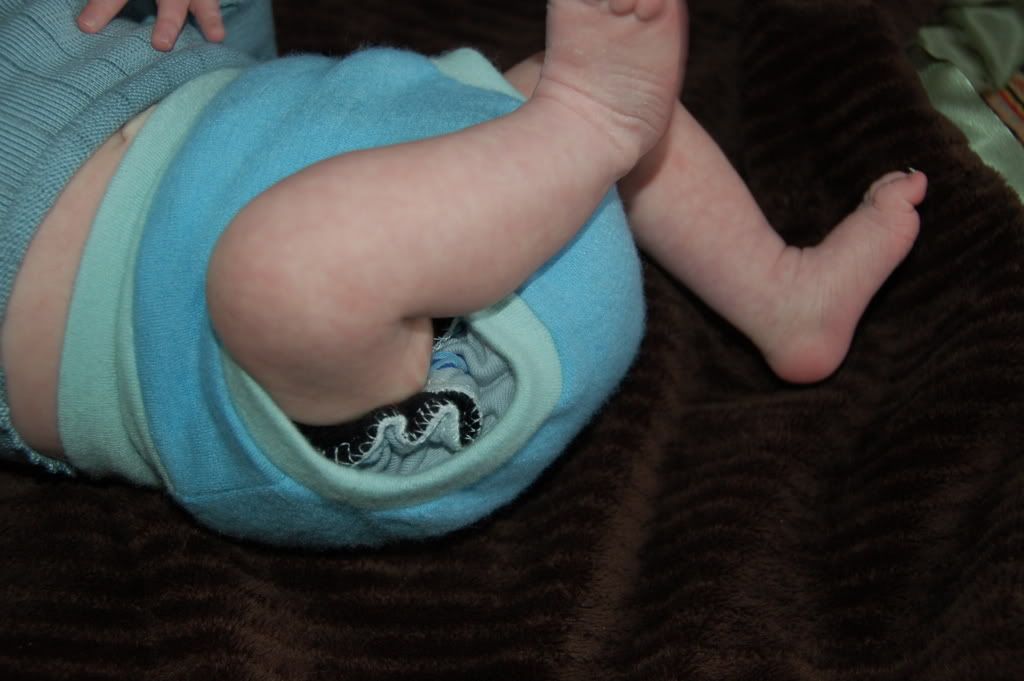 Finally, here is DS at five weeks old in a goodmama. I cannot believe how well this diaper fits him (and his 3 y.o. sister who still needs a diaper at night!). I know no one needs another thread extolling the virtues of goodmama diapers, but really, can I please get a bunch more of these? Even DH wants more. And I so wanted to hate them! It fits even better IRL than it looks in this pic.




And, as a reward for making it this far in this super-long post and just because he is so sweet…a picture of Henry's face when he was six days old.




Thanks everyone for all of the advice and encouragement to get into this crazy CD world. It has already become my "hobby" and, unless FSOT treats me well, won't save us much money
, but we are so happy to be doing something that we feel is better for our son and the environment (and so darn cute, too). I usually lurk because I am constantly NAK, but I am here more than a person should be.
So, thanks!


-Samantha
---
Last edited by chelseamom; 01-28-2008 at

07:53 PM

.