TUTORIAL to make pants, diaper, liner and beanie out of long sleeve shirt! PICS!!!!
---
So I have sooooooo many clothes I don't wear anymore, so I have been looking through them to see if any prints are cute enough to use for diapers...then I got a novel idea to just use as much of the shirt as I can for other clothing items...I will show you how to get the most out of a medium long sleeve womens knit shirt in this tutorial...In a later tutorial I will also show you how to make a diaper and beanie out of a childs size knit polo shirt(my son has tons of cute prints that he has outgrown that will be perfect for our new son to have cute printed diapers and I won't have to spend anything on new fabric to make him an adorable stash!!!)

I am showing mostly how to cut out the diaper, beanie and pants not much in the way of sewing it all....since there are sooo many diaper tutorials out there...I do breifly go over serging the pants and beanie...

So here's the long sleeve shirt tutorial (I also should mention this is a 3/4 sleeve shirt so a normal shirt will probably get you longer pants...but since I am shooting for a newborn set here this is a fine length)

First find a fitted diaper you like the fit of and stretch it over some paper to get a pattern
this is a KL 0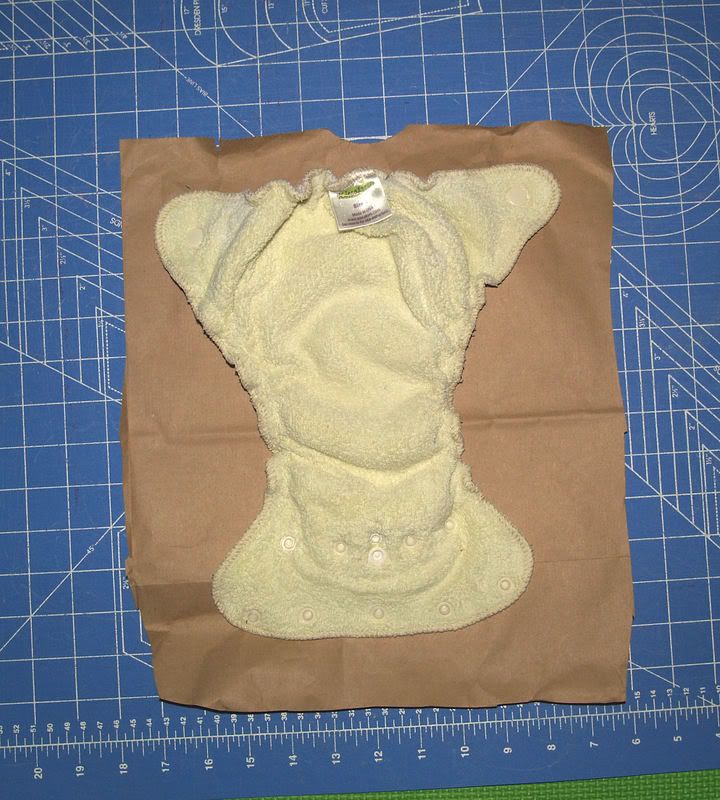 Stretch it to trace half the diaper for your pattern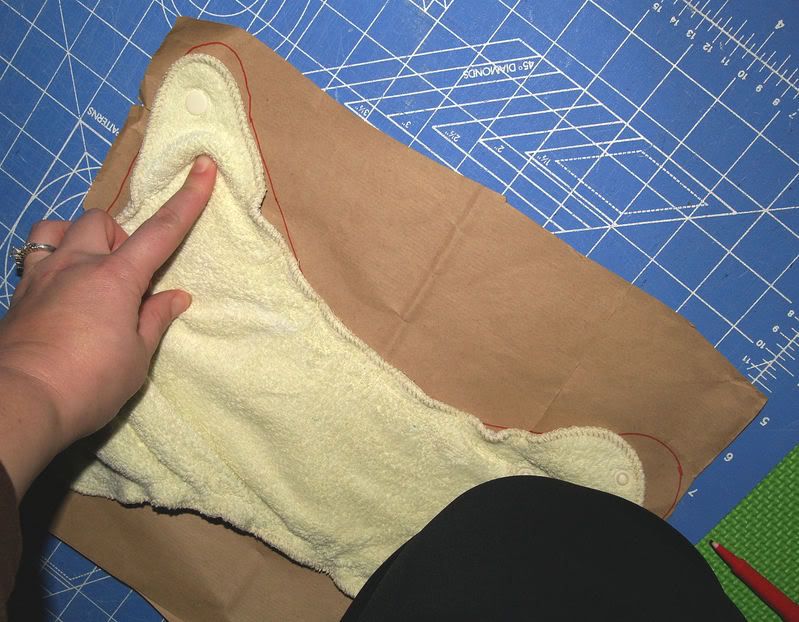 Now here is the pattern



cut it out



make sure it will fit on the shirt you have chosen



fold the shirt in half and bring it to the top (in order to leave room for the beanie to be cut fromt he bottom of the shirt)



cut the diaper out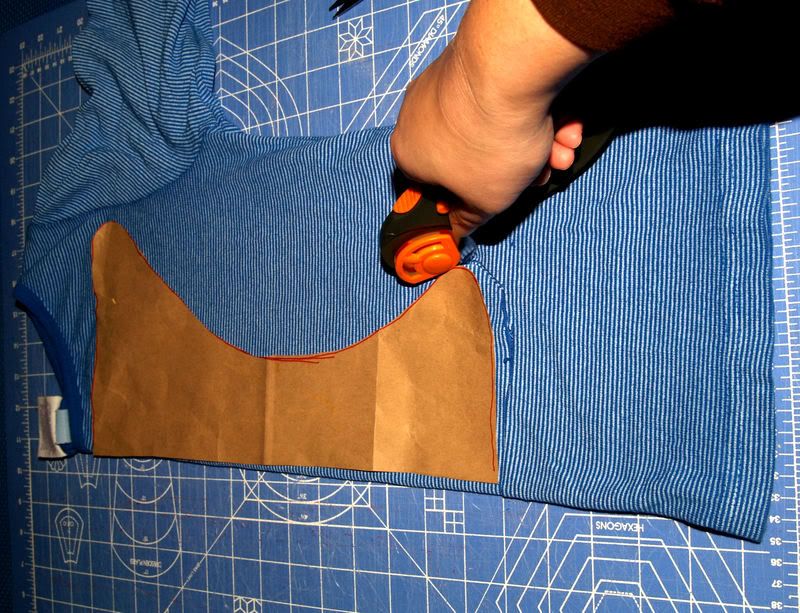 For a serged diaper put both prints outward (if TT face the prints together)



with the leftover fabric from the bottom of the shirt cut around your favorite beanie



after cutting



With the other side of the bottom of the shirt you should have enough to get a insert for your fitted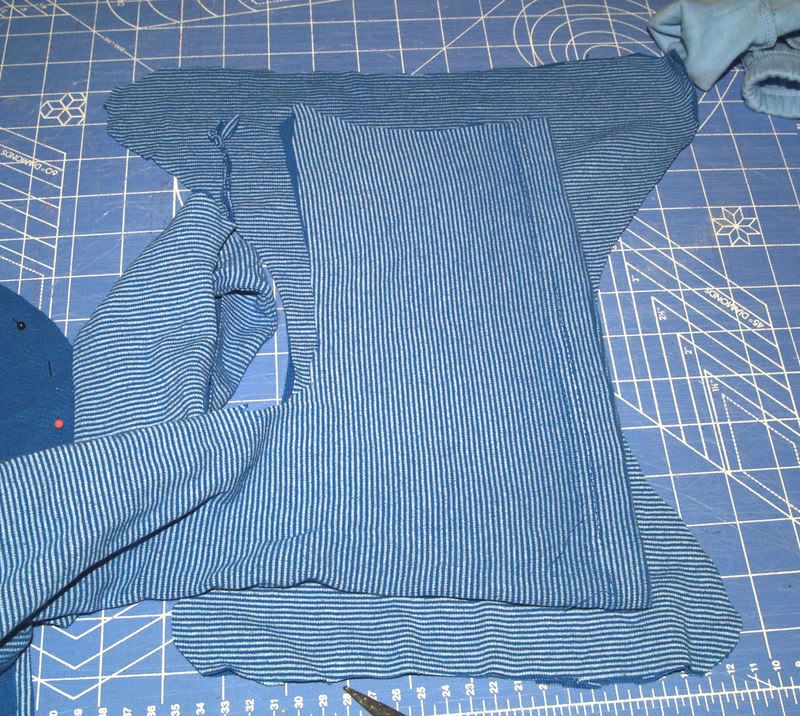 cut it to side



now for the pants...here is what is left of the shirt...lay out the sleeves



cut the sleeves from the remaining fabric left on the shirt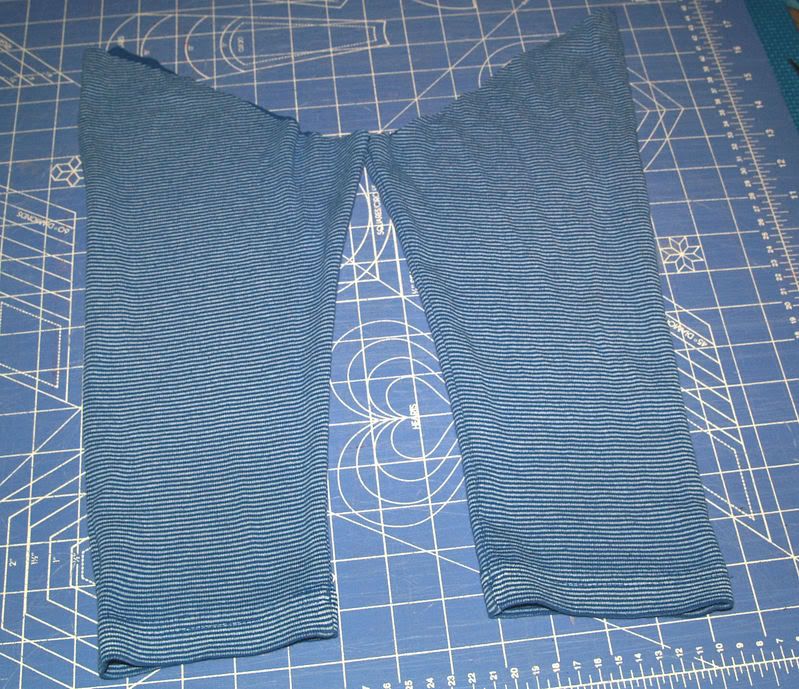 fold a pair of baby pants onto the shirt to make sure it will be long enough




cut straight across the top for the waist and follow the curve of the pants you are tracing from to get the curve of the leg



now turn one pant leg inside out and keep one leg print side out



put the print side inside the inside out pant leg and pin together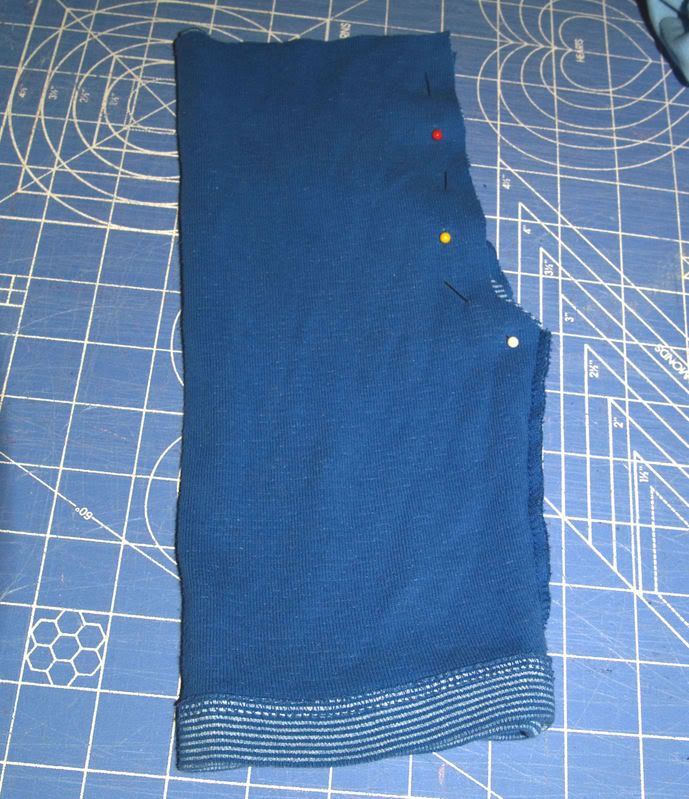 Here is what is left of your shirt!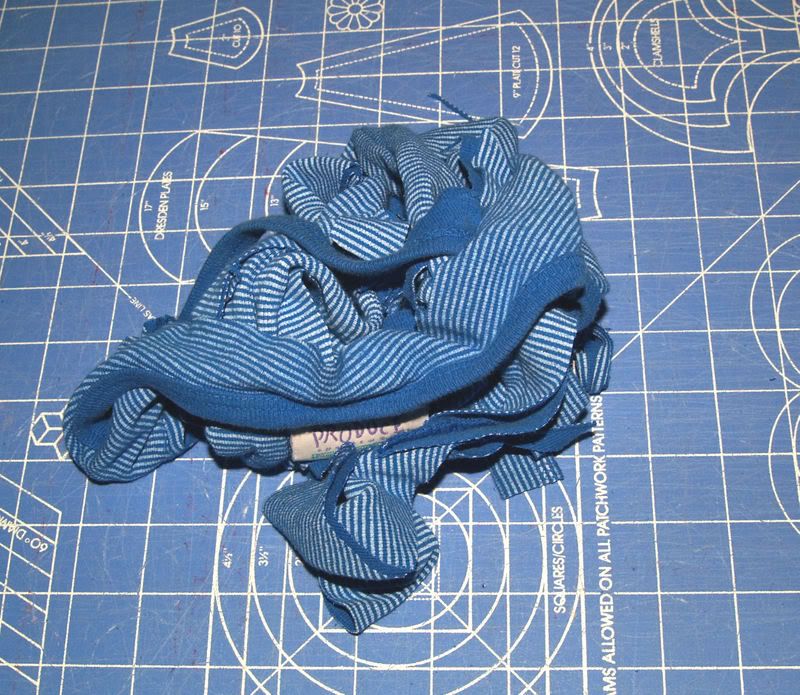 Now pin your beanie print sides touching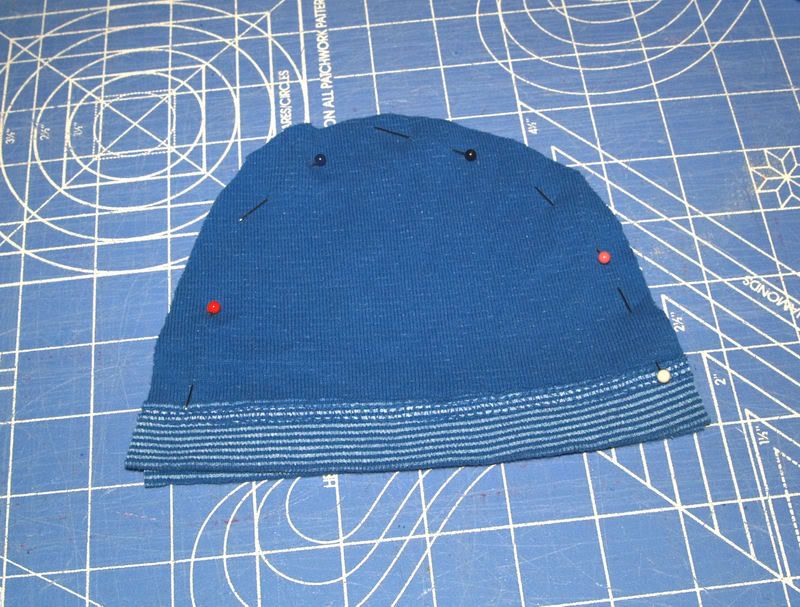 serge or sew it together



see how the seam of the shirt makes it super easy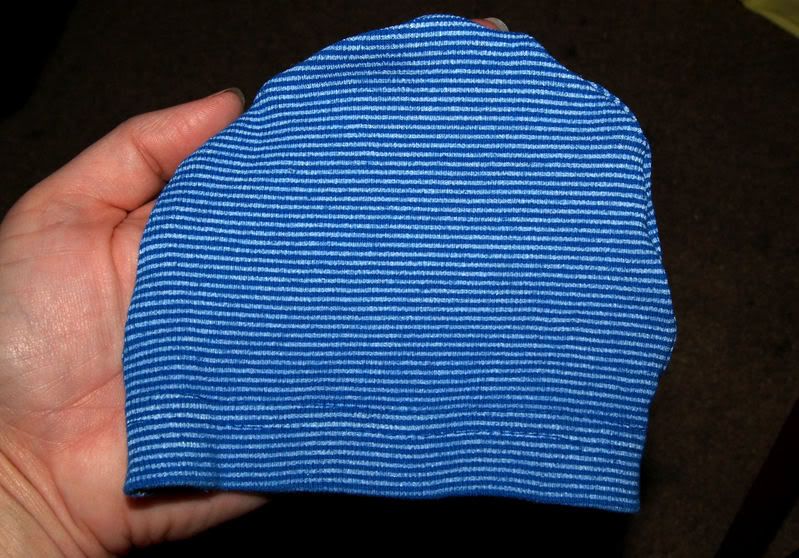 now grab the pinned together pants and serge or sew them together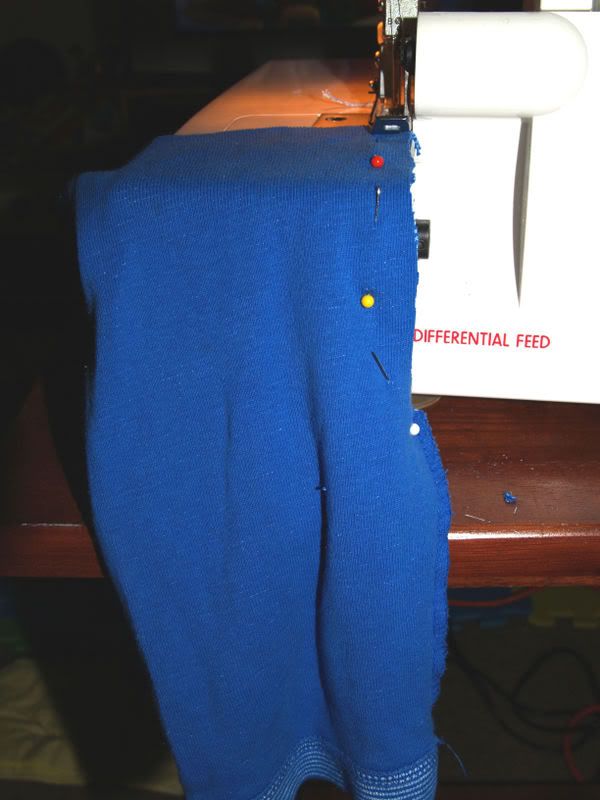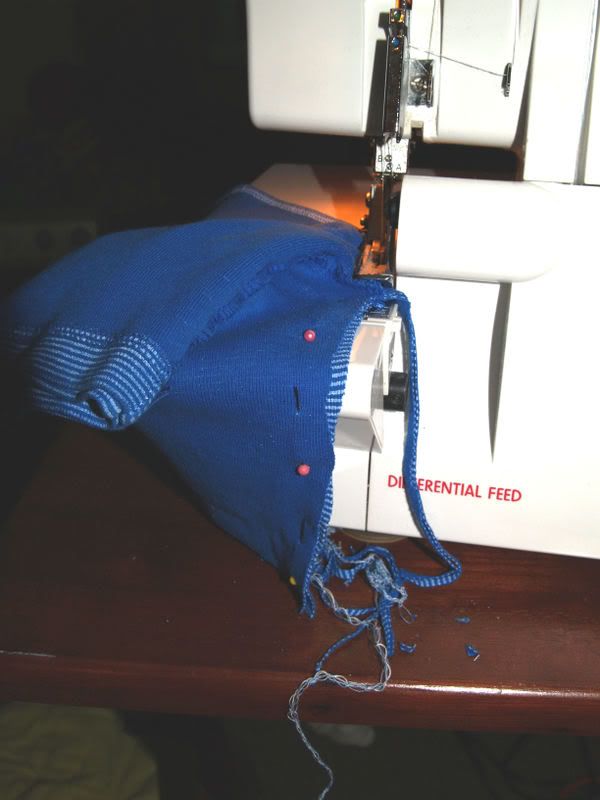 here is what they look like after they are serged together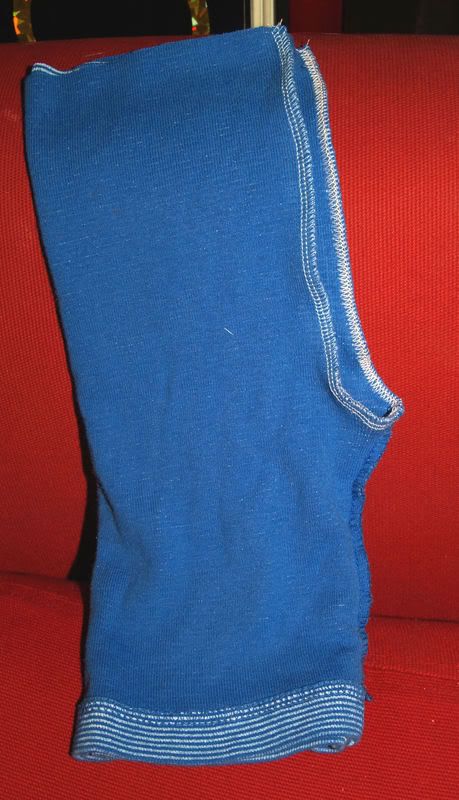 Now take the leg out from inside the other leg to open the pants up inside out



keep them inside out and pin the waist and leave an opening for elastic



now here are the finished pants and beanie



I am gonna skip the serging of the diaper since that should be pretty easy to get a tutorial on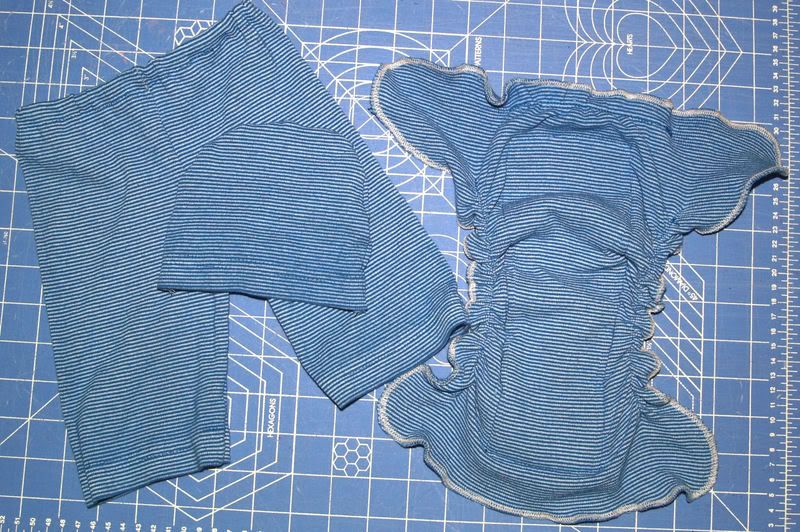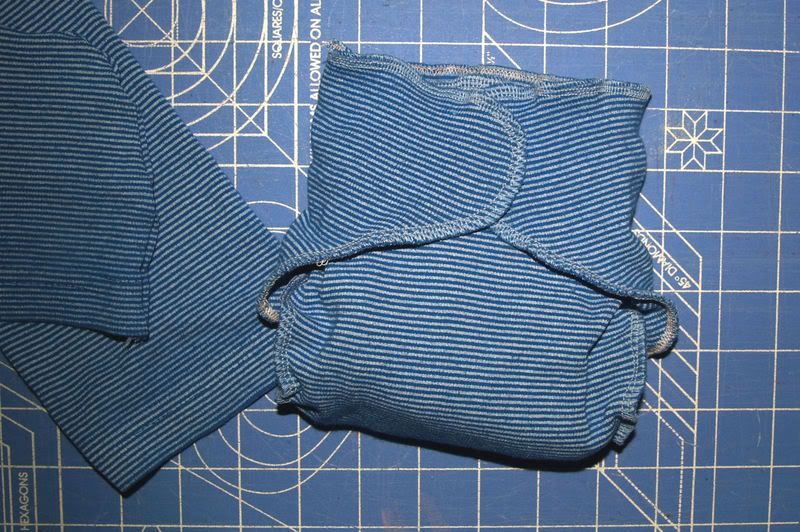 don't forget to serge together your insert (add between the shirt fabric whatever absorbant layers you want)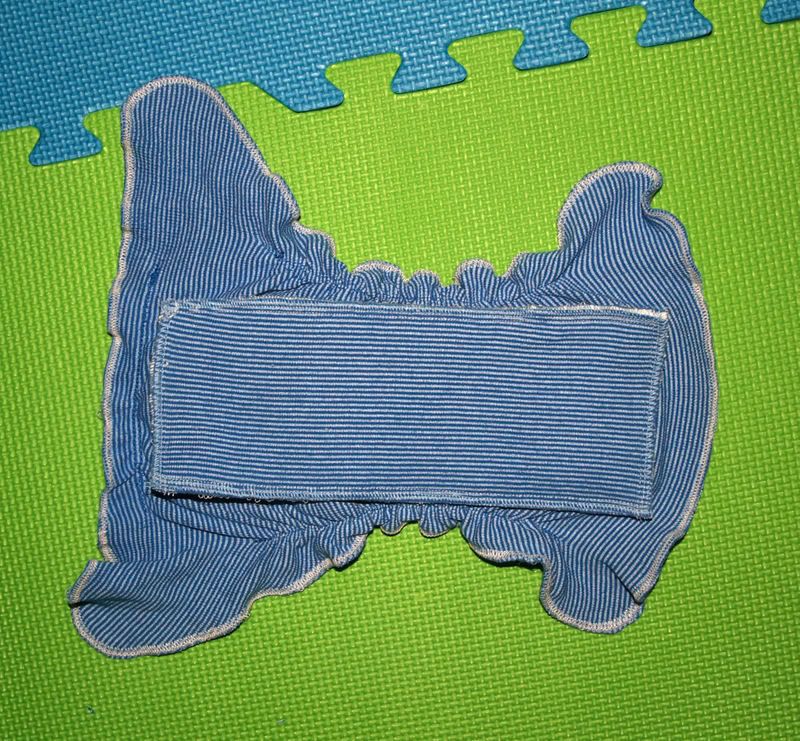 And now for action shots of a 9 month olf in this set intended fora newborn hahaha....(I did not add closures to the diaper yet so I used pins for a quick pic, needless to say she did not even come close to fitting her 90% head into the beanie!! haha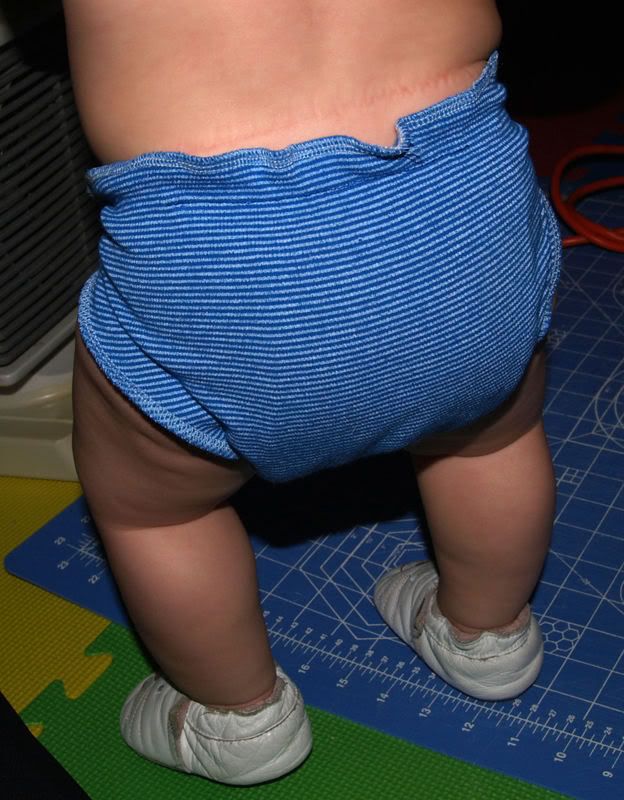 these could pass for capris on her but should fit a newborn-3months great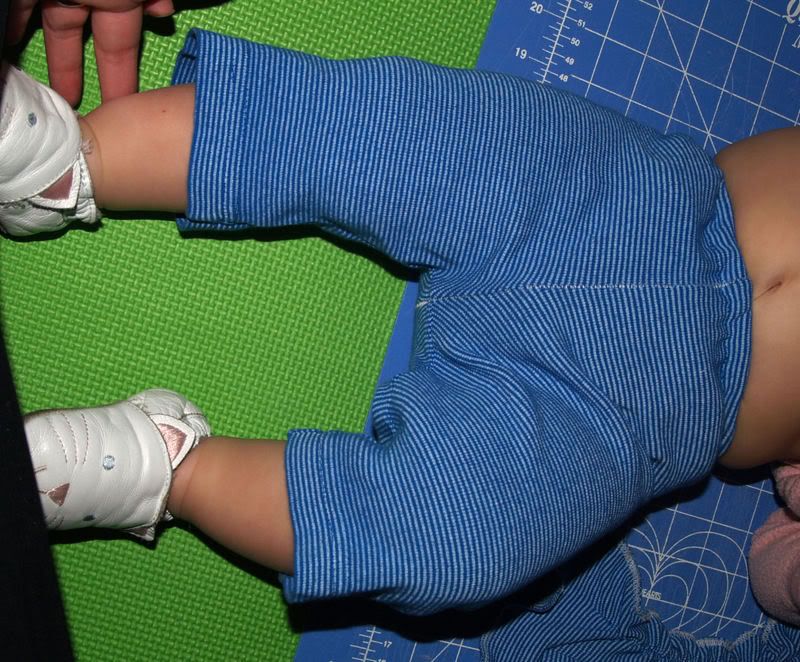 Well thanks for joining me for the tute! Hope you try it out...I have already made a pile of clothes to make more sets out of and like I said I will later post a tute on how to get a diaper and beanie out of a childs knit shirt...
__________________
Wife to Neil Married 7/2/06 Mama
to Taiven
age 11, Skye
2 Sawyer Riley
5/28/08