Our sweet baby girl is here
---
She decided to make her entrance into the world on April 1st at 10:42 am.

I went into labor late Monday and after not progressing any more during the night since the initial check by the midwife despite regular contractions, my midwife and her assistant decided to go home and wait the baby out.

But this baby had other plans. After nursing my sweet toddler soon after they left, active labor kicked in full time and baby was here within 2 1/2 hours. No name yet, but here are her stats:

7lbs 7 oz.
19 inches

She is completely adorable with lots of black hair, and I loved having her at home in our birthing pool.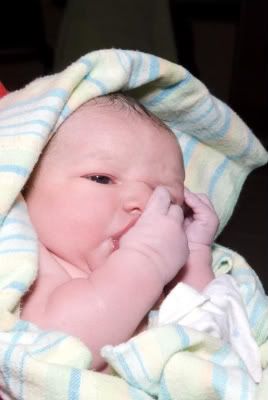 __________________
-Beth
Mama to DD 06/06, DD 04/08, #3 Arriving 2010
---
Last edited by thenaturefreak; 04-04-2008 at

05:25 PM

. Reason: added pics