Good things come in small packages
Eli's Wipe-E's ♥ Open for customs- Wipes, Family cloth, Table towels, Burp cloths♥
---

Check out my Facebook Fan Page for Eli's Wipe-E's! I'd love your support and feedback

♥♥♥INTERESTED IN ORDERING♥♥♥ I can be reached via pm, email or send me a message via my FB page!

Turnaround is ~2-7 days from when I receive payment for your order. For those unable to pm, I can be reached at sldemers @ yahoo.com

Returns- There are no returns on any custom order and nondescript orders (i.e. I chose the colors, thread, prints, snaps, etc). Please contact me if you feel there is an issue with the craftsmanship of your order. I will not ship to an address not in Paypal, please make sure you change/add a new address before sending payment!

What are table towels? An alternative to disposable towels used in the kitchen, bathroom, garage, kids room, etc.
Prices and towel options listed below.




All orders of 9+ Snapping table towels will receive 1 set of FREE elastic holders!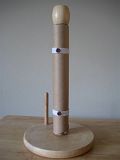 Lots of sizes, lots of choices
I do standard (8 x 8), family cloth (4 x 6) and Washcloth/Table towels (10.5 x 11) Also, I'm happy to do any custom size by request, scroll down for more info.

All items are custom made to Perfection
My wipes vary less then 1/16th of an inch



Check out my GALLERY of 100% cotton flannels. Please note- all flannels pictured I do have in stock, but some may be in limited availability. Fabrics marked with a star (*) are only available for wipes or family cloth (not available for towels) To help with stock, please chose towel flannel prints in sets of 9. I do my best to fill all of your selections and always send a message if I do run out of an item requested.

Not picky and just want a variety? I will offer 1 wipe (Or 1 family cloth set) FREE for every 15 wipes assorted. Ex. if you want a boy assortment of 32, you will only pay for 30 wipes. This offer only applies to flannel wipes/fc (Discount does not apply to flannel towels sorry).
http://s21.photobucket.com/albums/b2...oth%20diapers/


I made a short-list of my pricing for my wipes to hopefully make things less confusion. Over 30 wipes, I charge 25 cents less the ppd price plus the exact shipping. Please PM me for a quote. All ppd prices mean they INCLUDE shipping


**Please note, for the 1-ply wipes and 4 x 6 wipes there is a 15 cents price cut for doing exact shipping. The reason is they are lighter to ship. Sorry, but there is no further discount for my table towels**

I can ship to Canada and internationally too. Please use the non-ppd pricing and I will get a quote for exact shipping.

All items are made and packaged in my smoke free, kitty friendly home.

Wipes 8 x 8
OBV/flannel $1.45 ppd (1.35 ppd for undyed bamboo)
OBV/sherpa $1.65 ppd (1.50 for 1 fabric undyed, 1.45 for both undyed)
OBV/terry $1.45 ppd (1.35 for undyed bamboo)
OBV/OBV $1.70 ppd (1.60 for undyed fabric)
Sherpa/flannel $1.40 ppd (1.30 ppd for undyed sherpa)
Sherpa/velour $1.55 ppd (1.45 ppd for undyed sherpa)
Sherpa/sherpa $1.60 ppd (1.40 ppd for undyed sherpa)
Terry/velour $1.30 ppd
Terry/flannel $1.20 ppd
Velour/flannel $1.30 ppd
Velour/velour $1.35 ppd
Flannel/flannel $1.10 ppd
Flannel (1 layer) 85 cents ppd
Sherpa (1 layer) 1.05 ppd (95 cents for undyed)
Bamboo (1 layer) $1.15 ppd ($1.05 for undyed)

Table Towels/Washcloths 11 x 10.5
Double layer birdseye ($1.25) + shipping
Flannel/terry $1.55 ($1.25) + shipping
Flannel/velour $1.95 (1.65) + shipping
Flannel/sherpa $2.15 (1.85) each + shipping
Flannel/bamboo $2.25 ($1.95) + shipping
Sherpa/velour $2.45 ($2.15) + shipping
Sherpa/sherpa $2.55 ($2.25) + shipping
Sherpa/OBV $2.80 ($2.50) + shipping

Tiny wipe-E's/Family Cloth 4 x6 ** Sold in sets of 2** (Please choose prints & colors in multiples of 2)
Flannel/terry 2 for $1.50 ppd
Flannel/velour 2 for $1.60 ppd
Flannel/sherpa 2 for $1.60 ppd
Flannel/OBV 2 for $1.80 ppd
Sherpa/Velour 2 for $1.80 ppd
Sherpa/OBV 2 for $1.90 ppd
OBV/OBV 2 for $2.00 ppd

Facial wipe-E's 4 x 4 circular swabs
Flannel (any backing) 65 cents ppd
Sherpa or Velour (velour/terry/sherpa/obv backing) 75 cents ppd

Burp cloths (perfect baby gifts
) 8 x 16
Flannel/terry $1.70 each plus shipping
Flannel/velour $1.90 + shipping
Flannel/OBV $2.30 + shipping ($2.10 for natural bamboo)
Sherpa/velour $2.60 + shipping
Sherpa/obv $2.80 + shipping ($2.40 for natural obv/sherpa)


TERRY colors from left to right (Click picture to enlarge)
White, Butter, Yellow, Tan, Beige



Burgundy, Peach, Melon, Baby Pink



Black, Gray, Olive, Mint



Lt Blue, Royal, Navy



Cotton VELOUR colors from left to right (Click pictures to enlarge)

Black, Charcoal, Heather Gray, Natural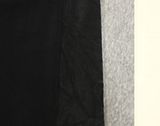 Chocolate, Tan, Olive, Sage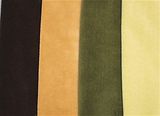 Orange, Golden Yellow, Butter



Purple stripe, Navy, Denim, Royal blue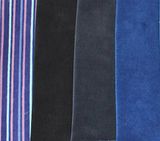 Dark teal, Dusty blue, Light blue, Turquoise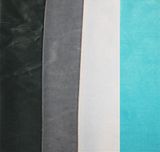 Kelly, Lime, Purple, Lavender, Baby pink



Wine, Fuschia, Hot pink, Red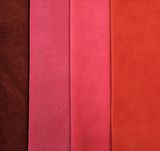 NEW custom dyed fabrics. Dyed fabrics are all dyed by me with professional procion dyes, so their bright colors will remain just as vibrant as the day you get them!
Please note, the black dye used is "New Black". It does have a blue cast to it, which can be seen in the color cards listed at Dharma Trading Co.

Washing instructions for dyed fabrics. I use Dharma professional dyes and wash each fabric at least twice with special textile detergent after dying. I suggest one cold rinse, followed by two separate hot washes w/ Dawn before washing with your other laundry/diapers. This is a precaution as water temperatures and hardness can vary between households.

Bamboo Velour (top row) & Cotton Sherpa (bottom)

NEW Colors for OBV & Sherpa
Avocado green



Baby pink, Hot pink, Red, Orange, Lemon yellow, Natural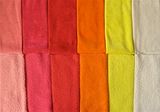 Imperial purple, Grape, Lavender, Sky blue, Turquoise, Cobalt blue, Midnight blue



Lime, Kelly green, Forest green, Sage, Mink brown, New black



Threads
Pick your thread color I have several different thread colors for the serging, available for orders 12 or more. I suggest no more then 1 change per 12 wipes. If no color is chosen, the wipes will be serged in white woolly nylon.

Available thread colors: White, black, brown, forest green, kelly green, royal blue, red, orange, yellow, lavender, burgundy, hot pink, baby pink

NEW "Wave" decorative stitch
Add a beautiful wave of color to spice up your wipes! Pick two thread colors to create a mix of color. Best if used on white/natural fabric to show off the color.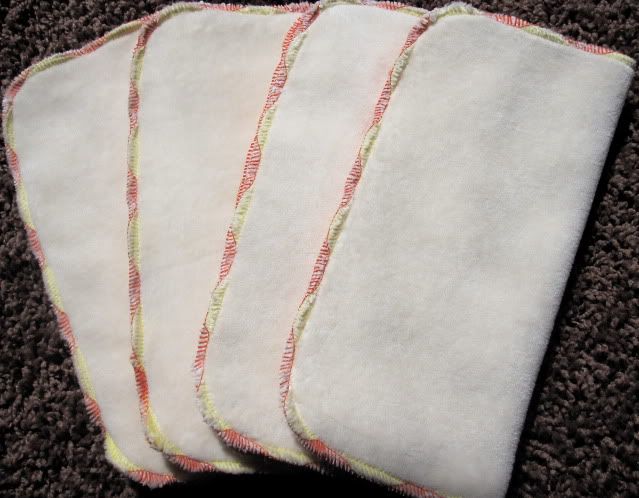 Example of a custom order. Think of all the possibilities

OBV/sherpa family cloth



Interested in wholesale or a co-op? Contact me and we can discuss the details
---
Last edited by katedanzer; 05-14-2014 at

01:12 PM

.