Rave for Winsome What-Nots FFF!
---
I got TEN diapers in the mail today! Even some yarn, too ... which was great.
It's been so long since I have had new diapers. And I have ten MORE coming too, made with my tie dyed flats.

Take a look!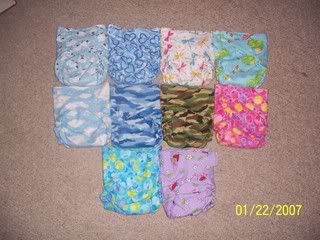 They work great - I already have 4 (posted a rave a few days ago) FFF by Winsome What-Nots at www.hyenacart.com/winsomewhat-nots. I picked all of these flannel fabrics. Quite a few of them are available at her HC, free shipping until the 26th, too.

I'll have to take a pic of her in them tomorrow. I took the pic and then threw them in the wash.