Share family bed pics
---
DH and i just got a twin bed to side car with our queen so we have more room for ds and we can all spread out a bit. he wants to know how many other people co-sleep and alter arrangements like we did. so go ahead and tell me about your beds!

Ok heres our setup... the two beds JUST fit in our room with a nightstand on each side. Jeremy is mainly going to be in the twin, then me and dh on the queen. i have the rail at the end of the nightstand so he can reach his toys and stuff in the mornings (we like to lay in bed and play for 15 minutes before getting up) I put a pillow in the crack between the bed and the nightstand so he doesnt "fall in" or get anything stuck or whatever.

These are clickable for full size...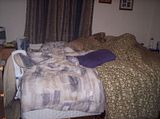 __________________
Lisa -
's wife and Super-Crunchy,
WAHMommy to Jeremy - 4/13/06 - and Johnathan Joseph, aka "J.J."
- 4/1/08 - 6 weeks early!
ISO medium MONSTER dipes or 2T monkey ANYTHING or Mr. Magoo stuff!
TRY ME!
http://www.BBCreations.biz
-
Accepting PP and RME!
---
Last edited by ecoria; 02-22-2007 at

01:00 AM

. Reason: added pics