Administrator
Homebirth of Benjamin Luke - easy labor, hard pushing, 10/11 added more pics to #1
---
Lydia's labor and delivery were rather textbook, in hindsight. Benjamin's was not. lol.

The labor part for Benjamin's birth was really easy. REALLY REALLY easy. I had been having random contractions (like 1-2 a day) for a few weeks prior to 10/9, then on 10/9 I had some contractions that felt different. Even these weren't too regular, though, happening about every 30-60 minutes. RM, my main midwife, called me at about 5:30 to see how I was doing and let me know that she had dinner plans in Dallas and wanted to know if she could go, etc. I told her that I'd been having some contractions, but also getting over a cold, and "surely my body wouldn't put me into labor when I'm still a little sick."
So she went on to dinner, and shortly after I hung up w/ her, my contractions picked up in frequency and started coming at anywhere from 6 to 9 minutes apart. But my water was still intact and the contractions never got closer than 6 minutes apart (RM wanted to be called if they got 5 minutes apart), so I just hung out until she was done w/ dinner, and she called me. I also took a bath while she was at dinner, to see if the contractions would slow or stop, and they did not.

Meanwhile, we called our friend K who is about 15 weeks pregnant, so she could see what a "non-TV" birth was like, lol. (She was also going to help out w/ Lydia if MIL wasn't here in time, but MIL was here in plenty of time, having been here for a whole week before Benjamin was born.) Our friend C also was called, so she could come take some pictures and video. K arrived while I was in the bath, and I hung out on the bed for a little bit, then moved to the birthing ball in the living room. And of course RM came over after dinner and got to my place at about 10:30 pm. P, the secondary midwife, arrived shortly after that, and they made themselves at home and started setting up their portion of the supplies.

I continued laboring, and it cracked me up how everyone was whispering, either to make sure and not wake Lydia, or to not bother me, lol. I was trying to time my contractions before the midwives got over there, but it was hard b/c Benjamin kept moving a TON, for HOURS at a time, and some of his movements hurt me just like a contraction. But those "contractions" only lasted about 20 seconds instead of a minute, lol.

I hadn't been having any bloody show this time, which was different than Lydia's labor. With hers, I had bleeding pretty much from the very first contraction. But with this labor, I had no bleeding at all until after I had a #2 several hours after labor started. I put a pad on (to keep the blood from getting everywhere), but moments later, RM wanted to check me to see how far I was. She asked if I wanted to guess, and I declined, and she said I was at an 8.5 already! I felt GREAT for being so far along.

After an hour or so, they had me try to start pushing a little w/ the contractions, to try to get the baby to start coming down. I didn't feel the urge to push, and the contractions were getting a little harder, but I tried to give a little push anyway. There was a whole lot of nothing going on, and my contractions were slowing down and spacing out.

I can't remember exactly when my water broke, but I *think* it was close to around this time. It broke while I was sitting on the bed on a pile of underpads, and slowly soaked all of them as well as my birthing skirt that I was wearing. I wanted to keep the skirt on, but it soon became cold from the wetness, so I took it off and had a towel instead. The water was clear.


RM checked the baby's position, and he was down low, but was partly in FRONT of my pubic bone, so he had to somehow go up first, then back, before he could come down properly. They had a few positions for me to try to accomplish this. The first one was flat on my back, which seems so contradictory to being a good pushing position, but was necessary in
my situation.

Next they offered to have me try either squatting or sitting backwards on the toilet. I chose the toilet, and they had me lean backwards into Tim AND hold my belly up during a contraction. I did this a few times, and after a bit, everything started to become more painful and I had a HUGE uncontrollable urge to bear down, so I did. I had one more non-pushing contraction on the toilet, and then moved back to the bed where I was checked again.

Baby was still in not a great position, and this time they wanted to have me try arching my back (while lying on my back). I was getting VERY tired at this point and did NOT think I could do that at all. Just then, I felt a painful pressury pushing contraction and had to push again... and the baby's head was RIGHT THERE crowning. It hurt, and I said that it hurts, lol. RM said that it was hurting b/c the baby's head was RIGHT THERE and invited me to feel it. I felt it, and it felt like squishy brains to me, lol. I couldn't even tell if there was hair or not and had to ask. I pushed. They put warm olive oil compresses on me. I pushed some more. RM instructed Tim where to put his hands so he could catch.


The head was out! It "felt" smaller than Lydia's head, b/c w/ her, I remembered that the "ring of fire" kept increasing with each push. Maybe it was the warm compresses that helped. The cord was loose around the neck and RM slipped it off easily, then I got to work on pushing out the rest of him. And I had to continue active pushing all the way past his hips. He wasn't a baby that was just going to slip out easily once I got past a certain point, lol. (Could it have been his massive size? lol)

They laid him on my tummy. He was a little gurgly and a little blue, so the suctioned him and rubbed him and it didn't take him long to pink up nicely. He wasn't interested in nursing at first, but is a pretty good pro at it already. They waited to clamp and cut the cord until after it stopped pulsing.

After several minutes of bonding, he got weighed and measured. He weighed 8 lbs 12 oz, and was 22" long. His head was 14.25 inches, AND it came out with the widest part first instead of the narrowest part. But despite this, I did not tear except for a tiny internal one that didn't need any stitches.

I'm so glad we had a homebirth, b/c I don't know if a hospital would have had me try so many different positions to try to get the baby to move right, before just jumping into a C-section.




MIL timing my contractions on contractionmaster.com.



Sipping some Recharge just after having the heart tones listened to.



Leaning on the nearest available midwife during a contraction.



DH applying counterpressure to my lower back during another contraction. He did this throughout my labor, no matter what position I was in. Such a trooper.


Catching a few quick winks before all the real action starts.



A contraction on the bed (and a good shot of my birthing skirt I made, lol). I believe this was after my water broke.



Me: "Ow ow ow OW OW it hurts RIGHT THERE!!!" MW: "That's because that's the head, it's crowning!"



"Really? It's the head? It came down and I can push?"



Just after the head was out, waiting briefly while they slipped the cord over.



Massive head full of hair.


It's a boy!



"Hi, little guy... what shall we name you?"



First nursing.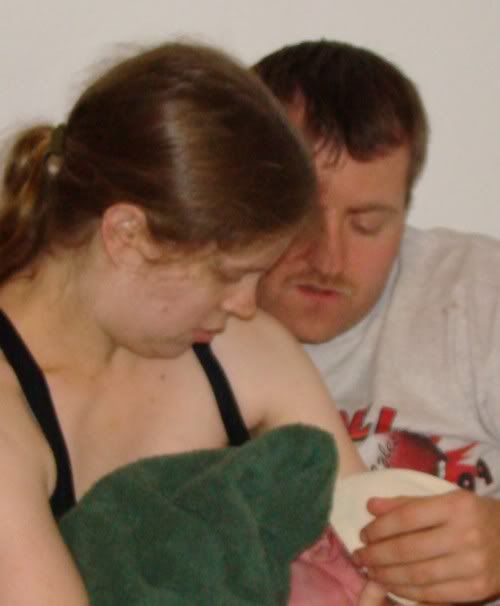 First nursing, different view.



Daddy finally gets to hold his son now that he's been cut loose.



Getting weighed.



"8 lbs, 12 oz!"



Measuring the head and chest.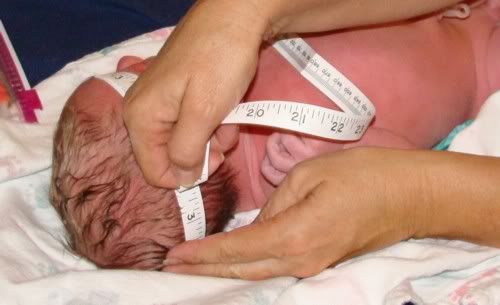 New big sister woke up from all the commotion and came in briefly to meet "her" baby.


DD: "What's that?" MW and DH: "It's your new baby brother!" DD: "It's a baby!"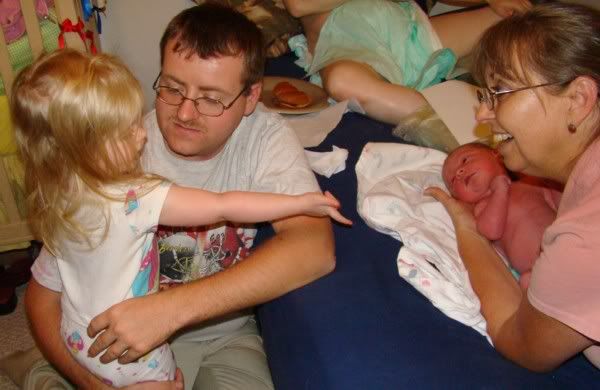 Baby sounds good.

__________________

---
Last edited by Harmony96; 10-11-2009 at

05:46 PM

.