FINALLY introducing Virginia! PICS ADDED
---
Only a mere 15 days past her due date Virginia Kay has arrived! I'll post a more detailed birth story later, but I'll give a short synopsis. The midwife came over and broke my water. Ctxs immediately intensified... straight into transition. Labor was two hours long after my water broke, and VERY intense. It got really scary at the end because she had major shoulder distocia, and her head crowned a full 8 minutes before she was born. I had to get out of the water and onto the bed and we tried about 4 different positions before she came out. MW had to basically shove her arm into my uterus. But she came out and she is fine--she had a little palsy in her right arm but its already gotten better. Amazingly I didn't tear! She is doing great now and has nursed a couple times. Anyway here are the stats...

Virginia Kay, born at home at 5:28pm on December 26th.
10 lbs even!!!
21 in long
14 in head

Wowza. Everybody kept telling me how small my belly was, so I have no idea where she was hiding in there. Pics to come later.

Pictures!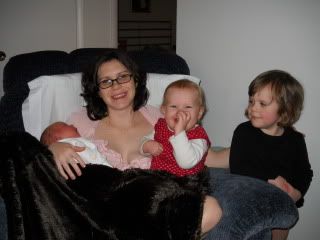 __________________
Melanie, Wife to Jamie, Doula, and mom to Lydia Vera 7/6/06, Juliet Marin 3/16/08, and Virginia Kay born at home 12/26/09!!
Baltic Creations co-op now open

---
Last edited by lydiamom; 12-29-2009 at

05:55 PM

.