Registered Users
delete
---
Bare with me as I list this stuff slowly. We are moving and I love some of it so much that I have to fight myself to actually part with it all!
We are finally buying our very first home!


Super soft Champion BFL brown, greyish, cream almost stripey cargo longies with functioning wooden button pocket and matching hat. Barely used and no issue whatsoever! perfect knitting and quality. The hat actually fits a small head too!
w:18(ds) r: 18 i: 8asking 50ppd for the set.



Sugar and Spice Knits Maple tree soaker, heres the original listing for meas.
current pic and condition of it, its in EUC, no issues. The ooga booga shirt is a size 6-12 months made by shortcake here, its adorable. asking $45pp for the set.



Maple Tree on Marr Haven rambo by SSK. These are just
lovem to peices but they are too big for this year and would likely be too small for next year.
w: 18(drawstring) r: 18 i:9
Included is a shirt by Lulu Bird designs. size 12-18 months in EUC.
SOLD!




Earth on Marr Haven Rambo with matching earflap hat. EUC, no pilling or flaws in the knitting. Awesome set! w:17 (drawstring) r: 17 i: 7
asking SOLD!
(the cuffs are even, but in the pic, thats how they were laying, rushing on my part)



Sweetie bird fashions woollies and matching Gymboree shirt (brand new)
w:15 r:17 i:7 worn once, no pilling and comes with a sew- in doubler for another layer in the crotch. yoga style waist that stys comfy for baby and not too restrictive like elastic can be sometimes. loved SBF!

asking $45ppd for the set, sweater not included



Cute Scary Monster set, Longies are the "My Bike" colorway on a cottony type wool, not MH though, they hardly pill at all but soft, not scratchy like PF. Anyway, the knitting has a few tiny skips in the crotch area, I think they tried to double up in the crotch to make it thicker- but they are NOT holes or tears/ rips. shirt is brand new from Old Navy and matches perfectly size 12-18m meas w:17 r:17 i:8
asking $38ppd for the set
(wrap in pic not included)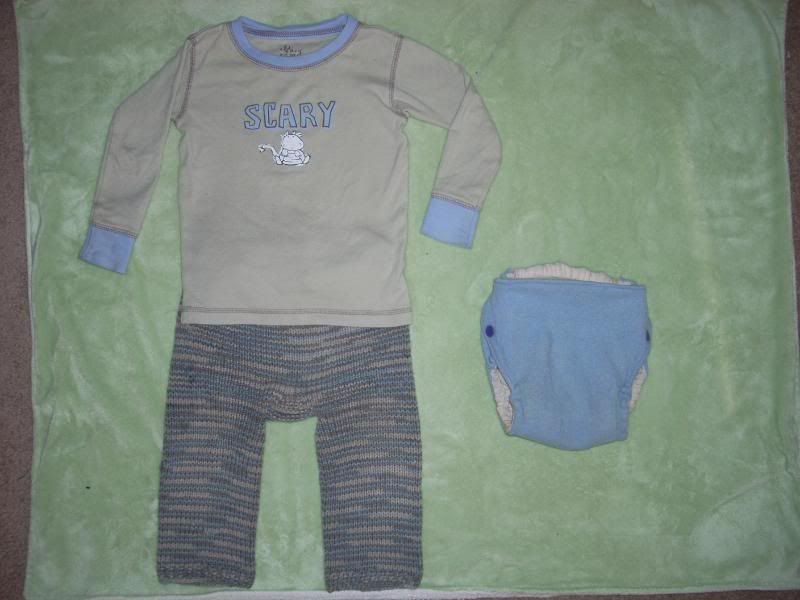 Size s/m, true primary red, medium weight wool with blue interlock yoga style waistband (better than elastic and more gentle on the tummy IMO). New with tags and lanolized with the yummiest scent from woollybottoms $25ppd


picture was a little dark, baby was alseep in the same room, sorry.


WCW high quality wool interlock pants, This type of wool doesnt pill and its not the same stuff shes currently using, its from 2 years ago and its extremely durable and stretchy, love it! size medium, green and light brown, cuffs well. asking $29ppd



Blue woollybottoms recycled pants, super soft, size Medium. asking $14ppd






Blue/ cream WCW cargo interlock pants size small in great shape, no felting or other issues.$25ppd
Lemon Luxe Baby interlock pants in wonderful condition,no felting. size small, inseam 7.5. asking $20ppd



Cestari Snow pants
These babies are so thick! I call them snow pants because your LO could go out and play in the snow with these and not even get wet and stay warm! They were shorties that I had converted to pants since they were so thick and they are too long for my 6 month old. the knitting is great but you can feel the switch of the stripes as the yarn changes, if that makes sense
Anyway lovely warm woolies suitable for cold rompering around! w:20 r: 19 i: 7.5 (short to wear with boots) asking $20ppd SOLD



WCW size medium double layer soakers. Blue yellow $19ppd in EUC, embroider crayons in EUC with tiny bit of a stain on the waist in the back.$24ppd neither are felted and come clean and lanolized.



Bumkins brand Thing 1 shirt and matching soaker. LOOOOVE this set, it a perfect match too. shirt brand new and soaker in euc, no flaws, pills or felting
asking $40ppd



John Deere ONSIE( I folded it in the pic) I have been meaning to convert it but never got around to it but its new, washed once and size 12-18m. matches perfectly with the shorties. slight fleting only in crotch, w:17 r:15 i:1.5 I would say these are bwtween shorties and a soaker, I love the fit. asking $28ppd for the set or $18ppd shoties only



2 Disana soakers. both brand new (ordered wrong size) size 74/80 or 4-10 months chocolate brown and red. these are luxuriously soft and I did replace them with bigger sizes.
asking $25ppd each



I have a cute XS/s set. The bloomers are xs Luxe Baby blue and brown trim with a like new (washed once) custom shirt from Mommies Lil Peanut on HC in the mad Sky Retro Hearts print, Soooo SOFT!
I loved this set but bought it too close to him growing out of it.
asking $32ppd

I love these shorts because you can use babylegs with them and not have exposed thigh parts that arent covered like with a traditional cut soaker. So cute.



Biobottoms bikini style (hi cut) Awesome for trifolding a prefold. no stains or other issues. Would love to trade for a size D or $10ppd




cute little set, denim colorway shorties with advocacy shirt that says "I eat at moms milk bar open 24 hours" size 12 months, shorties are slightly felted in crotch and has a misstitch there as well. w:16 r: 15 i: 1.5 asking $20ppd for the set.




Laines Magnifique champion BFL light Retro Metro colorway 4 oz. SOLD!



small wetbag from middle earth diapers, love it but have too many now. groovy little print and reinforced with PUL zipper. asking $10ppd

all my items are from our smoke free, pet free, clean home and will be shipped about 2-4 days after payment. I am in the process of moving so please PM me as I dont come back to the thread except to bump it. thanks so much and Im only ISO PP but open to offers on multiple things!
__________________
Majeedah,
homeschooling mama to
5 little guys 12, 10, 8, 4 and 2!
Married to my best friend
and just enjoying the ride, life is a trip!
***
Get Free Diapers At DIAPER JUNCTION!
***
My Final
FSOT!
What wonderful years it's been!
---
Last edited by jee_jee; 12-04-2009 at

01:51 PM

.