Registered Users
EUC/NWOT/NWT: Swddlebs, GrVia, FB, BG, Thrsts, sbish, Wool, Carriers, Everything!
---
I am destashing all serged/PUL diapers since my DD is allergic and has very sensitive thighs. Only ISO PP. Prices firm unless you purchase a larger lot. All prices postage paid. Please keep in mind that these are for the most part NEVER or BARELY used. I am paying postage to ship and PP fees. Diapers will be shipped within 3 days usually. Any purchase $70+ gets insurance. Any wool or baby carrier gets insurance. This is not a normal destash, I am destashing to fund diapers that don't hurt my daughter.

Please PM me, I may not always check here first.

Keep an eye out because more might be added


Look purple text for items that are free with purchase!

Additional pictures provided upon request.

NIP - new in package
NWT - new with tags
NWOT - new without tags (I took many things out of package/detagged without using them)
Prepped only - All I did was wash these and put them in a drawer
EUC - I used these a handful of time, no issues unless stated
VGUC - possible staining - EBF can be sunned out, I live in an apartment and don't have access to a clothesline

All diapers include inserts that they retail with. If they did not retail with inserts, they do not include inserts. Please ask if you aren't sure.




NWOT (these don't come with tags) never used or prepped Sustainablebabyish|sloomb OBF in Limited Edition Fall color - Autumn - Medium - $24.50 ppd




Tots Bots Bamboozles Size 1 - $14ppd/ea
3 available, EUC still fluffy, aplix tabs got dye transfer somehow, 1 red, 1 blue, 1 no dye transfer. Does not affect function. Minimum EBF stains.




Kissaluvs Fitteds
1 NB cotton fleece EUC $11.50ppd
3 NB cotton/hemp EUC - minimum EBF stains $11.50ppd/ea
1 M/L blue with rainbow stitching - $13ppd




Motherease fitteds and cover - Buy all 4 fitteds, cover only $5.
Purple, Blue, Yellow, Natural all NWOT $11.50/ea
Airflow cover EUC $10ppd




Swaddlebees Capri covers Size 1 EUC in Butterflies, 2 Baby Blooms, Tweets, Dinos, Monkeys, Swirls (aplix) - $13ppd/ea

Capri covers Size 2 NWOT in Amber and Kiwi (aplix) $16ppd/ea

Simplex OS in 1 Butterflies $22ppd/ea

Simplex 2.0 M in White (not in picture) $17ppd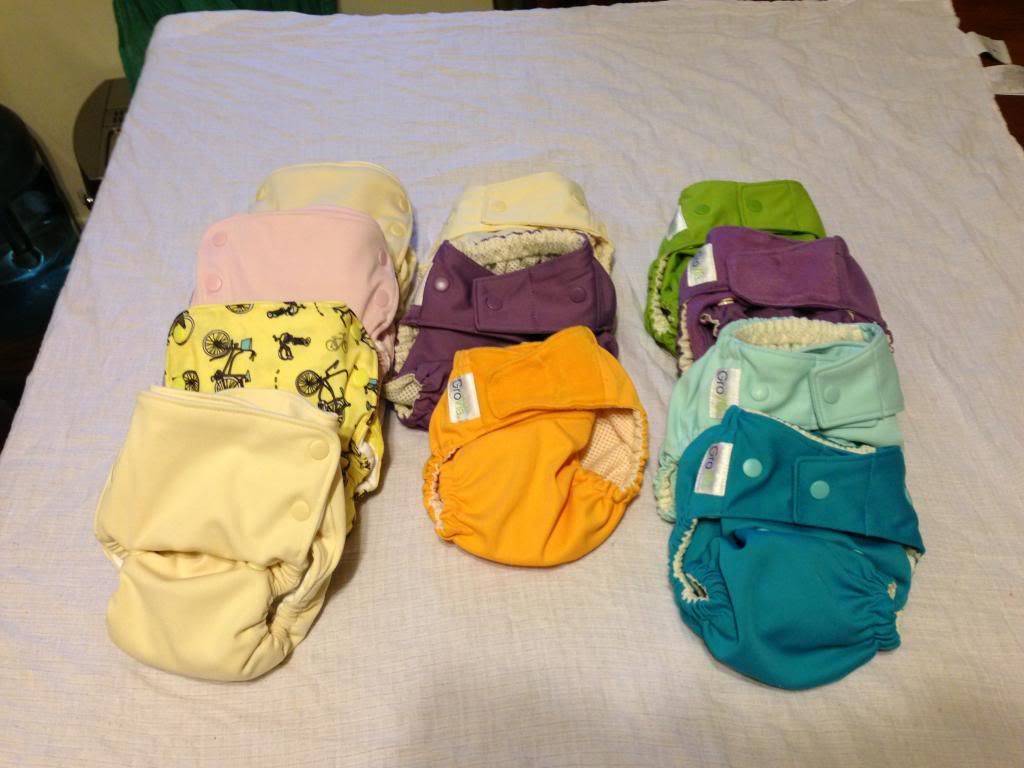 Shells NWOT - prepped only - $16ppd/ea - buy all 5 $15ppd/ea
Vanilla, Blackberry, Ice, Surf, Kiwi

Shells EUC used 1-2x
Blackberry aplix, Mandarin aplix $15ppd/ea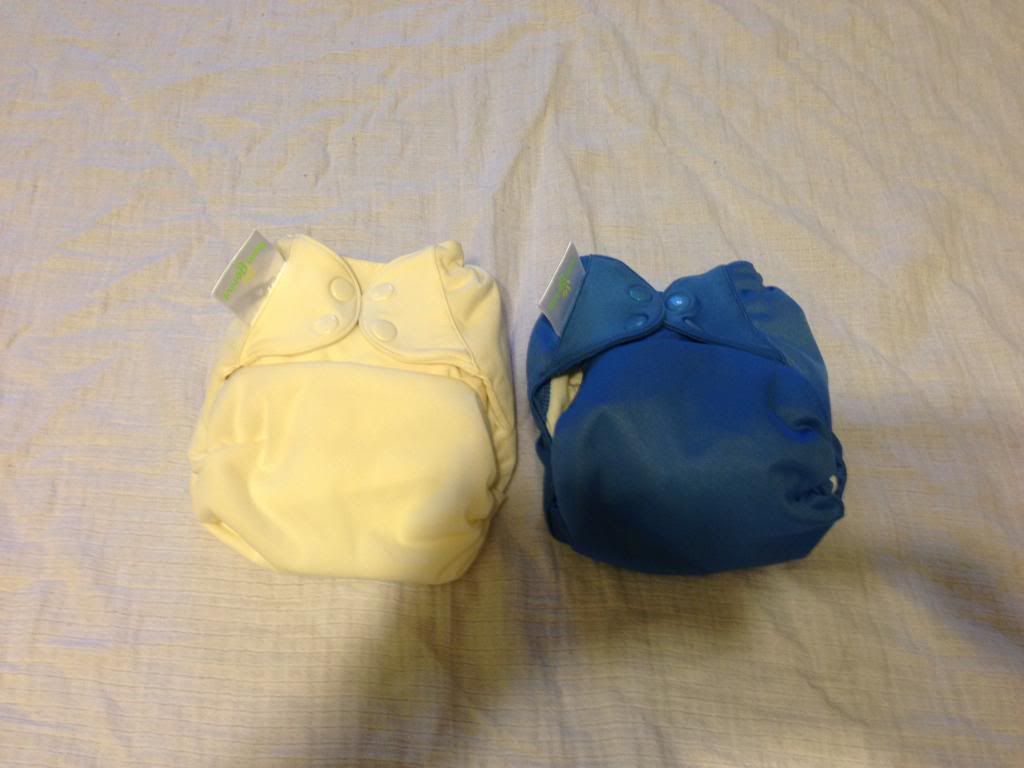 bumGenius Elementals prepped only Moonbeam and Noodle - $21ppd/ea




Best Bottom shells

NIP Owls - $14ppd
NWOT pink giraffes, green giraffes $13ppd/ea
EUC used 1x very berry $13ppd




BG 4.0s prepped only 2 Zinnia, 1 Blossom - $15ppd/ea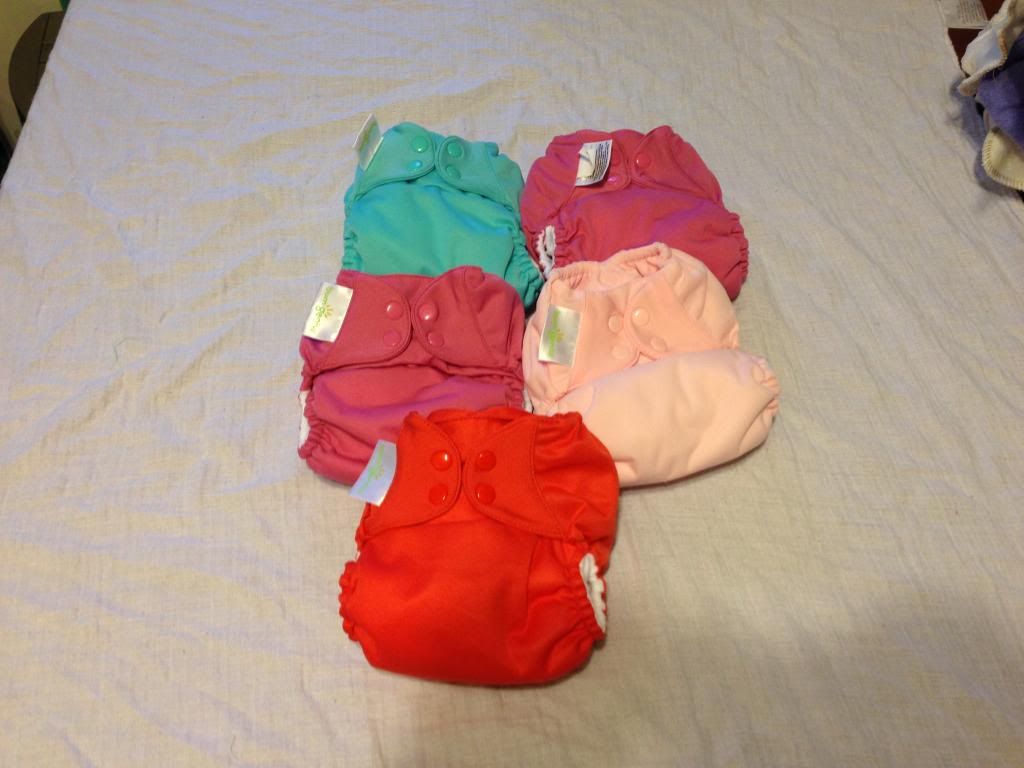 SOLD BG Freetimes: EUC Mirror - used 2x - $16ppd/ea
prepped only - blossom, 2 zinnia, sassy - $17ppd/ea




EUC used 2-3x gumball - $19ppd
NIP - Eco Owls $21ppd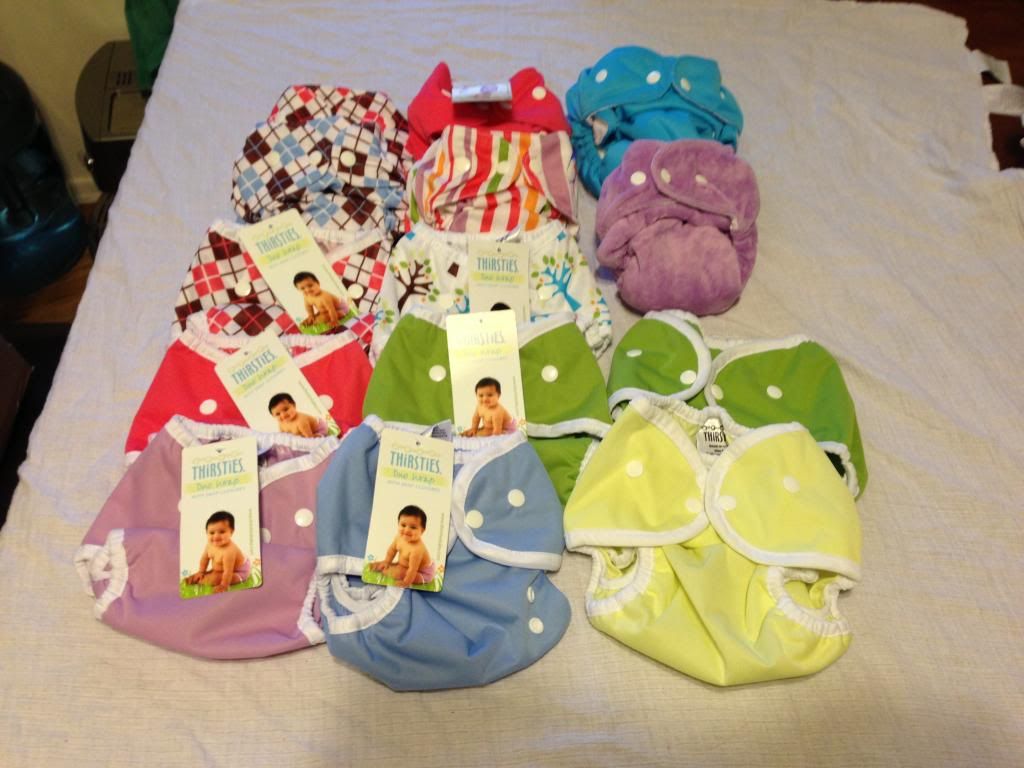 NWT Thirsties Size 1 covers - orchid, storm, meadow, rose, hoot, scottish rose - $11.50ppd/ea

EUC Thirsties Size 1 AIOs - scottish storm, warm stripes - $12ppd/ea

prepped only Thirsties Size 1 Fab Fitted in Orchid - $15ppd

EUC used 1x Thirsties Size 2 AIOs - rose, warm stripes (not in picture) - $13.50ppd

NWOT Thirsties Size 2 AIO - Ocean $14ppd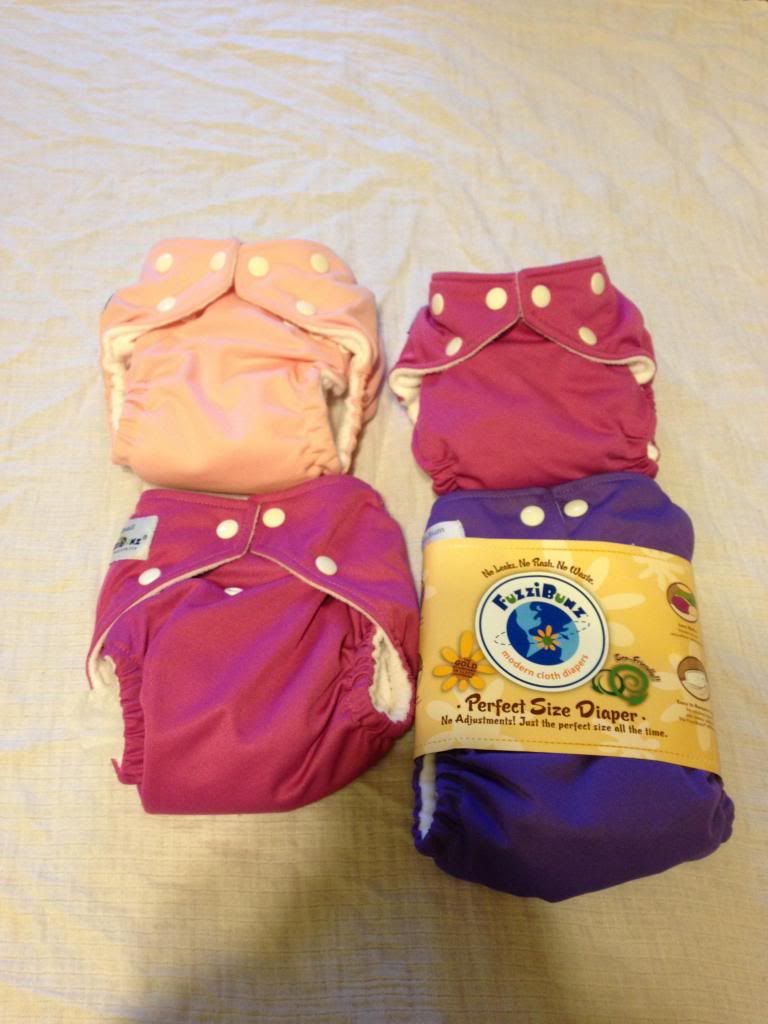 FuzziBunz OS Cotton Candy prepped only - $13ppd
OS Elite Crushed Berries prepped only - $16ppd
PS S Crushed Berries prepped only - $12ppd
NIP PS M Grape - $12ppd




Apple Cheeks Size 1 Purple Rain EUC used 1-2x - $16ppd
Apple Cheeks Size 2 NWOT Raspberry Sorbet (not in pic) $17ppd




Pro Wrap Classic EUC - no issues - $5ppd




Ones&twos diaper in blue EUC - used 1x - $14ppd
in pink EUC - used 1x (not in picture) - $14ppd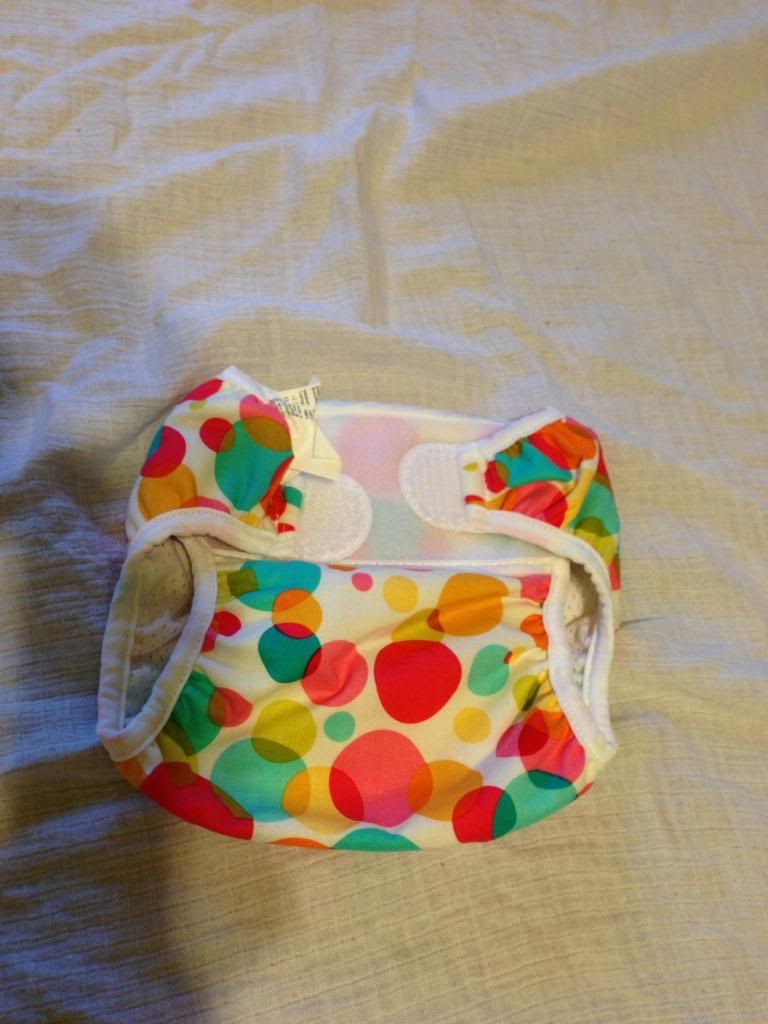 Bummis Swim Diaper Medium NWOT - $12ppd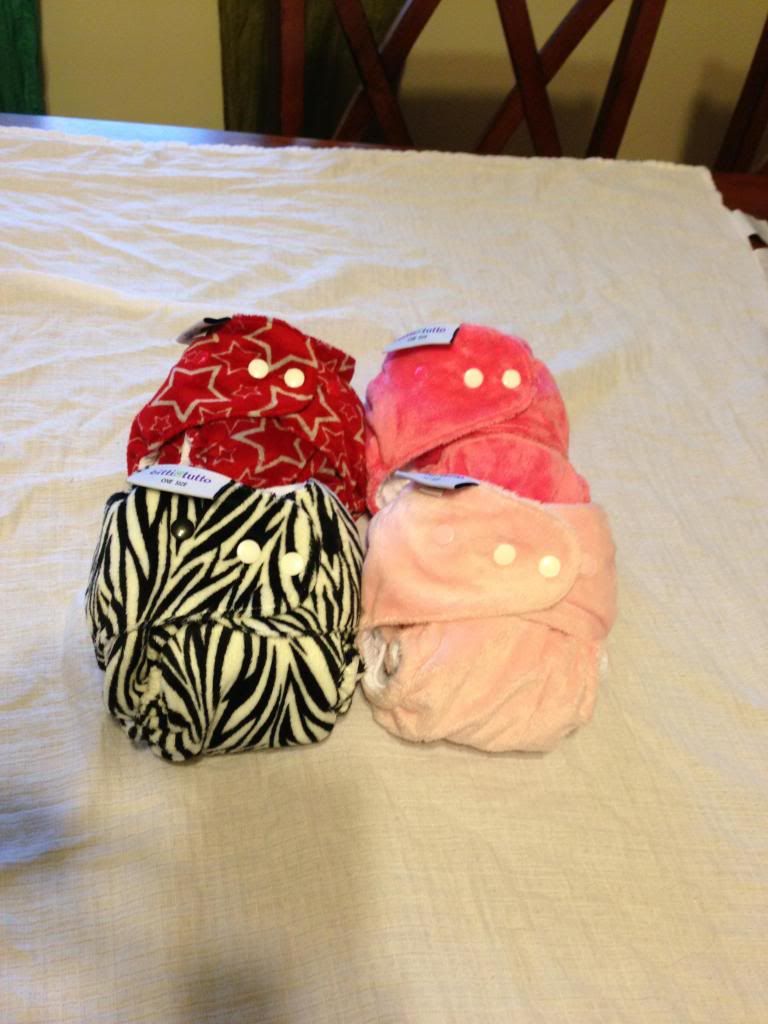 itti bitti tuttos, EUC red stars and light pink - $22ppd/ea
prepped only zebra and bright pink - $23ppd/ea




Happy Heinys pocket in periwinkle EUC - $15ppd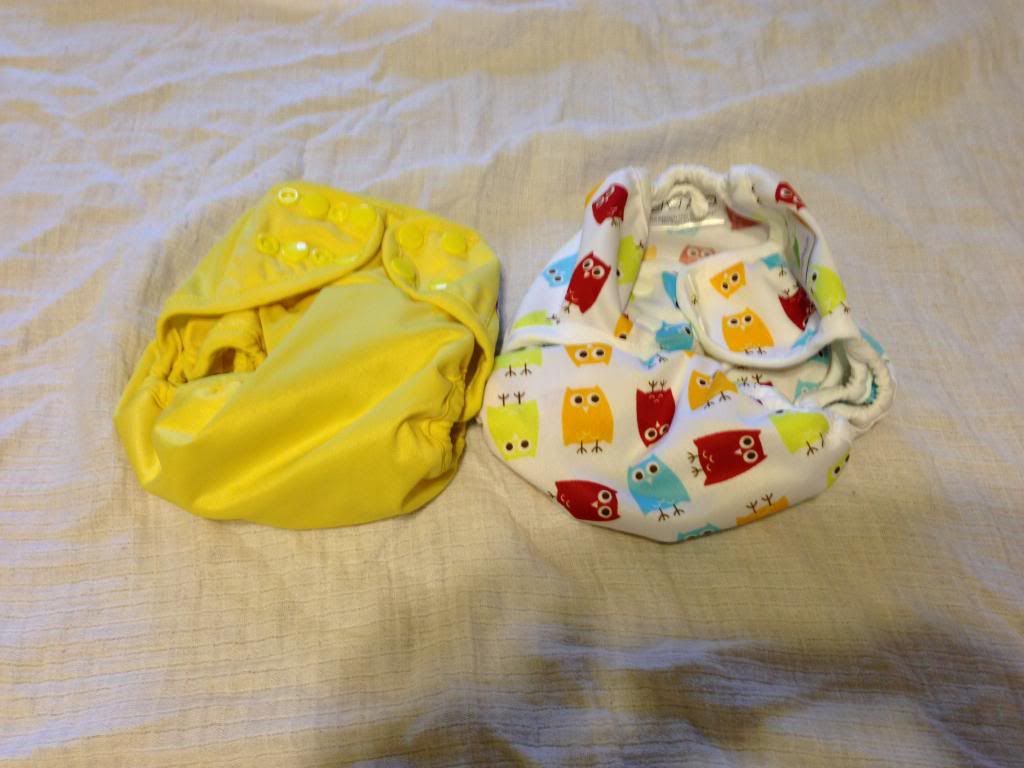 Sweet Pea covers NWOT yellow, EUC - used 1x owls - $8.50ppd/ea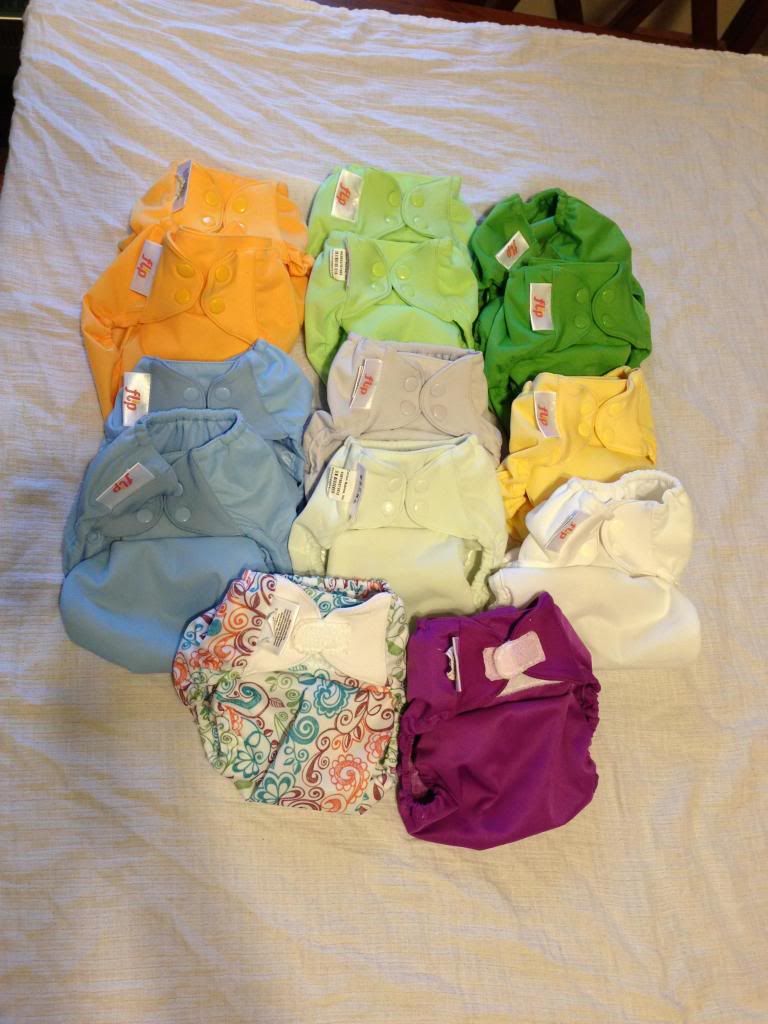 Flips NWOT - 2 Clementine, 2 Grasshopper, 1 Twilight, Bubble, Sweet, Butternut, White - $11ppd/ea




sbish wool

EUC M Longies in 1985, Laguna, and Sprout. Sprout has a professional repair that I have pictures of. 1985 and Laguna - $62ppd/ea, Sprout $53ppd

NWOT M shorties in Siren and Fawn - $55ppd/ea
Lano'd only M shorties in Calypso, Fox, and Fig and Palm (not in picture) - $53ppd/ea

EUC mild maybe felting? just not as stretchy and some other knits S covers in Galactic and 1985 (not in picture) - $40ppd/ea

If you purchase wool, please let me know if you want it stripped or lanolized. If you purchase lanolized please allow time for drying, I'll keep you informed every step of the way. If you are new to wool and need to know how to lano please check out my blog @ Kissed by the Moon
How to Lano Wool




NIP Jellystone teether hersheys bar. - $12ppd




NIP Catbird Mei Tei avocado/espresso - $85ppd ($96 retail!)




EUC Boba, only used a handful of times. - $40ppd (retail is $48
!)

Boyfriend bought black after I got this one because black is more "slimming". I swear... lol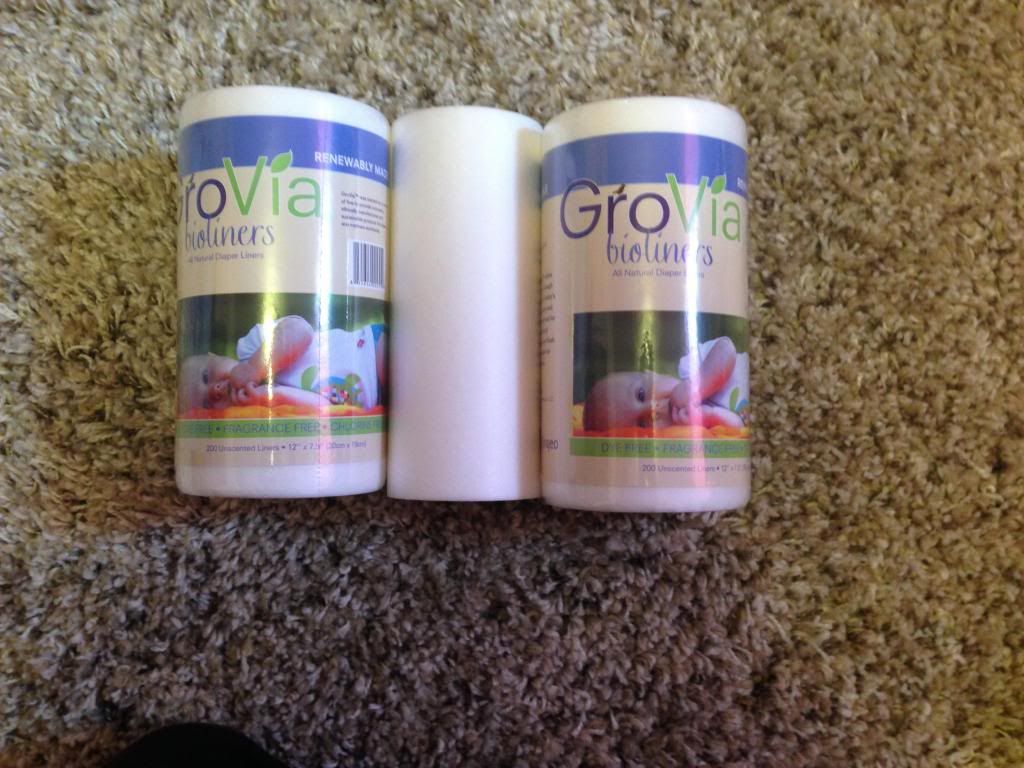 If you buy enough for a large flat rate box, knock $2 off a full roll and $1 off the partial roll.

2 NIP GroVia Bioliners - $12ppd/ea
1 partially used roll of GroVia Bioliners $5ppd




If you buy enough to fit in a large flat rate box, knock $1 off each pack.

1 NIP (opened the package to look at one and put it back in) Flip sposie inserts - $7.50ppd/ea
I think I have another one unopened too, I just have to find it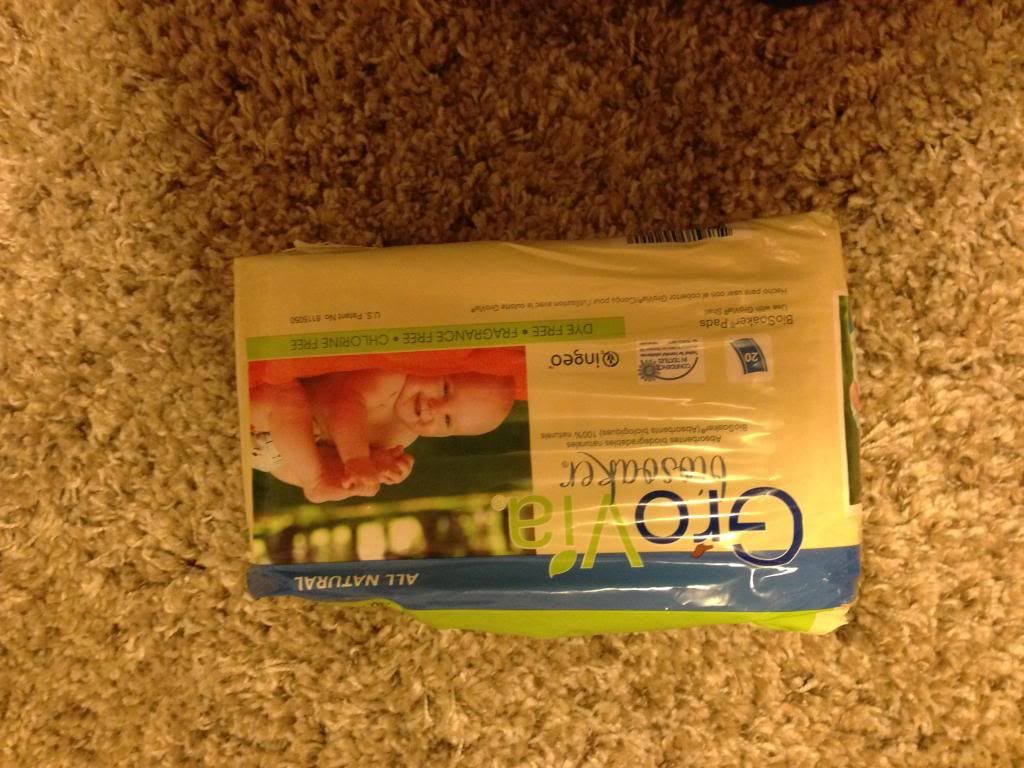 If you buy enough to fit in a large flat rate box, knock $1 off each pack.

2 NIP never opened GroVia biosoakers 20 packs - $10ppd/ea
1 NIP opened to look at one GroVia biosoakers 20 pack $9ppd




Best Bottom Inserts
2 medium overnight $8ppd/ea - NWOT




Thirsties prefold prepped only - $6ppd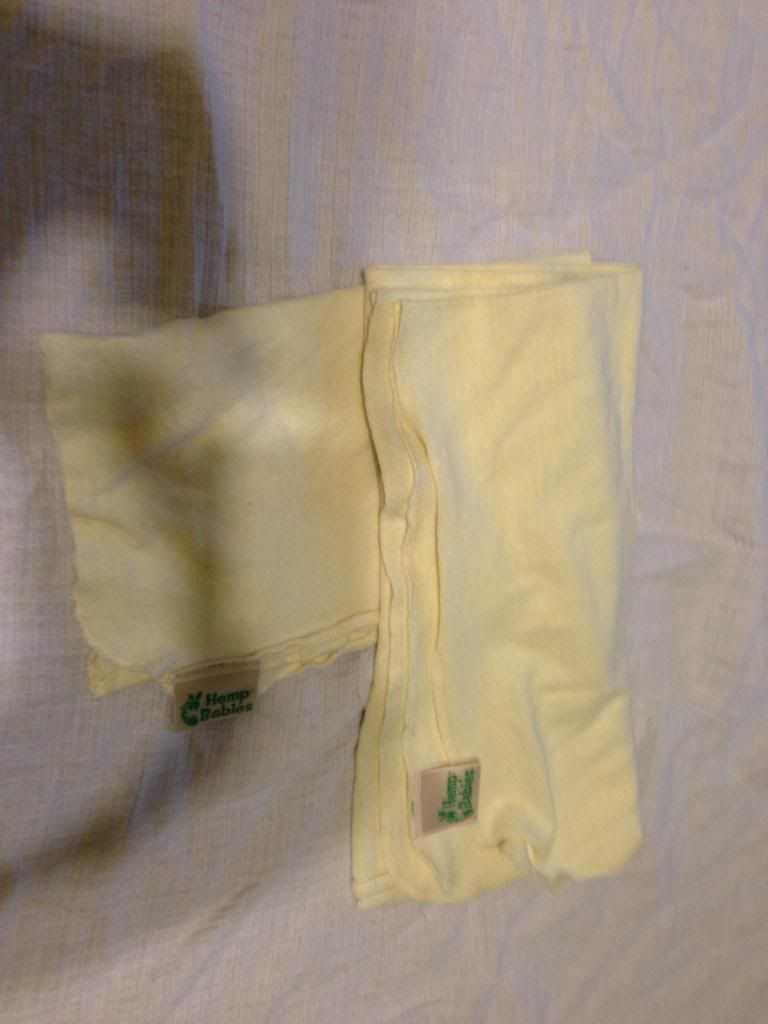 Hemp Babies flats: 1 prepped only, 1 used 1 time - $4.50ppd/ea




Applecheeks Bamboo Inserts 2 packs, 1 NIP, 1 prepped only - $15ppd/ea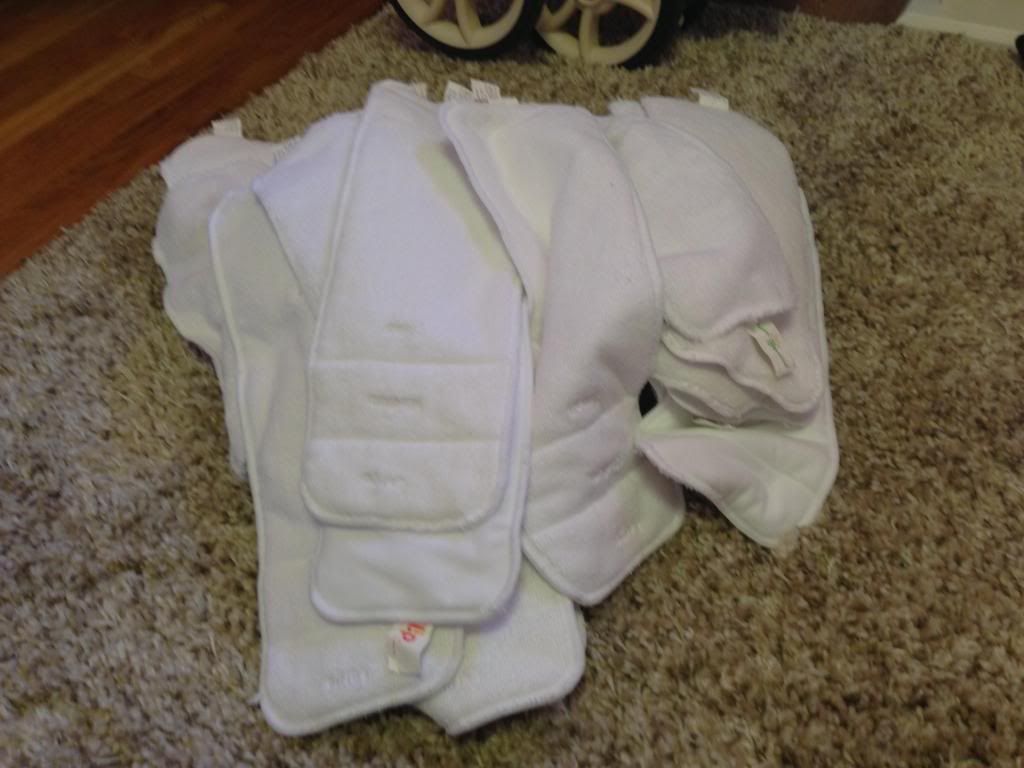 Lots of BG, Flip, and Capri inserts. BG and Flip never used. I think I have 19 OS flip and 6 NB flip. Not sure about BG, I know there are NB and OS in there.

Flip OS inserts $4ea, 5+ - $3.50/ea, 10+ $3/ea, all 19 for $55.
Flip NB inserts 6 for $9ppd.

Capri inserts Size 1 are EUC, some may have staining but I have to check, not sure how many - $4.50ppd/ea

Capri inserts Size 2 prepped only $5.50ppd/ea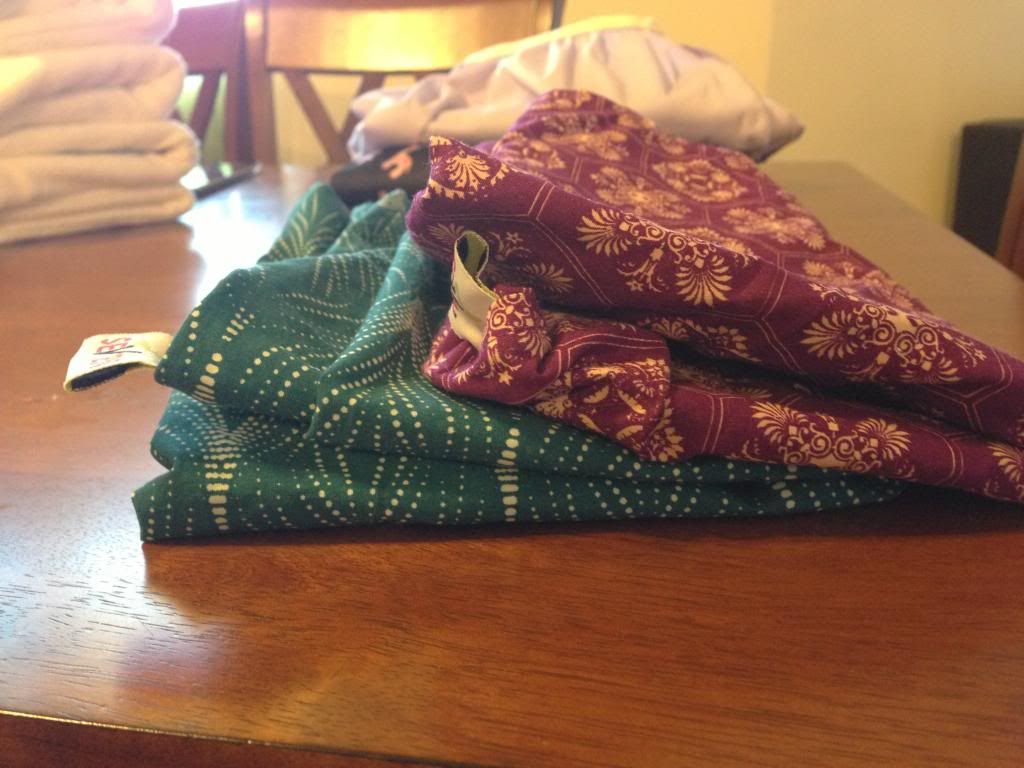 [COLOR="rgb(153, 50, 204)"] 1 Purple Seven Slings in Size 3. free for orders over $90. Please let me know if you want it in your PM[/COLOR]




PlanetWise pail liners EUC. I like hanging bags better since I have to haul laundry places.

Lilac and Pink Giraffes - $13ppd/ea




Large sbish flats (these are prefold style) not sure of color names, 1 has EBF stains. They are the limited edition fall colors. $11.50ppd/ea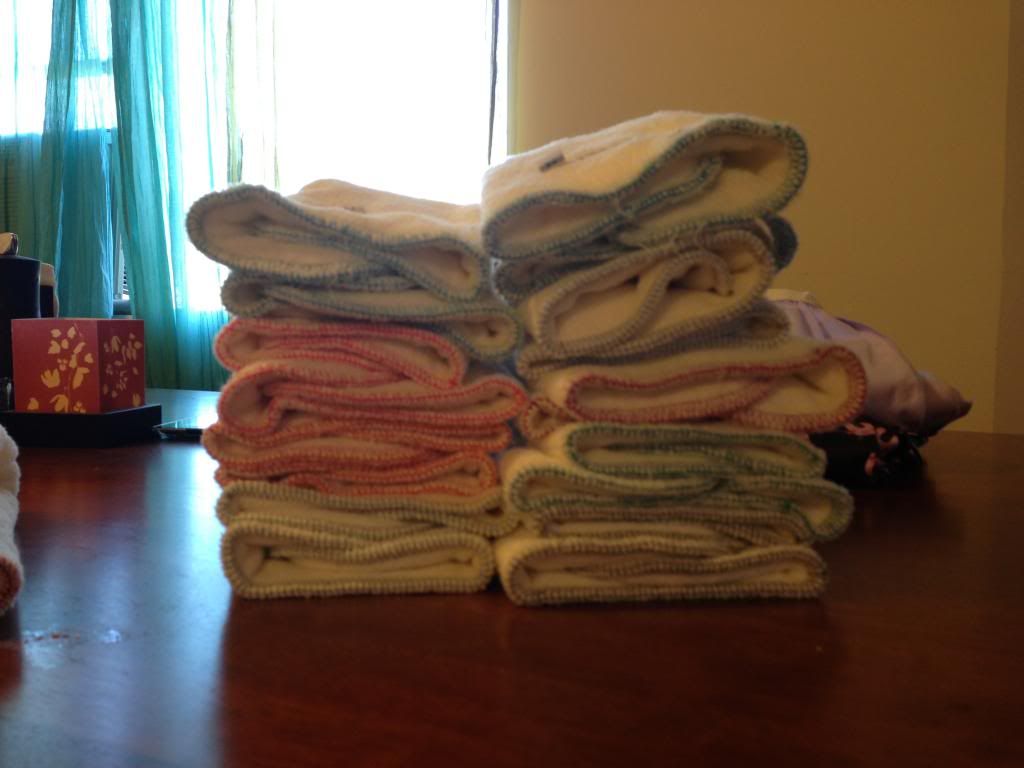 Medium sbish flats (these are prefold style) not sure of color names, 1 has EBF stains. Not sure on all color names. $9ppd/ea
__________________
I'm an Ambassador and Affiliate to Kissed by the Moon.
Please use my link and let me know if you have questions! Click below.
Sassy Pants and the Diaper Queen
---
Last edited by RissaMamaRex; 11-29-2012 at

06:34 PM

. Reason: updating sold items