NB Mutts, NB Little Boppers, NB Bumstoppers,
---
I need to sell my newborn diapers to get diapers that fit my supersoaker!

NB Mutts-$10PPD each
These have some slight fading and the soakers are thinned out a little, but snaps and elastic are great! Koi has a reddish stain on the butt but it's barely noticable.
koi fish and robots left
MCZ, giraffe, stripes and skulls, hello kitty sold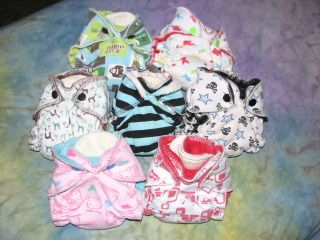 These look like Mutts but have no tags. The ooga has a soaker.The ooga print is a bit faded and slightly sherpa-ish. Rainbow serging sold


Little Boppers-
Cloud print, slightly faded and sherpa-ish $8PPD
Teal and Red sold


MISC-
Bumstopper-slight fading-$10PPD
Polka dot and striped sold


fairy- $7PPD
Flame and ooga sold



I also have a really cute preemie/NB robot L/S shirt, & prefold $12PPD(mutt not included)




Spooky Kitty collection-small- cat in the hat-$10PPD

__________________
Tawnya
Alex 11-11-02, Lucas 12-13-05, Nikolas 4-30-08, Evangeline 7-06-12
---
Last edited by keegen456; 10-12-2012 at

08:46 PM

.