Registered Users
**HUGE**DESTASH!**REDUCED NIP CHRISTMAS PIDDLE PODDLES*PIC HEAVY
---
I have a ton of Goodmamas (girly, stripes, and gender neutral) many hard to find and a few PIddle Poddles also to destash!!! Probably 60 fitteds total!
I have gotten away from fitteds and won't be using these for DS coming next month. There are so many diapers that it will take me a while to get them all up; so, please keep checking back! Trying to keep pictures kind of small because there are so many, but I will describe each fitted as best I can and will be happy to send anyone bigger pics on request
I took really good care of my diapers! NONE of them are sherpa-like IMO***(Added this in later...I have across some of my older diapers that do look sherpa-like but they are soft and don't have a crunchy feel like I've seen some old diapers have)***, but none have that super fluffy squishy feel that new obv diapers have.

**Note added**I've had a lot of people interested in these but also might want more of future diapers I will be adding. Gets too confusing to hold diapers, but I will let you request paypal and pay for what you want as I add more. Prices are not ppd and I will send a shipping invoice for exact shipping when you are done purchasing. Also, I've had questions about elastic. Some of the diapers I will be listing had elastic go bad while in plastic storage container. Others seem perfectly fine. The ones needing repair will have that listed and much lower prices.

I KNOW I HAVE A FEW MORE GOODMAMAS, BUT I HAVEN'T LOCATED THEM. THIS WILL BE ALL OF THE FITTEDS FOR A WHILE!

MOVED AVAILABLE TO TOP OF LIST


#18 Patriotic Piddle Poddles w/ waffle knit outer- One size fitted VGUC- Noticed two specks rust on soaker and two specks on inner, and another tiny speck I almost missed on back. Looks like outer knit faded some, but this diaper really is in good condition with lots of life left! $12.00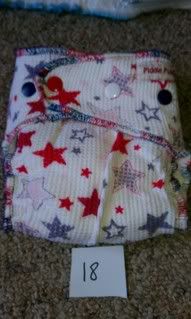 #35 Dots Embellished OBV Piddle Poddles- GUC one size fitted. Two tiny rust spots on fleece inside of soaker. $10.00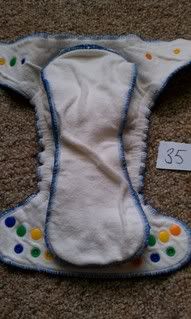 Just came across some NIP Christmas Piddle Poddles!!!


#47 Reindeer Christmas Piddle Poddle- NEVER USED/ NEVER WASHED. Got this a while back but still NIP. $17.00$15.00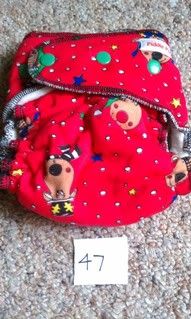 #48 Snowman Green serging Christmas Piddle Poddle- NIP Same condition as #47 $17.00$15.00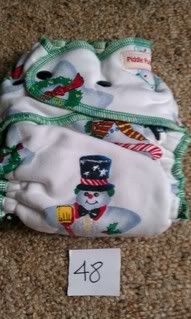 #49 Snowman Christmas Piddle Poddles onesize/ 18 mo gown set- NIP same condition as #47 $25.00$22.00 SOLD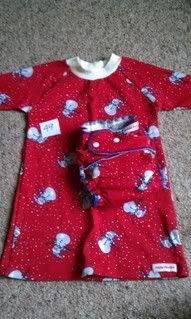 #60 Piddle Poddles onesize- Almost an olive variegated OBV. Looks and feels like only washed a few times. Really soft! There is a light green spot on front..looks like one of my kids smudged it with candy drool or something, lol. I don't think it is even noticeable in pic. With a good washing, looks like it would come right out. VGUC $10.00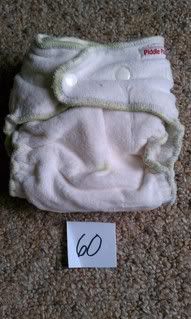 ALL SOLD BELOW HERE

#1 Cotton velour inner, Love Pear (I think) VGUC-This diaper looks beautiful except for a couple of bleached spots on inner as pictured. $12.00SOLD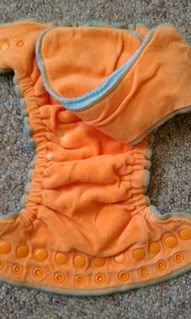 #2 Freesia Breeze VGUC- doesn't have that squishy new feeling but still very nice. Didn't notice any stains. $10.00SOLD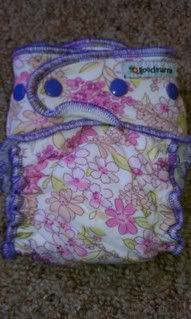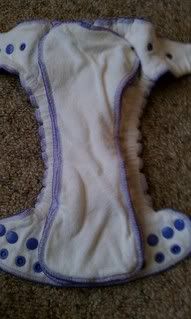 #3 Cabbage Rose GUC/VGUC-Doesn't have squishy new feeling and has small rust spot on soaker (noticed spot after taking picture and is hidden by a wrinkle). Still really nice. $10.00 SOLD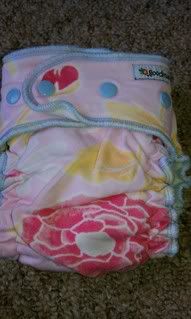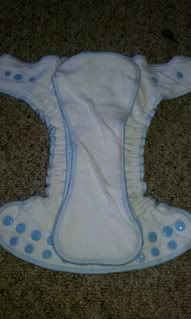 #4 Carribean Cool (I think)was a very hard to find. Looks a little faded to me, noticed a few rust spots , and needs new elastic. Not squishy but obv soft.$6.00 SOLD





#5 Aqua Serging/ purple snaps OBV- Didn't notice anything wrong with this diaper. Not silky or fluffy new but very nice. I just noticed when I rechecked this diaper that when I restretched elastic in one leg, the edge of elastic made a little dry sound. Seems fine now but I'm going to reduce price in case it goes out soon to $8.00SOLD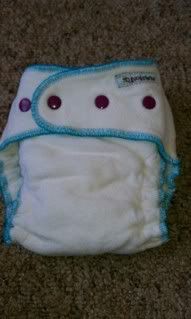 #6 Stripetastically Touchariffic A few tiny rust spots as you can see in second picture but otherwise beautiful and VGUC. $12.00SOLD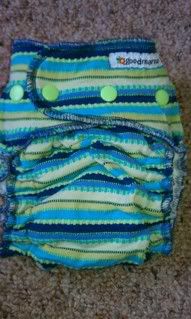 #7 Plum OBV. GUC-VGUC Not silky or fluffy like new. Has a couple of rust spots on soaker but still very nice. $10.00SOLD




#8 Woodland Splendor- Hard to find! VGUC and looks beautiful. Still Soft. I did notice a small thinned place on obv where corner of back elastic is rubbing, but not a big issue IMO. $12.00SOLD




#9 Peach Cobbler OBV- Love the cut of this diaper...every now and then you get a diaper that's cut perfectly and has a nice straight soaker made with extra good quality obv...this is one of them! OBV still soft and super nice but does need new elastic. Would have said VGUC but because of elastic I can only say Fair used condition. $6.00SOLD




#10 Sassenach (I think, not sure on spelling) GUC- Took a picture of the back of this one because has perfect whole yellow rose on bum. Has a few super tiny specks rust stain on soaker..not bad. (I'm not seeing picture of inner...guess I missed that) , and noticed some snags in serging from velcro cover. Still a really nice diaper. $10.00 SOLD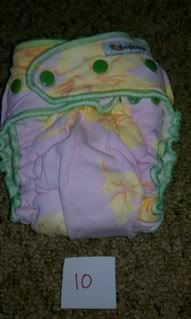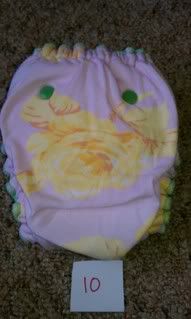 #11 Lemon Drop (I think) OBV - Has a couple of rust spots, as picture shows there is a thin spot in fabric where elastic is rubbing. Also noticed thinning of fabric on inner along elastic. Elastic doesn't have that crunchy dry sound when elastic is bad but does feel like is starting to relax. Still functional and obv feels soft. Will sell this one for $4.00SOLD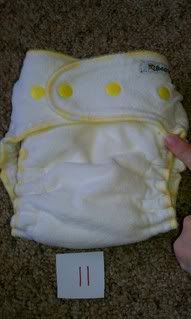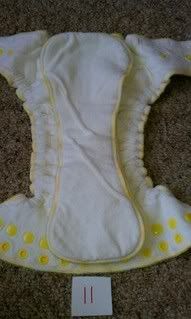 #12 Key Lime Pie?? OBV - Speck of rust on soaker, good obv. Elastic starting to relax I think. Good for now , but I'm afraid elastic might need replacing one of these days so I'm just going to say Fair Condition. $6.50SOLD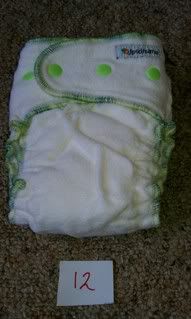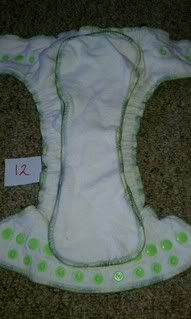 #13 Very Hard to Find! Hot House Hula- VGUC- Still beautiful! Noticed two small rust spots..one on back of soaker, the other under soaker on inner. Not silky or squishy new, but still soft and looks great! $20.00SOLD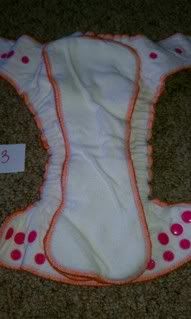 #14 Sunburst Swirl Hard to Find. GUC Just realized it has Charm School's soaker snapped on; so, I need to find other soaker and will add more info about it later.
Just found it! Few tiny rust spots from waching machine on soaker, very minor snagging from velcro soaker on a little of the serging, and thinning on inner at the edge of elastic in three little spots. Still looks really nice. $11.00SOLD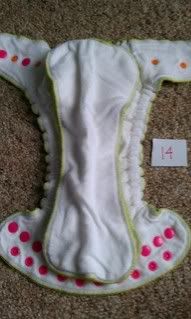 #15 Jane Swashbuckler- a couple of rust stains in middle of soaker out of sight, and just noticed a speck of rust on front about the size of a grain of salt (you would have to look hard to notice) When I stretch out elastic, can see the obv is starting to thin on top of elastic along legs. Oops, and just found a hole a little smaller than pencil eraser on back about 1/4" below serging. Still has plenty of stretch in elastic for now, but doesn't feel super tight. $7.00SOLD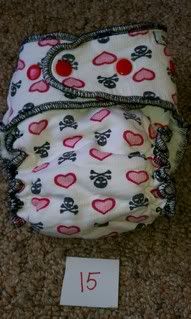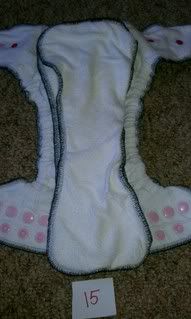 #16 Fairy Dress Up- Just Fair condition- Few tiny rust spots on soaker, and another tiny spot on inner. Has some serging snags from velcro cover, and some thinning of obv along elastic on inner. Elastic made that crunchy dry sound when I stretched it and elastic stretched out some...still stretches some but will need replacing very soon. For some reason picture isn't resizing. $5.00SOLD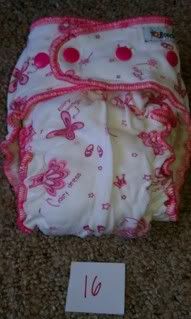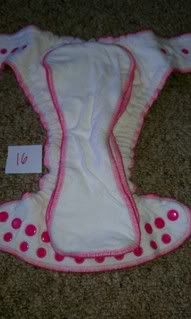 #17 Brown serging/ pink snaps OBV- Fair to Good used condition. A several tiny rust spots. Noticed a few places where edge of elastic is rubbing thin spot in obv. Feels a little rougher to me than most of my diapers, like I hung to dry and didn't put in dryer to fluff back up. But I'm in a hurry to get these listed and gone; so, I'm not going to take time to throw in the dryer. Although I'm listing as fair to good, this diaper looks really good and I wouldn't hesitate to use it myself for a girl. $7.00SOLD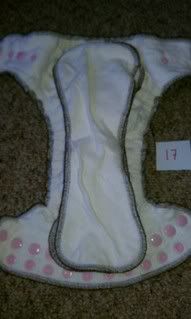 #19 Gumball Giraffe- Some small specks of rust on soaker and noticed another small speck on inner under soaker. A few small snags on serging from velcro cover. Overall diaper does look really great, but when I first stretched out elastic it made a dry sound on edges. Still has tons of stretch and seems fine after that first stretch, but will price lower just in case elastic is beginning to dry out. $8.00 SOLD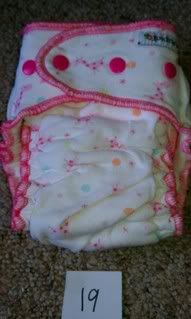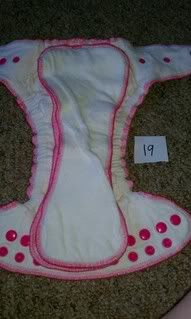 #20 Lavender Serging/ lime snaps OBV- Several specks of rust stain on soaker and some very faint specks on outer. Elastic edges are rubbing making inner fabric thin in three small spots. This diaper looks really nice still but also made that stiff sound when initially stretching out elastic. I'm afraid might need elastic replaced soon so only asking $6.00SOLD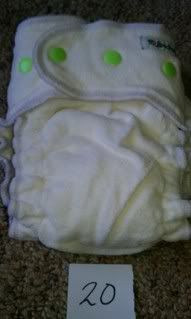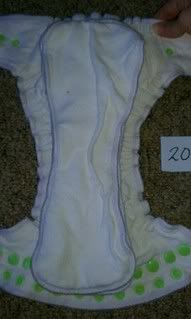 #21 Oil Slick w/ light orange CV inner- Very hard to find! VGUC- Has a few small snags in serging from velcro cover but not bad at all. Almost didn't notice, but has a little line of rust speck stains on inner..almost blended in because of color. $20.00SOLD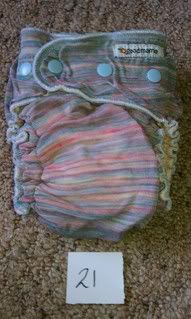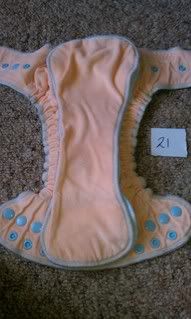 #22 Plum OBV- I loved this color and had two of these. This one needs new elastic though. Noticed one rust stain on inner, and two spots have been rubbed thin at back elastic edges on inner...not bad at all. If you have time to replace elastic, could be a really nice diaper again. Just fair condition because of elastic $6.00SOLD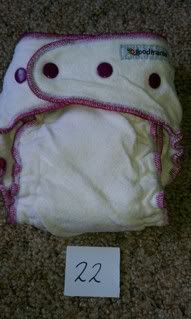 #23 Caribbean Cool- Very hard to find! Few rust spots on soaker and two on inner. Two tiny thin spots in fabric at edge of elastic on inner. Noticed a couple more specks the size of a grain of salt on outer. No big issues at all...still a really beautiful diaper! Just noticed after snapping back up that on the soaker, looks like top layer of soaker fabric was cut just a tiny short in two small places and isn't serged with rest of soaker. Hope that makes sense. I have never even noticed this before and almost missed it...doesn't hurt anything but definitely worth mentioning. $12.00SOLD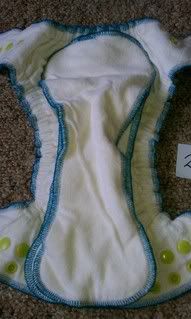 #24 Watermelon Slice (I think)- Needs new elastic in legs...sounds very dry and stretched out a lot when I just checked it. Couple of rust specks. Thin spots on inner at edges of elastic, somewhat faded outer, and has a big hole about an inch wide (on wing below goodmama label) With purchase of another diaper needing new elastic, I will give this one for FREEGONE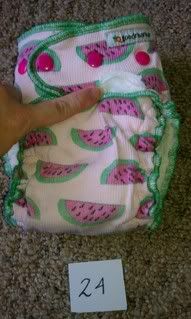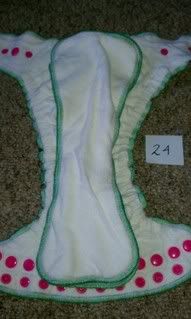 #25 Marigold OBV (I think)- Few little rust spots and a couple of tiny thinning spots on inner at elastic. Elastic sounded a little loud when I first stretched it, but still quite stretchy. Good quality obv on this one and looks really nice, but because of sound in elastic will price lower at $7.00SOLD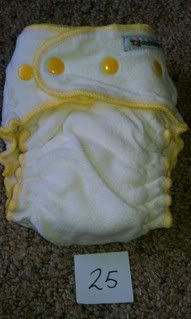 #26 Serendipity- VGUC Really beautiful outer on this one. Other than a few little rust specks on obv from my waching maching, this diaper looks great! $18.00SOLD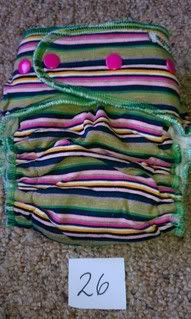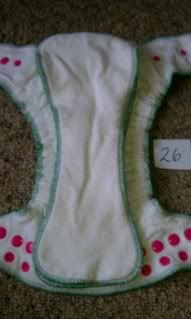 #27 Flower Hearts (I think)- VGUC- Looks almost perfect. Only thing I noticed worth mentioning is is a few tiny rust specks on hidden fleece side of soaker. I love this one! $18.00 SOLD




#28 Black Serging/ Hot Pink Snaps- Has a few tiny rust spots from my waching machine on soaker. Few small thinning spots at edge of elastic on inner, but not bad at all. Elastic sounds a little dry and I think it will need replacing soon. Would still be a great diaper after that. $7.00 SOLD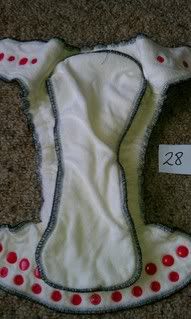 #29 Prism HTF!- I loved this print! Serging looks quite snagged in various places from a velcro cover. One tiny spot of rust stain from my waching machine on soaker, and a few light tiny tiny specks on inner. Noticed a tiny spot at corner of elastic edge where obv inner thinned...barely noticeable. Needs new elastic. $4.00SOLD




#30 Bright Pink Serging/Snaps OBV- GUC-Few tiny spots rust stain from my waching maching on inner and a few more on soaker. Edges of elastic are thinning inner fabric. Still looks really nice and the issues with this diaper aren't even noticeable unless you are really looking hard for problems as I am now. Elastic still great. Obv feels soft. $8.00SOLD




#31 Urban Sweet GUC- A few tiny spots of rust from washing machine on fleece inside of soaker. Edge of elastic caused two small thinning spots...not a big issue at all in my opinion. This diaper still looks and feels very nice. $10.00SOLD




#32 Secret Garden -GUC But does have some random rust spots from washing machine on soaker and a small yellow stain on one of the butterfly wings (maybe a small spill, idk). Outer on this one looks like it may have faded a little. Other than those minor issues, still a very good diaper. MESSED UP WITH NUMBERING SO IGNORE NUMBER IN PIC..THIS IS #32. $12.00SOLD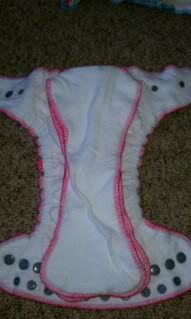 #33 Aqua/ lime snaps- Has four small rust stains that I noticed, a few serging snags from velcro, and noticed four thinning small spots on inner at elastic edges. Elastic is dead in this one but definitely worth replacing. $5.00SOLD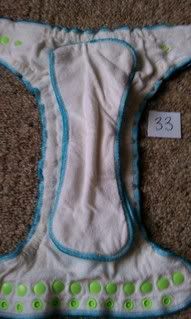 #34 Citrus Fizz- My all time favorite and very hard to find!!!! Loved this one! Has some snagging in serging from velcro cover. Noticed three tiny spots at corner edge of leg elastic where inner is rubbing thin. Would not notice at all unless really looking for flaws. Good elastic. Not squishy or silky but it is soft! $20.00 SOLD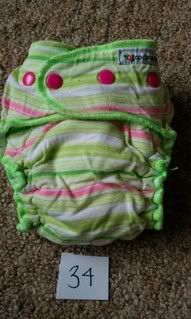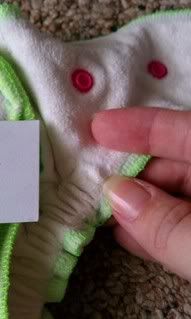 #36 Lollipop (I think) OBV- A few rust specks from my washing machine, and obv inner is thinning along elastic. Made with the good old school obv. Elastic stretches but sounds dry..will need replacing very soon. $5.00SOLD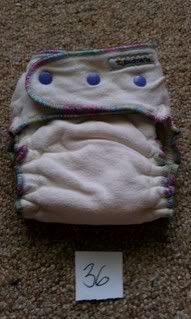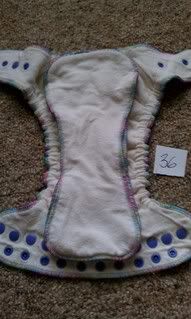 #37 Skyblue OBV- GUC- Elastic still good, Old school OBV, has a few little thinning spots, and few tiny rust specks from machine. This one looks kind of sherpa-like but still feels soft and good IMO. $6.00SOLD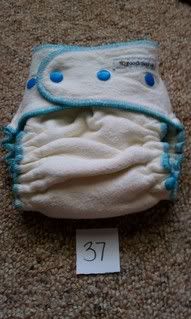 #38 Very Hard to find! Icecream Cone- Outer faded some, Thinning obv along elastic, few pale spots on soaker, few snagged threads on serging, looks kinda sherpa-ish but still feels soft IMO...does not have that crunchy rough feel. Elastic was dry and stretched right out..needs replacing. $5.00SOLD




#39 Hot Pink Serging/ black snaps- Few little rust spots, Some thinning spots from elastic, and elastic died when I stretched it. $5.00SOLD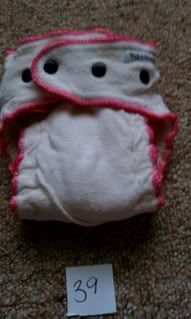 #40 Disco something, lol- GUC This is the one my daughter had on in my avi. Only issue I see with this one is that it is missing far left snap on front...looks like they made the little hole for snap but never put it in. I never noticed before now. $10.00SOLD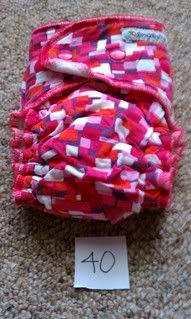 Last diaper to add for the night!!

#41 Peach OBV- GUC Few small rust specks from washing machine, A little thinning at four small spots from elastic edges on obv inner. May look a little sherpa like to some, but feels soft. Elastic feels good. $7.00SOLD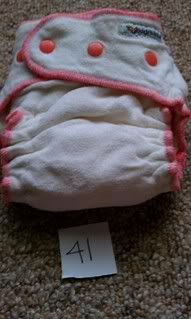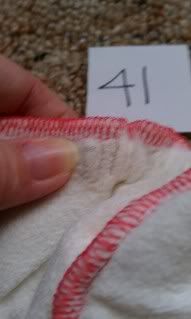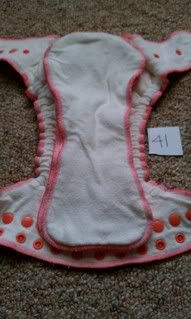 #42 Lime OBV- Few tiny rust specks from my waching machine on soaker, Little thinning spots at edge of elastic on inner, two spots of thinning on outer on back-side under elastic. Elastic made a little dry sound when first stretched, but seemed fine after that. Looks really good, except for thinning spots and that initial elastic sound, but I'm just going to say fair condition for that in case elastic goes out soon. $6.00SOLD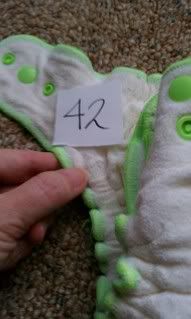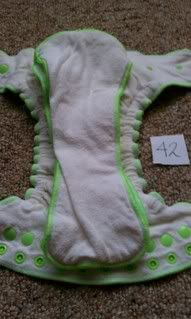 #43 Posy (I think)- This was a fader. Has some snagged serging from velcro cover, a couple of tiny light rust spots, slight thinning at elastic edge on inner (rest of obv looks and feels really nice). Elastic sounded bad when stretched..will need replacing. $6.00SOLD




#44 Beach Towel- OBV feels like it has only been washed a few times...really soft! Does have a little thinning though at three little spots at edge of elastic on inner ( I don't understand how obv can feel so new and have that but it is what it is). The snaps on this one never snapped as tight as other GMs, but this was the first run of beach towel and they were all that way. Feels almost like new. $12.00SOLD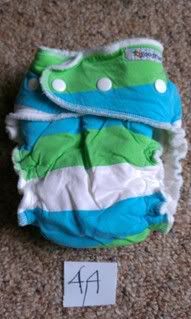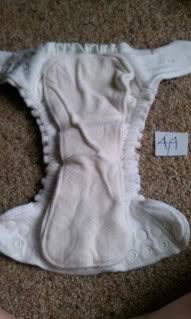 #45 Je T'aimme- This one faded some and got pilly after first wash. Other than that it looks great and feels like I only washed a few times...very soft..almost silky and squishy like new. $18.00SOLD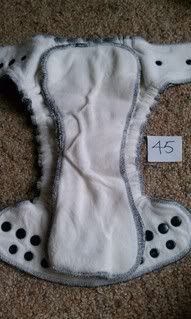 #46 Sakura Bloom- VGUC-has two loops of snagged serging, two pale spots of rust from washer. $12.00SOLD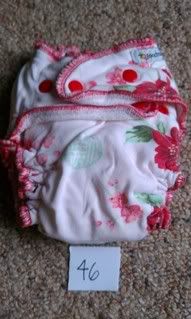 #50 Fairy Godmother- Noticed a few faint rust spots from washer, faded a little when washed, VGUC $15.00SOLD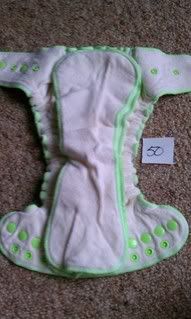 #51 Kenya- Looks like probably faded a little, couple of tiny faint rust spots inside from washer. VGUC $15.00SOLD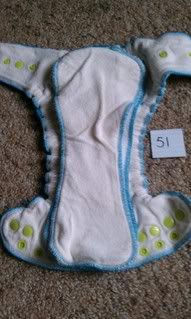 #52 Pony Show- Inside good and soft. Outside faded some, and the knit is a very thin ribbed knit.One stripe of the ribbed part is stretching. $8.00SOLD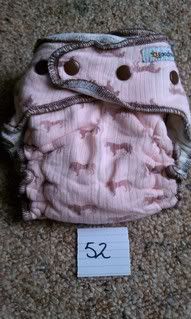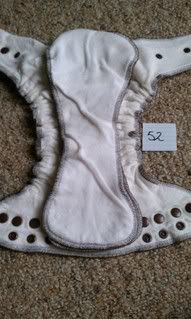 #53 Best Friend- Few small dots of rust from washer. OBV looks good. Feels like elastic is about out in one leg and back. $7.00SOLD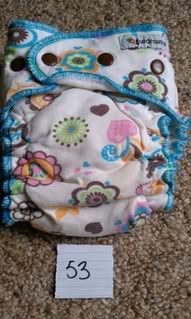 #54 Icecream Cone- VERY HARD TO FIND! I loved this one! haha, it's another one that I had two of. Has a little bit of snagged serging from velcro cover. Otherwise, still looks and feels good! Kills me a little to sell this one. Because it was so HTF I'm pricing this a little higher than most $20.00 SOLD




#55 Cupcake Party- Some snagged serging from velcro cover in belly area under snapped wings. OBV looks really nice and soft. Elastic dry and gave out when stretched. Would be a great diaper if you can repair elastic! $8.00SOLD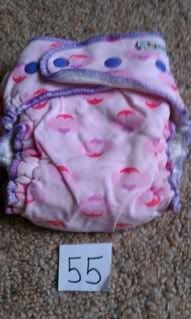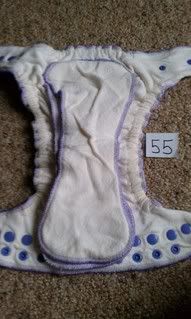 #56 Piddle Poddle Teal variegated OBV- Noticed two little rust spots. Good OBV and elastic looks fine. Sorry, had a problem with photobucket and won't let me resize that one. $8.00 SOLD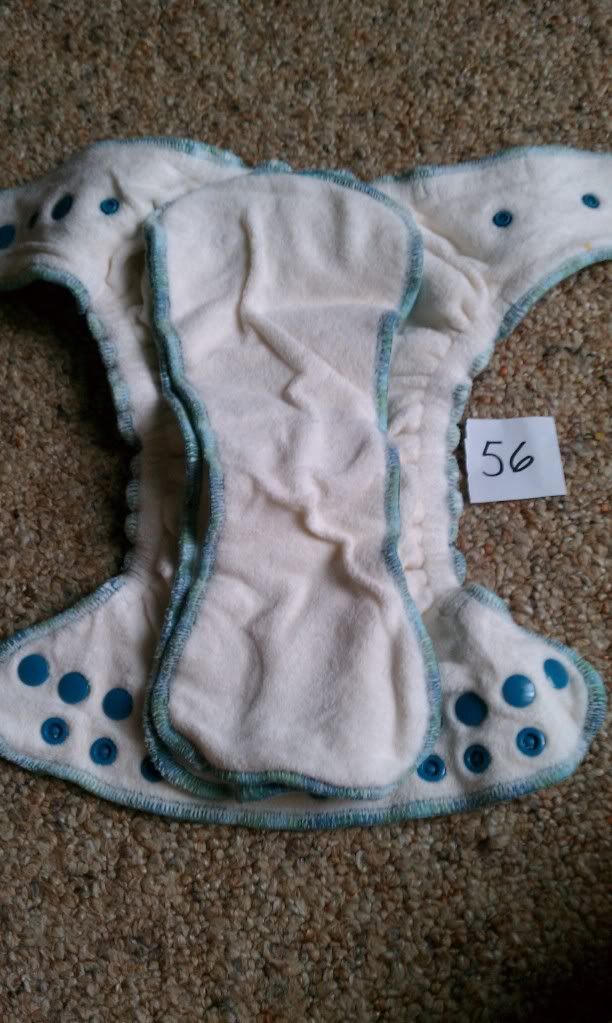 #57 Cloth for Your Angel Castle- size medium. These were the first fitteds I ever bought. Flannel outer/ sherpa inner. I wouldn't want to sell these diapers so free with any other purchase. FREE GONE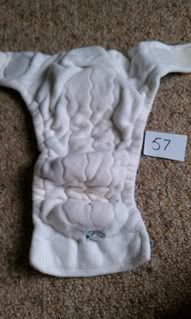 #58 Cloth for Your Angel ladybug- size medium. These were the first fitteds I ever bought. Flannel outer/ sherpa inner. I wouldn't want to sell these diapers so free with any other purchase. FREE GONE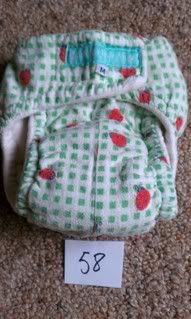 #59 Crickett's hemp fitted- this was my first diaper of of fsot. I didn't like the look of it didn't use. Think it needs a good soak and stripping, but it is still functional for someone that is in need. Free with any other purchase. FREE GONE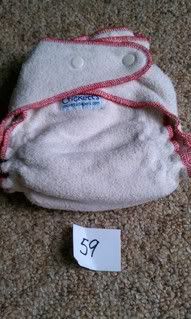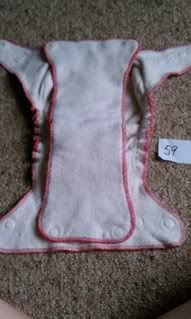 #61 Piddle Poddles embroidered onesize- In really good condition. Made with good quality obv. $10.00 SOLD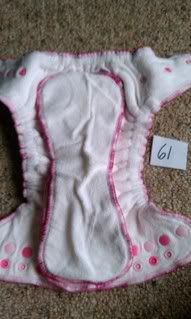 #62 Piddle Poddles pumpkin variegated obv- OBV looks really good. Serging is really tight and looks like has little spots of serging popping at some of folds. Lowering price for this but I don't think it's a real problem issue. $6.00 SOLD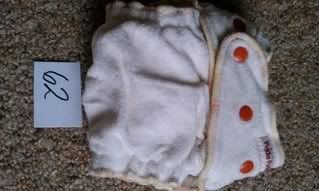 #63 Purple/ yellow snaps OBV- Needs elastic, has some thinning of obv along elastic, and has a few stains $4.50 SOLD




#64 Charm School- Noticed one small rust spot. And see two tiny spots at edge of leg elastics just beginning to rub obv a little thin. Otherwise looks and feels soft and beautiful. Outer knit looks new. So pretty. $14.00
picture a little blurry. will try to get a better one tomorrow. SOLD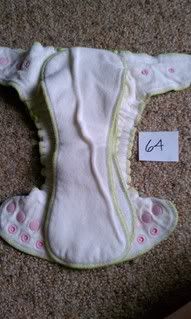 __________________
Angela~Married to my DH 20 years and SAHM to 3 boys, and 4 girls
---
Last edited by love.my.babies.lots; 11-09-2012 at

04:15 PM

. Reason: reducing prices for Christmas Piddle Poddles