Sold Super fast! Please delete
---
This mei tai has every bell and whistle that you could imagine! Huge, I mean huge sleeping hood. Don't like hoods un-zip it or roll it up and tuck it into its pocket. Hidden zipper pocket with an extra zipper pocket inside to hold I.D., credit card, keys or cell phone! Detachable pouch to hold your goodies! Wide shoulder straps to cup your shoulders to evenly distribute weight. Reversible! One side has melon polka dots the other side is a beautiful floral/paisley print. Very tall body which is perfect for leaners or toddlers! 22inches!
Pictures don't do it justice!
These retail for $120 new! This is like new in giftable condition (could use an ironing though
)

Asking $110 PPD OB Reasonable Offer
You can read more about it here:
http://www.sunshinebabyslings.com/
I am not a mei tai person and much prefer SSC's but this one is so comfy I honestly wouldn't be too upset if it didn't sell!
It just doesn't get the love it deserves here!

Nitty Gritty: Comes from a smoke free, dog friendly home. Please pay with in 4 hours of requesting paypal addy. I will ship First Class with DC. I am mainly ISO of paypal but am interested in trying a woven wrap like a BBSLen!
Please keep in mind when making offers that I do include shipping which is pretty pricey!

Now for pic overload!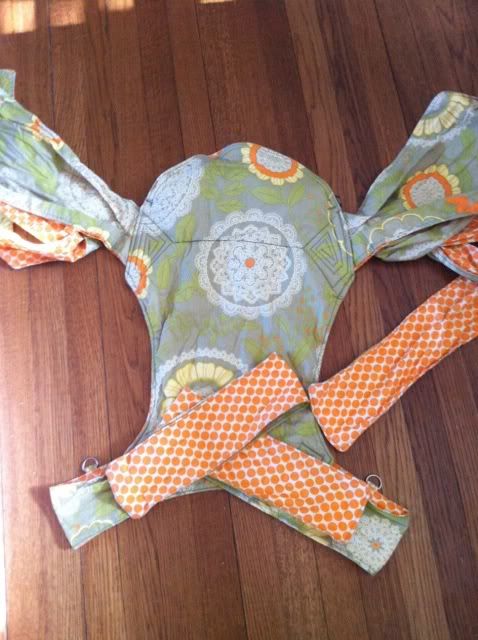 Huge Hood!



Hidden Pocket with Credit card/I.D. pocket


Reversible side


Cupped Shoulder


Hood out

Advertisement
__________________
SAHM,
, BWing,
mommy to C-6/4/10, A-11/20/07 and P-a very
silly "pop star" 4/2/03
---
Last edited by tamarag; 02-23-2011 at

08:21 AM

.