3 Toddler Boy Fleece Covers $15ppd
---
Hey mama's
My boys are nearly pl'd so these are just taking up space. Made with Katrina's soaker pattern in a 2XL. They fit my boys while they wore between 2T-4T

Shark with light blue trim and light blue extra soaker layer
Frogs & lizards with red trim and red extra soaker layer
Pirates with Black trim and Full grey inner (double layer throughout)

All are in good shape, but have become pilly. We mainly used these at night while they pl'd.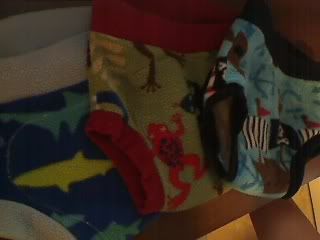 [IMG]
[/IMG]
Advertisement