Registered Users
Moving sale....beautiful books fs!
---
We are moving in the spring, so trying to de clutter. These are all great books, but I need to get tough with what we are keeping
. Some are giftable condition. Prices do NOT include media mail shipping, if you are not familiar with this, it is the least expensive way to ship books/media, takes a little while, kinda like parcel post. Let me know your zip if interested.

Top picture:
Rachael Ray 365 No repeats cookbook, one page loose in the middle. $4 + shipping.

Earth to Table - seasonal recipes from an Organic Farm(beautiful book, great stories and pictures
) Top of jacket has a bit of fraying, otherwise EUC. $5+ shipping.

Deceptively Delicious, Jessica Seinfeld - GUC, maybe even EUC, I thought I had a smudge on one page, but can't find it so maybe not
Great kid recipes with veggies pureed hidden. $5 + shipping.

Super Baby Food - GUC, cover and first page has a fold on it.$4 + shipping.

Annabel Karmel - First Meals - decided to keep for now
really good toddler recipes.

The Petit Appetit cookbook - Easy, organic recipes for baby and toddler. Book is EUC. $5 + shipping.

Annabel Karmel- another great book by her, we are past this stage, book is euc also. $5+ shipping.

Naturally Healthy First Foods for Baby, the first year and beyond, Guc, fold on the cover. $4+ shipping.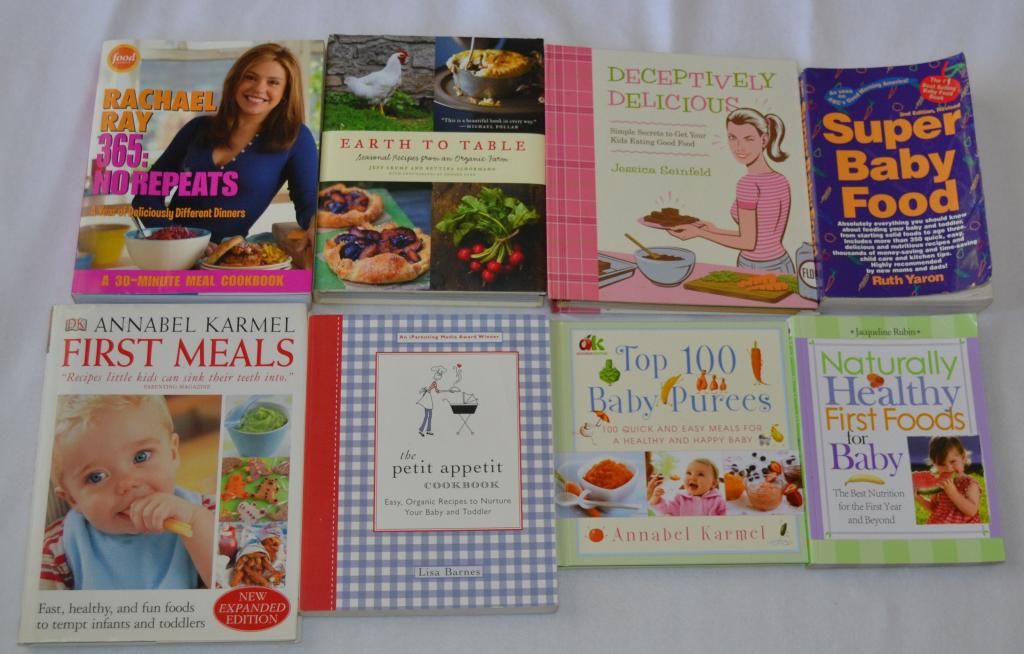 Bottom picture:

The no cry sleep solution (babies and toddlers version), both GUC - $4 each + shipping.

Eat this not that for kids, GUC to EUC - $5 +shipping.

The Green Book, GUC/EUC, small smudge on the cover, may come off, inside is mint as I had two of these. $4 + shipping.

The Artistic Mother - beautiful book with stories and crafts, EUC, $5 + shipping.

Dads - cute retro style book, stories etc about Dads, EUC, giftable IMO, $5 +shipping.

The three martini playdate - funny/silly book about parenting, EUC, giftable $4 + shipping.SOLD!!!

The worst case scenario Survival Handbook: Parenting, also fun/silly book about parenting, EUC, giftable $4+ shipping.SOLD!!!!

The Diaper Diaries, ditto fun/silly book on parenting, stories etc. GUC as cover is not 100% flat, small mark on the lower cover.$4+ shipping.

***The fun/silly/Dad books we got as gifts with new LO's, so fun for new parents etc or just for a laugh. Dad would be good for fathers day too.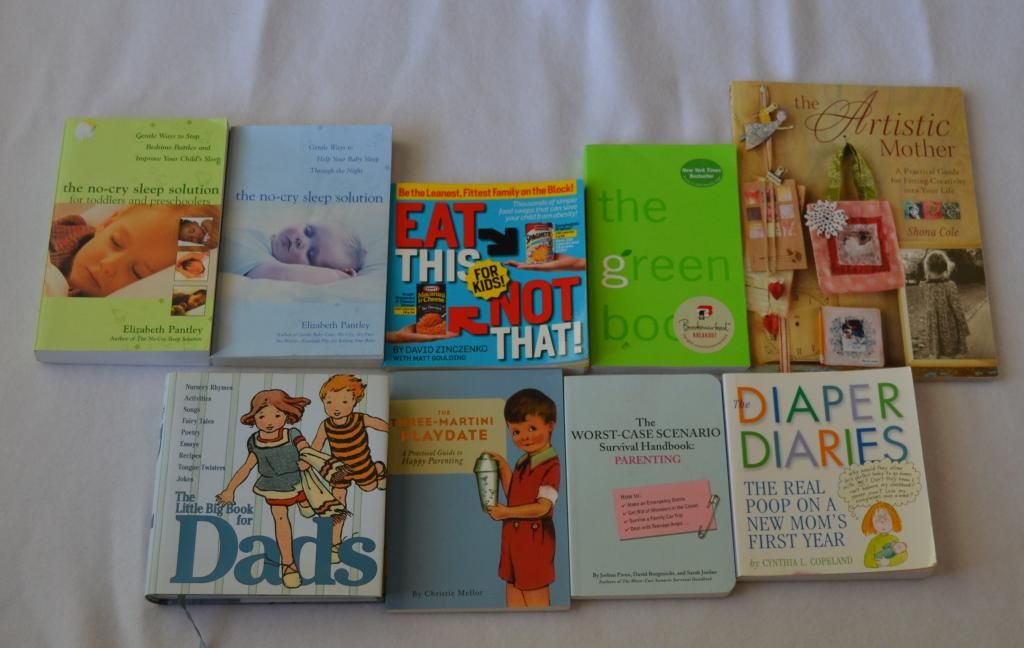 MAINLY LOOKING FOR PP, WILLING TO DISCOUNT WITH A FEW PURCHASES, MEDIA MAIL IS FAIRLY CHEAP AS FAR AS I KNOW. MAY CONSIDER TRADES IF THEY ARE ITEMS I NEED OF COURSE
Advertisement
__________________
Mama of 4!
and precious little one 11/10/11
---
Last edited by Leanbh; 12-04-2012 at

09:49 PM

.