SOLD Diaper Rite Bamboo Pockets PENDING
---
ALL PENDING
Diaper Rite Bamboo pockets, top row were all prepped never used (washed 3x in country save and line dried) and the 3 on the bottom row were used less than a handful of times and are in EEUC always line dried. No issues or staining at all, we just are not reaching for pockets any more so time to destash a bit. The fit on these is wonderful and the colors are so beautiful and vibrant and I love the color snaps. The meitai and majestic (bright pink and deep purple) and even more gorgeous colors in real life! The have a lifetime warranty on snaps, all you have to do is contact diaperjunction and they will fix or replace for free, although I have others that are quite old and were used a lot and I have never had a single problem

They are shown snapped down to the middle rise setting and stuffed with diaper rite flats (not included, but i would consider selling some), they are one size pocket diapers that fit 8-35lbs.
top row-
Dandelion, Majestic, Pacific, Turtle, Electric Carrot 9PPD each
Bottom row-
mei tai, amethyst, bubblegum 8PPD each
discounts on multiples, or take all 8 for 52PPD.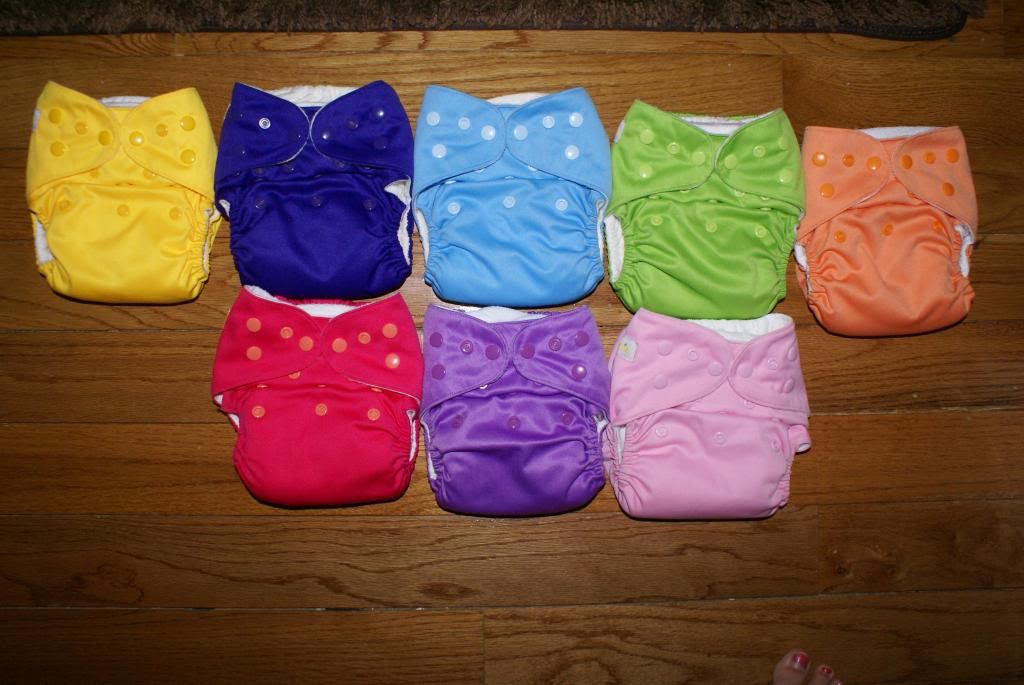 Advertisement
__________________
Married to the love of my life and lucky momma to our 6 kids plus #7 on the way due 8/2018!
---
Last edited by mommadeeof4+; 03-19-2013 at

06:55 AM

.