FS: Southern Living Flower Market Door Bucket W/ Hanger-NEW!
---
I got this from a home show and LOVE it...but...My door won't close with it on. I paid $49. for it, and hate to see it go, but just can't leave my door open all the time!
This is for the basket and the matching hanger.
Asking for $38. PPD.

From the Southern Living Catalog:
The Southern Living at Home Catalog describes this item:

Flower Market Door Bucket: "You'll love this multi tonal metal door bucket. The moss bronze finish is compatible with any door color, and the bucket's curved tulip shape makes flower arranging easy. Hang on the matching Must Have Door Hanger. Line with plastic when using with fresh flowers. Will weather over time if left outside. (10 ½" x 5" x 20 ½" tall, including handle)

Must-Have Door Hanger: "This hanger is the perfect solution for displaying door buckets or wreath's. Its antique finish and simple design will compliment any color or style door. You'll wonder what you did with out it! Hooks over the top of most doors (Doors should be no thicker than 1 ¾" with at least 1/8" clearance). No hardware needed. (2 ¼" x 4 1/8" x 12 1/8" long)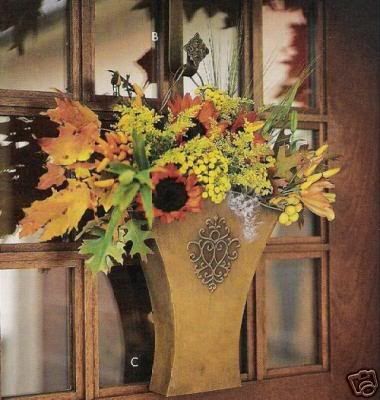 Advertisement
__________________
~Jen~ Birth Mom to Baby Boy~3/85 Kylie~7/00 Jaden~11/02-A VBA2C! Lilly Belle~12/04-Born at home~
Surrogate Mother to Brooke & Tyler~6/15/07
Doing it again...working on a little miracle!